Welcome to the Week 5 edition of the 2018 fantasy football trade value chart, which helps you analyze potential trades to improve your fantasy football team. Our chart assigns a value to all relevant players — across all positions — to help you make the best trade possible.
The trade value chart uses our rest-of-season projections to assign values to every relevant player. The dollar amounts assume a 12-team league and a starting lineup of 1 QB, 2 RB, 2 WR, 1 TE, and 1 flex. The players are displayed in order of their standard league values, but we've included the PPR values for those players as well.
I know what you're thinking, because it's what I was thinking too. How in the world is Rob Gronkowski still so high? He's had an un-Gronk-like start to the season, with 17 catches for 233 yards and a score through four games (4.25-58.25-0.25 per game). Our projects have his per-game average for the rest of the season at 4.8-77-0.71. Gronk's value on the chart is also aided by the fact that the tight end position is extremely thin this year once you get past the elite trio of Gronkowski, Travis Kelce, and Zach Ertz. Now might be the best time to buy low on Gronkowski.
This week's biggest riser was Alvin Kamara. On a related note, Mark Ingram was one of the biggest fallers despite the fact he returns from suspension this week. Kamara won't touch the ball 23 times per game with Ingram back, but we do like him to stay in the 18-20 range, while Ingram will be in the 10-12 range. People might be expecting Kamara and Ingram to split work fairly evenly, as was the case last year. We think this backfield will feature Kamara.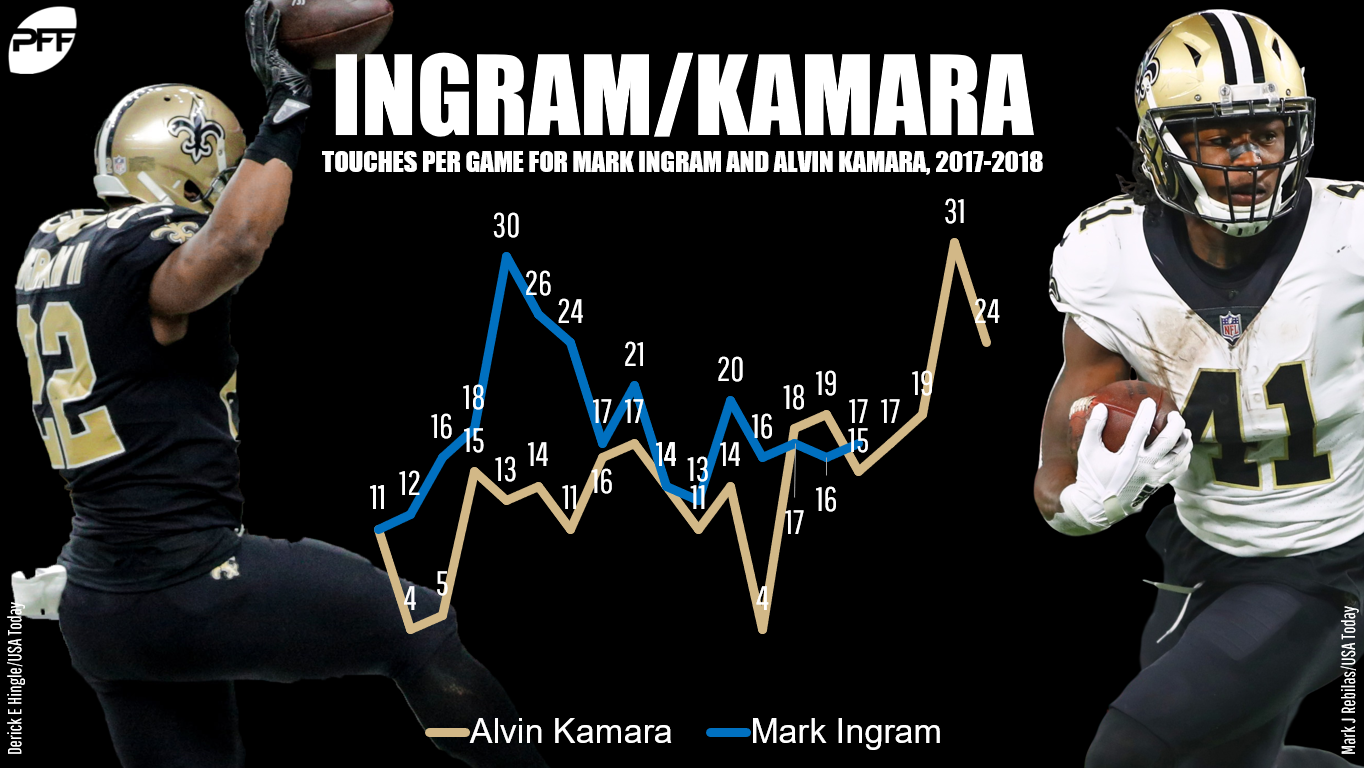 If you agree, that makes Ingram an interesting sell-high. Returning this week from his four-game suspension, Ingram is tasked with trying to steal touches from Kamara, a guy who is averaging 4.9 YPC coupled with a league-leading five rushing touchdowns and 35 receptions (third-most in the entire NFL). Ingram out-touched Kamara 288 to 201 last year. Again, we don't think this will be the case for the rest of 2018, but if your leaguemates are thinking the 2017 split will continue, you may be able to get great value for Ingram.
Check out the full chart below. Remember, these values are not written in stone. Rather, they are meant to serve as a guide to help you make the best deal possible.
Subscribe to PFF Edge to continue reading
Already have a subscription? Sign In