Welcome to the Week 4 edition of the 2018 fantasy football trade value chart, which helps you analyze potential trades to improve your fantasy football team. Our chart assigns a value to all relevant players — across all positions — to help you make the best trade possible.
The trade value chart uses our rest-of-season projections to assign values to every relevant player. The dollar amounts assume a 12-team league and a starting lineup of 1 QB, 2 RB, 2 WR, 1 TE, and 1 flex. The players are displayed in order of their standard league values, but we've included the PPR values for those players as well.
First things first: We've made the switch from Le'Veon Bell to James Conner, and the backup-turned-starter is now the assumed starter for the whole year. We don't have a crystal ball — we don't know when or if Bell is coming back. But, if you're trading away Conner, make sure you're getting elite value in return.
Aside from Conner, this week's biggest riser was Jarvis Landry, who gets a boost with Baker Mayfield under center in Cleveland. So far this season (including the preseason), Mayfield has targeted Landry on 34 percent of his routes — most among any new QB/WR duo in the league this year.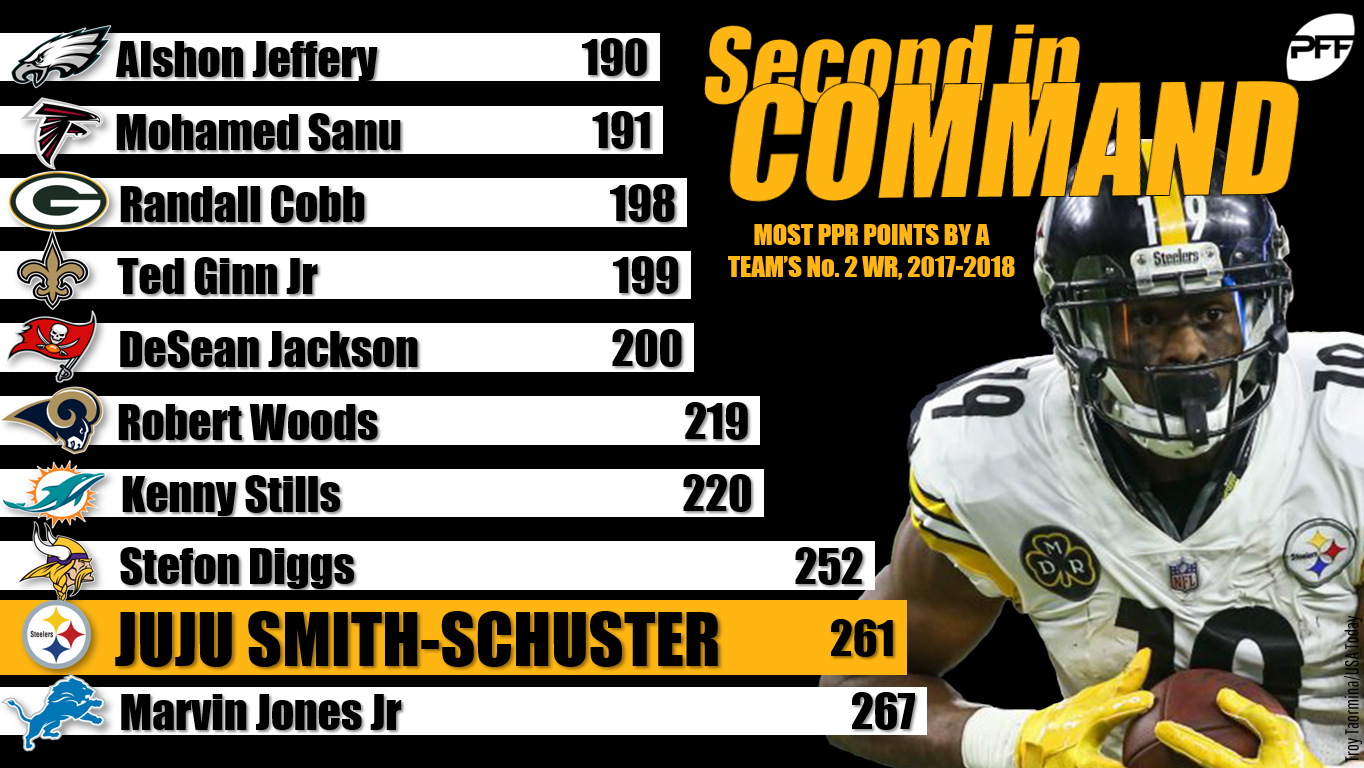 Another riser is JuJu Smith-Schuster, who has solidified himself as a fantasy WR1. Through three weeks, Smith-Schuster is the WR4 in fantasy with 356 yards on 36 targets. There's room for both Smith-Schuster and Antonio Brown to thrive in this offense.
David Johnson was the biggest faller, and his Cardinals teammate Larry Fitzgerald was the second-biggest faller. It's a tough pill to swallow, because we know Johnson has the skill to be fantasy's top scorer. He just isn't being used the way he should be. Despite being named the best receiver in football in 2016 — regardless of position — Arizona's coaches have decided to target him just 14 times (with an aDOT of 1.4 yards) so far this year. Johnson is certainly a buy-low candidate, but there's no guarantee his coaches do the right thing.
Check out the full chart below. Remember, these values are not written in stone. Rather, they are meant to serve as a guide to help you make the best deal possible.
Subscribe to PFF Edge to continue reading
Already have a subscription? Sign In