The most obvious choice:

This past year's first-round pick

Kyle Hamilton

is ready to step into a regular full-time role in Year 2, which should allow for significant production.

PFF's highest-graded safety in 2022 joins a new team:

Ryan Neal

should be a full-time starter for the

Tampa Bay Buccaneers

from Week 1, giving him a chance to produce his best season so far.

Betting on corners can be risky: The Las Vegas Raiders'

Nate Hobbs

 was one of the most consistent tacklers at the position last season, and a fully healthy year could make him an elite IDP cornerback.
Estimated reading time: 8 minutes
---
Each season, players take their game to new levels and significantly improve their fantasy production along the way. The defensive back position is the deepest in all of IDP and every year, there is a large crop of players that emerge as high-end fantasy assets for their position. With heavy turnover among the top of annual fantasy scoreboards, these breakout candidates aim to be long-term fantasy options as well as make 2023 their breakout season.

---
After highlighting Hamilton as a dynasty target much earlier this offseason with a warning for a potential Chuck Clark trade or release, the window to "buy low" has now closed for Hamilton in dynasty, but his breakout season is officially on. With the Clark trade back in March, there is nothing stopping Hamilton from stepping into a full-time role in Baltimore's secondary after serving the majority of his rookie year as a sub-package slot defender.
On limited action in his rookie season, the Notre Dame product highlighted a lot of the versatility and playmaking that made him the 14th overall pick in the 2022 NFL Draft and a desirable IDP asset. Hamilton posted two sacks and eight pressures on 33 pass-rush attempts while adding five pass breakups on 56 targets. There are significant fantasy points to be had for defensive backs that are able to do more than just make tackles in the stat sheet, and Hamilton has all the tools to keep that going into his sophomore season.
Clark leaves behind over 1,000 defensive snaps for Hamilton to absorb, and even better, at least 30% of those snaps should come in the box. This is key for tackle efficiency, as 73% of safeties who spent at least a third of their defensive snaps in the box last season posted above-average tackle efficiency, which Hamilton has already shown that he's capable of without getting those crucial snaps as a rookie. There are a lot of Derwin James comparisons for Hamilton out there, including his size, tackling ability, pass-rush prowess and ability to make big plays, which is everything IDP managers could want from the safety position — it's just up to Hamilton to make it all come to fruition in 2023 now that he's locked into a full-time workload.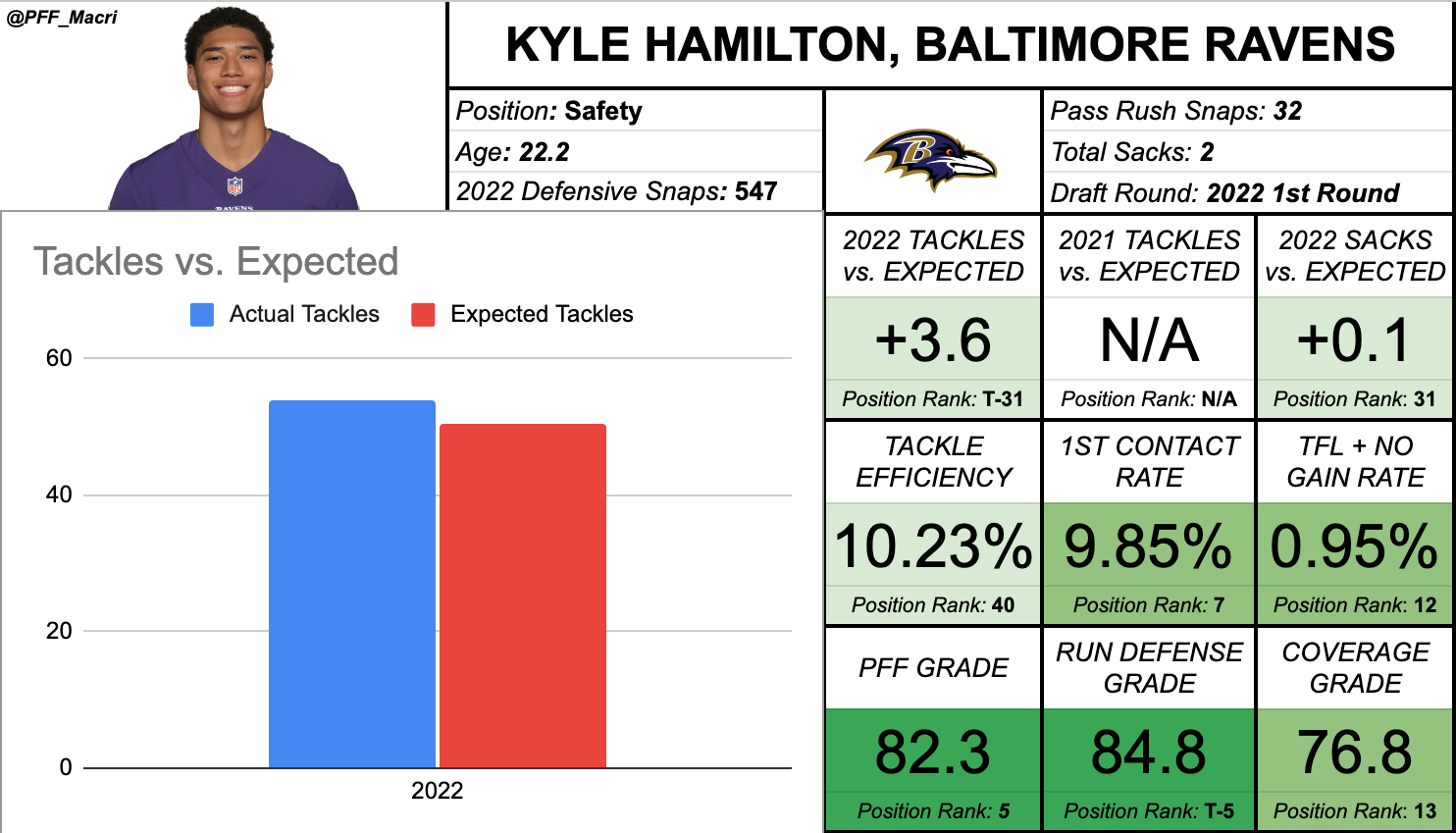 ---
Neal stepped up in a big way for the Seahawks last season after Jamal Adams tore his quad and Josh Jones couldn't cut it as his replacement. Neal became the top safety in Seattle and the highest-graded safety in the league in 2022. Neal posted six pass breakups, an interception, a sack, and earned the second-highest coverage grade at the position (85.7) on over 700 defensive snaps. As the Seahawks prep for Adams' return this season after signing Julian Love, Neal departed in free agency to potentially step up once again, this time in Tampa Bay.
The Bucs lost three safeties that totaled over 1,800 defensive snaps between them in 2022 with Mike Edwards, Keanu Neal and Logan Ryan all leaving in free agency this offseason. Not only is there a significant need for a starting safety to play next to Antoine Winfield Jr. this season, but there could also potentially be more box snaps available for Neal to build on his tackle production. The Bucs were a top-10 team in the league last season in single-high coverage rates, allowing one safety to play closer to the line of scrimmage, and with Winfield figuring to be the one to play deeper given his skillset, Neal should get the more ideal IDP alignments in 2023.
This past season was a great year for Neal, but it didn't always translate to fantasy, as he ended the year with just 66 total tackles after just 10 games started, which would have had him finishing outside the top 50 scorers for his position in most IDP leagues. Coming in as the Day 1 starter in Tampa Bay combined with a potential to be the primary safety to play near the line of scrimmage, Neal should greatly outperform his strong 2022 season and provide fantasy managers a great value relative to his cost in most drafts.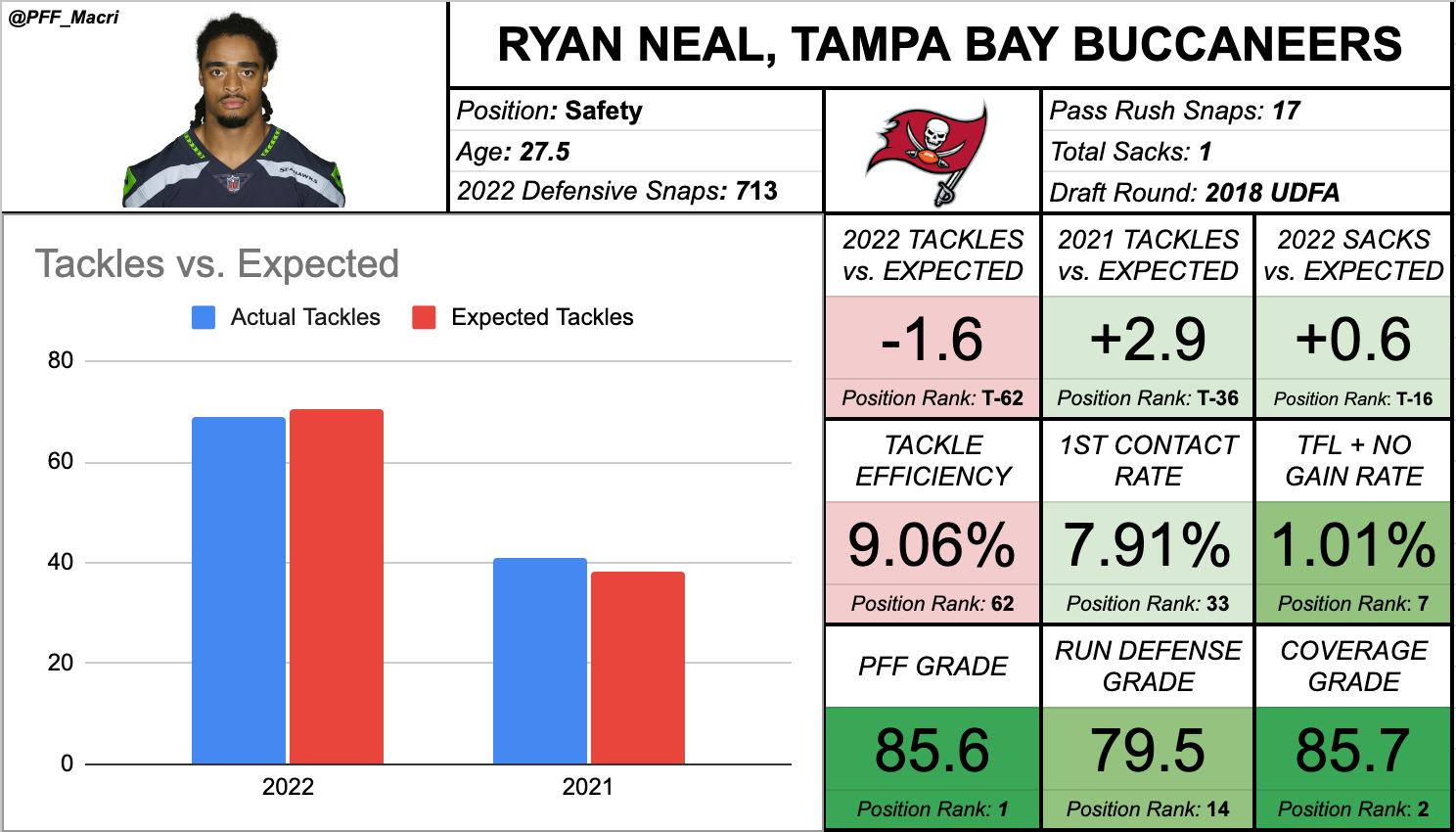 ---
Forrest is another safety who emerged as an in-season waiver target and greatly outperformed expectations, though he didn't get a consistent every-down role until Week 10. Even after posting 88 total tackles, there is still plenty of room for improvement and a career year for IDP production from the 2021 fifth-round pick.
Forrest also came up with four interceptions in 2022, which all came in games where he exceed 95% of the team's defensive snaps. While Kamren Curl figures to dominate the box snaps for the team, similarly to last season at 51% of his snaps, there is still an opportunity for Forrest to rotate down and share some of those duties, which will let him continue to put up tackles at a high rate.
Last season, Forrest averaged 33.3% of his snaps in the box while Kamren Curl was in the lineup — Curl averaged a very high 50.3%. That third of defensive snaps is key, as mentioned earlier, to create above-average tackle efficiency for the position, and while the interceptions may be difficult to replicate, he's at least shown a propensity for them, helping his upside to finish even higher than the top-20 IDPs at his position.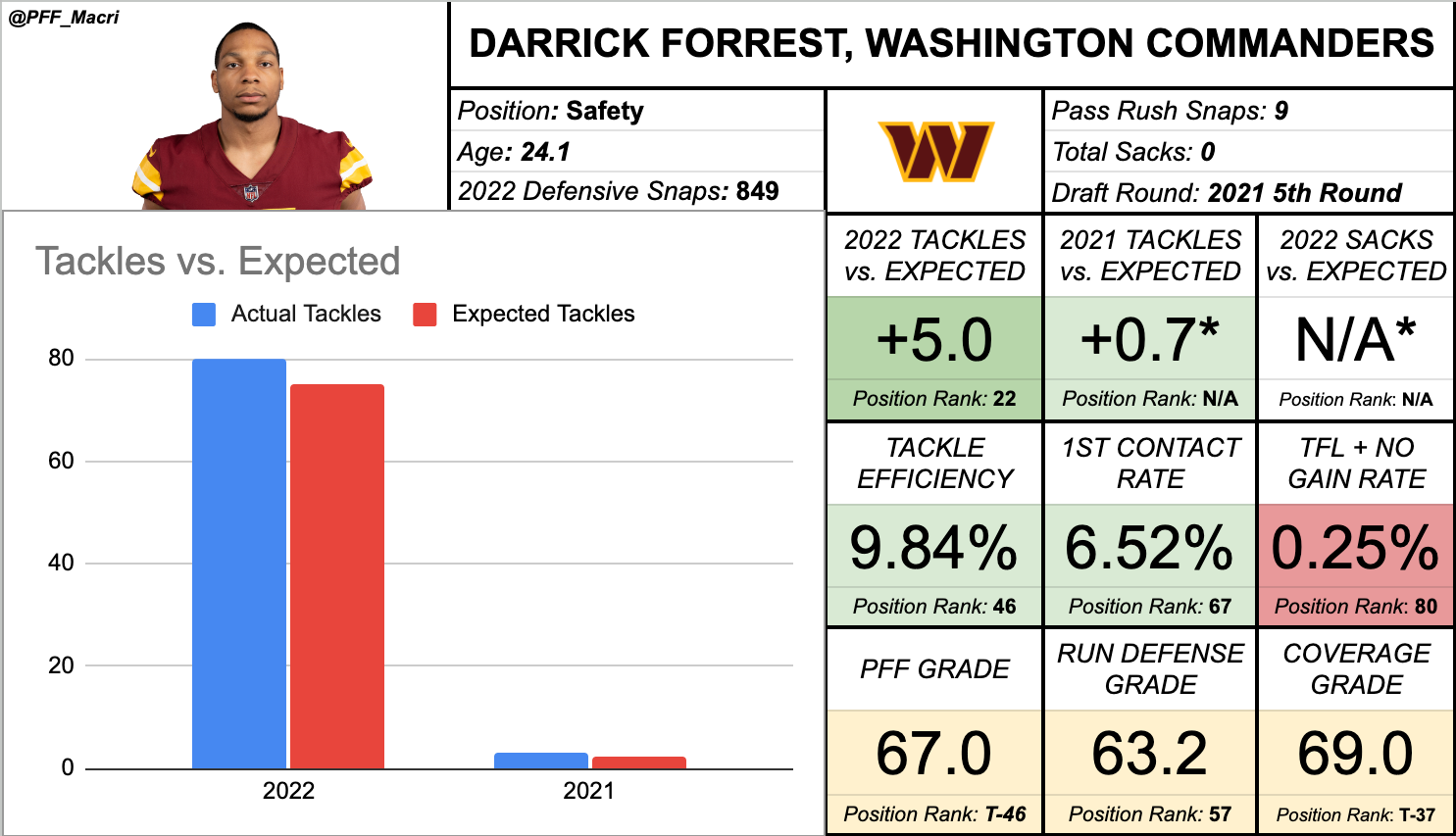 ---
The cornerback position is incredibly volatile for IDP purposes, but finding consistency in tackle production can go a long way to creating a weekly edge against leaguemates depending on unstable big plays. Hobbs was one of the most consistent tacklers at the position last season, but unfortunately only appeared in 11 games in 2022. However, he still found a way to produce 72 total tackles. Hobbs managed to hit at least five tackles in seven of his 11 games in 2022, which is an impressive feat for a cornerback when considering that the average total tackles per game for the position is under four.
After spending the large majority of his rookie season as a slot-only corner, Hobbs showed off his versatility by lining up out wide and in the slot in 2022, providing value to a key position of need for the Las Vegas defense. While the Raiders added four new cornerbacks to their roster this offseason, Hobbs is arguably still one of their best options, so his role should be safe. Whether they want to use him in the slot or out wide again, he'll have a place in the starting lineup as long as he's healthy.
Hobbs was the most effective corner in the league in producing tackles over expected last season, and if he can continue to do so while being on the right side of variance when it comes to big plays, he has the potential to be the overall CB1 for IDP leagues this season.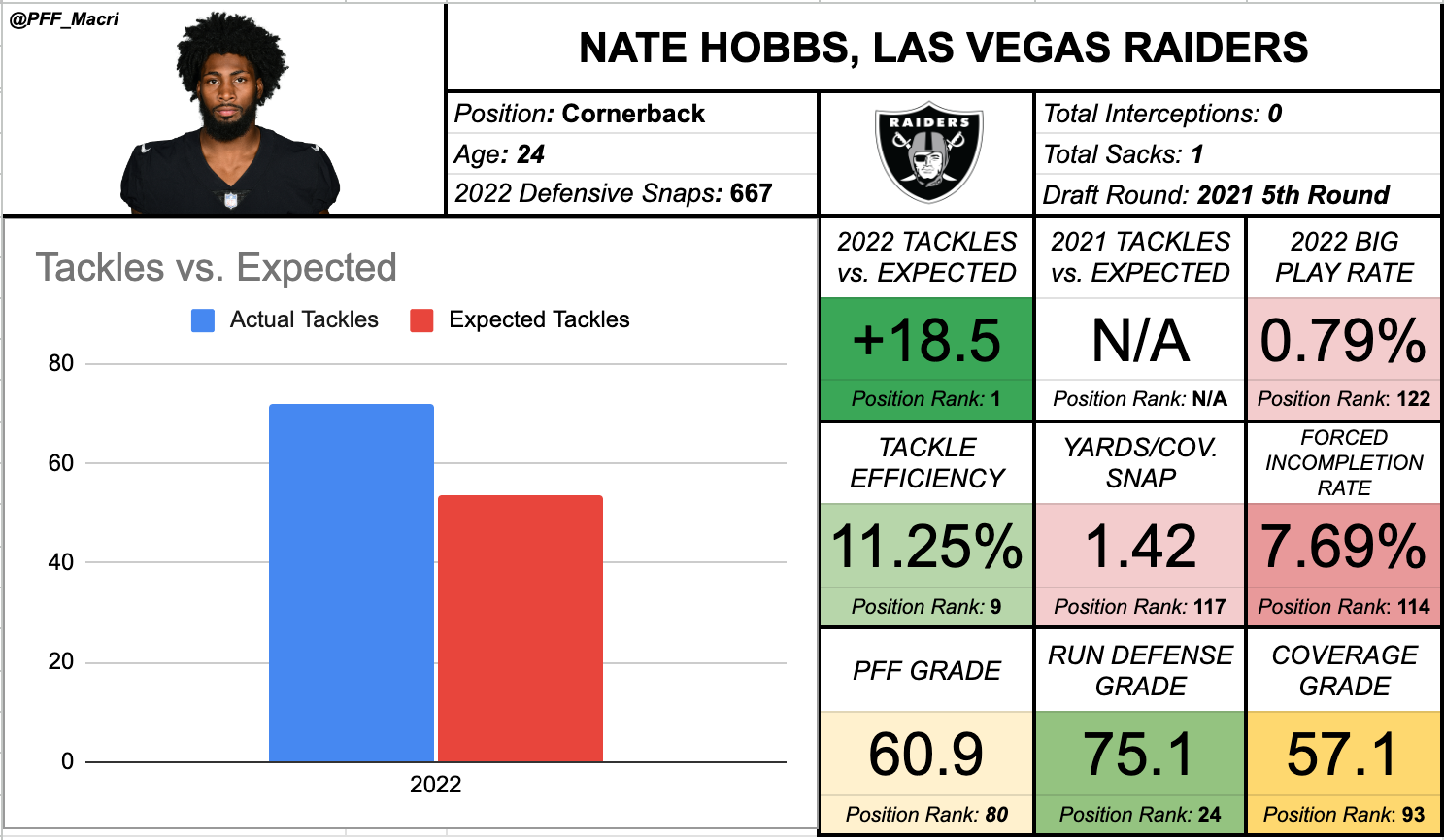 ---
L'Jarius Sneed became the most effective IDP corner for the year in 2022, as the only player at his position to post over 100 total tackles in addition to adding 3.5 sacks, three forced fumbles and three interceptions on top of it all. Sneed's role in the Chiefs defense was a significant part of his overall success, playing from the slot and lining up closer to the action while given the opportunity to blitz and create those big plays.
However, in the latter stages of the season and for most of the playoffs, the Chiefs moved Sneed from his typical slot corner position to the outside, replacing him with rookie McDuffie. The idea around this likely had to do with matching Sneed up with the better opposing wide receivers, keeping the rookie from getting exposed. This appears likely to continue in 2023, which should create an ideal IDP opportunity for McDuffie to take advantage of, just as Sneed did last season.
More snaps in the slot and rushing the passer for McDuffie in his second season will help raise his tackle floor and big-play upside on a weekly basis. While Sneed is likely to be the first corner drafted in IDP leagues this year, avoiding him and targeting McDuffie at cost instead is far and away the more optimal strategy to deploy in IDP drafts for 2023.
| | | | |
| --- | --- | --- | --- |
| Weeks  | Average slot usage | Pass-rush snaps (sacks) | Tackle efficiency |
| 1-14 | 4.5% | 4 (0) | 5.4% |
| 15-Super Bowl | 47.8% | 22 (1) | 7.2% |