The Tampa Bay Buccaneers were one of the most productive offenses in the league last season, ranking second in total yards (6,648) and tied for third in total touchdowns (48). Oh, and did I mention that they signed the greatest quarterback of all time in the offseason? Sure, Tom Brady isn't the player he was a decade ago, but he gets a significant upgrade in surrounding cast with the Bucs. 
Can Brady squeeze another year of QB1 production out of his arm? How does his presence impact Chris Godwin and Mike Evans? Will O.J. Howard rebound from last year's disappointment? Let's break down what the first batch of 2020 fantasy football projections have to say about the Tampa Bay offense.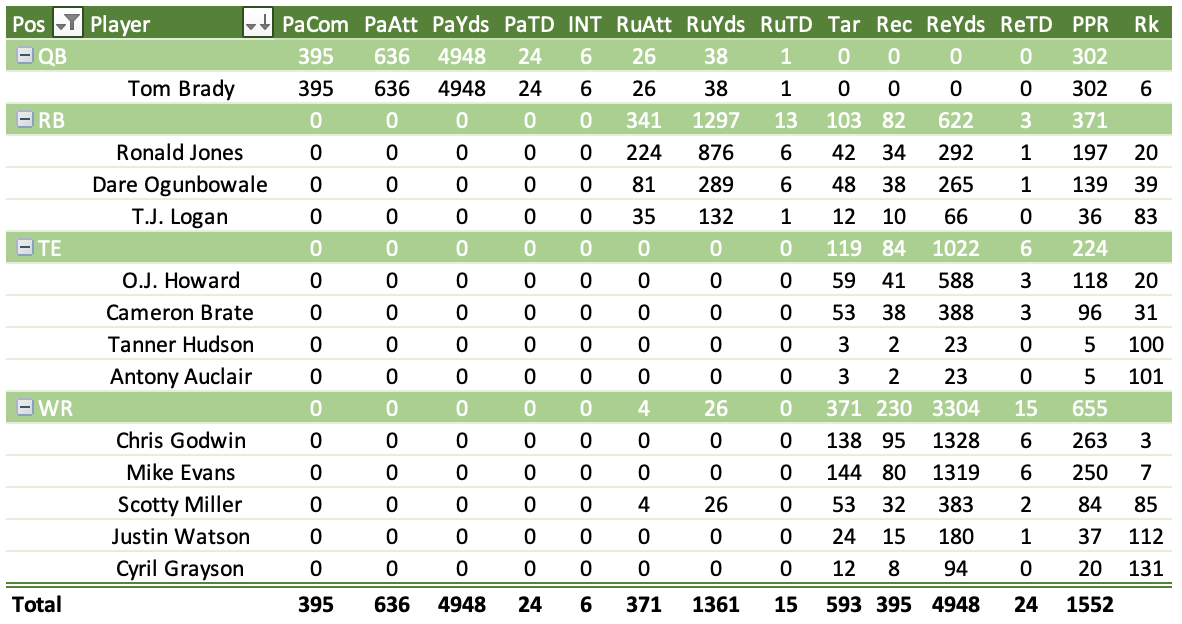 Yes, you're reading that correctly. Brady currently projects out just 52 yards shy of 5,000. If that number surprises you, well, you aren't alone. I certainly did a double take when we first ran the numbers. Brady does have a 5,000-yard season under his belt, but this would be the second-highest total of his career … at 43 years old. But upon closer inspection, the number isn't as far-fetched as you might think. 
Brady has topped 4,000 yards in 10 of his last 11 full seasons, including last year when he threw for 4,057 yards despite having a nearly barren receiver corps. So the argument that he "lost a step" last season might be a bit overblown. In Tampa, he'll now be throwing to Godwin and Evans, who ranked third and 12th, respectively, in receiving yards last year. It's fair to argue that this is the best duo he's had in his entire career. 
He'll also being playing in a Bucs offense that currently projects to lead the league in passing attempts. And the icing on the cake: Brady will face three of the bottom five defenses in passing yards allowed twice in the AFC South with the Falcons ranking 32nd, the Saints 31st and the Panthers 28th. Brady's projection of sixth among quarterbacks may seem aggressive compared to where we currently have him ranked, but, even so, he screams value right now as the 20th quarterback off the board in best ball ADP.
Success for Brady certainly bodes well for Godwin and Evans. Godwin gets the double-whammy of being a slot receiver in both an Arians and Brady offense. Expect him to pick right up where he left off last year and threaten for triple-digit catches. Evans is a bit more tricky, as Brady's aDOT of 8.2 was well outside of the top 20 last season. But just because he didn't throw the ball deep doesn't mean he couldn't throw the ball deep. It's hard to envision a scenario where the Bucs don't use Evans where he's at his best — downfield — and the projections support this take. Both Evans and Godwin project as top-10 options at wideout.
We know that Brady has had a thing for tight ends in the past, but the projections suggest we should pump the brakes a bit on Howard. To be fair, the numbers do suggest a career year is brewing for Howard, but that doesn't mean he's poised for a dramatic leap forward. A big reason why is the presence of Cameron Brate on the depth chart. Unfortunately for Howard's fantasy stock, Brate is going to cannibalize some of the tight end volume. That being said, Howard should be on the streamer radar as a TE2 option.
As for running back, we're in a bit of a holding pattern. Yes, Ronald Jones does project out favorably, but that doesn't mean you should load up on shares of him in best ball drafts. The Bucs are widely expected to address the position in the draft, and we could very well be talking about a rookie as the player to own in the Tampa backfield.
[Find the full collection of analysis and insights on PFF's 2020 fantasy football projections for all 32 NFL teams. Check back as more articles will be added each day.]