After a sizzling blowout by the Browns trouncing the reigning Super Bowl champions (by a 5-0 margin), we'll hopefully get a spark of offense and get to see this week evolve into an entertaining six-game preseason slate for Friday. The third week of the preseason is generally referred to as the "dress rehearsal" week for NFL teams. We can largely expect coaching staffs wanting to see their starters execute some plays, gain some rhythm, and look sharp prior to Week 1. Let's dig into some of the top DFS plays for Friday's slate.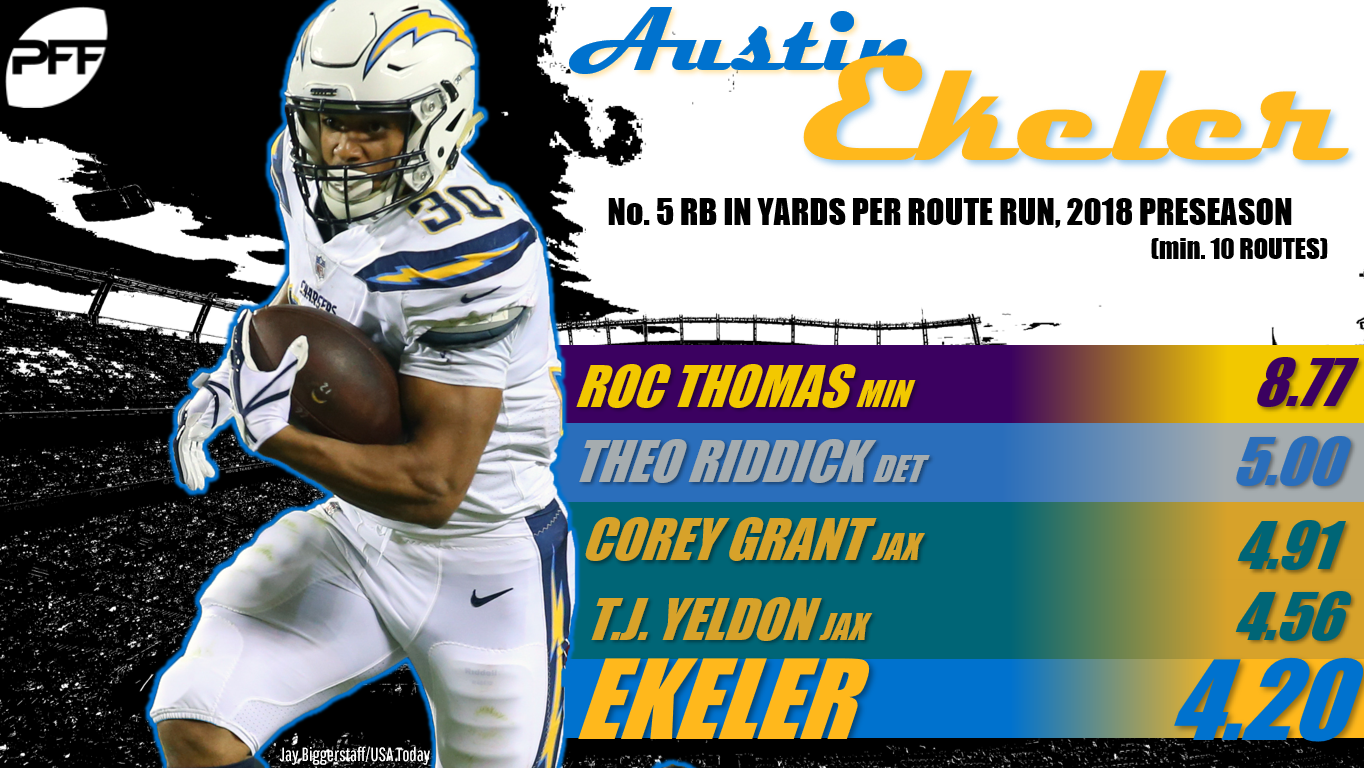 Quarterback
Insisting he felt "rusty" after last week's performance, Tom Brady could be out there the entire first half again with the Patriots starters this week. Last week was Brady's first time taking snaps this preseason and he was able to complete 19 of 26 for 172 yards and two touchdowns. A full half of Brady is tough to fade, especially if he's able to shake off the "rust."
On the other side of the ball, Cam Newton looks like another fantastic play against the Patriots. Newton and the first-team offense looks like they could be playing "into the third quarter" according to head coach Ron Rivera. Newton looked sharp last week (9-of-12, 1 TD, 1 INT) and we should expect to see them continue to try and build on that heading into the regular season.
Running back
Christian McCaffrey will likely be the chalkiest running back play of the slate following his 120-yard performance last week. Rivera would like to ideally take his starters as they work out things along the offensive line. That could mean plenty of volume once again for McCaffrey. Chasing chalk in preseason is fine as long as we're sure they're going to see playing time. There are plenty of wild, one-off plays we can make for contrarian lineups.
With Saquon Barkley sidelined, Wayne Gallman should continue to see plenty of reps this week. Gallman's coming off a big fantasy performance scoring both on the ground and through the air last week against the Lions. The versatility he's shown rushing and receiving this preseason has entered him into the conversation of possibly surpassing Jonathan Stewart on the depth chart.
Injuries continue to pile up across the league, and the Seahawks running backs are not immune to it either. Rashaad Penny (finger) will be sitting this one out and so will receiving back J.D. McKissic (fractured foot). That could open the door for C.J. Prosise to garner more snaps as the team's receiving back. The first team is expected to play into the second half, as Pete Carroll wants to see how the team handles halftime adjustments. Prosise could find more success receiving the ball out of the backfield (caught six-of-six targets last week) than Chris Carson rushing repeatedly into Minnesota's stout defensive front.
Washington's running back room has been plagued with injuries. We may see only three running backs suit up tonight. Newly signed Adrian Peterson is 33 years old. He does not need preseason reps. "Fit" Rob Kelley could be the Week 1 starter. I'd be shocked if he plays more than a quarter as they can't afford to have him join Samaje Perine on the injury list. That leaves do-it-all back Kapri Bibbs as someone that's piqued my interest to handle most of the touches. Bibbs had five rushing attempts and seven receptions last week and is fighting for a roster spot. He should see a lot more work than that this week.
Wide receiver
Chris Hogan and Julian Edelman should continue to see a lot of action if last week was any indication of what to expect from New England's passing attack this year. Brady targeted them a combined 12 times of his 26 dropbacks. Cordarrelle Patterson also showed us that he's still a threat to score anytime he touches the ball. Albeit a riskier play, Patterson tied for the team-lead with seven targets last week and possesses home-run ability that makes him intriguing in tournaments.
While it's only a half of football, it's never too early to start getting into some wide receiver-cornerback matchups. Marvin Jones (6-2) is someone who caught my eye right away with a matchup on the outside against Brent Grimes (5-10). Matthew Stafford hasn't thrown much this preseason, but he and Jones developed quite the rapport last year — particularly on go routes. Jones (4.46) has the size and speed to blow by Grimes for a big play if targeted deep.
Another matchup I'm eager to see is Emmanuel Sanders in the slot against Washington. Standout slot corner Kendall Fuller (our No. 3 CB last year) was traded to Kansas City in the move that brought Alex Smith to Washington. Sanders will now face second-year corner Fabian Moreau in the slot. Moreau played just five snaps in the slot last year for Washington. Sanders could have a field day.
Seattle's passing attack should feature Tyler Lockett this week as the team's top receiving option with Doug Baldwin (knee) still aiming for a Week 1 return to action. With Wilson starting the entire first half, Lockett should lead this current corps of wide receivers in terms of the target distribution pecking order. He is most likely best served for GPPs, but hopefully a big performance from him here warrants the hype and provides some clarity as Seattle's WR2.
Tight end
Jacob Hollister was an unsuccessful play last week, catching his only target (1-22-0), but the routes and opportunities were there for him to turn in a much bigger performance. I'm sticking with the #process and going back to a guy who ran 21 routes last week and has been one of Brady's favorite targets this offseason.
We like to follow the steady drumbeat during the offseason to see which players are continuously getting high praise. Carolina's Ian Thomas has done exactly that this summer. He's now seeing some reps with the first team and is coming off a game where he posted a 27-yard touchdown. Keeping Greg Olsen healthy should be one of the team's highest priorities, leaving quality snaps for Thomas tonight.
As always, be sure to keep up to date for the latest news and updates prior to kickoff. Some of the most important news gets released during warmups and within that final hour before lock.