Over the last month, I've researched the fantasy football impact of domes, of rest, of unusual game times by body clock, and of home/road splits. I think it's fair for me to call those the low-hanging fruit of research on the contextual factors of games that could impact fantasy production. For the rest of the season, I'll be getting more ambitious. I'll always aim to circle back to the fantasy impact of my research, but as it becomes more complicated, I may need multiple articles to do so. That will lead to some esoteric reads in the build up to the fantasy connections. This is one of those articles.
Both my rest and body clock research belong to a superset of fatigue research, and both are focused in the short term. Is a player fatigued because he had less time between games this week? Is a player fatigued this week because he is not used to playing at a certain time of the day? But fatigue can build over the long term, as well. Every player has to deal with the mental and physical rigors of the NFL season. It's a four-month flood of strenuous exercise, film study, limited sleep, and collisions. But not every player faces the same travel schedule, and as someone who has spent an unfortunate amount of his life on airplanes, I can attest that even the modern comforts professional athletes enjoy do not erase the stress of travel.
I have a few ideas on how to research the fantasy impact of accumulated travel fatigue, but before I can tackle that question, I first need to account for how much travel teams have had to deal with. I have chosen to make those estimates based on the straight-line mileage differences between the stadiums teams play in week to week. Take the Panthers as an example. Week 2, they flew from San Francisco back to their home in Charlotte. Bank of America Stadium is 2,277 miles from Levi's Stadium, so I added that to their mileage ledger. In Week 4, they flew to New England to play the Patriots in Gillette Stadium, which is 589 miles from BofA Stadium. In Week 5, they flew to Detroit to play the Lions in Ford Field. I'm accounting that as the 502 miles between Ford Field and Gillette Stadium.
(It's PFF Fantasy's Free Content Week. Keep up with all the offerings here.)
Obviously, that's an imperfect solution. Typically, teams will fly home between consecutive road games, which means they travel more miles than my accounting suggests. But I settled on that approach for several reasons. First, consecutive road games are uncommon. Most teams see them just once or twice a year. Second, teams that have consecutive games on the opposite coast of their home stadium frequently remain on that coast in between, and those are the most important weeks to accurately capture travel because of the mileage impact. And since I'm applying the same rules to every team, my systematic underestimations should hopefully not benefit individual teams too much over others.
With a settled-on method, let's look at the teams that have faced the most travel in recent seasons.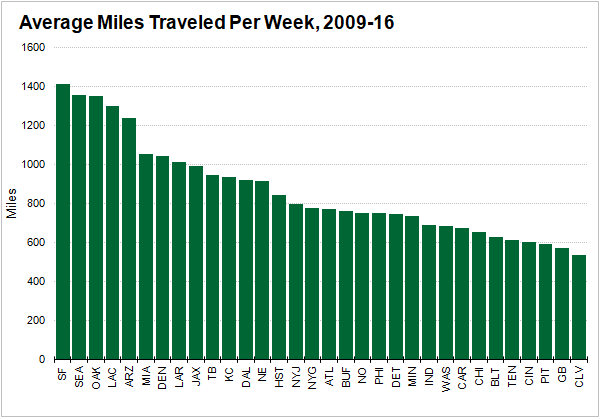 It is definitely a travel disadvantage to be on the west coast. Even for intra-division games, the NFC West teams are stuck with routine 1,000-mile trips between Seattle and San Francisco, Los Angeles, and Phoenix. Compare that to an AFC North team like the Steelers. They are just a few hundred miles from Paul Brown Stadium in Cincinnati, FirstEnergy Stadium in Cleveland, and M&T Bank Stadium in Baltimore. That makes their average weekly commute about half that of the west coast teams.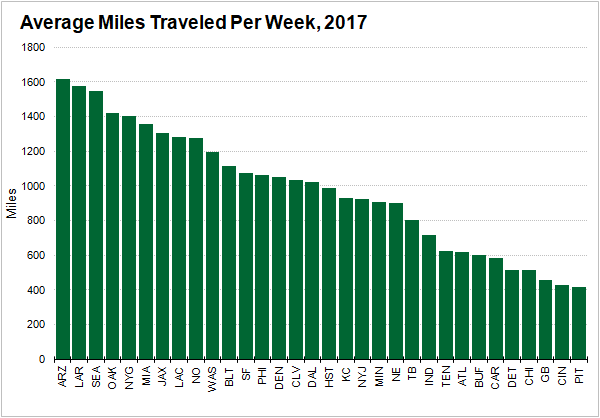 For the most part, the heavy travelers from the early 2010s continue to travel heavily this season, and vice versa. The exceptions are easiest to see when you subtract team miles in previous years from their miles in 2017.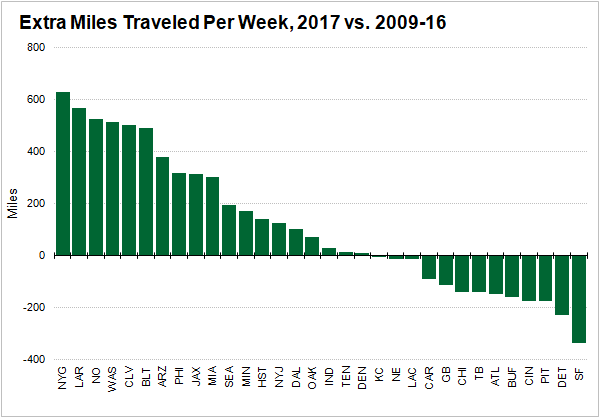 The Giants will see the biggest increase in their average miles per week this season compared to recent seasons, but they can't blame their 0-and-5 start on that extra travel. So far, the Giants have traveled 3,312 miles, which is just the 16th-most in football. They'll start racking up frequent-flyer miles this week with a trip to Denver, and they also make trips to San Francisco, Oakland, and Arizona, all of which are broken up by return trips to the east coast. As if they needed more adversity.
Many of 2017's jet-setters can thank the NFL's International Series for their mileage bumps. The Rams, Saints, Browns, Ravens, Cardinals, Jaguars, Dolphins, and Vikings are all in the top-12 travel increasers this season, and all of them have been to or will head to London this year. The Patriots and Raiders play each other in Mexico City in Week 11, but that trip is not enough to make a major impact on their total mileage.
In addition to their London trip, the Rams owe their No. 2 spot to their move to Los Angeles, which already established the trend of increased travel last season. In 2016 and 2017, the Rams travel an average of 1,878 and 1,581 miles per week. Between 2009 and 2015, they only exceeded an average 1,000 miles per week one time, in 2012, when they went four corners with trips to Miami and Tampa in the southeast, Arizona in the southwest, Seattle in the northwest, and Buffalo in the northeast — not to mention London.