Fantasy football rankings are an incomplete and imperfect exercise. They're useful, for sure, but typically never paint a full picture. While a specific player may deserve a ranking fifth overall, that doesn't really do a great job at expressing their true value. Mainly, range of outcomes tend to fluctuate wildly. That player ranked fifth overall might have league-winning upside, while still being riskier than any of the next 12 players ranked behind him.
Today, we're going to discuss which 2019 rookies have the widest range of likely fantasy outcomes. (Tuesday, we looked at the most predictable incoming rookies.)
Brown might immediately be his team's top target, but his range of outcomes seems unpredictable given a number of factors. First, he's not yet fully healed from the Lisfranc surgery he underwent in January. Second, QB Lamar Jackson has serious accuracy concerns, as detailed here. Third, Baltimore was easily the league's most run-heavy offense once Jackson took over last year, passing on only 36.3% of their plays.
Henderson is a player I loved in the pre-draft process, and it seems head coach Sean McVay loved him too, trading up for him in the third round. Henderson has sky-high upside, given what we've seen from Todd Gurley and C.J. Anderson last year, but his range of outcomes are all over the place. Following the selection, McVay talked up Henderson as the team's new change-of-pace back, which, if true, means low-upside and inconsistency on a week-to-week basis. However, if Gurley were to go down with an injury, he could legitimately be a fantasy league-winner.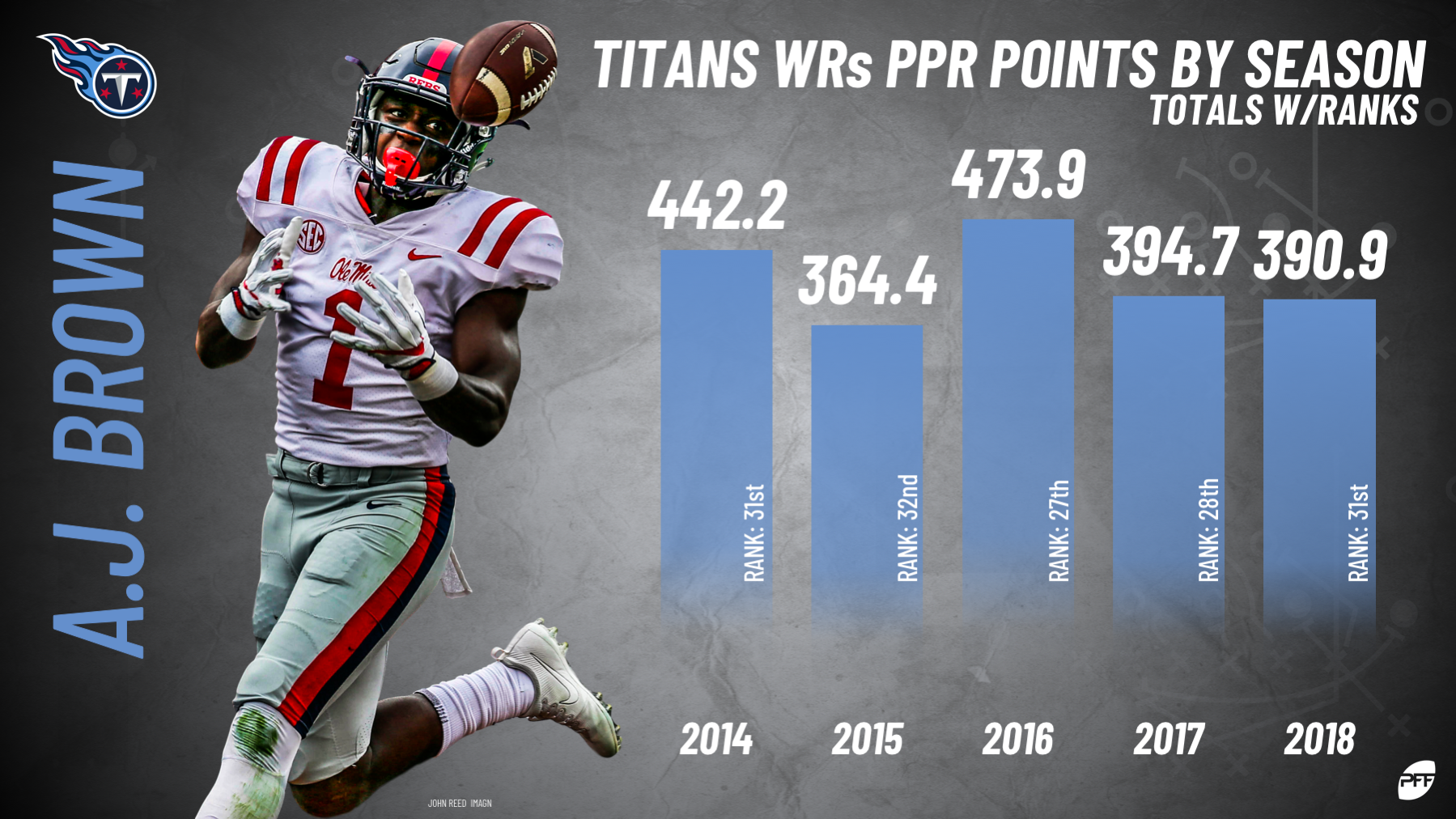 Brown seemed like one of the most predictable prospects coming out of the draft, but this was largely undone by an unideal landing spot. Over the past five seasons, Tennessee's wide receivers have combined to rank 31st, 28th, 27th, 32nd, and 31st in fantasy points scored.
It's hard to predict just how Metcalf's Seattle tenure might go. With Doug Baldwin likely to retire, he might immediately become QB Russell Wilson's second-favorite target (after Tyler Lockett). However, that's not exactly a very valuable role. Over the past five seasons, Seattle's WR2 averages only 46.2 targets per season. That would have ranked only 87th last year.
Johnson was a big draft day winner – selected higher than expected and joining Ben Roethlisberger one month after losing Antonio Brown. While I have high expectations in the long-term, his short-term range of outcomes are harder to predict. Mike Wallace, Martavis Bryant, and JuJu Smith-Schuster were all fantasy-viable in their rookie seasons in Pittsburgh, but Johnson will have an uphill battle competing for targets alongside Smith-Schuster, Donte Moncrief, James Washington, and Ryan Switzer.
Love already had a number of risks coming out of the draft, and that was only exaggerated by landing spot. He'll have to beat out some combination of Derrius Guice, Adrian Peterson, and Chris Thompson if he wants to see the field.
Sample is easily one of the most unpredictable prospects in the draft. Selected in the second round, as the fourth tight end off the board, it's unlikely the Bengals only see him as a blocking tight end. That said, that's all he was in college, compiling just 252 yards in his best season.
Although Hurd benefited from good draft capital, his range of outcomes seem wildly divergent. Mainly, it's unlikely he'd start over Dante Pettis, Marquise Goodwin, and Deebo Samuel in Year 1 given his lack of experience at the wide receiver position. Also, head coach Kyle Shanahan said he was only "kind of" drafted as an NFL wide receiver, planning to use him occasionally as a running back and tight end.