Last season was largely forgettable for the Washington Redskins, as the team limped its way to a 3-13 record. It isn't surprising that Washington wasn't home to much fantasy production. But there's a new regime in place under head coach Ron Rivera, and there are some pieces to watch on this roster. Let's take a peek at how the Redskins look in our initial 2020 fantasy football projections.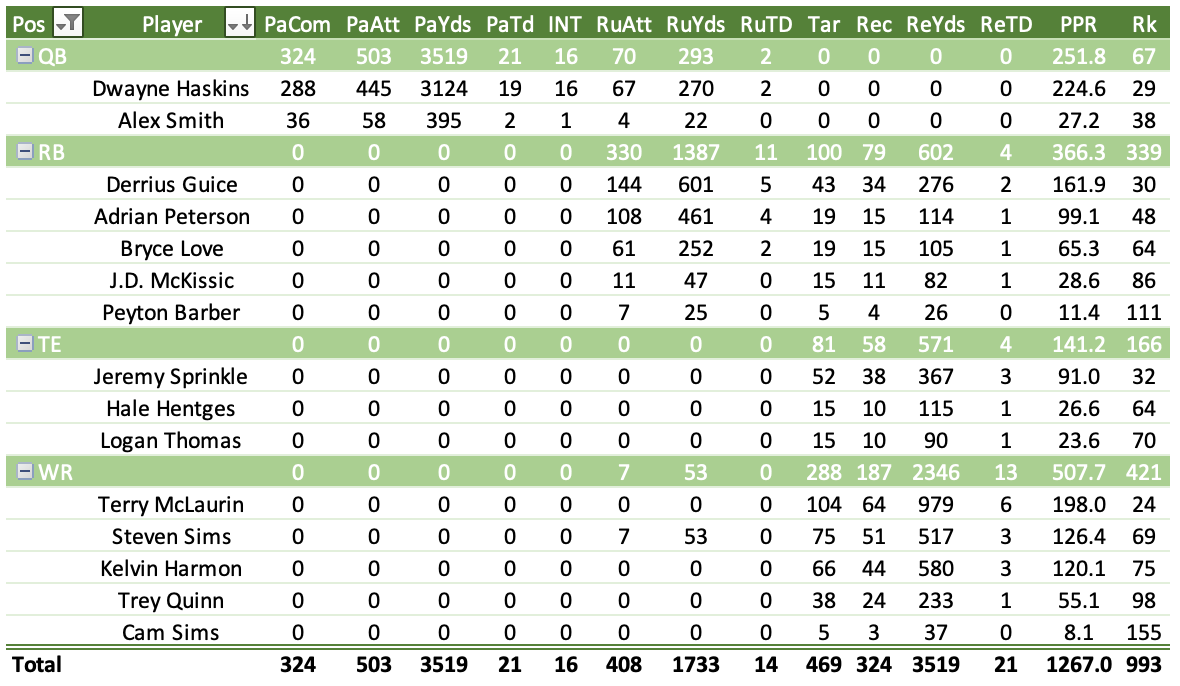 It's tough to find much to like on this list, but if there is a bright spot it's Terry McLaurin. The former Ohio State wideout emerged as one of the bigger fantasy surprises last season, finishing 29th at the position in scoring thanks in part to seven receiving scores. Our numbers like McLaurin to take a step forward this season as the clear top target in the Washington passing game. His projections ranking of 24th is just one spot lower that where we have him in our 2020 fantasy football rankings, so look for McLaurin to be valued as a back-end WR2 in this year's fantasy football drafts.
Beyond McLaurin, there's very little juice in this offense. Dwayne Haskins was prolific for Ohio State in 2018, but he showed that he wasn't ready for primetime last season. His 9.5 fantasy points per game ranked 43rd at the position behind the likes of Case Keenum, Joe Flacco and Kyle Allen. Of course, the Redskins do hold the No. 2 pick in the draft, so there's a chance they address the position in that spot. Adding someone like Tua Tagovailoa would certainly alter the numbers for the Washington passing game.
I really want to believe that Derrius Guice makes it through a whole season without suffering a major injury. Unfortunately, the young back has failed to do so in his first two professional seasons with just five games played out of a possible 32. This very real injury concern is baked into our numbers, as we have Adrian Peterson sharing the workload with Guice. There's no reason to consider Guice any higher than in this range, but it should be noted that he has the potential for a major return on investment at his current ADP in the eighth round if he somehow manages to stay healthy.
[Find the full collection of analysis and insights on PFF's 2020 fantasy football projections for all 32 NFL teams. Check back as more articles will be added each day.]