It's a new day for the Carolina Panthers heading into the 2020 season. The team hired head coach Matt Rhule and brought in one of the most exciting young offensive minds at offensive coordinator in Joe Brady. The Panthers also moved on from longtime signal-caller Cam Newton in favor of Teddy Bridgewater. Of course, Carolina does still have one of the league's most exciting groups of skill position players. So let's see what the initial 2020 fantasy football projections have to say about the Panthers.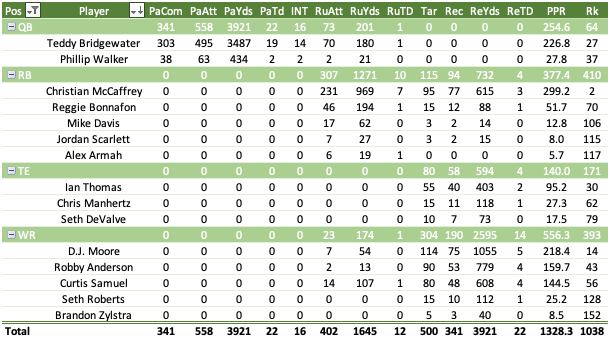 The Cam Newton era in Carolina is officially over, but our numbers don't expect his successor to be much of fantasy factor. Bridgewater comes in at a lowly 28th among quarterbacks in our initial numbers. While this might seem a bit low, it's easy to understand his projection given what we've seen out of Bridgewater over his career.
A starter in his first two seasons with the Vikings, Bridgewater flashed potential with a 21st-place fantasy finish in 2014. However, he followed that up with a lackluster 2015 campaign where he ranked 24th at the position. A devastating injury nearly ended his career in 2016, but Bridgewater managed to get back on the field and landed a gig as Drew Brees' backup in 2018. In that role, he was thrust into action last season with Brees injured, starting for the Saints from Weeks 3-7. While Bridgewater did help the team to a 5-0 record, he ranked just 19th among quarterbacks in fantasy points per game over that span.
It's tempting to view Bridgewater through rose-colored glasses for fantasy purposes given the favorable surrounding cast and the allure of the new coaching regime. But his history has shown us that he just doesn't come with a very high ceiling. At this point, it's overly optimistic to view Bridgewater as anything more than a back-end QB2.
Yes, Christian McCaffrey does rank second among running backs in our initial projections, but this isn't something to get worked up over. McCaffrey is going to be the consensus No. 1 overall pick in 2020 fantasy drafts. But in case you're wondering why he isn't in the one-spot here, the answer comes down to what projections actually mean. The numbers you see above represent the midpoint of a wide range of potential outcomes. As we saw last season, McCaffrey's ceiling is absolutely enormous, and our 2020 fantasy football rankings expect him to be closer to that ceiling than his midpoint.
Despite an ugly quarterback situation, D.J. Moore managed to take a major step forward in 2019. After a somewhat slow start in September, he picked up steam and ended up as the No. 12 fantasy wideout from Week 5 on. Moore's run-after-catch ability is custom-made for Bridgewater's skillset. As our projections show, he's a good bet to be knocking on the door of WR1 territory this season. Unfortunately, we don't think the same of Curtis Samuel. The addition of Robby Anderson in free agency takes shares off Samuel's plate. As of now, our numbers prefer Anderson as the better option, but there's still some late-round appeal to Samuel in deep leagues.
Greg Olsen is out of the picture at tight end, but our numbers aren't overly bullish on Ian Thomas. The young tight end emerged down the stretch last season, but, even so, he was only good enough to rank 24th at the position in fantasy scoring over the final seven weeks of the season. Thomas will be a streamer at times, but the numbers suggest he isn't a late-round target in redraft or best ball formats.
[Find the full collection of analysis and insights on PFF's 2020 fantasy football projections for all 32 NFL teams. Check back as more articles will be added each day.]