Free agency and the 2022 NFL Draft have come and gone. Now, it's time to fully embrace the 2022 offseason by breaking down each team's fantasy football aspirations before fantasy-draft season truly gets underway in August.
What follows is a fantasy-focused breakdown of the Dallas Cowboys, focusing on questions like:
Does

Dak Prescott

have a chance to work as the overall fantasy QB1 in 2022?

Is

Ezekiel Elliott

washed, or was he just playing hurt last season?

Should fantasy managers draft

CeeDee Lamb

as a legit top-five wide receiver?
We'll cover every fantasy-relevant player from the Cowboys in the following paragraphs. And be sure to check out the PFF Team Preview Landing Page through early July for more all-encompassing fantasy football coverage.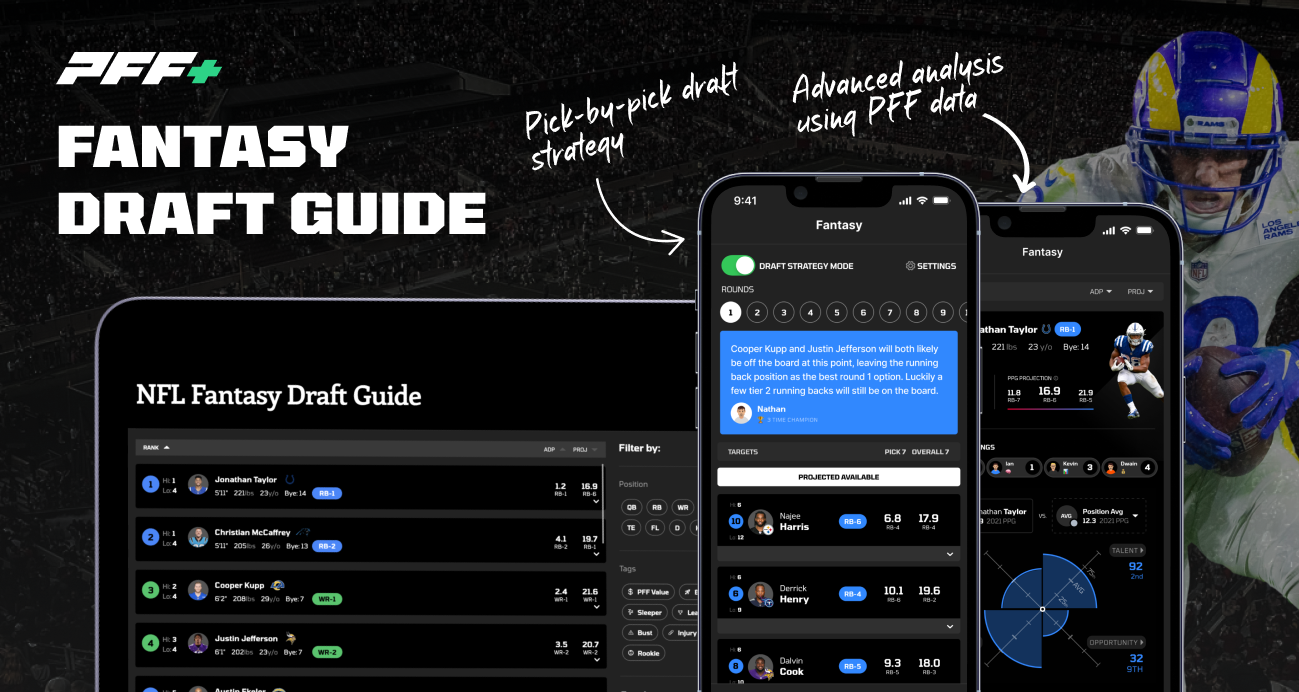 Notable offseason moves
From the front office to the coaching staff to the roster, every 2022 NFL team will be different from its 2021 version.
However, the Dallas coaching staff offers some unusual continuity after bringing back head coach Mike McCarthy, offensive coordinator Kellen Moore and defensive coordinator Dan Quinn. The upcoming campaign will mark McCarthy's third season with the Cowboys, while Moore and Quinn will return for their sixth and second season, respectively.
The best thing to get excited about in this Cowboys offense is speed — hot, nasty, bad-ass speed. Their ranks in situation-neutral pace in Moore's three seasons as offensive coordinator are as follows (Football Outsiders):
2019: 28.26 seconds per play (No. 2 in the NFL)
2020: 27.48 (No. 2)
2021: 28.38 (No. 1)
Prescott and company ranked 19th (61.9% pass-play rate), 14th (63.5%) and most recently 12th (62.5%) in pass-play rate in non-garbage time situations during this stretch. Still, the fast pace helps rack up additional plays over time, leading to the Cowboys dropping back to pass a whopping 2,061 total times since 2019 — the fifth-highest mark in the league.
This is certainly the sort of high-octane offense capable of enabling multiple high-end fantasy assets during any given week of action.
Additionally, the Cowboys have made plenty of changes to their roster. The following quarterbacks, running backs, wide receivers and tight ends have either joined or left the Cowboys in some way, shape or form this offseason:
• RB Corey Clement: Remains an unrestricted free agent after converting 39 touches into 169 yards and a score during his only year with the Cowboys.
• RB/FB Ryan Nall: His one-year deal worth less than one million dollars doesn't guarantee the ex-Bears back a roster spot.
• WR Amari Cooper: Was traded to the Browns in exchange for a fifth-round pick. Cooper posted top-10 marks in receptions (292, No. 7), receiving yards (3,893, No. 9) and receiving touchdowns (27, No. 9) among all wide receivers during his time with the Cowboys.
• WR Cedrick Wilson: Signed a surprisingly steep three-year, $22.05 million contract with the Dolphins. Wilson posted career-high marks in receptions (45), yards (602) and receiving touchdowns (6) while serving as Dallas' No. 4 wide receiver in 2021.
• WR Malik Turner: Signed a one-year, $1.1 million deal with the 49ers. Turner only saw 16 targets with the Cowboys, but he made the most out of them, posting a season-long 12-149-3 receiving line.
• WR James Washington: Signed a one-year, $1.2 million contract with the Cowboys to presumably compete for the offense's No. 3 wide receiver job. Washington underwhelmed with a career-long 114-1,629-11 receiving line in four seasons with the Steelers after originally being drafted with the 60th overall pick in the 2018 NFL Draft.
• TE Blake Jarwin: Remains an unrestricted free agent. Jarwin was the Week 1 starter in 2020 but struggled to stay healthy and wound up losing his job to Dalton Schultz. Jarwin caught 70 passes for 780 yards and eight scores in 42 games with the Cowboys from 2017 to 2021.
The Cowboys also spent a pair of draft picks on their skill-position rooms. Third-round WR Jalen Tolbert should be considered the favorite over Washington for the No. 3 wide receiver job, although both could ultimately be needed if Michael Gallup's ACL recovery takes longer than expected. Fourth-round TE Jake Ferguson doesn't figure to mix in as more than a clear backup. The fantasy track record of players selected outside the draft's first three rounds isn't pretty.
There really isn't an example of Prescott working as anything other than a low-end QB1 in fantasy land since the Cowboys drafted him in the fourth round of the 2016 NFL Draft:
2016: QB6 overall, QB9 per game
2017: QB10, QB14
2018: QB10, QB13
2019: QB2, QB3
2020: QB31, QB1 (only played five games)
2021: QB7, QB8
One of just six quarterbacks to average at least 21 fantasy points per game since 2019, Prescott has exhibited several peaks that sure make it seem like an overall QB1 finish remains firmly on the table. Few signal-callers present the sort of command over the entire field the way Prescott manages to when he's in form.
Dak Prescott pic.twitter.com/gdbhC8tetQ

— Ian Hartitz (@Ihartitz) May 16, 2022
However, continued success into 2022 and beyond isn't exactly a given. The offense lost an awful lot of firepower in the form of Amari Cooper, while Michael Gallup (ACL) isn't guaranteed to be ready by Week 1. The once-elite offensive line is another year older and lost its youngest high-end option in La'el Collins. A worse version of the defense could wind up helping the league's reigning No. 1 scoring offense in terms of generating more overall passing volume, though we must note that Prescott will likely be dealing with his worst supporting cast since at least 2018.
Another issue moving forward is that Prescott wasn't the same sort of rushing threat. Overall, his average of 9.1 rush yards per game last season marked the first time he finished under 17. He averaged 4.8 rushing touchdowns per season from 2016 to 2020 but only found the end zone once on his own in 2021 (twice including playoffs). He did rush for at least 20 yards in three of his final four games after reaching that threshold just once in the season's first 15 weeks. Maybe he was just slow to get going following 2020's horrific ankle injury. Still, history tells us that quarterbacks do, in fact, run less as they get older. At a minimum, it seems unlikely Prescott gets back the sort of "first down or die" mindset that was regularly on display throughout the early parts of his career.
Ultimately, Prescott comes in as my QB9 — behind the league's top dual-threat producers and behind Tom Brady and Joe Burrow, who boast far better weaponry and seemingly higher passing ceilings. Prescott's playstyle is trending towards needing 5,000-plus passing yards and 40-plus touchdowns to contend for overall QB1 status, which isn't impossible, but there isn't much reason to believe he'll markedly outperform his overall QB7 finish from a season ago.
Also, keep an eye on Prescott's recovery from non-throwing shoulder surgery. It doesn't seem to be an injury that will impact his offseason, but then again, it's impossible to trust what the Cowboys' organization says about injury timelines.
Many have simply dubbed Zeke to be washed due to his underwhelming explosive ability these days. But while it's true that the 2021 version of Elliott didn't quite resemble the game-breaking talent from 2016, completely ignoring the fact that he suffered a torn PCL in Week 4 doesn't seem fair. Elliott made more than a few great plays during the first half of the season and truly looked better than he had in a minute before the injury:
• Weeks 1-4: 79.9 PFF rushing grade, 5.3 yards per carry, 3.4 yards after contact per carry, 0.14 missed tackles forced per carry
• Weeks 5-18: 66.4 PFF rushing grade, 3.8 yards per carry, 2.5 yards after contact per carry, 0.06 missed tackles forced per carry
Yes, one can pick just about any rushing metric and argue that Pollard has been better than Zeke over the past few seasons. Also yes, this would be the case for Pollard inside just about any backfield in the league other than Indianapolis and Cleveland. The rising fourth-year talent has been one of the NFL's most efficient running backs since entering the league in 2019:
PFF rushing grade: 91.0 (tied for No. 4 among 94 running backs with 100 carries since 2019)
Yards per carry: 5.1 (tied for No. 9)
Yards after contact per carry: 3.9 (No. 4)
Missed tackles forced per carry: 0.23 (tied for No. 6)
Pollard more than passes the eye test. It's tough to definitively say anybody who believes Pollard is better than Zeke at football is wrong.
But does it really matter what we think? The Cowboys continue to have $90 million reasons to feed Elliott the ball to his heart's desire. They finally cut back Zeke's usage following his PCL injury, as Elliott only cracked the 70% snap threshold twice from Weeks 5 to the wild-card round after doing so in each of the Cowboys' first four games of the season. Even this sort of workload was hardly a problem in terms of expected fantasy points, as Elliott's expected fantasy points per game in Weeks 1-4 (14.7) were lower than in Weeks 5-18 (15.2).
The Cowboys fed Zeke 354, 268 (in 10 games), 381, 355, 296 and most recently 284 touches during his six years with the team. Their decision to make him the game's highest-paid running back seems like a mistake in hindsight, but expecting them to suddenly feature Pollard instead seems wishful thinking if they refused to do so in 2021 with Zeke obviously hobbled and the Cowboys actively competing for a championship.
One key reason why it remains doubtful Zeke loses his job as this offense's featured back: pass protection. Even haters must admit that Elliott can be a savant at this part of the game.
Zeke ????????????pic.twitter.com/ACOre8dzB2

— Ian Hartitz (@Ihartitz) January 16, 2022
It would make sense if Elliott's best days were behind him. The law of 1,500 professional carries tells us not to expect these sorts of veteran backs to exceed expectations. Still, even inefficient volume can be just fine in fantasy land if given enough of it. This is why fantasy managers who roster Najee Harris (correctly) don't care that he averaged fewer yards per touch than Elliott (4.5 vs. 4.4).
The stretch from Week 5 to the wild-card round was about as bad as Zeke has ever looked on an NFL field — and he was the RB19 in PPR points per game during this stretch. It's fair not to rank the Ohio State product inside the position's top-12 backs these days, but ignoring him in the fourth or fifth round seems rather harsh. He can be had closer to his fantasy floor than ceiling for the first time ever. The presence of Pollard caps the potential upside for a top-five finish, but high volume inside one of the league's top-ranked scoring offenses is usually enough to turn an average real-life back into a fantasy stud.
As for Pollard: the ceiling remains the moon if Zeke ever misses time, but he'll continue to be tough to trust as a re-draft asset on a week-to-week basis. Pollard was as good as ever in 2021 and accordingly received the largest workload of his career, and all this produced was fantasy's RB39 in PPR points per game. I'd rather draft fellow top-tier handcuff Alexander Mattison three rounds later.
Lamb is one of just 23 wide receivers with a PFF receiving grade north of 80.0 after concluding their first two seasons in the league (min. 100 targets). It's hard to complain about what the 2020 No. 17 overall pick has managed to accomplish so far, gaining 1,017 and most recently 1,178 total yards to go alongside six trips to the end zone during his first two years in the league.
Most encouraging about Lamb's encore campaign was his ability to improve just about everywhere. Pick any efficiency stat you want — PFF receiving grade (84.8 vs. 72.6), yards per reception (14.6 vs. 12.6), yards per route run (1.94 vs. 1.74), yards after the catch per reception (5.7 vs. 4.2) — Lamb was a better football player in 2021 compared to 2020.
Lamb just turned 23 in April, so it'd make sense if his best is still to come as a physical specimen. That's what makes a further improvement in his ability to pick up yards after the catch so tantalizing. Lamb is already very good, and another leap forward will leave him as one of the position's best overall talents.
CeeDee Lamb making people miss pic.twitter.com/XsR1OnUfD0

— Ian Hartitz (@Ihartitz) May 2, 2022
Last season Lamb finished as the overall PPR WR19 and the WR21 on a per-game basis. His expected leap forward into the position's top five finishers is primarily thanks to: 1.) the potential for an aforementioned leap from great to unstoppable, and 2.) more available targets than just about anyone and 3.) his continuity relative to other top fantasy receivers.
Nobody, including myself, seems to disagree with Cooper Kupp, Ja'Marr Chase and Justin Jefferson atop the wide receiver rankings. After this, I lean toward Stefon Diggs as the WR4. And then we get to Lamb, who simply possesses better continuity and less target competition than the rest of my players ranked inside the top 12:
• Davante Adams: Suddenly catching passes from Derek Carr while sharing a passing game with Darren Waller and Hunter Renfrow. There's no doubting the talent, but it'd make sense if production drops off a bit with more competition and without the reigning MVP under center.
• Tyreek Hill: Tua Tagovailoa's new No. 1 receiver figures to work as the 1a to Jaylen Waddle's 1b. Future fantasy managers best hope that head coach Mike McDaniel doesn't also envision a George Kittle-esque role for Mike Gesicki.
• Keenan Allen: The 30-year-old veteran doesn't quite boast Lamb's target ceiling, with Mike Williams and Austin Ekeler heavily involved in the passing game.
• Deebo Samuel: Trade rumors aside, Samuel's second-half receiving usage in 2021 was troubling, and he now faces the prospect of catching passes from Trey Lance inside an even more run-first offense.
• Mike Evans: Figures to share targets with Chris Godwin (ACL) and (probably) Rob Gronkowski sooner rather than later, although there is a scenario where Evans emerges as the fairly undisputed No. 1 passing-game option in Tampa Bay.
• Tee Higgins: Simply doesn't seem to offer the same best-case scenario as Lamb in terms of targets as long as Chase is wearing black and orange.
• A.J. Brown: Faces enhanced target competition in the form of DeVonta Smith and Dallas Goedert, as well as a potential drop-off in quarterback efficiency moving from Ryan Tannehill to Jalen Hurts.
And then there's Gallup, who was banged up for most of 2021 and finished as just the WR47 in PPR points per game. Still, the Cowboys' decision to hand him a five-year, $57.5 million contract reflects the likely reality that he's the offense's No. 2 wide receiver of the present and future.
The problem is just how soon that present will be, seeing as Gallup didn't have surgery to repair his torn ACL until February. Owner Jerry Jones has already called Gallup a question mark for Week 1, so there's unfortunately too much early-season injury risk to rank Gallup higher than WR4 territory. I'd take all of the first-round rookies besides Jahan Dotson — in addition to guys like Russell Gage, Tyler Boyd and Brandon Aiyuk — ahead of Gallup at the moment.
Gambling on a player *not* getting injured is quite different from selecting someone already hurt, and there's enough medical skepticism surrounding Gallup's timeline to wonder if the PUP list should be seen as more of a likelihood as opposed to a possibility.
Of course, Gallup's potential early-season absence could lead to all sorts of opportunities for Washington and (especially) Tolbert. PFF ranked Tolbert as the eighth-best receiver in the 2022 NFL Draft, noting the following:
Where he wins: Acceleration
Tolbert wins down the football field. He accelerates extremely well for a taller wide receiver, making it imperative for corners to get hands on him.
What's his role: Rangey downfield threat
Tolbert can immediately add a deep threat to any offense, but he's a long-term project. With a couple of years of NFL coaching and NFL weight training, he could be a completely different animal.
Where he can improve: Better competition
Tolbert just needs reps against better cornerbacks. He's spent years beating up guys who can't hold his jock athletically and didn't have to clean up bad habits to get open.
Tolbert's 31% career dominator rating was better than every first-round receiver besides Treylon Burks — the Cowboys may have a steal on their hands if Tolbert manages to keep on keeping on against better competition. Going well into the 14th round of Underdog Fantasy drafts, Tolbert is essentially a cheaper version of Russell Gage: He's a likely No. 3 wide receiver in a great offense who has a chance for an extended audition as the No. 2 option due to injuries elsewhere.
While we shouldn't count out the ex-Steelers receiver after spending the better part of the last decade catching passes from Mason Rudolph, plenty of other Pittsburgh receivers thrived in the same environment that usually rendered Washington as nothing more than a backup during the 2018 to 2021 seasons. The potential to start the season in three-WR sets inside a high-scoring Cowboys offense is alluring; just realize there isn't much of a ceiling for Washington even with Gallup sidelined due to his status as the likely No. 4 pass-game option more weeks than not.
Schultz doesn't have the sort of RAS score that will excite a lonely fantasy analyst, but at some point, the community needs to accept him as the upside TE1 he's functioned as for the better part of the last two seasons.
Just six tight ends average at least 12 PPR points per game last season:
Overall, only Kelce (10) and Andrews (10) had more total weeks as a top-12 PPR tight end than Schultz (9). Good thing style points don't matter in fantasy football land.
Schultz's franchise tag doesn't quite signal a true long-term commitment from the Cowboys, although their decision to part ways with Blake Jarwin indicates there won't be much competition at the position ahead of 2022. Schultz could feasibly work as the offense's No. 2 pass-game option. Consider: Cooper (162 targets) and Lamb (159) haven't worked all that far in front of Schultz (139) in Prescott's 23 starts over the past two seasons.
Athletically, Schultz might look out of place compared to the league's top tight ends, but he was one of just six players at the position with triple-digit targets in 2021. His eight touchdowns reflect the ceiling available to an every-down player in this sort of high-end scoring offense.
Schultz stands as my TE7 in fantasy land ahead of guys like T.J. Hockenson and Dallas Goedert, who are probably better real-life players at the position but simply don't have the same target ceiling or scoring upside in their respective underwhelming passing games.