Earlier in the week we took a look at some surprising projections from the 2018 Fantasy Playbook from an offensive skill player perspective. It seems only fair to show some love to the defensive side and look at some IDP surprises.
Analyzing projections as well as participating in mock drafts is vital to putting together fantasy draft boards and there are no more detailed projections than those offered up in the Fantasy Playbook, our 2018 draft guide. Let's take a look at a few surprising projections from an IDP standpoint and what they would mean for fantasy.
(The Fantasy Playbook is available with a subscription to PFF Edge.)
Surprising projection: 99 total tackles
There is a lot to like about Joseph as he enters his third NFL season. He saw his total tackles increase by 19 from his rookie campaign — although to be fair, Joseph did play three more games and 244 more snaps last year. There's little doubt that the 99-total-tackle plateau is in Joseph's future but there are some potential obstacles in the way of it happening in 2018.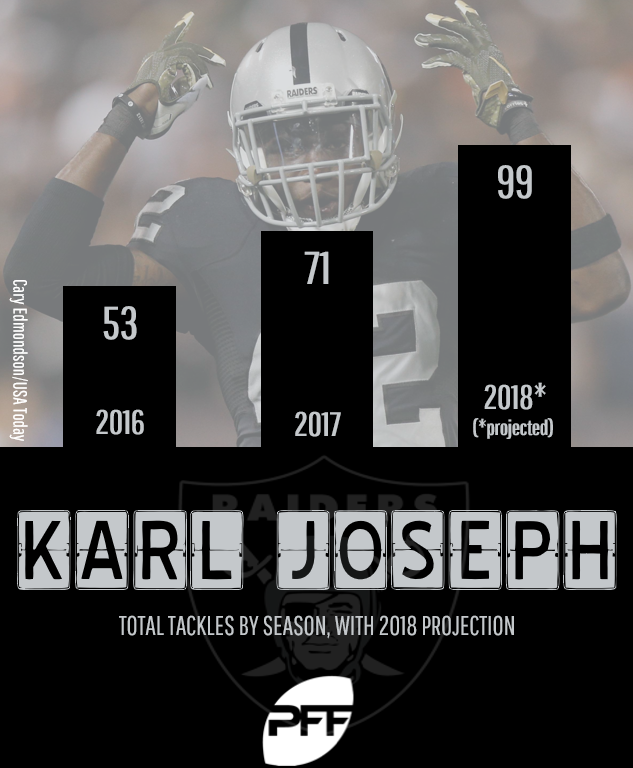 The addition of veteran linebackers Tahir Whitehead (238 total tackles in the past two seasons) and Derrick Johnson (eight seasons of 90-plus total tackles in his career) will limit some tackle opportunities for sure. There is also the presence of Reggie Nelson as well as the newly signed Marcus Gilchrist in the secondary. While he graded out poorly in pass coverage last season according to PFF, Nelson did rack up 89 total tackles. It is encouraging that Joseph lined up within 8 yards of the line of scrimmage on 65.5 percent of run snaps, but Nelson lined up there 70.7 percent of the time. Should those numbers flip/flop and Joseph cuts down on missed tackles (he led the defense with 13 last season), then the projection could be met, leaving his IDP owners very happy.
Surprising projection: 120 total tackles
Staying healthy is the first concern regarding Perryman after what was basically a lost 2017 season that saw him suffer multiple injuries. A preseason ankle injury landed him on the IR, meaning Perryman did not see the field until Week 10. A hamstring injury caused Perryman to miss Week 16 and he ended up playing just seven games. Perryman has yet to play 16 games in any season during his first three years in the league. Hopefully 2018 will be the year that changes and perhaps a healthy Perryman could flirt with triple-digit tackles after failing to top 75 to date.
There shouldn't be a lot of competition for tackles from another Los Angeles linebacker outside of possibly Jatavis Brown who seemed to fall out of favor as the 2017 season played out. It's the bevy of tackle-hawking safeties that the Chargers have that could pose a problem for Perryman to reach the projected 120. Jahleel Addae and Adrian Phillips lined up within 8 yards of the line of scrimmage on run snaps 89.9 and 98.1 percent of the time, respectively, combing for 259 total tackles. The addition of first-round draft pick Derwin James could also be a bit of a hindrance for Perryman as James topped 80 total tackles for Florida State in both 2015 and 2107.
Surprising projection: 97 total tackles
Let's flip the script with this evaluation, as I believe Cyprien will be able to top the 97 projected total tackles and perhaps by a wide margin. Cyprien's first season in Tennessee was definitely a disappointment as a hamstring/knee issue limited his effectiveness. Things started off OK as he put up seven tackles while playing just 56 snaps before the injury, which sidelined until Week 9 and finish the regular season with a career-low (by far) of 57 total tackles.
The good news is that Cyprien played every snap in the Titans two' playoff games last season and looked like the Cyprien of old. He had the big hit that knocked Travis Kelce out of the AFC Wild Card game and finished the loss to New England with six solo and seven total tackles. In his first four seasons Cyprien averaged 113 total tackles and had a total of 10 big plays. The Fantasy Playbook's projection of 97 total tackles along with four big plays definitely seems doable for Cyprien with a return to DB1 totals also in the picture.
Surprising projection: 48 total tackles and 10 sacks
This is a case once again where we'll take the stance that Graham has a real chance to best the 2018 projections. First off, the projections are very solid and IDP owners will be smiling like the butcher's dog should Graham simply match them. Since the Eagles switched to a 4-3 defense under defensive coordinator Jim Schwartz Graham has seen a steady rise in his sack production, jumping from 5.5 in 2016 to 9.5 last season. After years of lamenting Graham's designation as an outside linebacker, IDP owners have been delighted with his designation as a defensive end the past two years.
Still just 30 years old, there is no reason to expect Graham's play to tail off and double-digit sacks are easily within his reach. Graham has led the team in quarterback hurries the past two seasons with an impressive 105 and of course is riding the high of having saved the Eagles' Super Bowl victory with a strip sack of Tom Brady. Second-year DE Derek Barnett will line up as the bookend opposite Graham and will have to be accounted for by offensive lines. In his rookie season Barnett was credited with 21 quarterback hurries as well as 10 hits and finished with five sacks. The presence of newly acquired veteran Michael Bennett will also ease some of the pressure off Graham, allowing him to do what he does best and that's get after the quarterback. As for the tackle totals, I can see Graham finishing closer to the 59 he put up in 2016 but would not be disappointed by the projected 48 at all.