Each week in this space, we'll highlight the best quarterbacks to pick up and stream in fantasy football. Today, we're looking ahead at Week 13.
Fantasy football is a funny game. Jared Goff, who has now scored less than six fantasy points in three straight games and has yet to eclipse the 30-point mark, was selected, on average, by pick 96 in most drafts. Which QB had an ADP just three spots later? A young man named Lamar Jackson, who just breached the 30-point hurdle for his league-leading fifth time. The next closest is Russell Wilson, who was selected about 30 picks earlier than the two, with just two 30-point games. If you're one of the owners who wisely chose Jackson over Goff, congratulations. For the rest of you, you've found the correct place. This weekly article will give you the best chances for success by providing you with the top Week 13 streaming quarterback options for all league sizes.
Before we continue with the upcoming action, let's take a look back at last week's action one last time. While Derek Carr was among my worst picks this season, finishing the week as the 26th-highest-scoring quarterback, the five other quarterbacks picked up the slack, all finishing among the top-15 quarterbacks in Week 12. … Ryan Tannehill and Sam Darnold, both of whom were recommended for players in deep leagues, finished the week as the second- and third-highest-scoring QBs, respectively. … Baker Mayfield also had a good week, scoring a respectable 23.6 points against Miami. … Nick Foles and Jacoby Brissett both finished as high-end QB2s, which is good but not great for teams that are clawing their way into the playoffs.
Week 13 is here, which means the playoffs have arrived for many. Fortunately, it also means the end of the 2019 bye weeks, which should help out many an owner. For those of you looking down the barrel of elimination, desperately searching for a streaming quarterback, look no further.
Shallow leagues (8-10 teams)
Although it's not exactly a dream matchup, Cousins, who have been a low-end fantasy QB1 this season, should have himself a day against the Seattle secondary that has allowed over 17 points per game to quarterbacks this season. Another thing working in his favor is the return of Cousins' favorite target, Adam Thielen, who has been sidelined with a hamstring injury. For those of you looking to bolster your QB department ahead of a playoff run, Cousins just might be your best bet.
Derek Carr, Oakland Raiders (@ KC) — 65% owned
Carr's final line was not pretty last week, but when you dive past the box score, you'll see he still threw the ball over 25 times but threw for one of his worst completion percentages of the season while not finding the end zone for the first time since Week 5. Carr should bounce back in an easier matchup against the Chiefs, who have allowed the 10th-most fantasy points to opposing quarterbacks.
Standard leagues (10-12 teams)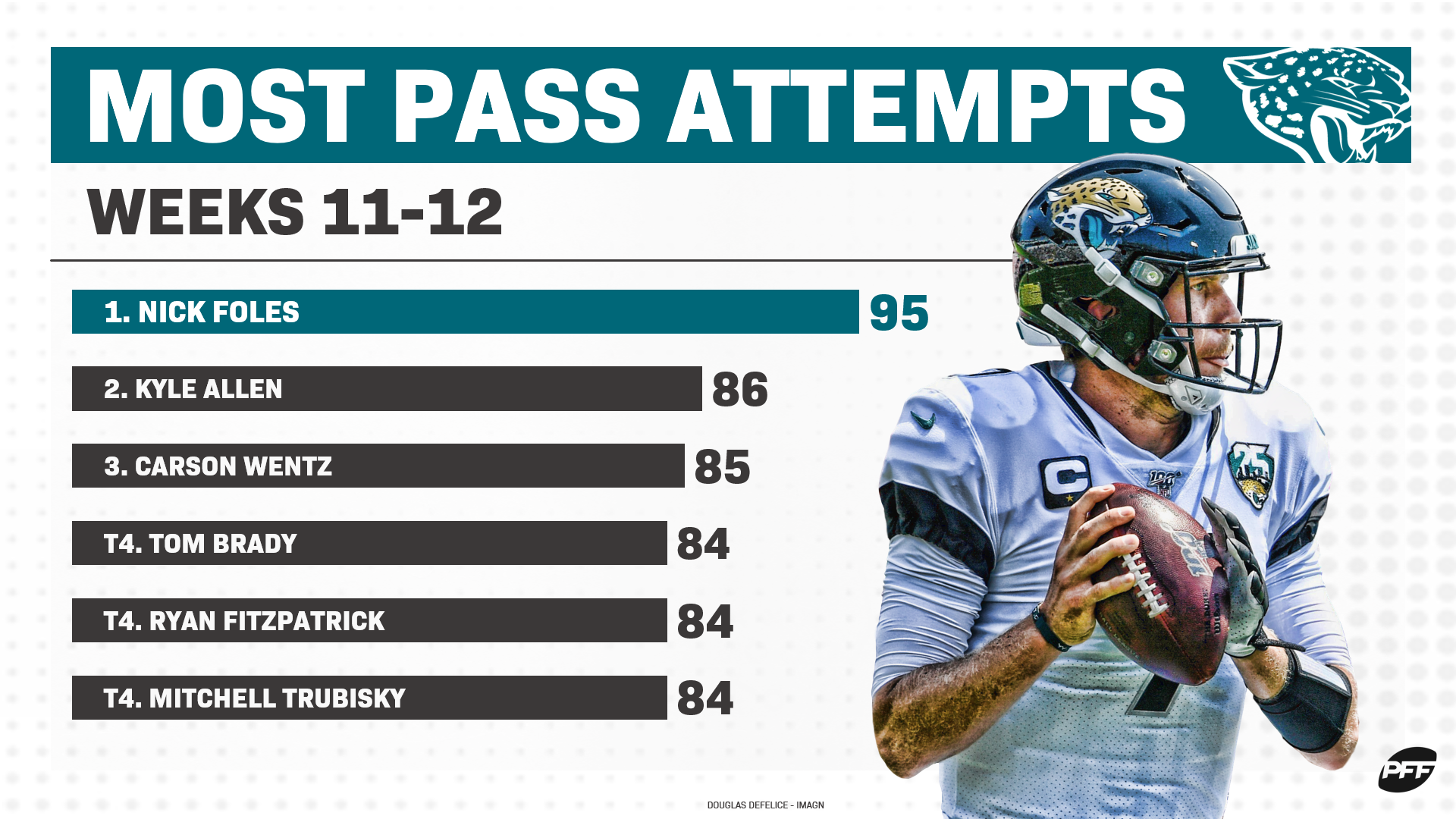 For the second game in a row since returning to action, Foles threw over 47 passes and over 270 yards. Unfortunately, Foles was unable to secure a touchdown in the loss, but odds are good he will find one next week against Tampa Bay, which has allowed 26 touchdowns to quarterbacks through 11 games. He's not a great solution moving forward, but in a pinch, Foles makes for a great streaming matchup this week.
Sam Darnold, New York Jets (@ CIN) — 39% owned
With the exception of a few early losses, Darnold has pretty consistently thrown for about 20 completions on 30 passes with 250 yards and a touchdown or two. If that was all we were going to get this week, Darnold may not have made the cut. What also must be considered is that not only has he been picking up momentum lately, but Darnold is also heading to Cincinnati to face a bottom-five secondary in the Bengals. Like Foles above, Darnold can be confidently started this week in most formats, but his ceiling throughout the fantasy playoffs is pretty limited.
2QB and deep leagues (14+ teams)
Ryan Tannehill, Tennessee Titans (@ IND) — 26% owned
Maybe a change of scenery is all that was needed for Tannehill who has played the best football of his career since being traded to the Titans. With over 17 fantasy points per game, Tannehill is sandwiched between Aaron Rodgers and Drew Brees with the 14th-most in the league. One thing to keep an eye on this week is the usage of Tannehill's mobility, which will be put to the test against a stingy Colts defense that has allowed just 136 yards and 1 TD to opposing quarterbacks on the move. If his recent play is any indication, Tannehill, who has rushed for 117 yards and 3 touchdowns over the past three weeks, could be exactly the right guy to break through Indy's trenches.
Last time the "Fitzmagic" was let loose against the Eagles, he threw for 402 yards and 4 TDs. Although he'll be wearing a different uniform this time around, look for him to again pick apart a Eagles secondary that has not been too impressive so far. Although the Eagles defense is coming off of what looks to be two great games against Tom Brady and Russell Wilson, it must be noted that both games were played in 15-20 mph wind storms and Carson Wentz of the Eagles looked terrible in both games as well. Fitzpatrick is available in almost all leagues and makes for a solid, yet uninspiring option this week.