As we head into Week 10 of the NFL season, byes and injuries and surprise performances have changed the defense/special teams landscape in fantasy football, meaning we need to be on the serious lookout for units worth streaming.
It's time for owners to place four fingers in the air as we head into what is essentially the fourth quarter of the 2018 fantasy football regular season. The things we thought we knew in the first quarter of the season are now the things we know we know with every team having now played at least eight games.
The data and game film (showing my age there) is there for owners to make sound streaming DST selections as the fantasy playoffs approach.
A quick note here regarding the DST units I consider weekly starts. The Minnesota Vikings and Chicago Bears are the only two teams that make the cut. Every other unit is on the table for streaming purposes except of course for those on their bye week.
The DST units on a bye in Week 10 are the aforementioned Vikings, plus the Baltimore Ravens, Denver Broncos, and Houston Texans. These are some of the top units over the past four weeks, so streaming wisely will be important this week.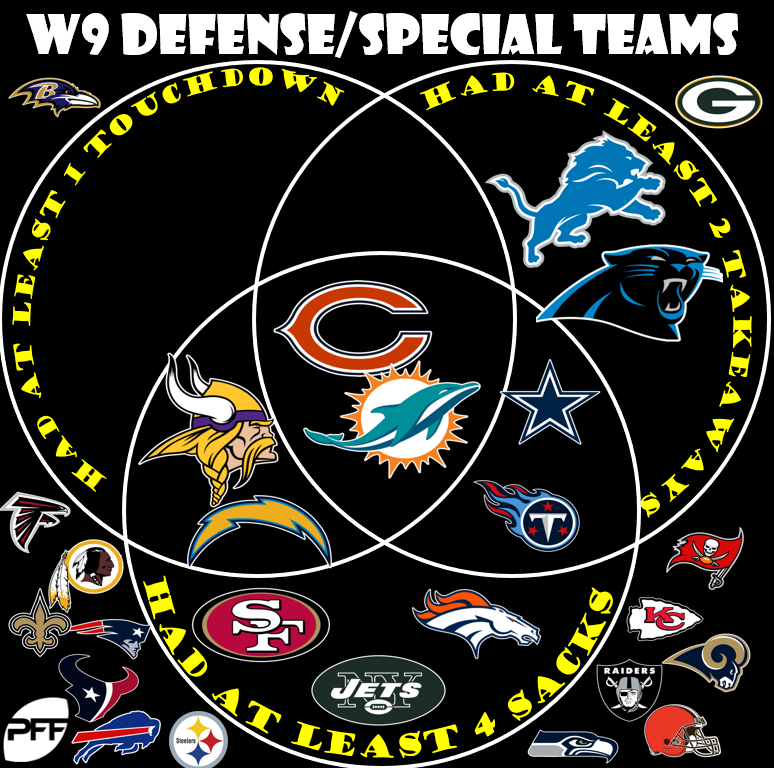 Let's take a look at some top DST streaming options for Week 10.
The offensive woes continued for the Bills as once again they turned the ball over four times and gave up a pair of defensive touchdowns to the Bears in Week 9. Due to injuries, Nathan Peterman was forced back into the starting lineup and struggled once again, throwing three interceptions and getting sacked four times. It doesn't matter who starts at quarterback, there is no better offense to stream a DST unit against in 2018. In the past four games, Buffalo has allowed 11 sacks, turned the ball over 14 times, and given up three defensive touchdowns. It appears that veteran Derek Anderson (concussion) will start Week 10 if he passes the concussion protocol and rookie Josh Allen (shoulder) is not cleared to play.
The two offenses in this Week 10 matchup each allowed four sacks last week, had a combined 8 turnovers, and allowed three defensive scores. Yes, we like each of the DST units in what is likely to be a turnover-filled affair. Rookie Sam Darnold threw four interceptions in the Week 9 loss to Miami and now has a league-leading 14 on the season. I believe I've made my stance on streaming DST units against rookie quarterbacks known. The Bills will likely get rookie linebacker Tremaine Edmunds (concussion) back, further enhancing their fantasy outlook in this favorable matchup.
Let's stream against another rookie quarterback, shall we? The switch to Byron Leftwich as offensive coordinator seems at first glance to be a wise move for the Cardinals. Rookie Josh Rosen had one of his better outings in the Week 8 victory over the 49ers, finishing with 23/40/252, two touchdowns and one interception. That said, the fact remains that in his last three games Rosen has three touchdowns and seven turnovers. In their last three games, the Chiefs DST has amassed nine sacks, four forced turnovers, and a defensive touchdown. Likely to be in a come-from-behind situation, look for Rosen to be forced into some untimely turnovers.
Things are definitely trending in the wrong direction for the Raiders as they allowed 8 sacks in their Week 9 loss to the 49ers. The offensive line has struggled in the past three games to protect Derek Carr, allowing an average of 4.6 sacks per game. The Chargers are coming off a strong showing in their victory at Seattle, with four sacks and an interception return for a touchdown. Despite the absence of defensive end Joey Bosa, Los Angeles has been able to pressure the quarterback, racking up 11 sacks in the last three games. In the Week 5 meeting at Los Angeles, the Chargers finished with three sacks and a pair of turnovers forced.
These are a pair of units heading in opposite directions. When we last saw the Giants offense back in Week 8 against Washington, they allowed seven sacks and two interceptions. When we last saw the 49ers defense last Thursday night, they were putting up eight sacks of Derek Carr on their way to a 34-3 victory. On the season the Giants have allowed 31 sacks and an average of 18 total quarterback pressures per game. Led by DeForest Buckner — who has 5.5 sacks — the 49ers coincidentally average 18 total quarterback pressures per game and have 25 sacks in 2018. The Giants offensive weakness plays into a 49ers strength so let's ride the team from the City by the Bay.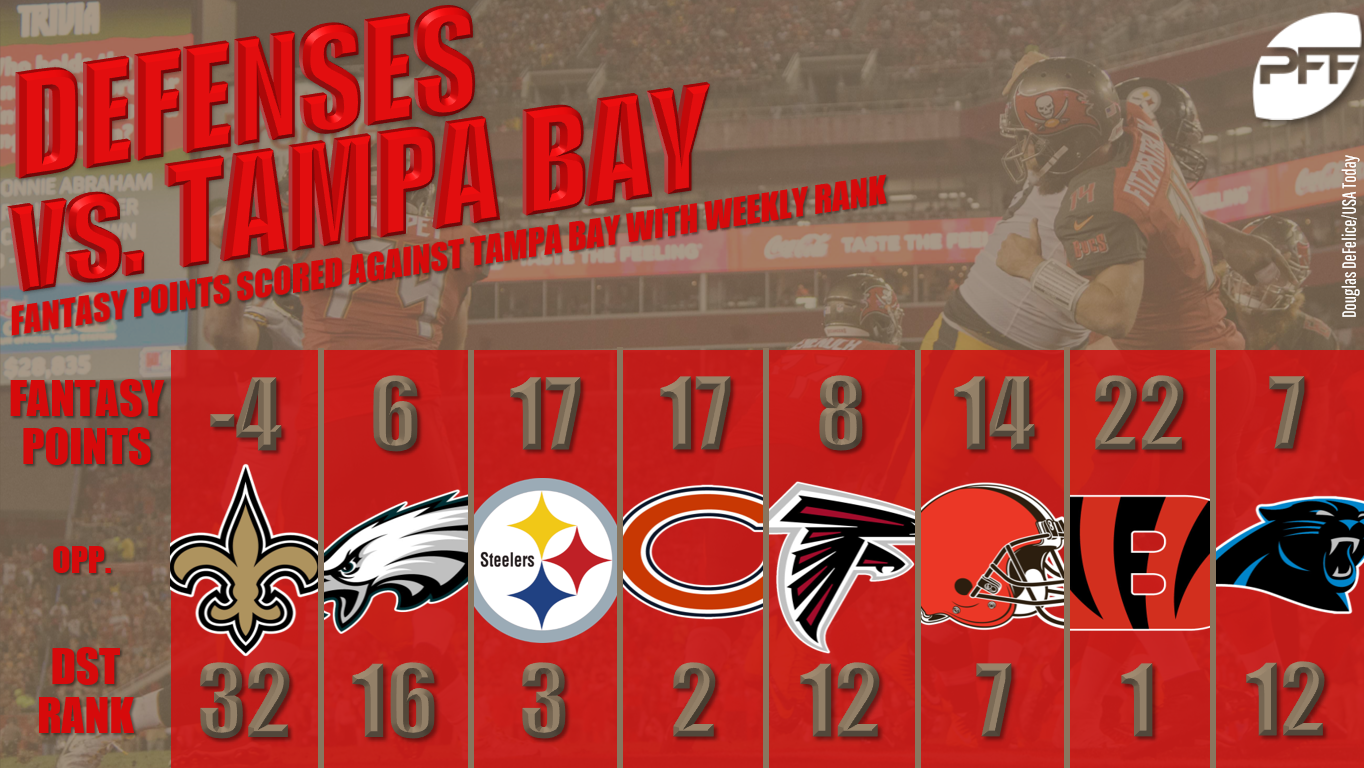 The Buccaneers remain one of the top offenses in allowing fantasy production to DST units even with Ryan Fitzpatrick tossing four touchdowns in Week 9. In true Fitzpatrick form, he also threw two interceptions and the Panthers finished as a top-10 fantasy DST last week in most 12-team leagues. A closer look at the Buccaneers season reveals that in 12-team leagues, six of the eight teams they've faced have finished with top-12 fantasy finishes for the week. This is a great breakout opportunity for a Redskins DST unit that has been a middle-of-the-pack performer to date in 2018.
This is the Hail Mary sleeper DST unit to stream in Week 10. It is all about the Blake Bortles factor. Despite playing a clean Week 8 game turnover-wise against the Eagles, Bortles remains a quarterback to stream against as he has 11 turnovers through eight games. Need more convincing? Taking a quick look at Bortles career reveals he's played 70 regular-season games. In those 70 games, Bortles has thrown 72 interceptions and lost 18 fumbles. The Colts defense hasn't been going gangbusters through eight games, but the possibility of a multi-turnover game against the Jaguars is just too good to pass up.