Week 2 is in the books, and what a wild weekend of football it was. There were excellent examples of just how hard it is to get a grasp this early as to which defenses will be dominant on a weekly basis.
A quick look at the Baltimore Ravens puts things in perspective. In Week 1, the Ravens put up six sacks with two interceptions against Buffalo. In Week 2, Baltimore put up a goose egg across the board while allowing 34 points to Cincinnati. On the flip side of things, the Dallas Cowboys finished well outside the top-20 in Week 1, putting up three sacks and a fumble recovery. Last week the Cowboys put up top-10 numbers with six sacks and a fumble recovery.
Trends may be coming into a bit more focus as we head into Week 3. Let's take a look at some of the better streaming DST options for Week 3.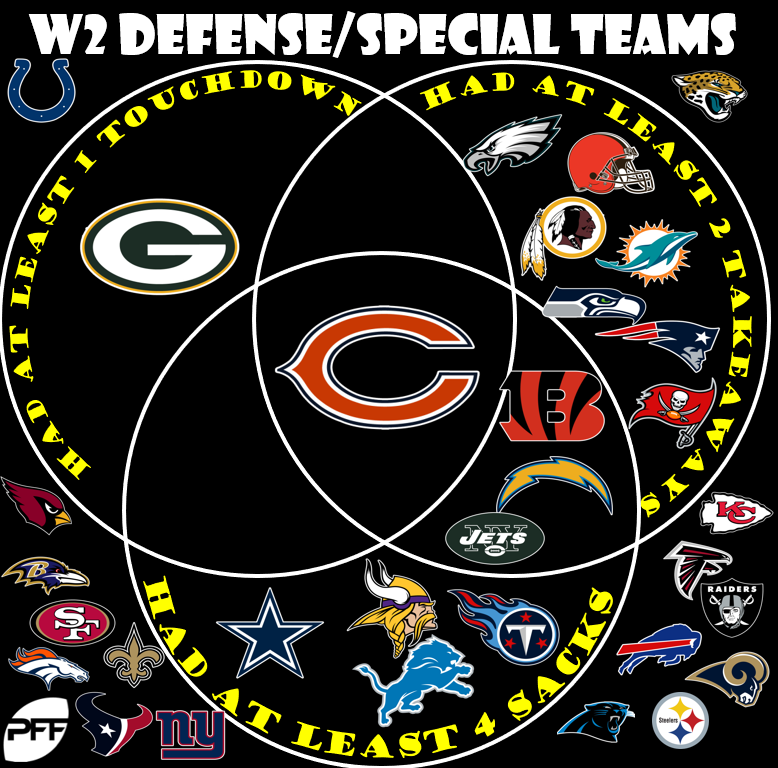 Led by defensive tackle Geno Atkins, the Bengals' pass rush has come out of the gate in impressive fashion with six sacks, 30 quarterback hurries, and 13 hits through two games. Atkins has accounted for half of the sacks and this unit has put up a pair of fumble recoveries with three interceptions and a defensive score. The Panthers are without their top two offensive tackles and have allowed at least two sacks in each game this season. When facing pressure, Cam Newton is completing 37.5 percent of his passes with no touchdowns and an interception.
This streaming suggestion isn't based on the Texans' DST playing particularly well — they're not, coming off a single-sack performance in Week 2. This is based on the subpar play along the Giants offensive line (and I'm being kind settling for "subpar"). The Cowboys got to the quarterback six times last week, while New York has allowed eight sacks in the first two weeks. In their first two games the Texans have had troubles getting to the quarterback, with just three sacks and 14 total pressures. If there was ever a game for J.J. Watt to get his mojo back (he did have a forced fumble last week), this is it. The return of Jadeveon Clowney (back) to the lineup should further enhance this unit's production.
While two games is a very small sample size, the Lions have been the most generous offense when it comes to giving up points to opposing DSTs. More concerning is that the Lions are giving up points in every possible fashion, having allowed a pair of sacks, five interceptions, and a defensive and kick return touchdown. Detroit is once again struggling to run the ball, ranking 29th in rushing offense and averaging just over 68 yards per game. The Patriots will likely shut down the run, forcing a struggling Matthew Stafford to have to take to the air. That will lead to sacks and turnovers Sunday night in Detroit. It would be a boost if Trey Flowers is able to clear the concussion protocol and suit up for the Patriots.
Chasing struggling offenses has always been advisable for streaming purposes, and the Cardinals top that list through two games. Arizona is dead last in both passing and total offense and 31st in rushing offense. The Cardinals were shut out by the Rams last week and have scored just six points in two games. Quarterback Sam Bradford has turned the ball over three times while averaging just 4.0 yards per completion with no touchdowns and three turnovers. Let's stream any DST that faces Arizona moving forward.
Through two heartbreaking games — in which placekicking woes have kept the team winless — the Browns defense has quietly been productive from a fantasy standpoint. Cleveland managed three sacks against the Saints in Week 2, which is no small feat considering that New Orleans allowed a total of 20 in 2017. Sam Darnold and the Jets offense came back down to earth last week, allowing three sacks, a fumble recovery, and two interceptions in their loss the Dolphins. Streaming a DST against rookie quarterbacks is still a strong strategy and advisable to do so this week.
Yes. I believe this game has the potential to be a sloppy error-filled defensive struggle Thursday night. New York enjoyed a five-interception performance in Week 1 against the Lions in which the team managed both defensive and kick return touchdowns. Things were not as easy in Week 2 in their loss to Miami, but the Jets did still manage four sacks and two turnovers, finishing with top-10 fantasy totals. There will be the chance for another nice game against a Browns offense that has allowed 10 sacks and a pair of interceptions in the first two weeks.
This is yet another case of streaming a DST that hasn't been overwhelming against an offense that has struggled out of the gate. In Week 1, the 49ers were turnover-prone, allowing three interceptions, a fumble recovery, and a defensive touchdown. More concerning is that in their victory over Detroit last week, San Francisco gave up six sacks to a less-than-stellar pass-rushing defense. Detroit did rely on some stunt blitzes and in a copycat league the Chiefs will look to do the same against an offense that's now given up nine sacks in two games. The Chiefs are dangerous on the special teams side of things with speedy Tyreek Hill having already returned a punt 91 yards for a score.