(Welcome to 2019 Storylines Week. All this week, some of our writers will identify what they see as some of the top fantasy football storylines of 2019.)
We have known for years that quarterback is the most easily replicable of the main fantasy football positions. A virtually unassailable draft strategy – late-round quarterback – was birthed in tandem with one of fantasy's most indomitable personalities more than a half-decade ago. What was clear to some even before then has only crystalized as gospel since.
Now we have reached the next evolutionary stage of the quarterback position, and what once was solely a fantasy football phenomenon is being accelerated by the emergence of a parallel NFL trend. Despite their abundance in fantasy leagues, the dearth of functional starting signal-callers has dogged the NFL for years. Not anymore.
While high-quality quarterbacks remain among the rarest assets in any sport, with the exception of a small handful of teams, nearly every organization currently feels justifiable confidence in their starter. The perpetually in-denial front office in New Jersey is a story for another time.
The NFL's offensive reawakening of 2018 was largely driven, as most football trends are, by the quarterback position. Passers were healthier compared to the prior season, when overall scoring output dropped to 43.4 points per game. More than an additional field goal was added to that average last year (46.7). It's part of a larger upward trend in scoring, and there is little reason to expect it to abate anytime soon.
The implications for fantasy football are significant, especially as the league has continued to lean toward a pass-centric offensive approach. After an injured-quarterback-induced pass rate dip in 2017 (57.6%), last season saw a rebound to its previous upward trajectory (58.8%). This occurred despite the Ravens and Seahawks turning ultra-run-heavy.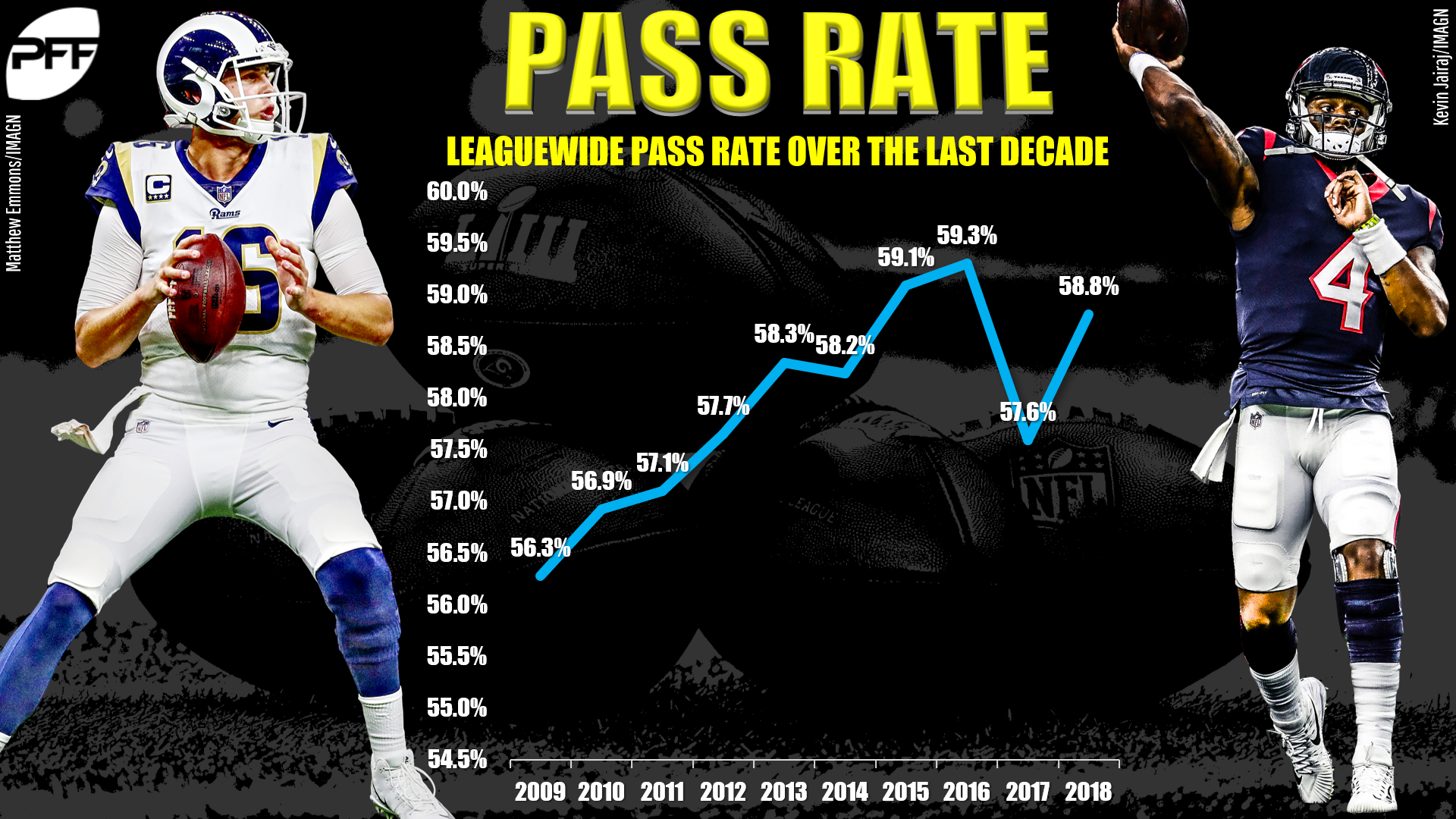 The increased number of quality fantasy quarterbacks are also throwing at a greater rate, and it threatens to further batter their already-depressed value in most league formats. At the same time, a quietly rising trend threatens to join these forces to essentially wipe out the dwindling value fantasy passers cling to – and the new trend has nothing to do with passing.
In one of the seminal fantasy articles of our time, the intrepid Rich Hribar coined the Konami Code to introduce a revolutionary roster hack. Running quarterbacks are a fantasy cheat code. Even passers who couldn't hit water if they fell out of a boat – ahoy, Tim Tebow – remain quite viable in our fake football games … if they can run. While it may seem obvious now, it was less so then.
In recent seasons, a new wave of quarterbacks has secured staring jobs around the league – most of whom were highly drafted and derive a significant portion of their fantasy output from their legs. Last season, the top 10 quarterbacks in this category had an average age of 25.4 years. The bottom 10 was 30.9 years old, on average.
While it makes sense that older quarterbacks don't run as often, the bottom-10 cohort just missed including Tom Brady (42 years old next season), Drew Brees (40), Ben Roethlisberger (37) and Matt Ryan (34). The shifting demographics of the quarterback position point to a continued rise in rushing output as a percentage of total fantasy points scored. Leading the movement are Deshaun Watson (24), Dak Prescott (26), Marcus Mariota (26), Mitchell Trubisky (25), Jameis Winston (25), and two rookies who were extreme outliers in 2018.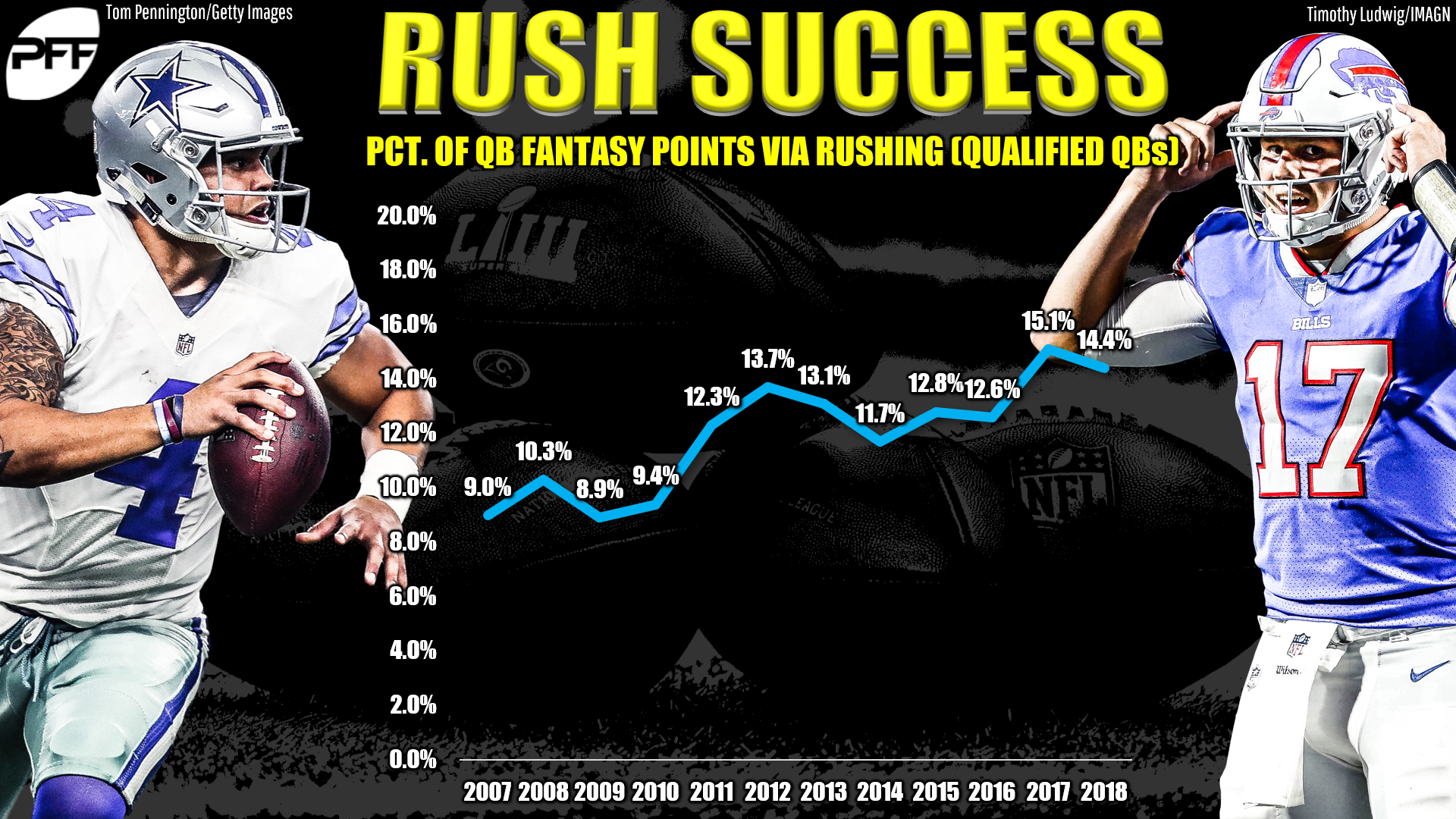 If we look at all quarterbacks over the last 12 years who played at least 25% of their teams' snaps (roughly 40 passers per season), we just witnessed the two most rushing-heavy fantasy seasons. Both Lamar Jackson (59%) and Josh Allen (50%) derived at least half of their fantasy points via their legs – something that hadn't been done in more than 12 years.
Jackson had the heaviest rushing workload of any quarterback since the turn of the millennium. His 9.2 rushing attempts per game marked the first time a quarterback reached nine per game since the 2000 season. Jackson's 21 rushing attempts per game started dwarfed any other quarterback over those previous 19 seasons.
If this trend continues, or even holds steady, the oversaturation of viable fantasy quarterbacks will persist. When Jackson, Allen, Carson Wentz and Tom-Goating-Brady are backup fantasy starters – and drafting backup quarterbacks in most one-QB leagues is foolish – the format is broken.
Rational observers can debate the validity of "QB wins," but nobody can quibble with the fact that quarterback is the most important position in the sport. Or any sport. Fantasy football does a sorry job representing that fact, and increasingly sophisticated fantasy gamers more quickly recognize flaws in the structure of their leagues. This flaw is only getting worse.
If an emergent fantasy trend in 2019 will be an acceleration of the decline in quarterback value, a resulting secondary trend should be the continued rise of 2-QB and superflex leagues. Already popular with hardcore fantasy gamers and dynasty enthusiasts, these league variations are the only way to fix the most broken part of our game.
Fantasy football is most fun when several competing strategies are used. As strong of an approach as "late-round quarterback" is, it's terribly boring. Just as a first round consisting almost entirely of running back selections is tedious or being forced to draft a kicker and a defense is a drag. Homogeneous drafting strategies are the run-run-pass-punt of the fantasy world. Jeff Fisher would approve.
In traditional, one-QB leagues, getting out in front of this corrosive trend of signal-caller saturation only requires a commitment to the late-round quarterback strategy. When it comes to helping advance the game of fantasy football, however, we must take it in our own hands and make the switch to 2QB leagues.