The 2020 WR class was heralded as one of the best in recent memory. Through 10 weeks it hasn't exactly disappointed: Basically all 13 receivers drafted inside of the top two rounds have impressed at one point or another to varying degrees.
Subscribe to
Still, one man has stood head and shoulder above the rest over the past two months: Justin Jefferson. The No. 22 overall pick of the draft went behind Henry Ruggs, Jerry Jeudy, CeeDee Lamb and Jalen Reagor, but the former LSU Tiger has certainly made the biggest name for himself out of that group thus far.
It's not an exaggeration to already call Jefferson one of the NFL's best players at the position regardless of experience:
PFF Receiving Grade: 91.2 (No. 2 among 97 WRs with 25-plus targets this season)

Yards per reception: 18.1 (tied for No. 5)

Yards after the catch per reception: 6.6 (tied for No. 10)

Yards per route run: 3.23 (No. 1)
The rookie has dropped just two passes along the way and has essentially served as a one-to-one replacement for Stefon Diggs as the offense's ace field-stretching WR who led the NFL in deep-ball receiving yards last season. Overall, only D.K. Metcalf (372) has more receiving yards on targets thrown at least 20 yards downfield than Jefferson (321). Nobody has averaged more yards per target than Jefferson (24.7) on these deep-ball targets.
Of course, neither Diggs nor Jefferson should be considered one-trick ponies when it comes to their respective ability as a receiver. Through 10 weeks, Jefferson is PFF's:
Highest-graded receiver on targets thrown 20-plus yards downfield.

11th-ranked WR on targets thrown between 10-19 yards.

17th-graded option on opportunities behind the line of scrimmage up to nine yards down the field.
Jefferson's success doesn't take anything away from Diggs' high-end ability; both receivers have been absolute studs in 2020. Rather, the rookie simply deserves credit for largely functioning as anyone's idea of a top-10 receiver at the position for most of the season. Losing a talent like Diggs stings any way you look at it; just realize Jefferson sure looks like the best consolation prize that Vikings fans could've asked for.
Justin Jefferson is #good at football pic.twitter.com/jsH6OmTzpp

— Ian Hartitz (@Ihartitz) November 19, 2020
Playing with a fellow high-end talent like Adam Thielen certainly helps matters, although there's a case to be made that opponents have already shifted their attention to Jefferson as the Vikings' most-dangerous receiver. In Week 1, the Packers utilized Jaire Alexander to shadow Thielen, but in Week 8 the stud CB wound up spending most of his afternoon across from Jefferson. Perhaps this was because Thielen has a history of beating Alexander like a drum; either way, this is much more of a 1.A/1.B situation than most (including myself) could've possibly imagined ahead of the season.
The only thing truly holding back both Jefferson and Thielen from having their names thrown around the top-five members of their position is simple: volume. Kirk Cousins has a few bad games every season that make most question how he's earned his status as a franchise QB, but by and large we've seen the two most efficient versions of the 32-year-old signal-caller yet over the past two years. The reason why Cousins hasn't posted wild counting stats is because OC Gary Kubiak has largely run the offense through Dalvin Cook.
2019 pass-play rate: 52% (No. 31)

2019 total targets to WRs: 201 (No. 31)

2020 pass-play rate: 50.6% (No. 31)

2020 total targets to WRs: 142 (No. 29)
Cousins has finished with fewer than 30 pass attempts in all but three games this season, and we've seen a painfully low floor in games like Week 4 (22 pass attempts), Week 8 (14) and Week 9 (20) when the Vikings have been able to run the ball to their heart's desire.
The good news is the Vikings' franchise QB has made an effort to essentially revolve the entire passing game around his top-two WRs. Both rank highly in terms of personal target and air yard share through 10 weeks:
Thielen: 28.2% target share (No. 3 in the NFL); 40% air yard share (No. 3)

Jefferson: 23.8% target share (No. 13); 30.9% air yard share (No. 16)
Still, this general lack of volume is why Thielen and Jefferson rank as the WR13 and WR21 in PPR points per game, respectively, despite each largely functioning as top-10 real-life options at the position all season.
It's fairly easy to see a world where the Vikings are able to coast with Cook against the Cowboys (No. 30 in yards allowed per rush), Panthers (No. 28) and Jaguars (No. 15) alike over the next three weeks. The good news for Thielen and Jefferson fantasy football managers is that matchups against the Buccaneers (No. 1), Bears (No. 8) and Saints (No. 2) should yield more pass-happy game scripts in Weeks 14-16. Tough matchups, sure, but again: All these WRs have done this season is ball the hell out, largely regardless of the opposing defense.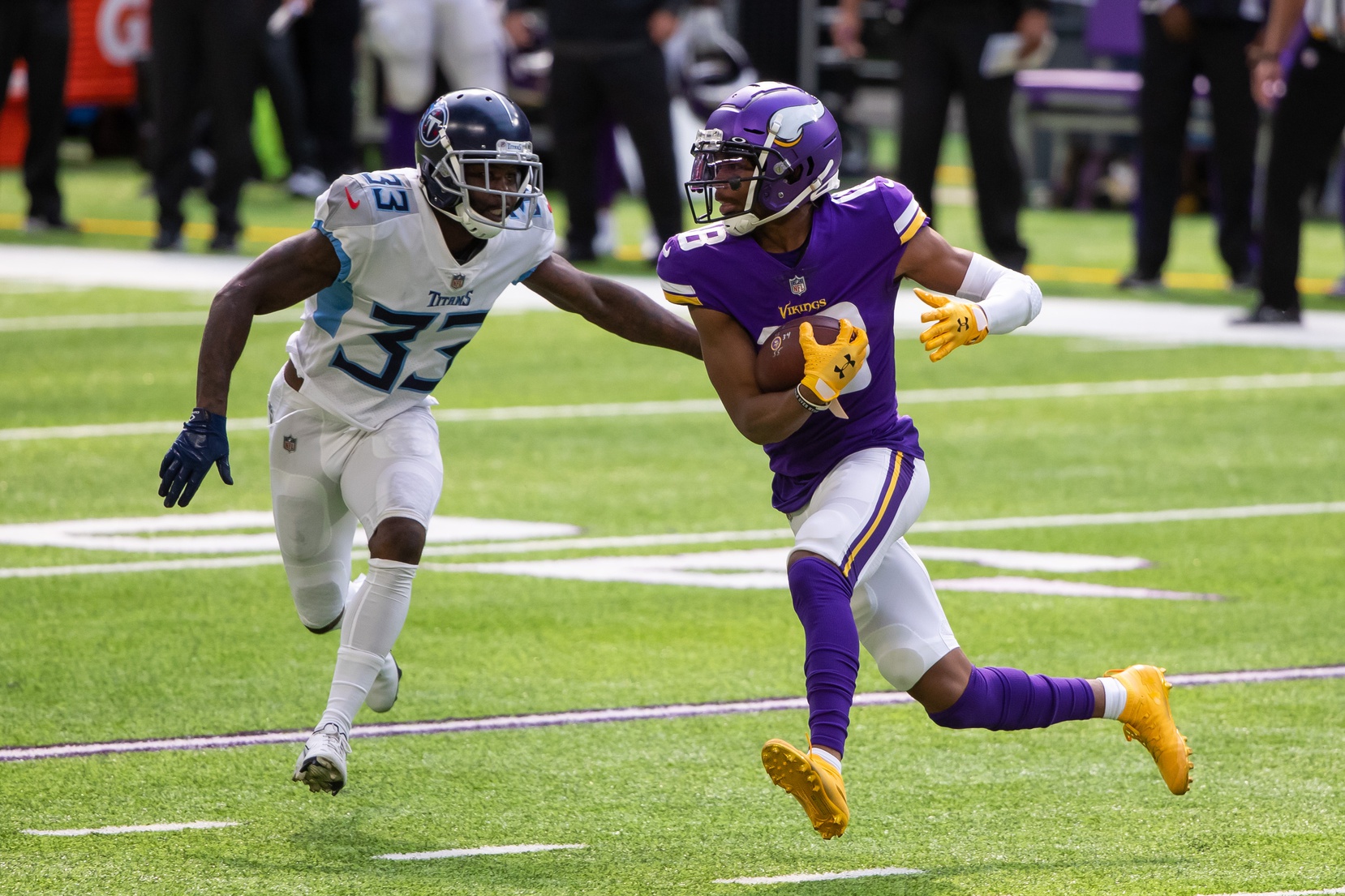 A popular adage in fantasy football is to bet on volume over talent. This is certainly a solid strategy that I've referenced more than a few times on the PFF Fantasy Football Podcast, but there are exceptions to every rule, and players capable of combining high-end talent with middling volume are certainly more-than-viable fantasy options. This is what we have in Thielen and Jefferson: two exceptionally talented receivers with reduced overall ceilings due to their relatively mundane workloads, but we've still seen more than enough evidence that they can provide game-changing performances with even a little bit of action.
This is thanks in large part to the reality that few receivers see more fantasy-friendly opportunities. Cousins' 9.8-yard average target depth is the third-highest mark in the league among 35 QBs with at least 100 dropbacks; when he does throw deep, it usually leads to a fantasy-friendly target for the receiver. Even then, these WRs have surpassed what we would've expected from them: Jefferson (+4.5) and Thielen (+2) rank fourth and 23rd, respectively, in PPR points per game above expectation this season. The rookie has been particularly impressive in this metric; only D.K. Metcalf (+45.7) and Davante Adams (+43.7) have more PPR points above expectation than Jefferson (+40.2).
The arrow for Jefferson is pointing straight up in dynasty land. The 21-year-old talent has already shown off an incredible combination of route-running goodness and contested-catch ability. There also objectively isn't a rookie at the position with more swag at the moment. We truly are looking at one of the best rookie receivers the game has ever seen.
There will continue to be games where Cousins throws the ball fewer than 20 times and his top-two receivers inevitably don't get the sort of high-end opportunity that their ability warrants. Still, don't mistake at-times boom-or-bust production for a boom-or-bust player; Jefferson would be the top receiver drafted in a re-rack of the 2020 draft with hindsight enabled, and I don't think it would be much of a conversation.
There literally hasn't been a more-efficient rookie receiver over the past decade: Jefferson's average of 3.23 yards per route run easily surpasses previous-high marks from Year-1 receivers like Odell Beckham (2.75), A.J. Brown (2.67) and Tyreek Hill (2.67) since 2010. Nobody has averaged more yards per target than Jefferson (14.1) since the metric began being tracked in 1992 (min. 50 targets).
Somehow, Jefferson hasn't had more than two incompletions thrown his way in a game through 10 weeks. Good things happen when Cousins throws his stud rookie receiver the ball. From an efficiency standpoint, Jefferson is basically having the best rookie season from a WR… ever. Don't sleep on the Vikings continuing their second-half bounce-back campaign, and realize that Jefferson is a major reason for their success even if his 2020 counting numbers aren't as absurd as his future ceiling appears to be.