Each week in this space, we'll be taking a look back at Sunday's games to find five of the most interesting or most important stats for fantasy football owners. With 12 of 13 games from NFL Week 9 in the books, here are the five stats you need to know:
1. On Sunday, Michael Thomas set the Saints franchise record for most receiving yards in a single game (211).
Thomas has been one of our seven highest-graded wide receivers in each of the past three seasons. He's on pace to become one of just five players ever to reach 1,000 receiving yards in each of his first three seasons in the NFL. He's also currently leading the NFL in catch percentage with 88.6%. Perhaps this helps explains why — after years of taking more of a spread-the-wealth approach — Drew Brees has locked onto him in the passing game. Thomas currently ranks top-five in target market share (percentage of team targets) for the second consecutive season.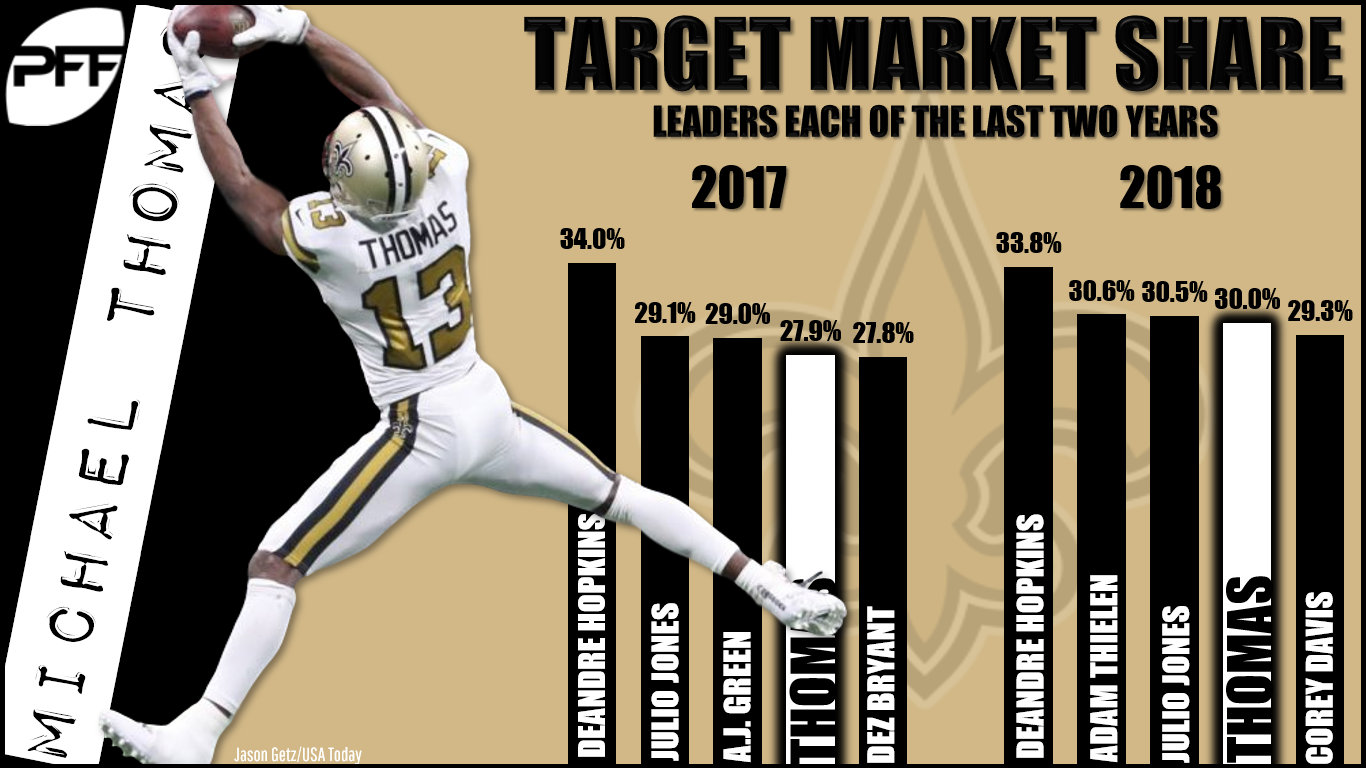 As was the case on Sunday, Thomas remains a top play in weeks we can project the Saints to go pass-heavy. Over the past two seasons, Thomas has played in 11 games where Brees has attempted 35 or more pass attempts. In those games, he averages 24.0 fantasy points per game. In his 13 other games, he averages only 14.1 fantasy points per game. When Mark Ingram is healthy, the Saints prefer a more run-heavy approach but, occasionally, a good offensive opponent can get them to reverse course. Unfortunately, that's unlikely to be the case next week against the Bengals.
As a bonus stat, I want to note that Rams cornerback Marcus Peters is not someone we should necessarily fear moving forward. Although Peters is an all-time great ball hawk, he's not as stout in coverage. After shadowing Thomas on Sunday, and Peters now ranks worst among all cornerbacks in yards allowed (572) and touchdowns allowed (six), while also surrendering a 144.2 passer rating when targeted (fifth-worst of 111-qualifying).
2. On Sunday, O.J. Howard totaled four catches for 53 yards and two touchdowns. If we exclude a Week 4 game where he left early with an injury, he currently ranks behind only Zach Ertz and Travis Kelce (among tight ends) in fantasy points per game (15.0).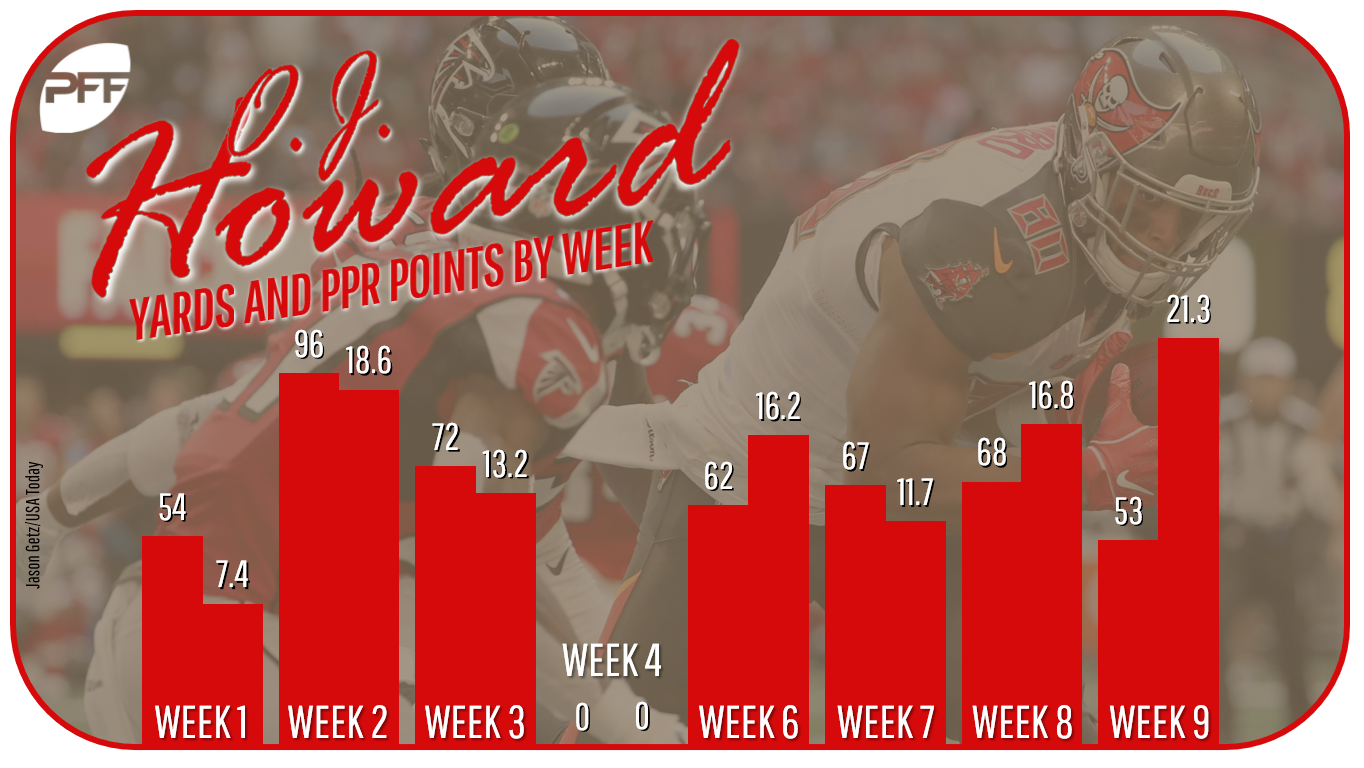 Excluding that Week 4 game, Howard has recorded at least 50 yards in every game he's played thus far, while also adding five touchdowns, which ranks third-best at the position. Howard has taken on a larger role this season, running 26.0 routes per game, as opposed to only 16.6 last year. The opposite is true for Cameron Brate, who ran a route on 58% of Tampa Bay's dropbacks in 2017, but has seen that number fall to just 40% this season. Not only has Howard seen a larger role this season, but he's also performing much better. After ranking below average last season, Howard now ranks as our single-highest-graded tight end. In a disappointing year at the position, he's a top-five tight end for me moving forward.
As another bonus stat, we should also note what this might mean for Vance McDonald next week against the Panthers. Carolina came into the week ranking worst in schedule-adjusted fantasy points per game allowed to opposing tight ends. After Howard's big day, I suspect they still hold that distinction.
3. Deshaun Watson has now played in 16 career games. Across those 16 games, he totals 354.1 fantasy points. If those 16 games came in a single season, it would rank 17th-best all-time.
After the historic start to Watson's career, many (including myself, here) predicted a massive statistical regression for Watson in Year 2. Of course, he has regressed, but it's still a far fall from "the most fantasy points per game by a quarterback in a single season ever" to "top-five fantasy quarterback," and that's exactly where he currently ranks. I've been wholly impressive by Watson's sophomore season, including the fact that he ranks top-three at the position in both rushing attempts (51) and rushing yards (267), despite coming off of ACL surgery. After Houston helped ease the loss of Will Fuller by trading for Demaryius Thomas, I feel confident in ranking Watson as a mid-range QB1 moving forward.
4. Patrick Mahomes' 250.7 fantasy points through the first nine weeks of a season is the fifth-most by any player at any position all-time. It ranks second-most among all quarterbacks, behind only Tom Brady's 2007 season by just 0.6 points.
I'll stop using this stat when Mahomes stops exceeding my (already quite high) expectations. Mahomes has now thrown for at least 300 yards in every game this year. He's also thrown for at least 300 yards and at least three touchdowns in seven of nine games this year. The other two games came in tough matchups against Jacksonville and on the road against Denver. Still, he threw for at least 300 yards and added a rushing touchdown in both games. As I wrote last week, "they also really weren't 'down games' if factoring the strength of the opponent. In fact, those performances were historically great. His 313 passing yards against Jacksonville was the most the Jaguars have allowed since the 2016 season. His 304 passing yards against Denver was the most by a road quarterback against them since the 2014 season."
On Sunday, Mahomes faced off against another tough opponent. The Browns, up to that point, were leading the NFL in opposing passer rating (77.1) while also ranking first in schedule-adjusted fantasy points per game allowed to opposing quarterbacks. Mahomes' fantasy immunity to tough opponents might not matter for much longer, as his schedule softens up considerably over his next three games, against the Cardinals, Rams, and Raiders.
5. If Buffalo's quarterbacks had spiked the ball rather than throwing to Kelvin Benjamin on all of his targets, they would have improved their passer rating. Buffalo's quarterbacks have a passer rating of 28.2 when targeting Benjamin, which is lower than a quarterback's passer rating on spiked balls (39.6). Of 115-qualifying wide receivers, Benjamin ranks worst in passer rating when targeted, worst in catch percentage (39.2%), worst in interceptions on targeted passes (6), and fourth-worst in drop rate (16.7%).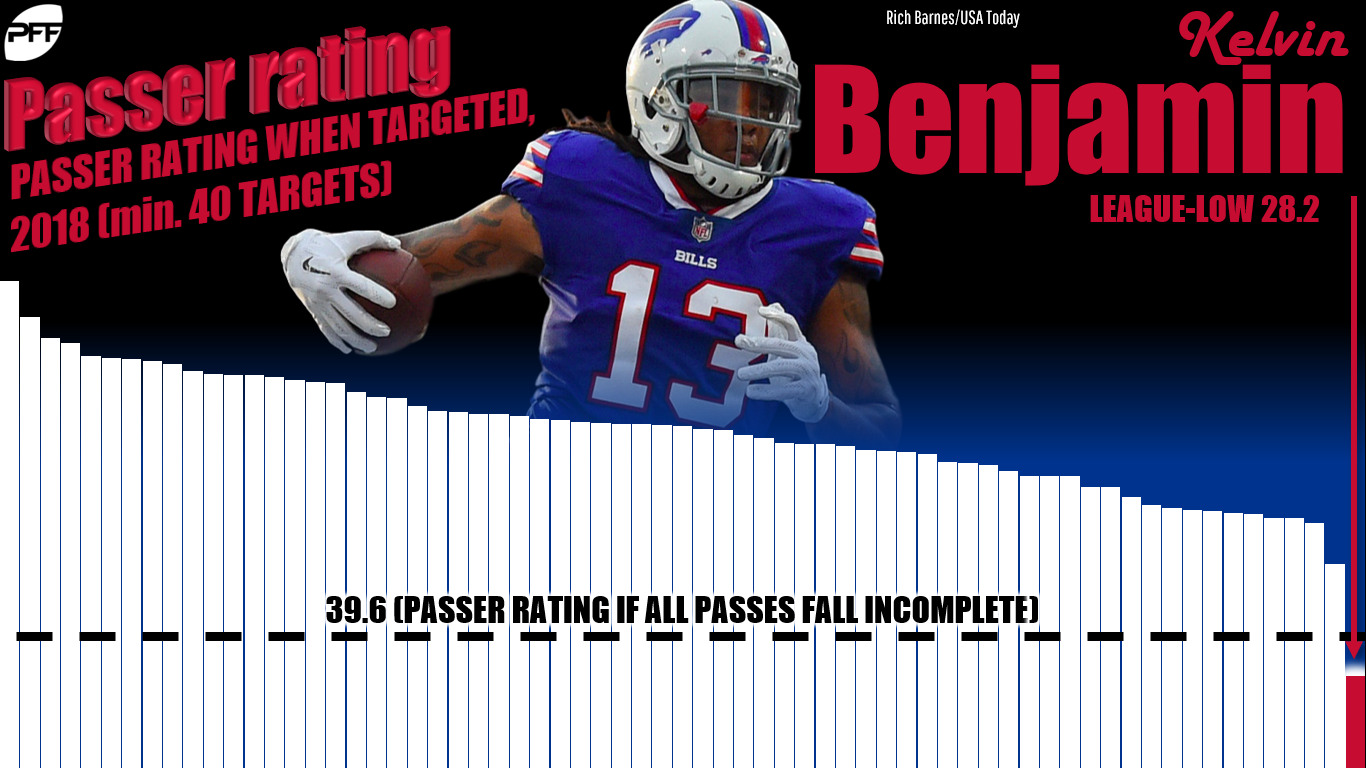 Buffalo's anemic offense and quarterback woes are partly to blame, but so too is Benjamin. He's droppable in even the deepest of leagues.