Each week in this space, we'll be taking a look back at Sunday's games to find five of the most interesting and most important stats for fantasy owners. With 14 of 15 games from NFL Week 8 in the books, here are the five stats you need to know:
1. Through eight weeks, the New England Patriots defense has scored 173 fantasy points. In PPR leagues, that would rank fourth among quarterbacks, third among running backs, second among wide receivers, and first among tight ends. That's also 71 fantasy points more than the next-closest defense, and, already, just 14 fantasy points behind what the Chicago Bears defense (last season's highest-scoring defense) totaled last year.
I can't believe I'm saying this, but, yes, a defense is one of the top-three most-valuable assets in all of fantasy football. They're outscoring the No. 6 fantasy defense by 12.2 fantasy points per game — the same difference between the No. 1 wide receiver (Michael Thomas) and the wide receiver ranking 47th in fantasy points per game (Phillip Dorsett).
Of course, their schedule is about to toughen up, and they are due for a substantial statistical regression, but at the same time, their defense has scored as many touchdowns as they've allowed (four). By every measure they look like a historically great defense, and perhaps, one of the greatest ever from a fantasy perspective.
2. On just 13 touches, Tevin Coleman scored 35.8 standard fantasy points, or the most by any running back on fewer than 15 touches in 40 years.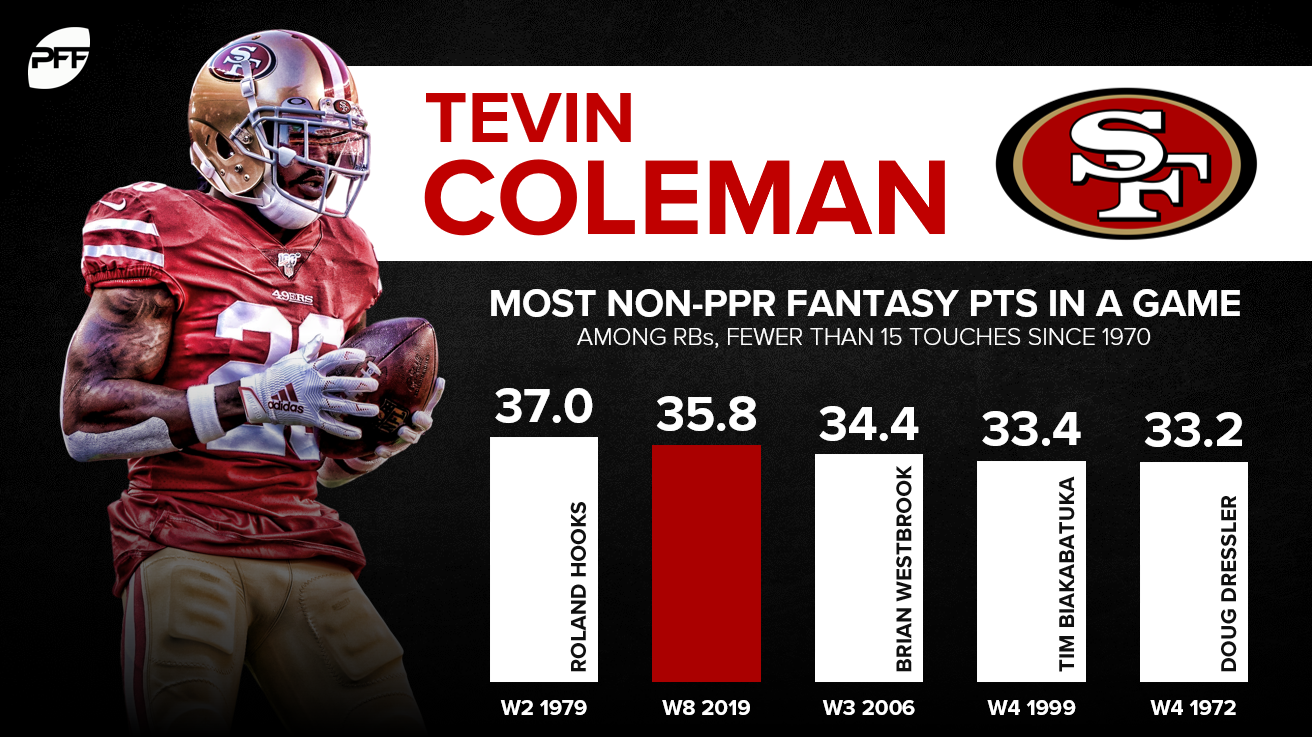 Since returning from injury in Week 5, Coleman has produced like an RB1 (17.4 fantasy points per game), but his usage has been a little more concerning. Over this span, he's played on just 50% of the team's snaps, while drawing only 48% of the carries and 44% of the targets out of the backfield. Granted, he's also pretty clearly the team's goal-line back (75% of the team's running back opportunities inside the 5-yard line), and on a team that we should expect to visit the red zone fairly often, but this sort of usage implies a looming regression, and I'd agree. Especially when considering Matt Breida and Raheem Mostert have been even more efficient on a per-touch basis, now seems like the perfect time to try to sell high.
3. Over Philadelphia's last three games, Zach Ertz totals 165 snaps, 17 targets, and just 19.2 fantasy points. Dallas Goedert totals 135 snaps, 16 targets, and 37.9 fantasy points.
Ertz totals just 17.2 fantasy points across his last three games. Across he prior 45 games, he hadn't been held to under 30 fantasy points across any consecutive three-game stretch.
What does all of this mean? Has Goedert already supplanted Ertz as the team's TE1? Is Ertz droppable? Not quite. Unless Ertz is nursing a secret injury, I think this has more to do with opposing defenses continually making Ertz their top focus each week. With DeSean Jackson expected to return in Week 9, and likely able to take some of that pressure off Ertz, I'd wait at least another week before panicking.
4. Leonard Fournette totaled 66 yards on his first run of Week 8. He ended the day with 19 carries, and, somehow, just 76 rushing yards. This is hardly new ground for Fournette. In Week 3, Fournette broke off a 69-yard run on one of his 15 carries, and still ended the day with just 66 rushing yards.
On 564 career carries, Fournette averages 4.02 yards per carry. If you remove just six of these runs, he drops to 3.30 yards per carry. Or, to put it another way, 18.9% of his career rushing yardage comes on just 1% of his career runs.
In terms of playing style, Fournette is the archetypal home-run-hitting running back. Though, as far as home-run hitters go, he's probably more Adam Dunn than Babe Ruth. No other running back, since Fournette entered the league, has seen a larger yards-per-carry dropoff when removing the top 1% of his runs.
Typically, we'd expect this to mean Fournette would be extremely boom-or-bust week-to-week. That might have been true last year, but not this year, now that Fournette is more highly involved in the passing game. Fournette leads all running backs in carries (163), but also ranks fourth in targets (44). By weighted opportunity and expected fantasy points, only Christian McCaffrey is seeing better volume than Fournette this year.
Also, note, Fournette is due for a massive regression in the touchdown department, totaling 1,053 yards but scoring just one touchdown this year.
5. Ryan Griffin (24.6), Darren Fells (23.8), and Jonnu Smith (19.8) were the three highest-scoring tight ends of Week 8.
Yeah, it's a really weird year for the position.
Tight ends total just 12,381 yards this season. Through the first eight weeks of the season, that's the fewest since 2011, and 625 less than last year.