Each week in this space, we'll be taking a look back at Sunday's games to find five of the most interesting or most important stats for fantasy football owners. With 15 of 16 games from NFL Week 13 in the books, here are the five stats you need to know:
1. In 30 career games played in September and October, Derrick Henry averages just 3.87 yards per carry. In 29 career games played in November, December, or January, Henry averages 5.48 yards per carry (an improvement of 42%). Despite this sample making up less than 50% of his career games, he's also scored 72% of his total touchdowns during these colder months.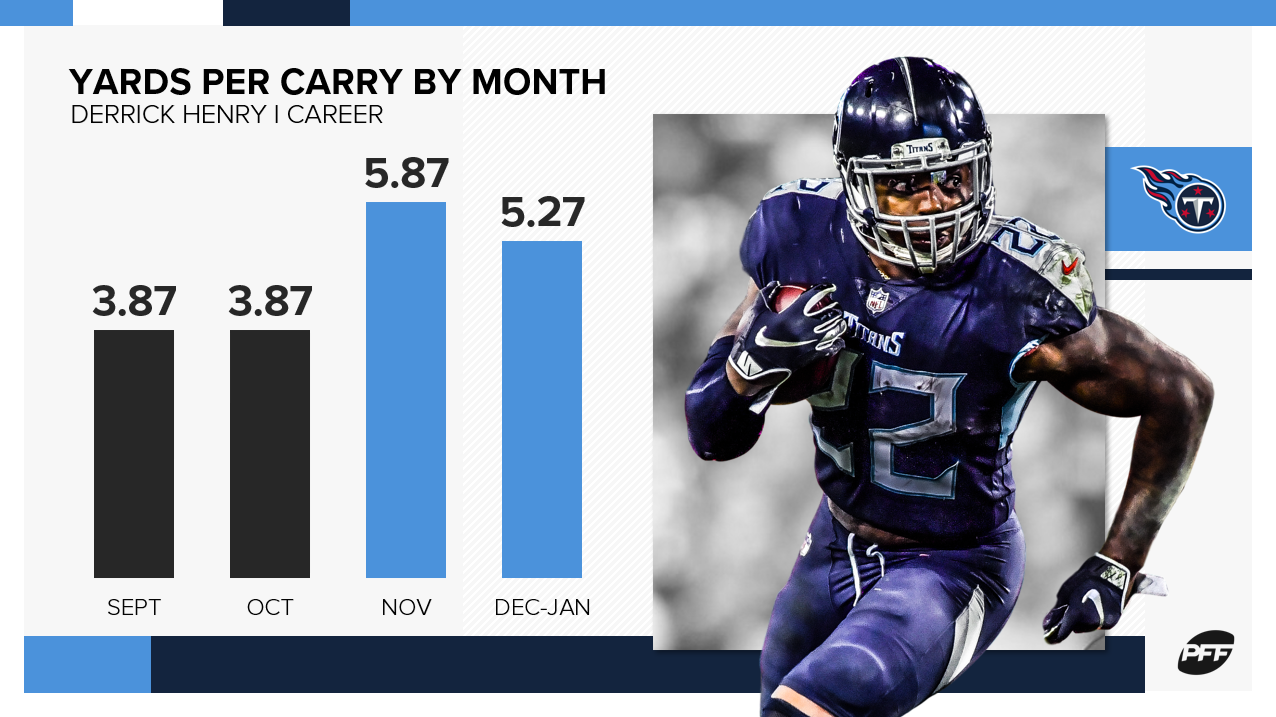 It's hard to say just how meaningful this stat might be – whether these numbers are merely due to variance, or if they speak to something real and inherent to Henry. Henry is a physical runner and by far the league's biggest running back, and, perhaps, he has more success later in the season because that's when opposing defenses are the most beat up and worn down.
While Henry's splits were by far the most dramatic, a few other notable running backs came close. Marshawn Lynch's worst months (by yards per carry) came in September (4.01) and October (3.81). In those months he averaged just 3.92 yards per carry, as opposed to 4.55 in November or later. DeAngelo Williams also saw his yards per carry average improve from 4.31 to 5.00 after October, and Jamaal Charles improved from 4.96 to 5.74.
In any case, Henry is running hot, with 485 rushing yards and five rushing touchdowns over his last three games. You don't need me to tell you this, but he's an easy must-start RB1 the rest of the season.
2. Austin Hooper leads all tight ends in fantasy points per game (17.2). As impressive as that is, that's still not as much as "TE1 vs. Arizona" (18.1).
Tyler Higbee, following Ross Dwelley and O.J. Howard in recent weeks, is the newest tight end to hit paydirt against Arizona. On eight targets in Week 12, he caught seven for 107 yards and a touchdown. Arizona is now giving up 21.2 fantasy points per game to all opposing tight ends (as opposed to just the team's TE1), which is nearly double the league-average rate and 34% more than the next-worst team.
Over the next three weeks Arizona faces Pittsburgh (Vance McDonald), Cleveland (hopefully David Njoku), and Seattle (Jacob Hollister). Those aren't particularly enticing names, but, if Dwelley and Higbee could do it, why not them? Just based on the matchup alone, they're worth starting as top-12 fantasy tight ends at worst.
3. Courtland Sutton comprises 35% of Denver's total passing yards. Only Michael Thomas comprises a larger percentage of his team's passing yards (37%). Sutton has also caught 55% of Denver's passing touchdowns. No other receiver is above 50%.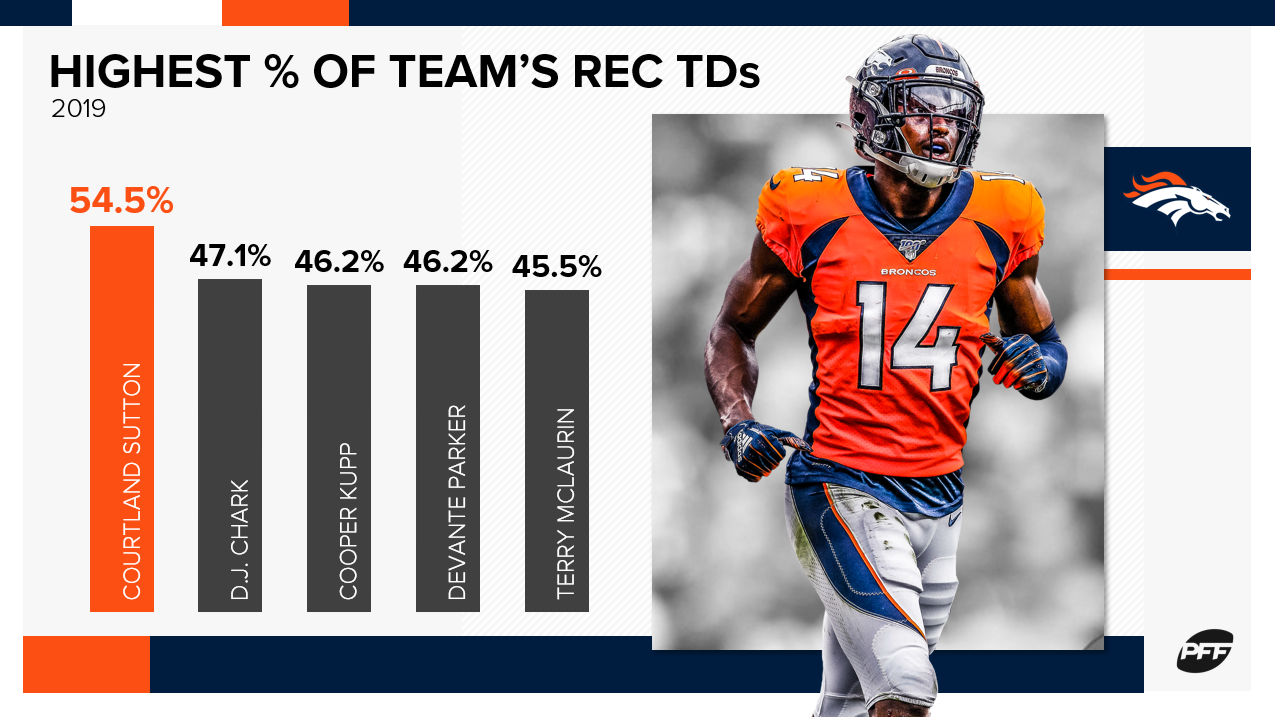 On Sunday, in shadow coverage against Casey Hayward (our highest-graded cornerback since 2017), Sutton caught four of five targets for 74 yards and two touchdowns. After this big game, it's clear – Sutton's sophomore breakout is something special. He's a transcendent talent, a true WR1 in the NFL, and a soon-to-be top pick in 2020 fantasy drafts. However, it's been a quieter breakout than you'd expect, thanks entirely to factors beyond his control.
In spite of the fact that Sutton has had a brutal cornerback schedule (22 of his targets have come against top-25-graded cornerbacks, which ranks sixth-most), in spite of the fact he's played with three different starting quarterbacks (who combine to rank eighth-worst in team passer rating), and in spite of the fact that he ranks just 25th in targets, Sutton ranks top-10 in receiving yards, receiving touchdowns, and PFF grade. Perhaps even more impressively, he ranks third of 46 wide receivers in passer rating when targeted (123.8). Meanwhile, Denver quarterbacks combine to average a passer rating of just 69.6 when targeting all other receivers.
4. On Sunday, DeVante Parker caught seven of 10 targets for 159 yards and two touchdowns. This was his fourth straight game with double-digit targets, and his seventh of nine games eclipsing 90 yards or scoring a touchdown. Since Week 4, Parker now ranks ninth in yards (723), fourth in touchdowns (six), and fifth in fantasy points (155.3).
It's only taken five years, but, yes, Parker is finally an every-week starter.
5. Aaron Rodgers has easily been one of fantasy football's most inconsistent quarterbacks – totaling four games over 25.0 fantasy points and seven games under 15.0 fantasy points. (For perspective, in 26 full games across his career, Patrick Mahomes has never been held under 15.0 fantasy points.) However, though he's been highly volatile, that doesn't mean he hasn't been predictable. Rodgers is now averaging 29.6 fantasy points per game against defenses ranking bottom-10 in fantasy points per game. Across his other eight games, he's averaging just 13.6 fantasy points per game. (For perspective, 13.6 fantasy points per game would rank 34th at the position, just ahead of Mitchell Trubisky.)
Alongside Rodgers, Davante Adams has also been similarly volatile and matchup-dependent. Against top-seven defenses (by fantasy points per game allowed to wide receivers), Adams averages just 44.0 yards per game and 11.9 fantasy points per game. In his other four games — all against defenses ranking bottom-10 — Adams averages a whopping 134.7 yards per game and 22.2 fantasy points per game.
So, what does this mean for Rodgers and Adams in Week 13? What does their playoff schedule look like? If you're a PFF subscriber, you can head on over to our Matchup Chart and find out for yourself.