(This is our Fantasy Lookback, a review of the top fantasy football seasons at each position for each franchise over the last decade of NFL action. We'll look at some big names that are still going and some who have been gone long enough that they're in the Hall of Fame. Today: The Jacksonville Jaguars)
For an expansion team, the early-era of the Jaguars were pretty competent. They won a Wild Card in their second year, won a division in their fourth, and were in the playoffs every year from Year 2 to Year 5. And then that ended. And over the last decade, the Jaguars have exactly one winning record, several seasons of fewer than 6 wins, and enough time as a punch line that they literally became a recurring joke on an excellent sitcom. (Do you watch The Good Place? Watch The Good Place.)
The good news for the Jaguars is that that winning season took them to the AFC Championship Game, and it was only a season ago, and most of the pieces from that team are still around, so it's not currently a lost cause. But there is work to be done.
Let's take a look at the best Jaguars fantasy seasons of the last decade.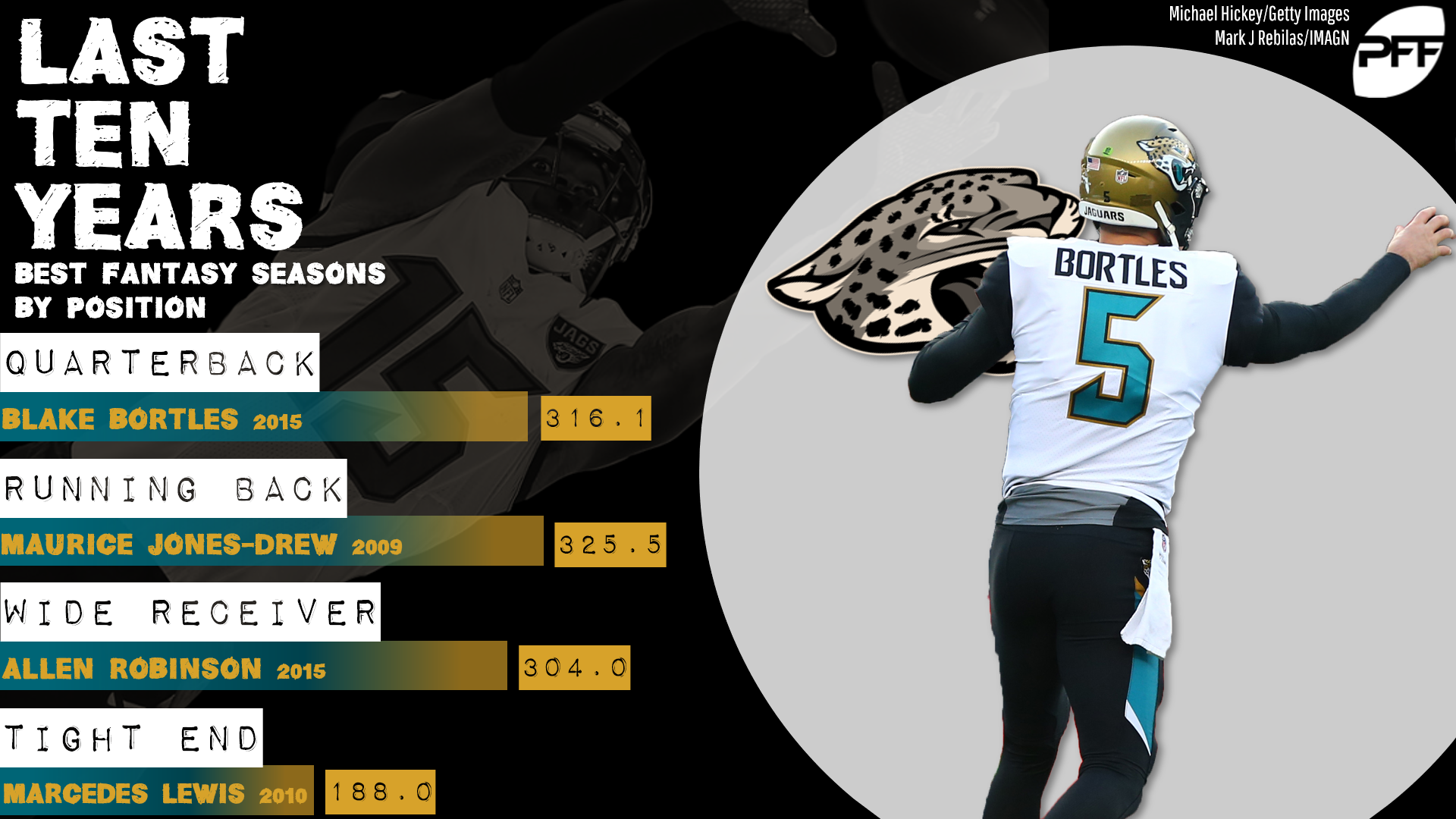 (Follow along with the whole series here.)
Quarterback
(355-606 passing, 4,428 passing yards, 35 TD, 18 INT, 314 rushing yards, 2 TD, 316.1 fantasy points, QB4)
The days of Mark Brunell and Byron Leftwich came before our 10-year sample here, but even with those, Bortles' big 2015 stands as the best fantasy QB year in the Jaguars' relatively short history. And while Bortles has never been exactly good as a real quarterback, his lofty ranking in 2015 was totally earned, in large part because of his massive success throwing the deep ball. He passed for 1,331 yards on targets 20-plus yards downfield with a 106.3 passer rating in 2015; in the three years since, he's totaled 1,475 deep yards on a 49.9 passer rating. His 2015 was great; not much else has been.
Running back
Maurice Jones-Drew, 2009
(312 rushs 1,389 rush yards, 15 TDs, 53 receptions, 374 receiving yards, 1 TD, 325.5 PPR points, RB4)
I bet, if pressed, you would have guessed Leonard Fournette's rookie season of 2017, only talking yourself out of it when you remembered Fournette missed three games that year. Well, Fournette had a good year in 2017 … and finished nearly 100 full points behind Jones-Drew's 2009 (and behind his 2010 and 2011 as well). Jones-Drew was a stud for the first six years of his career … then got hurt in 2012 and was done in 2014. Running backs burn bright and fast.
Wide receiver
(80 receptions, 142 targets, 1,400 yards, 14 TDs, 304.0 PPR points, WR6)
The Jaguars have struggled mightily on the wide receiver front. The 2015 seasons from Robinson and Allen Hurns rank 1-2 in the team's WR scoring over the last decade and are the only two times in our sample a Jacksonville receiver has cleared the 200-point barrier. We'll look back on that 2015 season in a few years as the inexplicable one-hit-wonder season for the Jags offense, because it's just so weird. (Are the receiver issues connected to the QB issues? Who knows! But yes.)
Tight end
(58 receptions, 86 targets, 700 yards 10 TDs, 188.0 PPR points, TE4)
It tickles me that Lewis and Jones-Drew were literally college teammates at UCLA, got drafted the same year by the Jaguars, and spent eight years as teammates there. You just don't see pairings last that long. But while Jones-Drew's career ended in 2014, Lewis is still playing, albeit not much — he had all of three receptions last year with Green Bay. In 2010, though, Lewis was at his best. He set career-bests in receptions, yards, and touchdowns, marks that, about to turn 35 and not long for the league, I'm going to guess he never betters.