Welcome to the Super Bowl edition of Snaps, Pace, & Stats, where we examine trends in snap totals and no-huddle usage. It is usually meant to be a 30,000-foot view of upcoming games, with the goal of identifying which matchups will – and which will not – be played on fertile fantasy football soil. Since there's only one game on tap this week, we'll take a deeper dive from a snaps pace perspective.
After a Divisional Round marked by blowouts, and a Conference Championship that will be best remembered for a blown call, the Patriots and Rams are set for a Super Bowl rematch 18 years in the making. Those 18 years have been fabulously fruitful for New England. For St. Louis Los Angeles? Well…
It is all history now, as the tragedies of both teams' past can't hurt them anymore. From Jeff Fisher and Sam Bradford's knees, to Aaron Hernandez and John Tomase's lies – none of it will affect what happens Sunday at 6:30 p.m. in the only legitimate time zone.

What will happen, you ask? The public appears to be as sick of doubting the Patriots as they are of hearing about doubting the Patriots. It took slightly less time for the Rams to flip from one-point favorites to 2.5-point underdogs, than it took aggrieved Saints supporters to flip from sympathetic to straight pathetic.
With New England a publicly supported favorite for the first time in 2019, the line is currently holding steady below a field goal. After opening at 58 points, the total's descent stalled just north of 56 points. This may be the more attackable number. At least it is from a snaps pace perspective, and that's what we do around here.
Let's take a look at which team, if any, is likeliest to produce more offensive snaps, and if the matchup has the play volume and scoring juice to threaten that 56-point over/under.
There are several glaring reasons to expect a back-and-forth, highly paced affair. First of all, it's the Super Bowl, and we've come to expect a shootout. Five of the last six Super Bowls have crested 50 combined points, with the last two averaging 68. The Patriots are short favorites over the Rams (2.5 points), which portends at least a close if not a seesaw-scoring matchup.
Speaking of tight games, both teams rank top-three in snaps pace during neutral game situations. Even if they don't run a ton of offensive plays, the efficient Rams and Patriots rank first and third, respectively, in points-per-snap rate. We have seen them score on both thin and copious play volume.
Below the surface, however, there are reasons to doubt the widespread assumption that this will be yet another offensive track meet.
The Patriots ranked second in plays per game this season (67.1) and have done nothing short of smash that rate during their two playoff games (86.0). Even if they hadn't run 13 overtime plays in Arrowhead, they would still be lapping the field. Despite controlling gamescript for most of their two playoff contests, New England operated at a fairly quick 28.7-second average snaps pace. It is not too far off a seasonal rate that ranked sixth fastest overall and as the league's quickest situation-neutral pace.
Interestingly, the Patriots do not profile as a typical fast-paced outfit. They were run-heavier during close games than we've come to expect, deploying only the 13th-highest pass rate when games were within one score (58%). In the playoffs, they steamrolled the Chargers on the ground and via short passes, before handing off on a meaty 51% of their 94 situation-neutral snaps against the Chiefs in the AFC Championship game.
There is a strong chance we see a similar approach in the Super Bowl.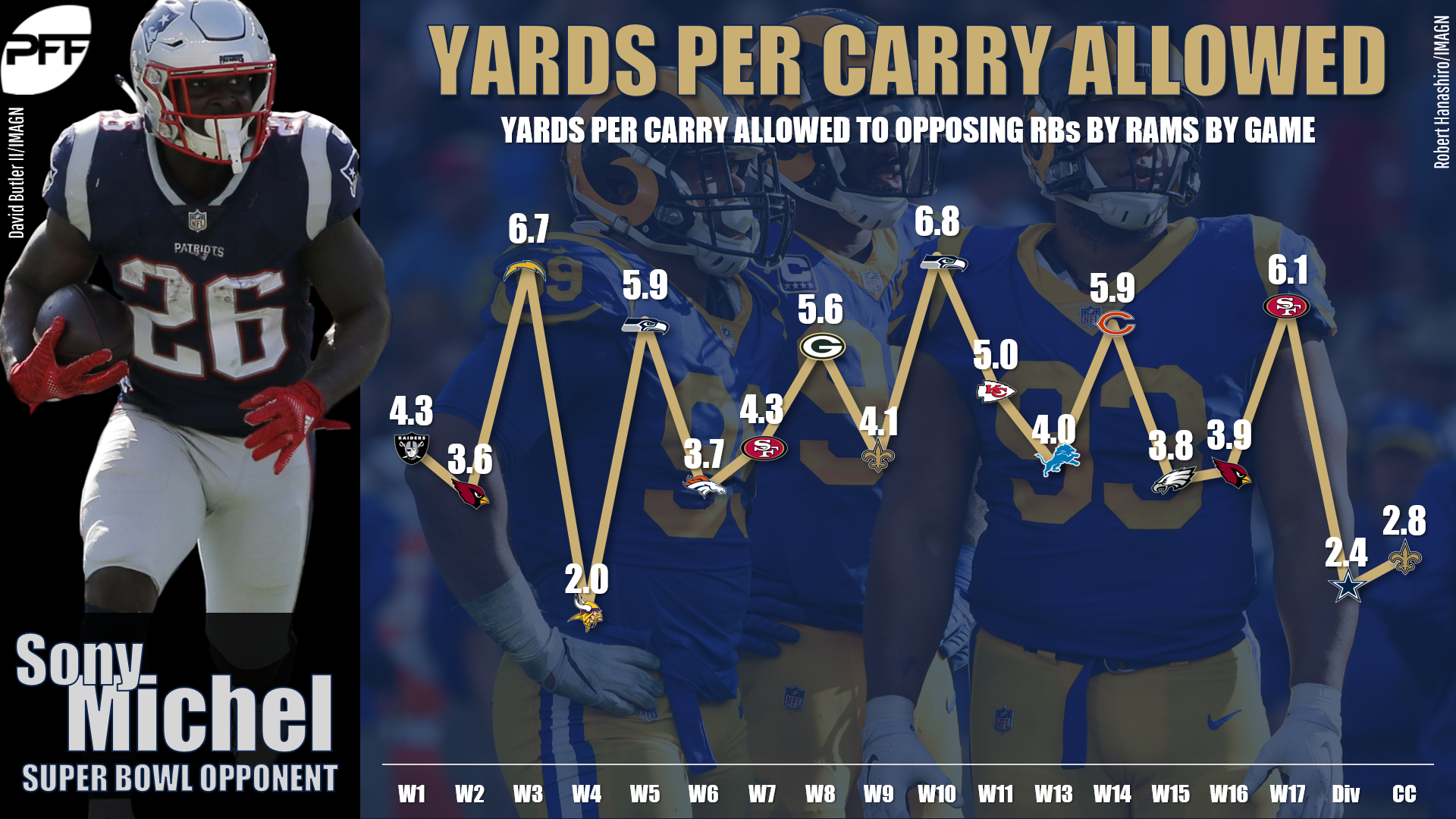 The Rams allowed the league's highest yards-per-carry average during the regular season (5.1), while grading markedly worse in run-stopping than in pass rush and coverage. Opponents handed off against them at the league's 12th-highest rate during neutral situations this season (44%). Of course, their run-funnel defense recently neutered Ezekiel Elliott, Alvin Kamara, and Mark Ingram, holding the dynamic trio to 93 yards on 37 playoff carries (2.5-yard average).
While the narrative is Ndamukong Suh simply decided to wake up, our 22nd-highest-graded run-stopping nose tackle (18th-best pass rusher) was already having a fine season. The Rams have also stacked the box far more often during the playoffs as part of a heavier commitment to run defense than Wade Phillips' units have traditionally shown. That commitment was intermittent, however, and when there were fewer defenders near the line of scrimmage, the Rams were gashed once again.
Los Angeles' defensive front – which is long on top-end talent and short on depth – remains more dangerous against the pass than the run. New England's run-blocking graded ninth-highest during the regular season, and only the 49ers utilized a fullback on more snaps. Similar to how Tom Brady will methodically take what a defense offers in the short passing game, the Patriots have shown they'll run against accommodative defensive fronts for as long as it's successful.
The key will be if New England can again keep Brady consistently clean enough to approach their white-hot 68% third-down conversion rate from last round, or if it falls closer to their regular season rate (44%; ninth-best). While Los Angeles' second-highest-graded pass rush will meet the fifth-highest-graded pass blocking, the Patriots' best weapon remains Brady's processor. He has averaged 2.13 and 2.23 seconds – by far the quickest "time to throw" of the last two playoff rounds. Brady has been hit only twice these playoffs, and not sacked at all.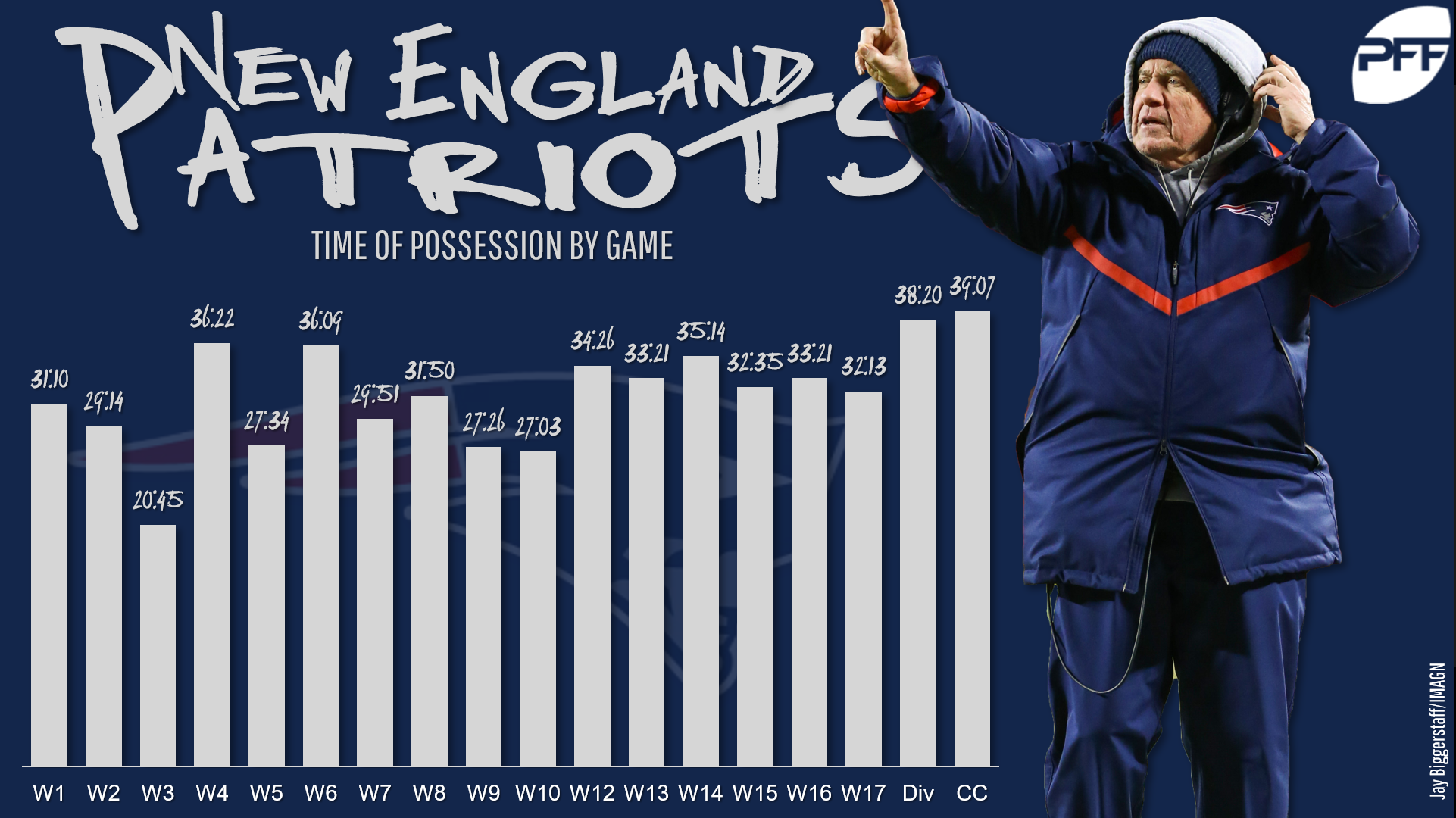 What is less in doubt than conversion rates or pass-rush success is the Patriots challenging the Rams on the ground and with high-percentage passes – both of which will keep the clock moving. New England would love to control the game's pace, even if they don't reach the same dominant time of possession marks they enjoyed against the Chargers (38:20) and Chiefs (43:59).
The Rams would obviously love to do the same to the Patriots. They were also ball hogs during the regular season, it has continued into the playoffs, and Sean McVay is well aware of how New England recently choked out two worthy opponents. None of this is a boon to overall play volume.
Los Angeles ranked fourth in plays per game this season (66.3) and held their opponents to the fourth-fewest (60). Their contests averaged only the 16th-most combined snaps. During the Divisional Round, they dominated the Cowboys in both offensive snaps (76 to 55) and time of possession (36:13 to 23:47), while handing off on a whopping 58% of situation-neutral plays and rolling up 273 rushing yards on 48 carries. Then, despite a nearly disastrous start against the Saints, the Rams again wound up with more plays and possession time.
Los Angeles registered the 13th-highest situation-neutral pass rate (58%) during the regular season – one spot in front of New England. It's been markedly lower during the playoffs (51%). Whether it is with Todd Gurley or C.J. Anderson – likely a combination of both – the Rams almost certainly plan to test the Patriots run defense. Forty-plus pass attempts for Jared Goff, something that's happened five times this season (three losses), is probably now how Los Angeles views their optimal road to victory.
Despite a relatively larger weakness in run stopping versus pass coverage, opponents passed against New England at the second-highest situation-neutral rate this season (62%). They allowed the sixth-most yards per carry (4.9) and graded a middling 13th-best in run stopping. Compared to their second-highest-graded pass coverage, keeping it on the ground for as long as possible was the path of lesser resistance against the Patriots. Whether or not they consistently stopped the run, however, was often a conscious choice rather than unavoidable circumstance.
Some weeks Bill Belichick would dress a heavier defensive front. Offseason acquisition Danny Shelton was scratched for three games late in the season, and the nose tackle watched Vikings, Dolphins, and Saints running backs gash the Patriots for an embarrassing 7.8-yard average on 55 carries. Those were the 18th-, 30th-, and 31st-ranked rushing offenses. In games Shelton played, New England allowed only 4.4 yards per carry. They dressed him two weeks ago against the Chargers, who gained 19 yards on 10 carries, and he sat last week against the Chiefs, who had a better – but not great – performance on the ground.
The Patriots will likely have Shelton active against the Rams, although how much he plays is a question. Los Angeles deployed the third-most no-huddle this season (14.5% of snaps) and nobody was in 11-personnel more often (90% of snaps). When larger bodies like Shelton take the field for run support, they may get trapped if the Rams use tempo – assuming Belichick goes big against a predominantly three-wide-receiver offense. No matter what personnel the Patriots deploy, it is unlikely they will shut down a rushing game that produced the third-most yards and third-most yards per carry, while operating behind our highest-graded run blocking.
If Belichick prioritizes limiting big plays, while forcing Goff to work methodically, we may see lighter defensive personnel and a tacit invitation for Los Angeles to nibble on the ground and with underneath passes. Similar to when the Patriots have the ball, handoffs and high-percentage passes will keep the clock grinding. We saw it for most of the AFC Championship game, before all hell broke loose during the last 10 minutes. The Rams are significantly more run-committed than the Chiefs during close games – which this matchup is forecast to be.
When Goff throws short, he will find Gurley in advantageous positions against New England's questionable coverage linebackers. Dont'a Hightower is slowing, but still ranked 29th in coverage out of 89 qualifying linebackers. Kyle Van Noy graded 69th and Elandon Roberts ranked 65th. The Patriots allowed the seventh-most yards per completion to running backs this season (9.1), and during their last game, Damien Williams turned five catches into 66 yards and two touchdowns. New England would still take that over multiple big plays via Tyreek Hill – or in the Rams' case, Brandin Cooks.
Tamping down splash plays will be prominent in New England's game plan, as the Rams ranked second in 20-plus-yard gains (83), with eight going for touchdowns. The Patriots have been inconsistent in defending this area. For the season, they gave up a middling number of big plays (67; 14th most). They allowed 4.4 per game before their bye week, and slightly fewer after it (3.8). During the playoffs, however, they sprung more leaks against the Chargers (six) and Chiefs (seven).
New England's recent uptick in defensive line stunts and twists, and the resultant pass-rushing success, will help in this regard. Having Goff execute longer-developing plays may be a dicey risk/reward proposition for the Rams. He often melted when feeling heat, registering the 28th-best passer rating while under pressure (59.8) versus the fourth best when kept clean (117.1). While only 40% of his passes occurred in 2.5 seconds or fewer (last of 38 quarterbacks), he had the fifth-best passer rating on those throws (108.0). It was ninth best when he took longer than 2.5 seconds (26.4).
With both offenses mostly relying on quick passes, they'll likely require a broken tackle or two to create a splash play. Considering these teams feature 2018's sixth- (Patrick Chung), eighth- (John Johnson III), 11th- (Lamarcus Joyner), 18th- (Duron Harmon) and 19th- (Devin McCourty) best safeties in tackling efficiency (out of 100 qualifiers), missed tackles in the secondary may be in short supply. Things are similarly stiff on the perimeter, as Aqib Talib and J.C. Jackson missed zero regular-season tackles, and Stephon Gilmore ranked sixth among 131 cornerbacks in tackling efficiency.
If we don't get a decent number of chunk plays, while each offense sticks primarily to the ground game and with a high-percentage passing attack, it doesn't bode well for overall snap volume. A continually grinding clock obviously isn't great for the "over" – although things can easily go off the rails, as recent Super Bowls have tended to. As for which offense will run more plays, the Patriots are the slight favorite — and in directly related news: they're favored to win the game.
A final score in the 27-23 range seems about right, and while it doesn't go "over," there's still room to pack in plenty of fantasy goodness. Enjoy the Super Bowl, folks – and thank you for reading all season long. Cheers!