When you draft a player in fantasy football, there is a reasonable expectation, that his draft slot is a fair range for him — a guy drafted 10th is likely to finish anywhere between, say, seventh and 15th (just to pick some numbers).
As such, players fit into tiers. There are the surefire starters, the above-average starters, the probable starters, and the rest of the guys. If every player you draft ends up in his designated tier, you'll have at least an average fantasy season. If they fall short, your year could be a bad one.
And if they rise a tier, welcome to winning.
That's what we're looking for each year. You expect players to return the value they are drafted at, but we want to find players who will return the value of a tier above at the value of a tier below. I've (subjectively) defined the tiers below. It's a framework.
| | | | | |
| --- | --- | --- | --- | --- |
| | QB | RB | WR | TE |
| Tier 1 | 1-5 | 1-10 | 1-10 | 1-3 |
| Tier 2 | 6-10 | 11-30 | 11-30 | 4-6 |
| Tier 3 | 11-20 | 31-50 | 31-50 | 7-20 |
| Tier 4 | 21+ | 51+ | 51+ | 21+ |
Tier 1 players obviously can't make it to a higher tier. So we're looking for players below Tier 1 who could climb to the better today. Today, we're looking at running backs. Check out the quarterbacks piece from Monday.
(All ADP data comes from Fantasy Football Calculator.)
Tier 2 to Tier 1
(Current ADP: RB11)
Gurley's the poster boy here, suddenly available in the mid/late second round of drafts after arguably being fantasy's No. 1 option only a few months ago. Gurley's injury concerns and the arrival of Darrell Henderson in the draft account for a big chunk of the fear. On the other hand, as I noted in my 100 Questions piece on the Rams, you can ding Gurley nearly 20% of his per-game touch load from 2018 and at his scoring rate, he's still be an easy RB1. The panic has been too much.
(Current ADP: RB14)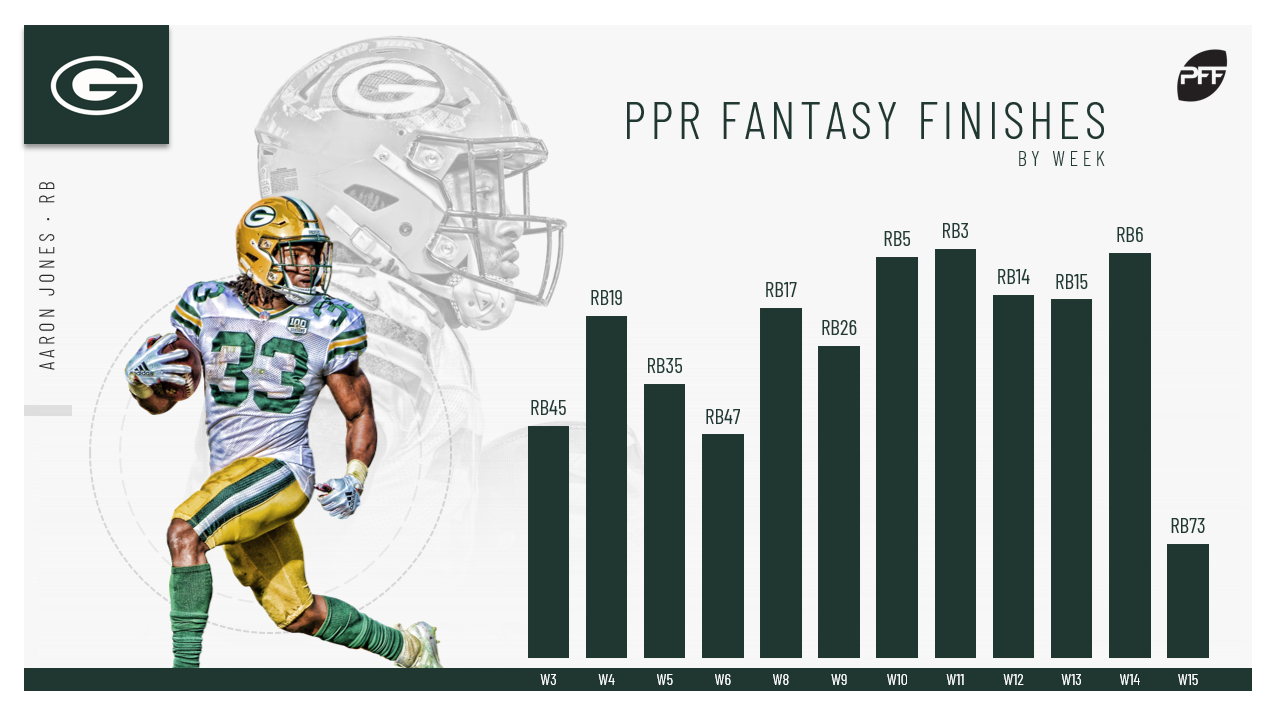 Over Jones' last five healthy weeks a year ago, he had weekly fantasy finishes of fifth, third, 14th, 15th, and sixth. He was the No. 4 PPR running back over that stretch, which also happened to be the stretch during which the Packers finally committed to him — he averaged 27.0 snaps per game before Week 10, then 41.4 snaps per game in Weeks 10-14. With the new coaching staff indicating support for Jones' usage, his upside is firmly inside the top-10 RBs if all breaks right.
Tier 3 to Tier 2
(Current ADP: RB33)
A year ago at this time, the idea that you could have gotten Guice for a mid-seventh-round pick would have been silly. After all, he was a rookie second-rounder entering an offense that didn't have a lot else to work with. What's happened since? He tore his ACL Aug. 9, the team signed Adrian Peterson, he had a surprising year at age 33. Now we're a year later, Guice has had a year to recover (although there are some concerns in that department), Peterson has been re-signed, and the team drafted Bryce Love. Well, Peterson is now 34 and sure to be the backup if Guice is healthy, and Love likely won't be healthy in time for the start of the season because of his own ACL tear. So … it's the health. A healthy Guice should easily return value, and should easily jump a tier.
(Current ADP: RB37)
If a tight end struggles as a rookie, we are generally happy to write it off as a young guy who takes time to adjust to the league and we don't downgrade them much (if at all). What if that's what it is for Jones? True, rookie running backs don't tend to struggle in the same way, and his rookie season was truly awful (48.8 PFF grade, 77 total scrimmage yards on 30 touches), but he doesn't even turn 22 until August, he was a second-round NFL draft pick a year ago, and he was the top-graded back in college in 2017. Am I betting on Jones for the future? No, not really. But nobody can say it would be a total shock if he developed.
(Current ADP: RB43)
There are only two reasonable options to get carries out of the backfield in Houston in 2019. We know what Lamar Miller is at this point — a low-upside, high-floor option who, if he holds the job all year, will almost certainly finish between, say, RB15 and RB25. Can Foreman be more than that? It's an excellent offense to run in if he can overtake Miller. The last game he played before his Achilles tear in 2017, Foreman had 65 yards on 10 carries and scored twice. It's one game. Can he do that over a longer stretch? That would mean fantasy upside.
Tier 4 to Tier 3
(Current ADP: RB52)
It seems like T.J. Yeldon was brought in to Buffalo to be the passing-down specialist. That leaves Singletary behind LeSean McCoy and Frank Gore on the depth chart for carries, and any time I can invest in a rookie behind two guys with a combined age of 67, one on his third team in three years and the other who just put up 3.2 yards per carry, I'm at least going to think about it.
(Current ADP: RB54)
Lewis just finished as the No. 27 PPR running back. He was a sneaky 29th in scrimmage yards (400 receiving, 517 rushing) and only scored two touchdowns. Are we so sure that Derrick Henry's workload is going to go up so much that Lewis is going to fall almost 30 spots in the RB rankings despite nobody else of relevance in that backfield and what almost has to be improved touchdown luck? This draft slot is silly.
(Current ADP: RB61)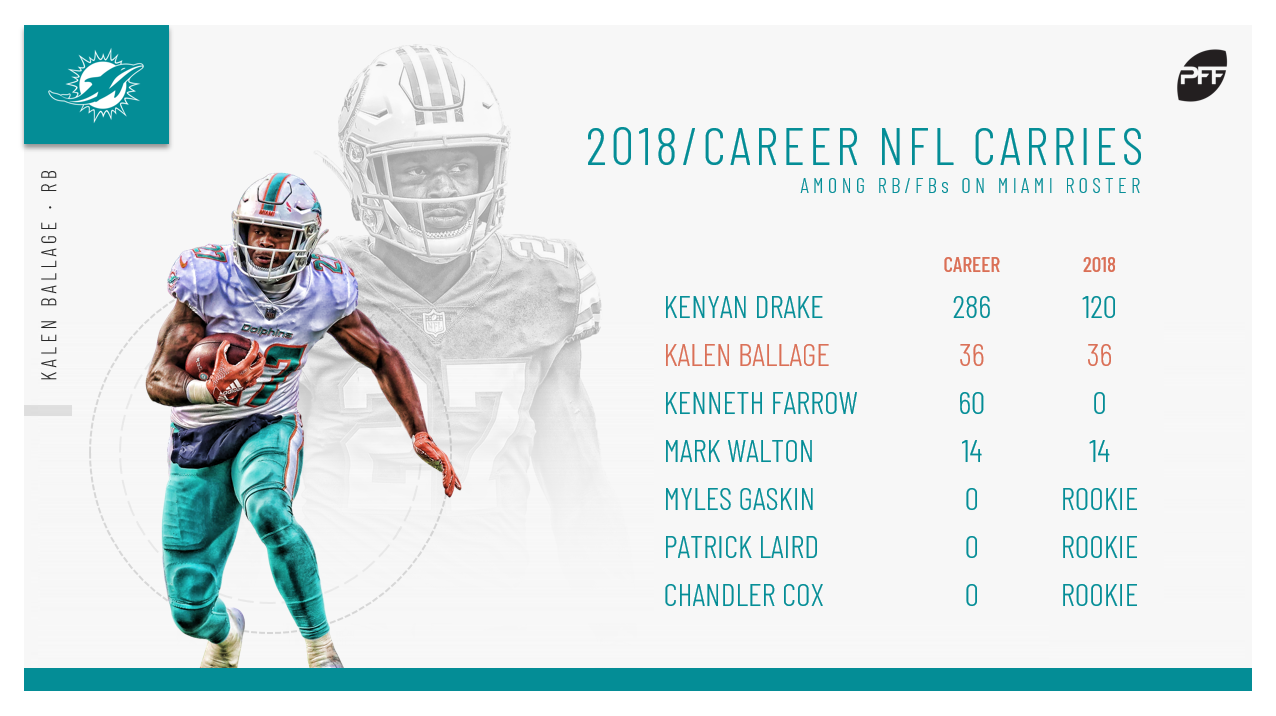 The recipe to be included in this section: A shallow depth chart and a spot behind a starter who isn't proven. The Dolphins' backfield behind Kenyan Drake and Ballage is AAF veteran Kenneth Farrow, Bengals retread Mark Walton, and seventh-rounder Myles Gaskin. The Dolphins wouldn't even let Drake average 11 carries a game last year. There will be plenty of work for Ballage.