The exact definition of a fantasy football sleeper or bust is difficult to pin down. For my purposes, I keep it simple: Sleepers are players who I expect to outperform their norm or their expectation, even by a little, and busts are players I expect to fall short. Sometimes, this means a guy is in store for a monster week; sometimes it means a little-used player needs to crack lineups.
Either way, each week in this space I'll use PFF advanced stats to try to identify a handful of the week's key sleepers and busts for fantasy.
Week 6 fantasy football sleepers
Matt Ryan, QB, Atlanta Falcons: Only Russell Wilson has thrown more touchdown passes than Ryan. Only Patrick Mahomes has thrown for more yards. Yes, he has a frustrating seven interceptions, but he has multiple touchdown passes in four of five games, 300-plus yards in all five, and draws a very generous Arizona pass defense in a game with the second-highest over/under of the week. It's all very friendly.
Kirk Cousins, QB, Minnesota Vikings: Cousins has averaged 34.0 pass attempts in the Vikings' two losses compared to 19.3 in their three wins. The Eagles have put up a 28.1 PFF coverage grade on deep balls over the last two seasons, second-worst in the league, while offering a stout run defense. Expect the Vikings to have no choice but to open it up a bit.
Kerryon Johnson, RB, Detroit Lions: The Packers kept Ezekiel Elliott relatively in check in Week 5, but that was largely gamescript-related, as they had a 14-0 lead by the end of the first quarter. Johnson was used frustratingly in Weeks 1 and 2, but since C.J. Anderson's release, he's commanded more than 70% of the Detroit backfield opportunities in each of the last two games.
Adrian Peterson, RB, Washington: We won't really know what to expect out of the Washington offense under Bill Callahan until we see it in action, but one of the first things he said after being named the interim head coach is that he wants to go run-heavy. The Dolphins have allowed almost 40 PPR points per game to opposing running backs (largely because of gamescript, but still), which could mean big things for Peterson.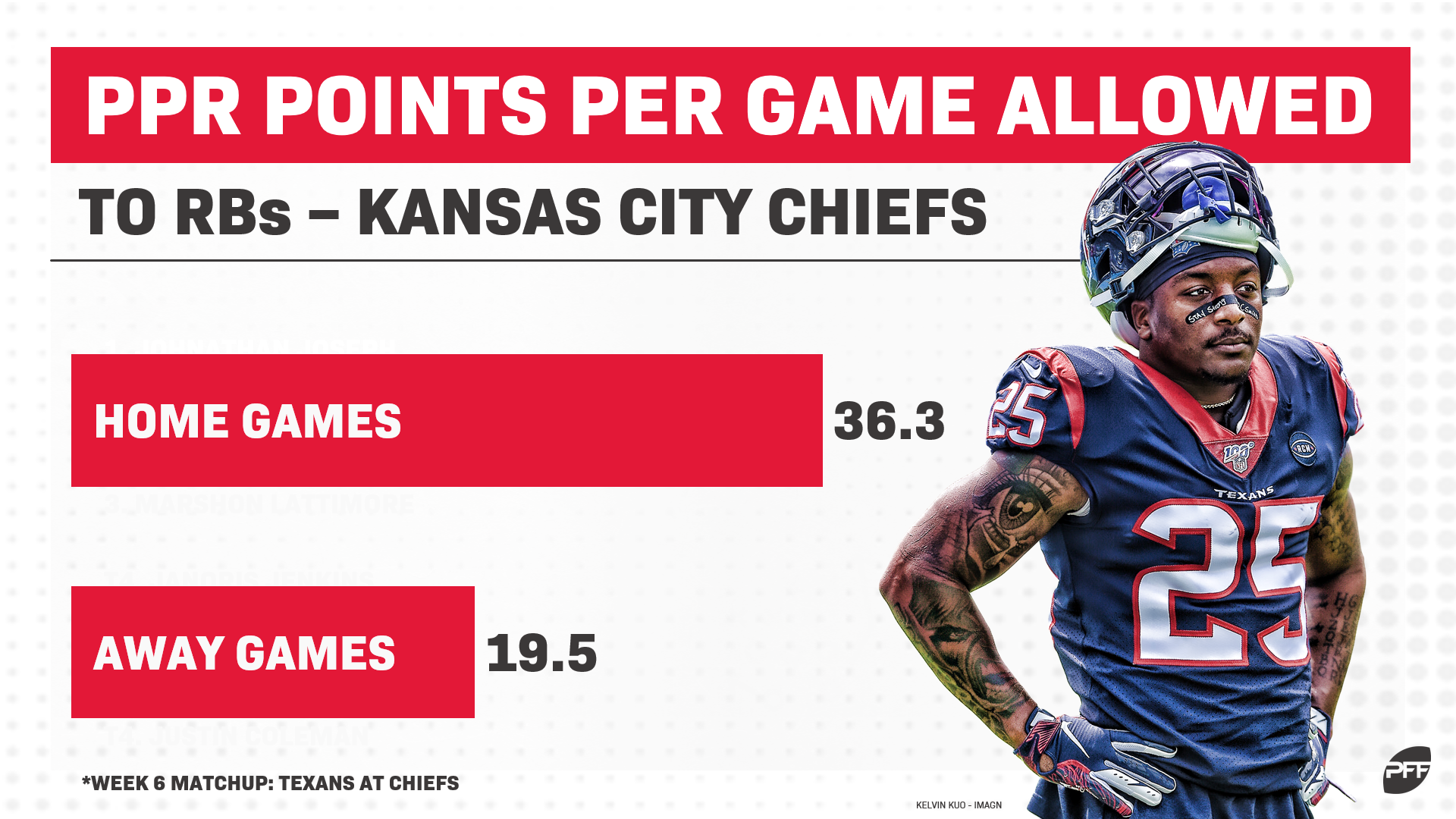 Duke Johnson, RB, Houston Texans: Carlos Hyde is averaging a respectable 4.2 yards per carry with the Texans. Take out his ridiculously efficient Week 1 (83 yards on 10 carries), and that number drops to a much less respectable 3.6. Johnson, meanwhile, has let to get double-digit carries in a game, but is averaging 6.4 YPC and has topped 5.0 in every game but his two-carry Week 3. Eventually this workload needs to shift. Against a Kansas City defense that has allowed 36.3 PPR points per game to running backs at home (compared to 19.5 on the road), this would be a good time for it.
Chase Edmonds, RB, Arizona Cardinals: Obviously, we need to monitor David Johnson's health, but ultimately Edmonds qualifies as a sleeper either way. If Johnson misses Week 6, Edmonds is a borderline RB1, but even if the starter plays, you can expect the Cardinals to take it easy on him. Edmonds has seen his workload climb every week so far (1 touch to 3 to 4 to 6 to 11), and he put up 86 yards and a score on his 11 touches last week.
Julian Edelman, WR, New England Patriots: Edelman's workload has had little relation to the team's gamescript; per Scott Barrett's expected fantasy points, Edelman has averaged 9.1 targets and 17.1 PPR points per four quarters played (accounting for his missed half in Week 3). That would be borderline WR1 performance despite the Patriots putting up blowouts almost every game.
Tyler Boyd, WR, Cincinnati Bengals: The Ravens allowed 5.0 yards after the catch per reception in 2018, tied for seventh-best in the league. This year, that number is up to 7.0 yards, second-worst in the league. In other worst, opponents are gaining 2.0 extra yards against the Ravens on every reception compared to a year ago. Boyd, 11th among receivers in yards after the catch, could take advantage as easily the Bengals' target monster.
Larry Fitzgerald, WR, Arizona Cardinals: The Falcons have allowed 11 touchdowns this year on balls targeted 10-plus yards downfield. That's most in the league by three, just blowing away the field. Other than Trent Sherfield and Pharoh Cooper (a combined 9 targets), Fitzgerald has the deepest average depth of target on the Cardinals at 9.51 yards and has 4 of the team's 6 deep receptions so far. He's perfectly suited to take advantage of this defense.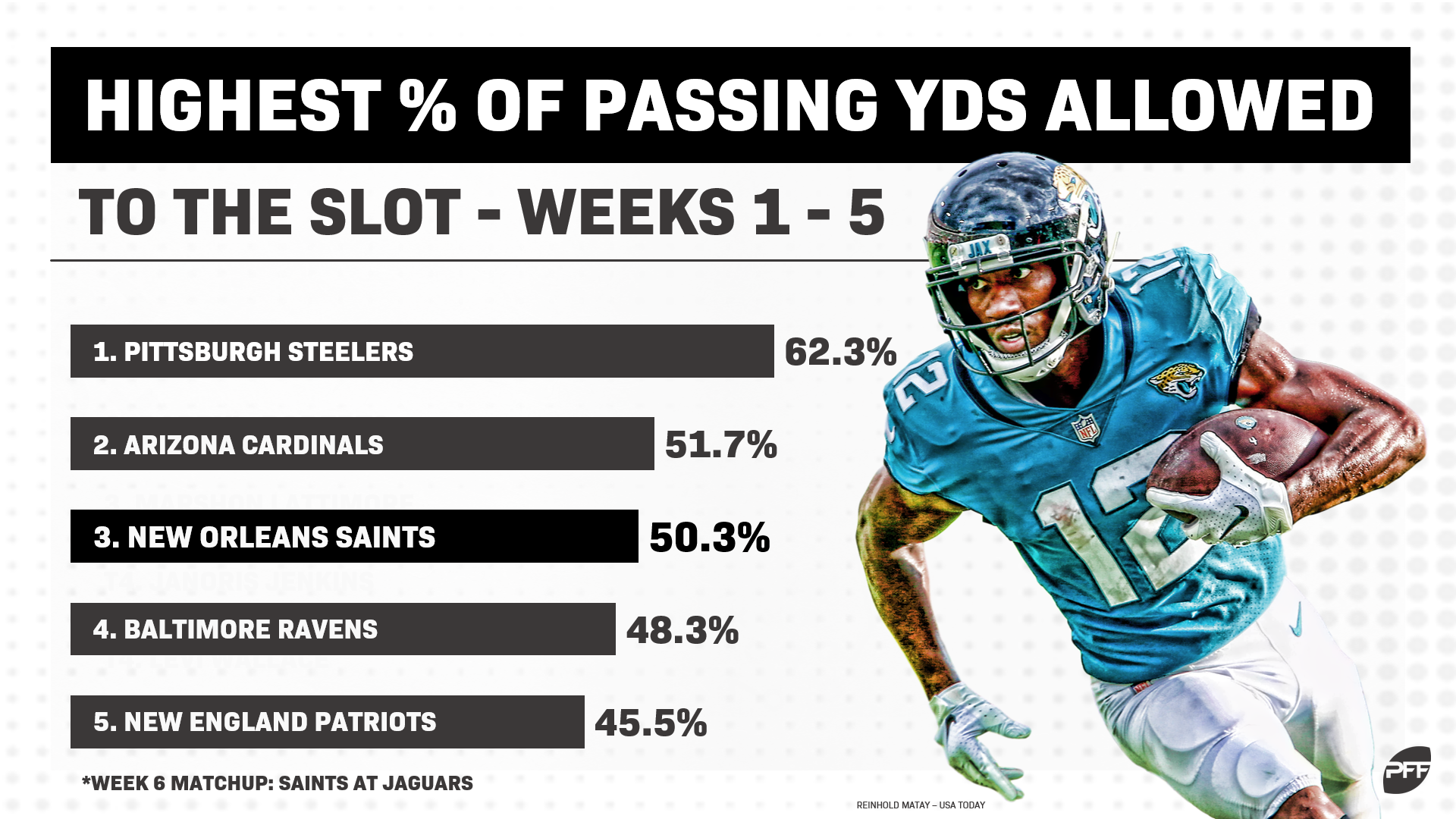 Dede Westbrook, WR, Jacksonville Jaguars: Slot is the best area to attack the Saints; more than half (50.3%) of their passing yards allowed have come to slot targets, third-most in the league, and Saints slot corner P.J. Williams, who will see a lot of Westbrook this week according to our WR/CB matchup chart, has a 34.6 coverage grade on slot targets since the start of 2018, second-worst in the league. Westbrook has been quiet, but this is a good spot for him.
Emmanuel Sanders, WR, Denver Broncos: Put this in the box of "take it for what it's worth, which may be nothing," but Sanders this year has averaged 8.0 receptions on 10.5 targets for 101.0 yards at home (with a 90.0 PFF grade), compared to 2.7 receptions on 4.3 targets for 35.0 yards on the road (with a 65.1 PFF grade). The Broncos are at home this week.
Michael Gallup, WR, Dallas Cowboys: Michael Thomas has the second-best yards per route run mark in the league among all qualified pass-catchers at 2.95. He is behind Gallup, who is leading the league, almost 20% more, at 3.49. Gallup missed two games to injury, but he's had at least 12.8 PPR points in all three of his games, including 22.8 or more in two of three.
Will Dissly, TE, Seattle Seahawks: For the season, Dissly ranks 14th among tight ends in snaps played. Since Week 2 (and Week 3), he's 11th. The last two weeks, he's sixth, and in Week 5, he played the third-most. His playing time has only been increasing. In Weeks 1, 4, and 5, the Browns allowed 22.9 PPR points per game to opposing tight ends. In Week 2, they played the non-fantasy-factor Ryan Griffin, and in Week 3, they played the pre-breakout Gerald Everett. In other words, use tight ends against the Browns.
Greg Olsen, TE, Carolina Panthers: Slot receivers do well against the Buccaneers (Cooper Kupp and Robert Woods in Week 3, Michael Thomas in Week 4), but the Panthers don't really have a slot receiver (apologies to Jarius Wright). Olsen leads the team with 14 slot targets so far. He's fallen off the last couple weeks, but this could really be a get-right spot.
Geoff Swaim, TE, Jacksonville Jaguars: The Jaguars put James O'Shaughnessy on IR this week with a torn ACL. Assuming Josh Oliver doesn't make his debut this week, that boils the Jaguars tight end production down to basically only Swaim. O'Shaughnessy and Swaim have combined for 34 targets (would be seventh at the position) and 57.3 PPR points (eighth).
Busts
Patrick Mahomes, QB, Kansas City Chiefs: Obviously, this only applies to DFS, because in season-long fantasy you're using Mahomes as long as he has any three of his four limbs. And he has plenty of upside in a game against the Texans with the week's highest over/under. But his dinged ankle makes Mahomes riskier than he's been at any point in the last two seasons. He's not even my QB1 in this week's PFF Fantasy staff rankings.
Carson Wentz, QB, Philadelphia Eagles: Combine the last two weeks for Wentz into one game, and he'd be 20th in the league in single-game passing yards on the year, at 349. Five different quarterbacks (Patrick Mahomes, Deshaun Watson, Jared Goff, Dak Prescott, and Jameis Winston) have topped it at least twice. Wentz averaged 39 pass attempts at a 10.3-yard average depth of target in Weeks 1-3, then 28 at a 7.8-yard aDOT the last two weeks. The strategy has changed.
Christian McCaffrey, RB, Carolina Panthers: McCaffrey is still my No. 1 running back in this week's rankings. He's earned that. But this is a questionable spot for the fantasy MVP. A trans-Atlantic flight, against a Tampa Bay defense that just limited him to 53 yards in Week 2, after sitting out practice Wednesday. Our Week 6 PFF Fantasy projections still have McCaffrey putting up 23.0 PPR points, but this is as risky a spot as he'll find himself in.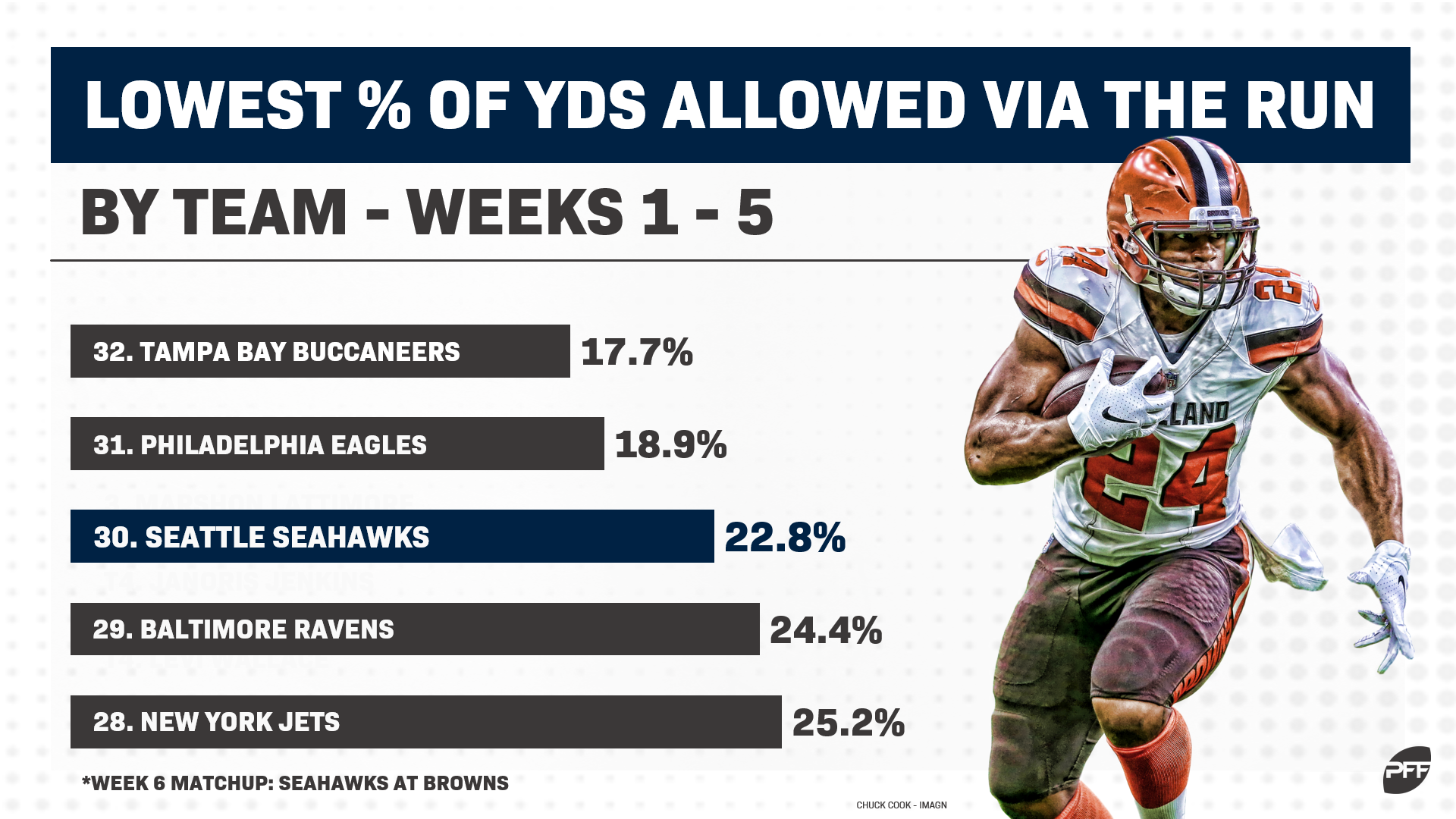 Nick Chubb, RB, Cleveland Browns: Only the Buccaneers (82.3%) and Eagles (81.1%) have allowed a higher percentage of their yards on passes this year than the Seahawks (77.2%). Chubb has been good this year, especially when compared to the overall disappointing Browns, but he's not much of a contributor to the passing game, with only 19.6% of his scrimmage yards coming on receptions.
JuJu Smith-Schuster, WR, Pittsburgh Steelers: Desmond King has struggled this year. His 57.7 PFF grade is 81st of 115 qualified cornerbacks and he's allowing a perfect 158.3 passer rating in coverage. But in 2017-2018, he was literally the league's highest-graded coverage cornerback at 92.2, so I'm still willing to call him at least a neutral matchup, if not a tough one. Add in the fact that the Steelers are on their third-string quarterback (fourth, if you count the fact that Joshua Dobbs was on the team originally and was traded prior to the injury bug), and none of us had really heard of Devlin Hodges before a week ago, and Smith-Schuster has a very low ceiling this week.
D.J. Chark, WR, Jacksonville Jaguars: The downside of the aforementioned "use Westbrook as a slot guy against New Orleans" advice is that Chark has a bad matchup. Marshon Lattimore struggled in Weeks 1-3 to a 58.5 PFF grade, but the team put him back on shadow coverage the last two weeks (against Amari Cooper and Mike Evans) and he's improved, allowing only 39 yards to the two combined.
Golden Tate, WR, New York Giants: Yes, Tate is just about the last man standing in the Giants offense, but against the league's best defense, even that isn't enough. If you want some part of the Giants passing offense, better to opt for Darius Slayton, who might not be as good as Tate overall, but is more of a deep threat (he has 81 of the team's 179 deep yards this year), meaning he needs fewer chances to make an impact. Tate isn't likely to get enough to be worthwhile.
Delanie Walker, TE, Tennessee Titans: Walker had a very strong 26.1% target share in Week 1. It stayed high, 24.0% and 23.7% in Weeks 2 and 3, respectively. And then the switch flipped. The last two weeks, Walker has 4 total targets, with a target share of 9.1% and 9.5%. He has 14 total yards in that time. His name value is miles ahead of his actual value right now.