Oh boy, we are finally here!
It is Week 16, or what should be (complain to your commissioner if otherwise) your fantasy Championship Week. With everything on the line this week, I am not taking today's article lightly, and hopefully I haven't steered you wrong on your journey to get here with my weekly start/sit advice.
Without further ado, here were some of your most frequently mentioned players on twitter for Week 15.
Start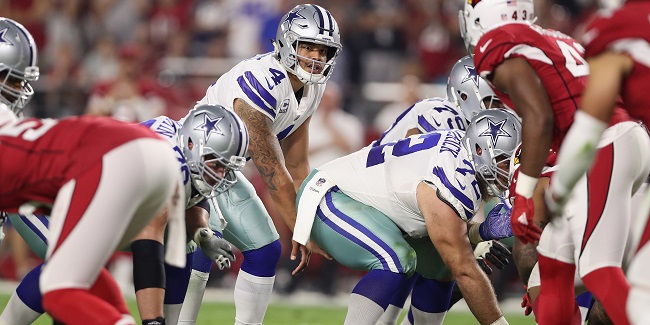 Dak Prescott, QB, Dallas Cowboys (vs. Seattle) – Seattle has given up 72 points over the past two weeks. This is the most they've surrendered over any two-game stretch since 2010. It makes sense too, when looking at their injury report and seeing names like Nazair Jones, Bobby Wagner, K.J. Wright, and Michael Bennett dealing with injuries (and, of course, Richard Sherman on IR). Prescott also gets Ezekiel Elliott back in the lineup, which should help, considering Prescott has averaged only 12.8 fantasy points per game in his absence. While Elliott was in the lineup, however, Prescott had finished as a QB1 in nine of his previous 10 games. It might be bold, but he's my No. 6 quarterback of the week.
Matthew Stafford, QB, Detroit Lions (@ Cincinnati) – Cincinnati ranks second-worst in fantasy points over expectation to opposing quarterbacks across the last five weeks of the season. While they also rank dead-last to opposing running backs by the same stat, Detroit has had no running game to speak of all season. Cincinnati also has three linebackers and four members of their secondary listed on their injury report this week, while Stafford ranks fifth among quarterbacks in fantasy points per game since Week 6. I have Stafford as a mid-range QB1 this week.
Ezekiel Elliott, RB, Dallas Cowboys (vs. Seattle) – Seriously? If you have Elliott you're starting him. Seattle has given up 400 rushing yards over the past two weeks, and Elliott will have fresh legs off of a six-week absence. He should also step into his typical workload of 23.9 carries and 3.3 targets per game. Prior to his suspension, he also led all running backs in fantasy points per game (in 0.5 PPR leagues).
Kenyan Drake, RB, Miami Dolphins (@ Kansas City) – Over the past three weeks, no running back has served in a more valuable fantasy role than Drake. Over this span he's seen a league-leading 94 percent of the team's running back snaps while averaging (also a league-leading) 21.4 expected fantasy points per game. The matchup isn't great, against Kansas City in Arrowhead, and there's the fear of Damien Williams returning to force this into a committee. However, I have trouble seeing this as a real possibility, given how well Drake has performed (447 total yards and two touchdowns) over this stretch. You should stay on top of beat writer reports throughout the week, but even with Williams likely to return, I have Drake as a low-end RB1.
Devonta Freeman, RB, Atlanta Falcons (@ New Orleans) – Freeman saw a season-high 23.5 expected fantasy points and 30.4 actual fantasy points in Week 15 with Tevin Coleman inactive. Heading into the week, he was averaging just 11.9 expected fantasy points per game, or 17th-most. If Coleman is out, he's a mid-range RB1 for me, but if not, I'm sliding him down to the high-end RB2-range.
Dion Lewis, RB, New England Patriots (vs. Buffalo) – Lewis is our fourth-highest-graded running back this season and ranks third-best in elusive rating. He's also been our most difficult runner to bring down on first contact. While efficiency has been good all season, it should be good again this week against a Buffalo defense allowing the most fantasy points per game to opposing running backs. Volume should improve too with Rex Burkhead out, although it's not a lock that Mike Gillislee doesn't come in and vulture goal-line work. He gets a bump in my projections regardless, but if Gillislee is inactive, I'll have Lewis as a fringe-RB1, and if not, he'll be more of a mid-range RB2.
Jerick McKinnon and Latavius Murray, RB, Minnesota Vikings (@ Green Bay) – Since Dalvin Cook's season-ending injury in Week 4, McKinnon has averaged 12.1 carries per game and 4.8 targets per game to Latavius Murray's 16.1 carries and 1.3 targets. Green Bay has allowed the most receiving fantasy points to opposing running backs this season, but rank 15th in rushing fantasy points allowed. While gamescript does tilt more toward Murray's favor, and he does tend to see more work near the end zone, I have McKinnon one spot ahead in PPR leagues, but both as mid-range RB2s.
Josh Gordon, WR, Cleveland Browns (@ Chicago) – Last week Gordon ran 68 percent of his routes from DeShone Kizer's right, while Chicago is allowing the most fantasy points per game to right wide receivers. Gordon is averaging 15.7 expected fantasy points per game over the past three weeks, which would rank eighth-most among wide receivers if over a full season. I have Gordon penciled in as a mid-range WR2 in my rankings this week.
Dede Westbrook, WR, Jacksonville Jaguars (@ San Francisco) – It'll be hard to go back to Westbrook, after scoring just 4.1 fantasy points last week, while Keelan Cole and Jaydon Mickens (who?) combined for 53.7. Still, he's a strong start as a high-end WR3 up against a San Francisco defense allowing the ninth-most fantasy points per game and the third-most fantasy points per target to outside wide receivers. With Marqise Lee out of the lineup, Westbrook should see a larger workload, and outside of last week, he was seeing the typical workload of a mid-range WR2 (13.6 expected fantasy points per game).
Robert Woods, WR, Los Angeles Rams (@ Tennessee) – Woods has scored at least 16.0 fantasy points and has averaged 23.2 fantasy points per game over his last four games. He draws a soft matchup this week against a Tennessee defense ranking fourth-worst over expectation to opposing WR1s. He's a mid-range WR2 in my rankings this week.
Kendall Wright, WR, Chicago Bears (vs. Cleveland) – If desperate for a wide receiver (like I am, missing Antonio Brown on a number of my best teams), you can do far worse than Wright. Wright has seen 22 targets over the past two weeks, while the next-closest Bears receiver has seen only 11. He's also run 61 percent of his routes from the slot over this stretch, while Cleveland ranks worst in fantasy points per target and ninth-worst in fantasy points per game allowed to opposing slot wide receivers this season. At best, he's still just a fringe-WR3 in my rankings, but he's someone I'll be forced to start on a few of my championship teams.
JuJu Smith-Schuster, WR, Pittsburgh Steelers (@ Houston) – Smith-Schuster has been very boom-or-bust in recent weeks, with three games over 15 fantasy points (averaging 23.5) and two games under 10 (averaging 7.2) over his last five games. Still, he should see a target boost following a calf injury to the current league-leader in receptions. Martavis Bryant should be in for more work as well, but I have Smith-Schuster much higher in my rankings (low-end WR1 to Bryant's low-end WR2). The matchup is good for both, however, with Houston ranking fourth-worst over expectation to opposing wide receivers.
Devin Funchess, WR, Carolina Panthers (vs. Tampa Bay) – Despite Funchess' disappointing Week 15 (one catch for 19 yards) and Greg Olsen's re-emergence onto the fantasy scene (12 targets and 26.6 fantasy points), I still have Funchess as a high-end WR2 this week. Prior to last week, Funchess had seen at least six targets in 12 consecutive weeks. The matchup is strong as well. Last week, Funchess ran 68 percent of his routes from Cam Newton's left, while Tampa Bay is allowing the third-most fantasy points per game to left wide receivers.
Cameron Brate, TE, Tampa Bay Buccaneers (@ Carolina) – If desperate for a tight end this week, I like Brate following O.J. Howard's season-ending ankle injury. Nothing about Brate's recent usage or matchup stands out as being especially encouraging, but he did rank fourth among tight ends in fantasy points over the first eight weeks of the season, before he started yielding snaps to Howard. If a little more desperate, Antonio Gates is a strong play for similar reasons, but also more boom-or-bust, relying mostly on touchdown-upside at this stage of his career.
Greg Olsen, TE, Carolina Panthers (vs. Tampa Bay) – There isn't the need for much analysis here, but Olsen's performance last week is enough to vault him back up my rankings, trusting him as a high-end to mid-tier TE1.
Sit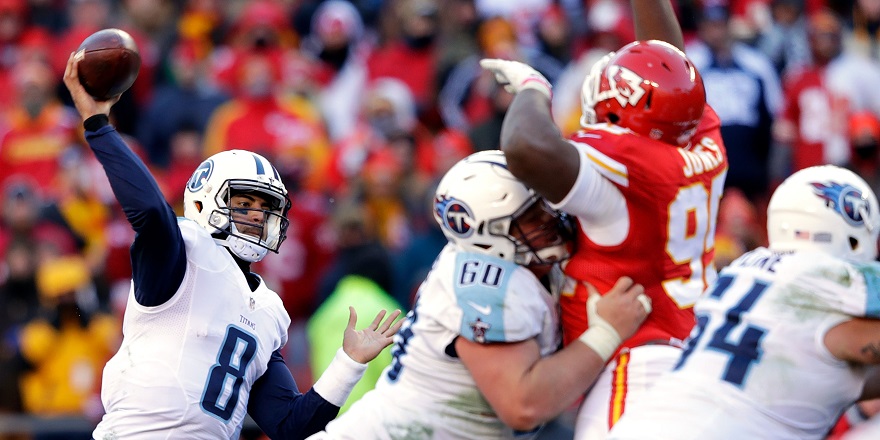 Marcus Mariota, QB, Tennessee Titans (vs. Los Angeles Rams) – Mariota has seen 38.3 percent of his fantasy points come on the ground this year, but hasn't had more than three carries in a game since Week 11. Since Week 10, he's averaging just 217.3 passing yards per game with a six to nine touchdown to interception ratio. This isn't the week to get cute, up against a Rams defense ranking fifth-best in fantasy points allowed per dropback.
Jimmy Garoppolo, QB, San Francisco 49ers (vs. Jacksonville) – Garoppolo ranks second in passing yards since taking over as the team's starter, but also has struggled to find the end zone, sporting a two to two touchdown to interception ratio. The matchup also couldn't be worse, against a Jacksonville defense ranking best in the league in both opposing passer rating and fantasy points per dropback.
Jamaal Williams, RB, Green Bay Packers (vs. Minnesota) – Williams dominated while Aaron Rodgers was last on IR, but saw just 10 touches in Week 15 with Rodgers back under center. He played on 80 percent of the team's snaps Weeks 11-14, but that number fell to just 61 percent last week, due in part to Aaron Jones making his return. The matchup is also hard to get excited about, with Minnesota allowing the fewest fantasy points per game to opposing running backs. He's fallen all the way down to the high-end RB3 range for me.
Peyton Barber, RB, Tampa Bay Buccaneers (@ Carolina) – Right behind Williams in my rankings is Barber, who draws an equally difficult matchup. Carolina is allowing the third-fewest fantasy points per game to opposing running backs, and Carolina is 10-point favorites at home. While Barber did see 80 percent of the team's running back touches last week, the projected gamescript works much more towards Charles Sims' favor this week.
Marquise Goodwin, WR, San Francisco 49ers (vs. Jacksonville) – Goodwin has excelled following San Francisco's quarterback change, falling one yard short of three straight 100-yard games. Goodwin, however, has the misfortune of drawing shadow coverage from our No. 2-graded cornerback Jalen Ramsey this week. In shadow games, only Antonio Brown and DeAndre Hopkins have totaled more than 50 yards against him in any game this season, despite also shadowing names like T.Y. Hilton (twice), A.J. Green, and Larry Fitzgerald this year.
Robby Anderson, WR, New York Jets (vs. LA Chargers) – Bryce Petty has targeted Anderson on 29 percent of his career pass attempts. That's an impressive figure, and Anderson is likely to see heavy volume again this week, but we should discount that for two reasons. 1) Petty is throwing him the ball. 2) Our No. 1-graded cornerback this season, Casey Hayward, will be shadowing Anderson on the majority of his routes. Since Week 6, opposing quarterbacks are averaging a passer rating of just 26.4 when targeting Hayward — well below if the quarterback had just spiked the ball into the dirt. He also ranks 17th in routes in coverage over this stretch, but just 97th in receptions allowed. This, of course, is in spite of shadowing Amari Cooper, Demaryius Thomas, Dez Bryant, Josh Gordon, and Josh Doctson over this stretch.
Austin Seferian-Jenkins, TE, New York Jets (vs. LA Chargers) – When ranking tight ends, I've noticed matchups matter less for them than most other positions. Still, the Chargers are one of the few defenses that have me nervous. They rank best in fantasy points per game over expectation allowed to the position, holding Rob Gronkowski, Zach Ertz, and Travis Kelce to a combined 13.5 fantasy points per game, while only one other tight end has scored at least 12 fantasy points against them. Seferian-Jenkins has hit 50 yards just once this season and hasn't scored since Week 7. With Bryce Petty under center, he's an easy fade as just a low-end TE2 this week.