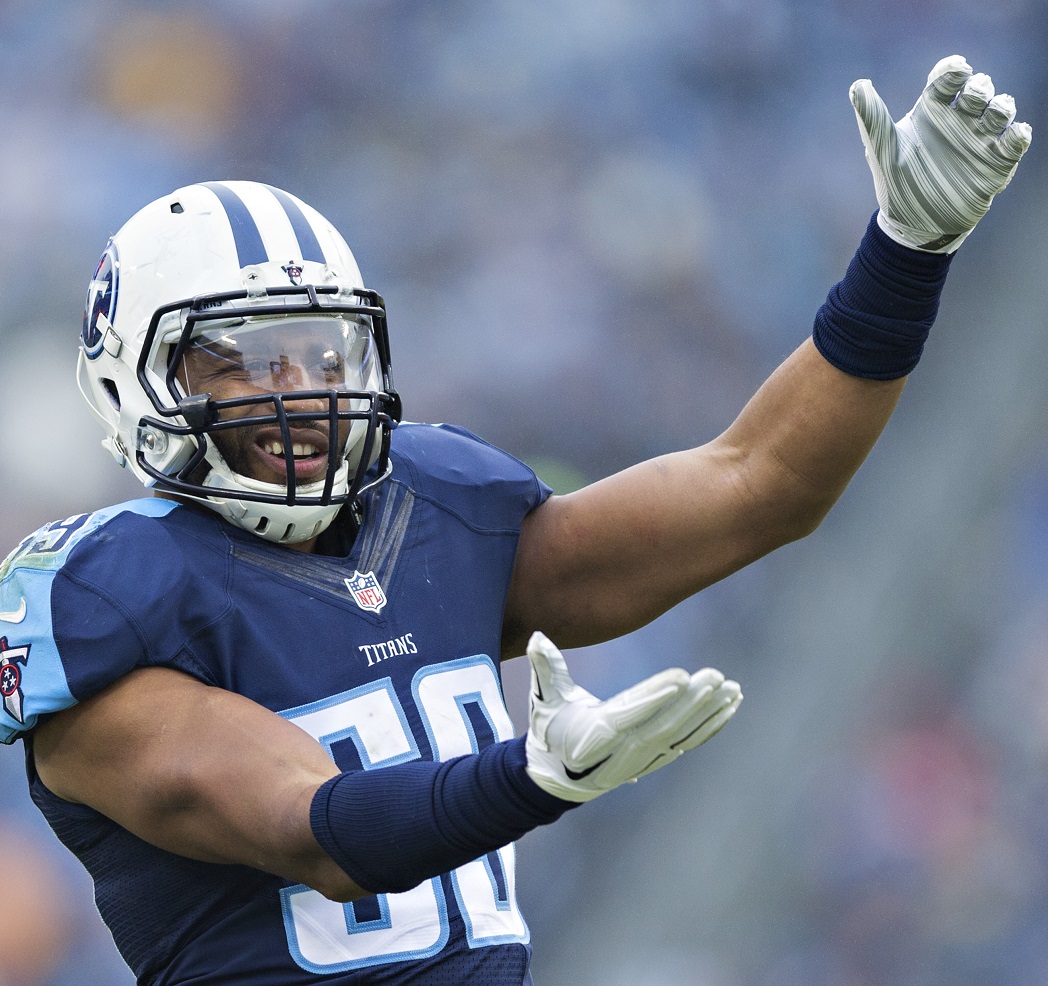 NASHVILLE, TN - JANUARY 1: Wesley Woodyard #59 of the Tennessee Titans tries to get the fans cheering during a game against the Houston Texans at Nissan Stadium on January 1, 2017 in Nashville, Tennessee. The Titans defeated the Texans 24-17. (Photo by Wesley Hitt/Getty Images)
It feels like it was just last week that we kicked off the 2017 NFL season and now we're looking at IDP start/sit advice for Week 9? Where has the time gone? Why does the offseason seem to drag on forever and the regular season fly by so fast? I'm surer there is a scientific reason to explain this but I'll leave that up to folks much smarter than myself.
Speaking of being smart, I sure hope folks read last week's article and rolled out start suggestion AFC Defensive Player of the Week Carlos Dunlap. It's always nice to hit a home run once in awhile.
Let's take a look at this week's start/sit suggestions.
Defensive linemen
Start
Jadeveon Clowney, Houston Texans (vs. Indianapolis)
This is obviously a recommendation for leagues that have Clowney designated as a defensive lineman. If he's listed as an outside linebacker in your league, then Clowney is more of plug-and-play No. 3 linebacker option. The Colts have been giving up big points to defensive linemen over the last five games allowing 16 sacks and an interception, as well as three forced fumbles. Clowney is coming off one of his better performances of the season, having put up four solo tackles, a sack and forced fumble against Seattle. This should be another big game for Clowney against a struggling Colts offensive line.
Frank Clark, Seattle Seahawks (vs. Washington)
With four of the top-10 scoring defensive linemen on a bye, this is a good week to ride with the third-year defensive end out of Michigan. The season-ending injury to Cliff Avril has elevated Clark to a starting role and he's playing 76 percent of the defensive snaps (prior to Avril's injury he averaged 57 percent). Clark has been producing top-20 numbers since replacing Avril and has nine total tackles with three sacks and a forced fumble in that time. This is a decent matchup as Washington has given up seven sacks to defensive linemen in the past two games along with a forced fumble and fumble recovery.
Sit
Cameron Wake, Miami Dolphins (vs. Oakland)
While I still love the season the veteran Wake is putting together, it's the matchup as well as Wake's recent snap count that worries me heading into Week 9. In the past two games Wake is averaging just 33 snaps per game and his season-high was 46 back in Week 4. While he did manage to rack up 2.5 sacks in Week 7 on a limited count, Wake had was credited with just a pair of assisted tackles and one quarterback hurry. Over their last five games the Raiders have allowed just three sacks to defensive linemen and one forced fumble.
Carlos Dunlap, Cincinnati Bengals (at Jacksonville)
The IDP world can be a fickle place as just one week ago Dunlap was a start option in this space, and it paid off in a juicy matchup against the Colts. He finished that game with three solo tackles as well as his first sack since Week 3, but it was an interception for a score that allowed Dunlap to post top-five numbers. Unfortunately, touchdowns for defensive linemen are not something IDP owners can rely on. The Jaguars have allowed 105 total tackles to defensive linemen but Dunlap's season high is only five total stops. On the flip-side Jacksonville has given up just five sacks to a defensive lineman on the season.
Linebackers
Start
Wesley Woodyard, Tennessee Titans (vs. Baltimore)
This is Woodyard's second time on the start list as the matchup this week is too good to pass up. In the last five games the Ravens have given up 101 solo tackles to linebackers as well as 3.5 sacks, an interception and two forced fumbles. Woodyard is quietly having a very nice fantasy season with a mixture of solid tackle numbers as well as a sprinkling of big plays. He has 57 total tackles (42 solo) with a pair of sacks and a fumble recovery. Woodyard has been consistent as well posting at least eight total tackles in six of Tennessee's seven games.
Darron Lee, New York Jets (vs. Buffalo)
Lee has graded out above average overall as a linebacker according to PFF over his last two games. While that doesn't always equate to fantasy production, it has in Lee's case, as he has posted top-12 numbers in that time. Lee also brings sneaky good big-play potential having posted a sack and two forced fumbles in 2017. The Bills have given up 141 solo tackles to linebackers as well as nine sacks and two forced fumbles. In the Week 1 meeting between these teams Lee put up double-digit tackles with a sack and pass defended.
Sit
K.J. Wright, Seattle Seahawks (vs. Washington)
The veteran linebacker has been rolling up tackle numbers of late to the tune of 25 total stops over the last two games, which equates to top-12 fantasy totals in most balanced scoring formats. Unfortunately, Wright has yet to post a single big play this season and is too tackle-reliant to trust in this tough matchup. In their last four games Washington is allowing an average of only 16 total tackles per game to the linebacker position. They haven't allowed double-digit tackles to a linebacker since Week 3. There will not be enough tackle opportunities for Wright to be a fantasy factor this week.
Lavonte David, Tampa Bay Buccaneers (at New Orleans)
What was shaping up as a nice return-to-form season for David may have been derailed a bit by the return of Kwon Alexander. It's a one-week sample but is eerily similar to what took place last year with the Buccaneers linebackers. Alexander put up double-digit tackles last week and David finished with just three solo stops. Big plays have been a big part of David's productivity but are not a given on a week-to-week basis and if his tackle totals continue to dip then he's an iffy play. New Orleans is among the stingiest teams in allowing big plays to linebackers having allowed just two sacks and one fumble recovery to the position on the season.
Defensive backs
Start
Tyvon Branch, Arizona Cardinals (at San Francisco)
The veteran safety had cooled down a bit in the two games prior to the Cardinals Week 8 bye, with just 10 total tackles. The week off for the 30-year-old Branch as well as the matchup work in his favor. In the first meeting between these teams in Week 4 defensive backs accounted for over 30 total tackles along with an interception and forced fumble. Branch accounted for nine total tackles and the forced fumble in that game.
Jaquiski Tartt, San Francisco 49ers (vs. Arizona)
This game should be a fantasy bonanza for defensive backs on both teams. Now that Eric Reid has been moved to weakside linebacker by the 49ers Tartt is the unquestioned full-time strong safety. Toss in the season-ending arm injury suffered by Jimmie Ward and Tartt will be asked to step up even more for this struggling secondary. Tartt has been lining up within eight yards of the line of scrimmage on run snaps roughly 73 percent of the time. That will pay off this week as Arizona features a heavy dose of Adrian Peterson.
Sit
Jamal Adams, New York Jets (vs. Buffalo)
The rookie safety has been rounding into form over the last two weeks, putting up a sack along with a fumble recovery. Adams also added 11 total tackles (nine solo) in that time but has yet to reach double-digits in a game this season. That's unlikely to change against a Bills offense that doesn't give up much to defensive backs. Buffalo has not given up a sack to a defensive back this season or more than eight tackles in a game. Big play opportunities and tackle numbers will simply not be there for Adams this week.
Johnathan Cyprien, Tennessee Titans (vs. Baltimore)
According to head coach Mike Mularkey, Cyprien "should" be able to play this week. That snippet of information has IDP owners wondering if that means Cyprien "should" be in their lineups. No. Not yet. The strong safety has been out since Week 1 with a hamstring injury and is unlikely to step right back into a full-time role. Let's take at least a one-week wait and see approach before fully committing to Cyprien. The Ravens are among the top-five least favorable offenses when it comes to giving up points to defensive backs. That's another reason to avoid Cyprien this week.