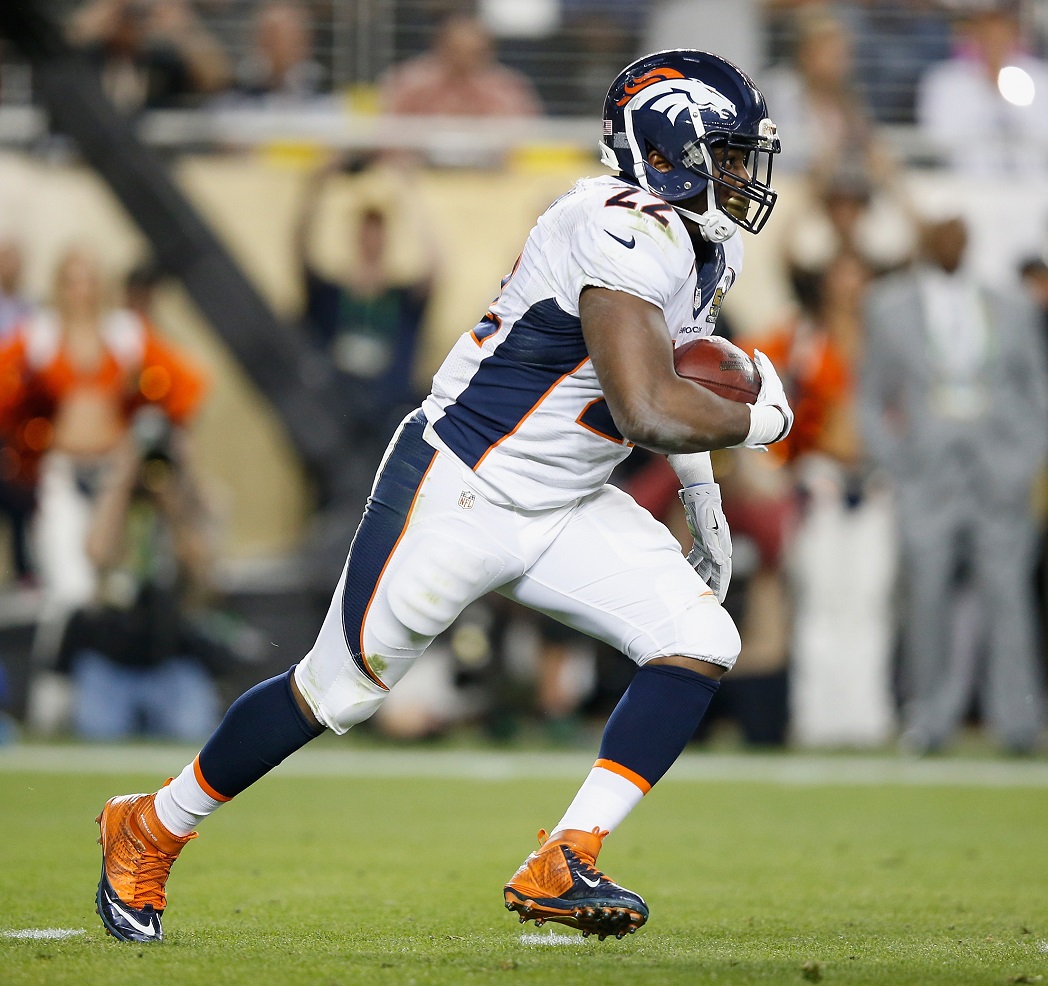 SANTA CLARA, CA - FEBRUARY 07: C.J. Anderson #22 of the Denver Broncos carries the ball against the Carolina Panthers during Super Bowl 50 at Levi's Stadium on February 7, 2016 in Santa Clara, California. (Photo by Ezra Shaw/Getty Images)
The current book on my nightstand is Nate Silver's The Signal and the Noise. One of my favorite DFS analysts Jonathan Bales recommended it a while back and I knew it would be right up my alley. As someone who often finds himself manipulating fantasy football data on Friday nights instead of bar-hopping (I just do that Saturday instead), I found myself very intrigued by the premise of the book — finding out what's a true signal (i.e., what matters) and what's just noise (what doesn't).
Two weeks into the football season doesn't provide a lot information for us to work with, but the NFL season is only 16 weeks. Most of these teams (outside Tampa Bay and Miami) have already played 12.5 percent of their games for the year. We need to move fast as fantasy footballers if we want to gain an edge on our opponents. I'm going to try to help you here by looking at several players who have had drastically different performances between Week 1 and Week 2 and help you decipher the difference between the "signal" and the "noise." In other words, if a guy has had one good week and one less good, which one is more reflective? Or if a guy is not showing what we expected, is it time to double down or cut bait?
Through two weeks, we've learned that the Broncos plan on using Anderson  that volume may be here to stay. He's played on 71.6 percent of the team's offensive snaps and accrued 71.0 percent of the team's running back touches splitting time with just Jamaal Charles. Teammate Devontae Booker returned to practice last Wednesday, and while Anderson may see a bit of his volume taken away, he's established himself as the clear lead back in Denver. The good games should continue to roll for Anderson, who takes on a Bills defense that was top-five in most fantasy points allowed to opposing running backs last year.
No, it isn't time to press the panic button yet. Cooks' inconsistency isn't anything new and it's something we should expect unless he's in a plus-matchup. Rookie Marshon Lattimore's 4.36 speed helped him keep up with Cooks for much of last week's game, squaring up against him on 31 of 39 routes. Cooks' best asset is his speed, and when he's matched up against a fellow speedster like Lattimore, it neutralizes him. The Patriots wide receiver depth is barren now — big weeks are still ahead for Cooks in this explosive offense.
We knew heading into the season that Bryant was one of the most cornerback-sensitive wide receivers. Tough matchups were inevitable for Bryant to start the year. As noted by our own Scott Barrett, "Bryant has run 66 of 105 routes lined up against the following cornerbacks (all graded top-seven in coverage last season): Dominique Rodgers-Cromartie, Janoris Jenkins, Aqib Talib, and Chris Harris Jr." It doesn't get much easier over the next two weeks (Week 3 vs Patrick Peterson, Week 4 vs Trumaine Johnson), but there is hope for the remainder of the season. One major positive in Bryant's favor is how much they've been using him in the red zone. His total of six targets inside the 10-yard line leads the league. That touchdown upside is why you likely drafted Bryant in the first two rounds and is something we can look forward to when the matchups inevitably get easier down the road.
Henry's lack of consistent volume makes his Week 2 explosion more noise than signal. He carried the ball 14 times for 92 yards and a score in a game where the Titans won 37-16. Tennessee won't always get that type of game script. Week 1 was probably more indicative of the type of usage we'll see from Henry (6 rushes, 25 yards, 0 TDs). Last year DeMarco Murray played on over 80 percent of the team's snaps and 73.5 percent of the team's running back touches. Murray hasn't looked great to start the year — he's currently our graded RB46 — but that's likely more due to a hamstring injury than anything else. I just can't get on board with Henry as anything other than a low-end flex option until we see the team move on from Murray.
Allen was a hot waiver pickup heading into Week 2, and has now strung together back-to-back performances with heavy touches. He finished Week 1 with 21 carries in a lopsided game against the Bengals, but he has earned my trust as an every-week flex consideration following Week 2's 14-carry, 5-catch performance. Injuries decimated Allen's sophomore year, but he finished the 2015 season top-10 among all running backs in targets. The Ravens placed Danny Woodhead on injured reserve, opening up a clear path for Allen to be the team's receiving back. He's certainly flex-worthy this upcoming week against Jacksonville.
Nelson is here to stay, folks. John Brown's quad injury looks like it could cause him to miss the next month or so, and Nelson should be a must-grab on waivers this week if he's still lingering. Nelson's coming off a 5-120-1 stat line on seven targets, but looking back further through his game logs, this type of outing shouldn't surprise us.
| | | | | | |
| --- | --- | --- | --- | --- | --- |
| Week, Year | Targets | Rec | Yards | TDs | FPs (PPR) |
| Week 2, 2017 | 7 | 5 | 120 | 1 | 23 |
| Week 1, 2017 | 6 | 5 | 43 | 1 | 15.3 |
| Week 17, 2016 | 12 | 4 | 75 | 0 | 11.5 |
| Week 16, 2016 | 7 | 3 | 132 | 1 | 22.2 |
| Week 15, 2016 | 11 | 5 | 38 | 1 | 14.8 |
Brown's absence just opens a more direct path to targets for Nelson. Further, with David Johnson sidelined for the foreseeable future, the team will likely be forced to pass more without a back to give 30-plus touches to. Nelson's big play ability makes him worth rostering just about every week as the real deal this year.
Through his first two weeks as a pro, Hunt has picked up 355 yards from scrimmage on just 38 touches. The next-closest rookie in the PFF era? Adrian Peterson with 281 in 2007. Hunt has five touchdowns already. The kid is unreal, and the scary thing is that this is likely to stay this way all of 2017. The touchdowns will inevitably vary game to game, but Hunt is in a terrific environment for him to see the lion's share of running back touches and snaps.