Twelve years ago, I was in my high school sitting behind my computer in class setting my fantasy baseball lineups as a teacher babbled on about something I couldn't care less about. "Ugh, if only I could just do this all day."
Eight years ago, during college, I was on a train heading home from my internship at a prestigious hedge fund, reading one of Matthew Berry's articles on my iPhone. I was thinking to myself, "Man, working at a hedge fund is really cool, and so is making lots of money, but man, I wish I could just do what Matthew Berry does for a living."
Five years ago, I was working at my first job out of college, hating every second of it, listening to one of Sigmund Bloom's podcasts from my cubicle of misery. I thought to myself, "Man, this sucks. I wish I could just write articles and do podcasts about fantasy football all day."
Four years ago, I started writing fantasy articles. Two years ago, I was hired by Pro Football Focus on a part-time basis. Since then, I've worked harder at this than anything else I've ever done in my life. The entire time, with the singular focus of being able to do the one thing that has haunted me for at least a dozen years now: to be able to work from home all-day, in my boxers, with SportsCenter on TV in the background, writing about fantasy football.
Two weeks ago, Pro Football Focus offered to hire me full-time. Two weeks ago, I put in my two weeks' notice at my job. Today, I sit before you, writing this article, in my boxers, with SportsCenter on in the background.
It is even more beautiful than I had ever imagined.
Scott Barrett's top-50 PPR rankings
1. Le'Veon Bell, RB, Pittsburgh Steelers – Last season, on a per-game basis, Bell had the most valuable fantasy role a player has ever had over the past 10 seasons.
2. David Johnson, RB, Arizona Cardinals – Over the course of a full season, Johnson just had the most valuable fantasy role a player has ever had over the past 10 seasons.
3. Antonio Brown, WR, Pittsburgh Steelers – Over the past three fantasy seasons (Weeks 1-16), Brown has posted the fourth-, eighth-, and 22nd-best fantasy seasons by a wide receiver all-time.
4. Ezekiel Elliott, RB, Dallas Cowboys – Elliott led the league in carries last season, but disappointed in target volume. I'm optimistic he approaches full bell-cow status following Lance Dunbar's departure.
5. Julio Jones, WR, Atlanta Falcons — Over the past four seasons, Jones has ranked first, fifth, first, and first in yards per route run. Kyle Shanahan aimed for a more balanced passing attack last season, but I suspect Jones sees more targets this season following Shanahan's departure.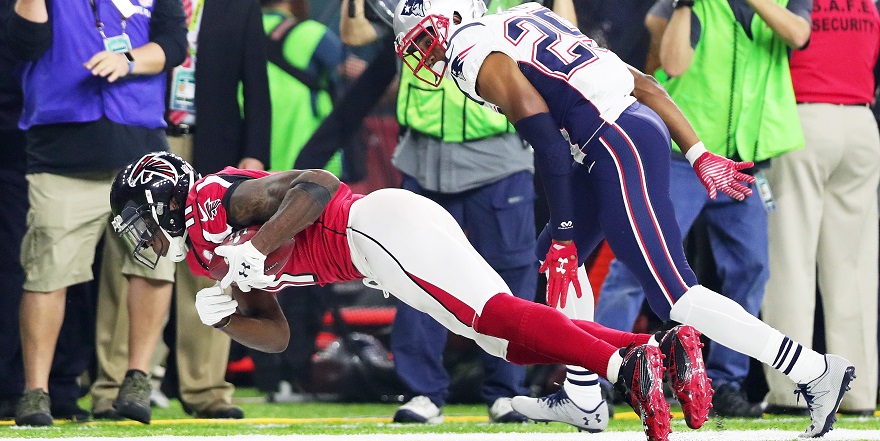 6. Odell Beckham Jr., WR, New York Giants – The acquisitions of Brandon Marshall and Evan Engram should only benefit the man who was once the only intimidating offensive presence the Giants had to offer. No wide receiver has ever averaged as many fantasy points per game over his first three NFL seasons as Beckham – and he paces the runner-up (Randy Moss) by more than two fantasy points per game.
7. A.J. Green, WR, Cincinnati Bengals – Green played just two snaps in Week 11 due to injury – prior to that, he led all wide receivers in fantasy points per game.
8. Melvin Gordon, RB, Los Angeles Chargers – Only Bell and Johnson trumped Gordon's massive workload last season (in terms of carries, targets, and red-zone work). With little depth behind him at the position, on a team that's shaping up to be one of the most potent offenses in football (on paper, at least), that just added two of PFF's top-three-rated guards in the draft, I'm proud to rank him higher than most of my peers.
9. Mike Evans, WR, Tampa Bay Buccaneers — Evans likely won't again pace the league in air yards per game, targets per game, end-zone targets per game, target market share, touchdown market share, first-down market share, etc., after the Buccaneers upgraded their receiving talent from (insert names of these players when I remember who these nobodies were) by adding DeSean Jackson and O.J. Howard this offseason. Still, there's more than enough to be optimistic about to take him here at the end of my second tier.
10. Jordy Nelson, WR, Green Bay Packers – Last season, Nelson was the only wide receiver to finish top-10 on a per-game basis in terms of air yards, targets, targets inside the 10, red-zone targets, and end-zone targets. After the Packers failed to make a significant upgrade at the running back position, old man Nelson should continue to be one of the most heavily-utilized options near the end zone.
11. T.Y. Hilton, WR, Indianapolis Colts – Hilton is good. Andrew Luck is good. Hilton is by far Luck's best receiving option. Hilton will score lots of points.
12. LeSean McCoy, RB, Buffalo Bills — Despite ranking 17th in carries per game and 20th in targets per game at the position, McCoy ranked fourth in fantasy points per game. I'm banking on an increase in volume following Mike Gillislee's move to Foxboro.
13. Michael Thomas, WR, New Orleans Saints – Thomas ranked seventh in fantasy points per game last season and just posted the fourth-best fantasy season by a rookie wide receiver all-time. With Brandin Cooks gone and a year's experience under Thomas' belt, it's hard not to get excited about his upside.
14. Dez Bryant, WR, Dallas Cowboys – Bryant should only improve upon his 2016 season with another year of rapport-building with sophomore quarterback Dak Prescott. Only Beckham has averaged more touchdowns per game over the past five seasons.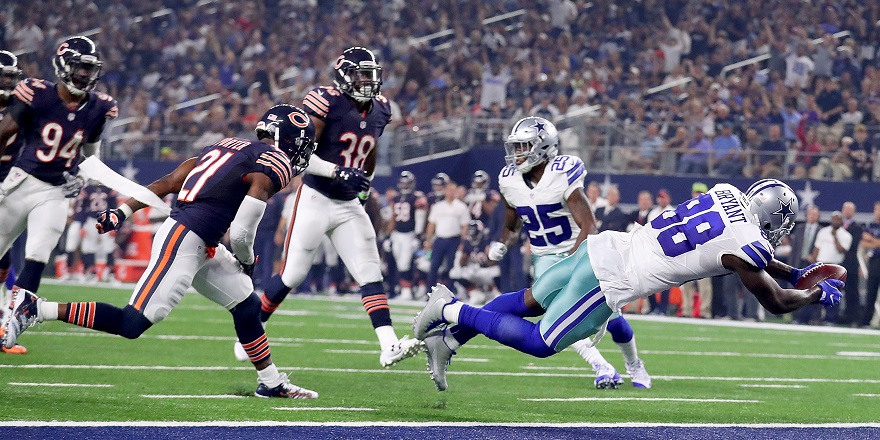 15. Jay Ajayi, RB, Miami Dolphins – Ajayi was hyper-efficient last season, leading the league in yards after contact per attempt and forced missed tackles per attempt. With a healthy offensive line and whispers of a bigger receiving workload in 2017, it's hard not to get excited.
16. Jordan Howard, RB, Chicago Bears – Though overshadowed by Elliott, Howard just put together one of the most impressive rookie running back seasons in recent memory. The talent is real, but I have him slightly lower than most due to a projected lack of target volume and scoring opportunities.
17. Doug Baldwin, WR, Seattle Seahawks – "Targets are everything in PPR." I know, I know, but Baldwin is really just that good. Since Week 10 of 2015, Baldwin ranks 17th among wide receivers in targets, but behind only Antonio Brown in fantasy points. The bulk of this was during an injury-riddled Russell Wilson's least-efficient season of his career.
18. DeMarco Murray, RB, Tennessee Titans – Murray was inarguably awesome last season (ranking fifth in fantasy points per game at the position) and seems poised for success running behind PFF's top offensive line, but recent moves to upgrade the passing game and with Derrick Henry waiting in the wings, I'm a little concerned.
19. Amari Cooper, WR, Oakland Raiders – Cooper is a stud. I'm not worried about the talent. I have him lower than most due to a lack of targets (getting out-targeted by Michael Crabtree each of the last two seasons) and a lack of targets near the end zone.
20. Rob Gronkowsi, TE, New England Patriots — Gronkowski didn't start in Weeks 3 and 4, and he played just seven snaps in Week 12. If we exclude these weeks, he would have victory-lapped all tight ends in fantasy points per game by 4.8. The injury risk is real, but so is the fact that he remains the best positional advantage in fantasy football when healthy.
21. Devonta Freeman, RB, Atlanta Falcons – I'm lower than most on Freeman and it still feels too high, losing Kyle Shanahan, stuck in a committee with Tevin Coleman, on an offense due for a massive regression in efficiency.
22. Todd Gurley, RB, Los Angeles Rams – Gurley has only one 100-yard game over his last 24 and a 3.4 yards-per-carry average over that timeframe. Gross. However, he does have an improved offensive line (with the acquisition of Andrew Whitworth) and the most carries in the league since his first career start.
23. Alshon Jeffery, WR, Philadelphia Eagles — Jeffery has injury concerns, is coming off of a PED suspension, and has changed teams. Prior to 2016, he posted three straight top-10 seasons by Actual Opportunity per game. I'm betting Philadelphia uses him in a similar fashion.
24. Carlos Hyde, RB, San Francisco 49ers – You might not know it, but Hyde was incredibly efficient last season. Joe Williams is a concern, but I will always draft the projected lead back in a Kyle Shanahan offense way higher than I should.
25. Demaryius Thomas, WR, Denver Broncos — Over the past five seasons, Thomas has ranked fifth, first, second, ninth, and 16th in fantasy points at the position. Poor quarterback play is a concern, but he's risen above it each of the past two seasons.
26. Sammy Watkins, WR, Buffalo Bills – Dude. Just stay healthy.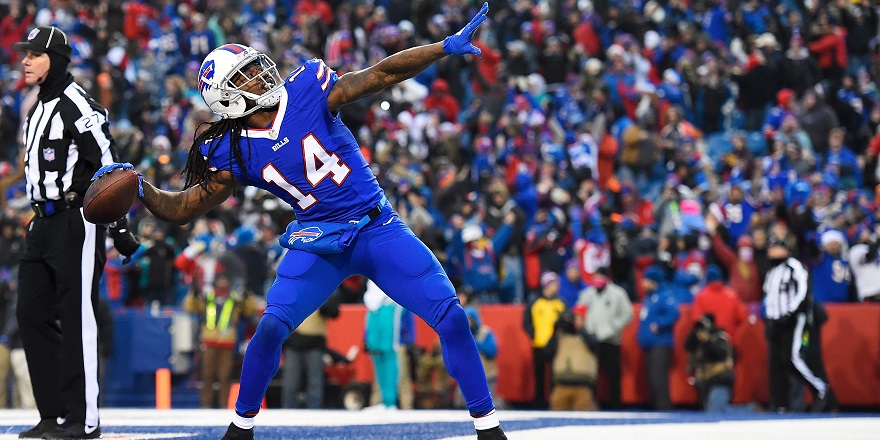 27. Marshawn Lynch, RB, Oakland Raiders – Is this a hot take? It's probably a hot take. Lynch played poorly during his injury-plagued 2015 campaign and is more than a year removed from his last NFL snap, but was also the most efficient running backs of the PFF era. Prior to 2015, he posted four consecutive seasons of at least 1,200 rushing yards and 11 rushing touchdowns. In Oakland, he joins our No. 4-ranking offensive line. The Raiders rank top-eight in running back yards, running back touchdowns, and running back fantasy points over the last two seasons, despite poor efficiency of Latavius Murray.
28. DeAndre Hopkins, WR, Houston Texans – Hopkins saw a major dropoff in efficiency and volume last season, due primarily to third-world levels of poor quarterback play. I'll gladly bump him up if the Texans back off of their stance of Tom Savage as Week 1 starter, but until then, I'm hoping for more of a "bad 2015 discount" on him in drafts.
29. Jarvis Landry, WR, Miami Dolphins – The Dolphins threw the ball 18.9 percent less last season than in 2015. I don't see that changing much (as evidenced by my ranking of Ajayi), but Landry should still have one of the higher target ceilings in the game.
30. Emmanuel Sanders, WR, Denver Broncos – Last season, Sanders ranked 20th in fantasy points per game (one spot behind Thomas) and 13th in targets per game (one spot behind Thomas). Despite a tenuous quarterback situation, Sanders is one of the most attractive WR2s in the game.
31. Jordan Reed, TE, Washington Redskins – Over the last two seasons, in games he played at least 33 percent of the team's snaps, Reed has averaged 17.7 fantasy points per game and 8.3 targets per game. For perspective, last season's No. 1 tight end (Travis Kelce) averaged 13.8 fantasy points per game and 7.1 targets per game. The concern, of course, is injury.
32. Golden Tate, WR, Detroit Lions – Like Landry, Tate has a low ceiling, but is a consistent safe bet for 120-plus targets and 1,000-plus yards.
33. Keenan Allen, WR, Los Angeles Chargers – Allen ranked fifth in fantasy points per game in 2015, but has dealt with injuries and now has increased target competition to deal with as he transitions to the slot.
34. Lamar Miller, RB, Houston Texans – Even after his somewhat-disappointing 2016 campaign and the team's third-round draft pick of D'Onta Foreman, Miller should see enough work to justify this ranking. Houston leads the league in running back carries over the past two seasons.
35. Joe Mixon, RB, Cincinnati Bengals – Our first rookie! I like Mixon's bell-cow potential with Giovani Bernard coming back from an ACL. Jeremy Hill and his 3.7 yards per carry over the past two seasons should be an afterthought.
36. Brandin Cooks, WR, New England Patriots – I'm just going to be honest. I have no idea what Bill Belichick is going to do.
37. Aaron Rodgers, QB, Green Bay Packers – Since becoming a starter, Rodgers has ranked second, first, second, first, first, injured, second, seventh, and first among fantasy quarterbacks.
38. Larry Fitzgerald, WR, Arizona Cardinals – Fitzgerald has ranked seventh and 11th in fantasy points the last two seasons. It's fair to expect a downslope in production during the second half of the season, but he's still the life-blood of this passing game.
39. Leonard Fournette, RB, Jacksonville Jaguars – Lack of targets has me concerned, but Fournette should get the bulk of the team's carries (and all of the carries near the red zone) on a team committed to running the ball and hiding their woefully inefficient quarterback in 2017.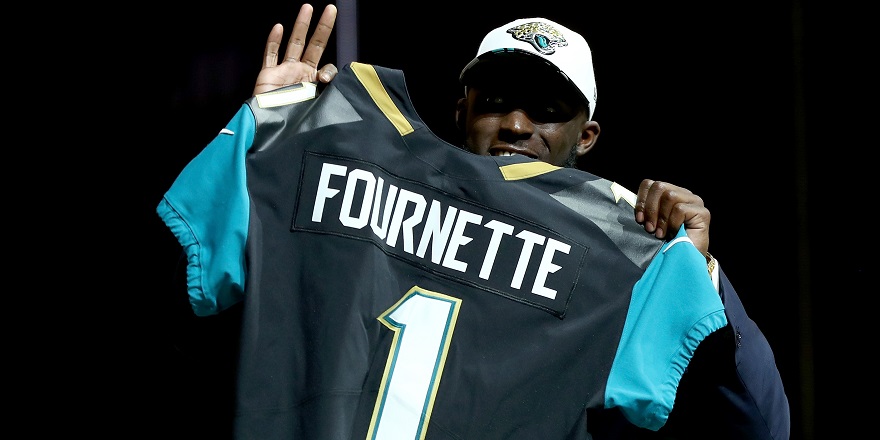 40. Michael Crabtree, WR, Oakland Raiders – Crabtree has ranked ninth in targets each of the last two seasons as well as 17th and 12th in fantasy points. I'll ride with him until the wheels fall off.
41. Isaiah Crowell, RB, Cleveland Browns – Crowell racked up 198 rushing attempts despite the team trailing 68 percent of the time (most in the league). He also out-targeted Duke Johnson 31 to 24 over the team's final eight games.
42. Dalvin Cook, RB, Minnesota Vikings – The Vikings love him as both a runner and receiver. I'm honestly not sure he isn't more-talented than Leonard Fournette. My concerns are with his pass protection and the team's offensive line.
43. Christian McCaffrey, RB Carolina Panthers – McCaffrey arguably has the greatest fantasy potential of any player in the 2017 NFL Draft. That said, I'm concerned Jonathan Stewart eats into his immediate rushing workload. The other concern is that no team has targeted their running backs less frequently than the Panthers since Cam Newton's arrival. I'm optimistic this changes, but may need to see it to believe it (or at least succumb to confirmation bias from the coaching staff).
44. Julian Edelman, WR, New England Patriots – See Brandin Cooks.
45. Mark Ingram, RB, New Orleans Saints – The talent is there. After the additions of Adrian Peterson and Alvin Kamara, the workload might not be.
46. Eddie Lacy, RB, Seattle Seahawks – Believe it or not, Lacy was our second-most elusive running back last season (among all running backs with at least 50 carries). If Lacy is healthy and in good shape by training camp, on the run-heavy Seahawks, his fantasy potential is enormous.
47. Terrelle Pryor, WR, Washington Redskins – Washington loses two 1,000-yard wide receivers in Pierre Garcon and DeSean Jackson this season. The uber-athletic Pryor looks poised to improve on his own 1,000 yard season.
48. Greg Olsen, TE, Carolina Panthers – Olsen led all tight ends in Actual Opportunity per game last season. Only Jared Goff posted a worse passer rating than Cam Newton over the final seven weeks of the season. I can't see Newton playing that poorly again this year.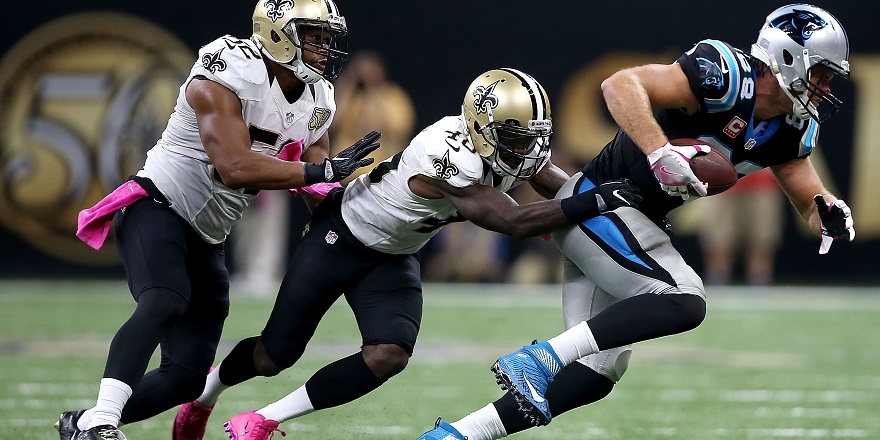 49. Bilal Powell, RB, New York Jets – Over the final four weeks of the season, among all positions, only Aaron Rodgers and Le'Veon Bell scored more fantasy points than Powell. Powell dominated Matt Forte in efficiency last year and fits the team better as chief receiving back — considering the amount of time we expect the Jets to be trailing this year.
50. Allen Robinson, WR, Jacksonville Jaguars – The Jaguars will do their best to "hide" Bortles and move to a more run-heavy offense. With an improved defense, we should expect less garbage-time production from Blake Bortles and company. On 43 fewer targets, Marqise Lee totaled nine more yards from scrimmage than Robinson in 2016. Over his career, Robinson has scored the far bulk of his production against only the league's worst cornerbacks.