The Seattle Seahawks have transitioned into one of the league's most run-heavy offenses over the last two seasons, but there's still plenty of value to be had in the passing game with this squad. Russell Wilson is a perennial top fantasy quarterback, and he's surrounded by an exciting nucleus of young players. Let's take a look at what our initial 2020 fantasy football projections have to say about the Seahawks heading into this season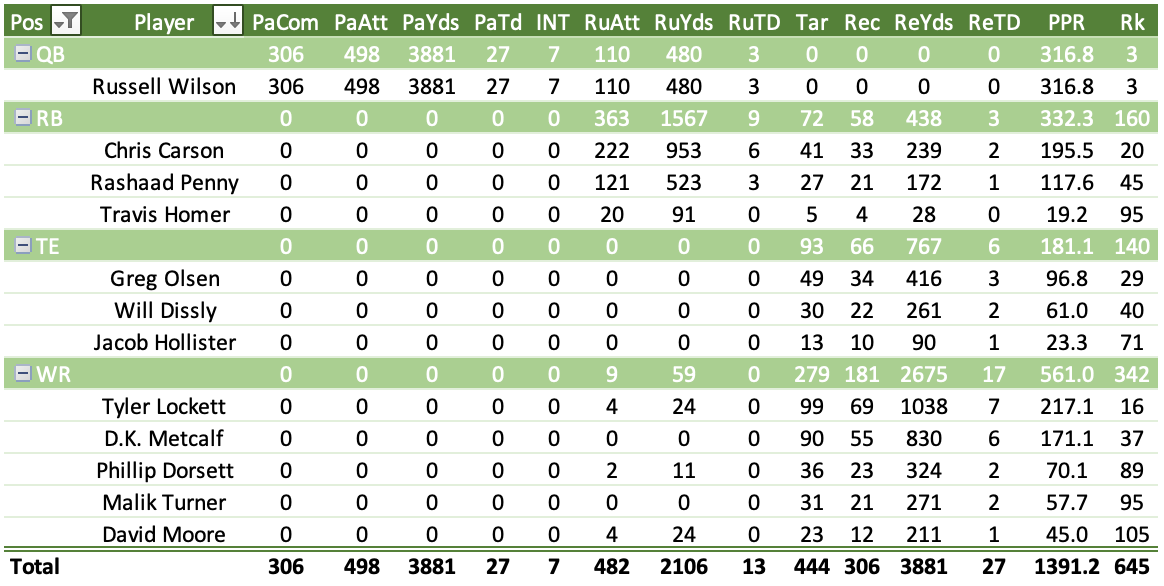 Over the past decade, few quarterbacks have been more consistent fantasy producers than Russell Wilson. Since 2012, he's only finished outside the top 12 signal-callers just once (in 2016), and he has four top-five finishes including a first-place distinction in 2017. Our numbers like Wilson to continue this trend and position him third behind only Lamar Jackson and Patrick Mahomes. This projection is right in line with his current ADP of QB4.
Of course, projecting a quarterback to top 100 carries does take some meat off the bone for the backfield, but our numbers still slate Chris Carson in the top 20 with a healthy 255 touches. Carson comes in just a tick higher in our 2020 fantasy football rankings at No. 17, but the that's only a marginal difference. He figures to be very much in the heart of the RB2s in this year's fantasy drafts. 
Carson's backfield stablemate Rashaad Penny was in the midst of a breakout before tearing his ACL last season. That injury occurred late in the season, so there's a very real chance Penny could miss time in the beginning of the season or even land on the PUP. If that happens, we'll have to adjust Carson's value, as Travis Homer doesn't figure to see the same touch distribution as we're currently allotting to Penny.
With Doug Baldwin out of the mix, Tyler Lockett asserted himself as the top dog in the Seattle wide receiver corps last season. Lockett finished the year with 82 catches for 1,057 yards and eight scores, which was good enough to rank 13th among receivers in fantasy scoring. He projects out in a similar range at WR16. 
Likewise, our projections expect D.K. Metcalf to put up comparable numbers to his rookie season, when he finished 30th among wideouts in fantasy scoring. It should be noted that Metcalf is a bit higher in our rankings at WR26. This is another instance of the advantage to using rankings for fantasy drafting. Projections present a midpoint of a wide range of potential outcomes, but players rarely match that midpoint. In the case of Metcalf, we adjusted him upward into the front-end of the WR3s due to his high fantasy ceiling.
Seattle currently has a fairly crowded house at tight end with Greg Olsen, Will Dissly and Jacob Hollister on the roster. Dissly and Hollister showed fantasy potential last season, but both had essentially no competition for targets at the time. Olsen figures to lead the pack in target shares, but there isn't enough meat on the bone in the run-heavy Seahawks offense for him to produce numbers worthy of fantasy consideration.
[Find the full collection of analysis and insights on PFF's 2020 fantasy football projections for all 32 NFL teams. Check back as more articles will be added each day.]