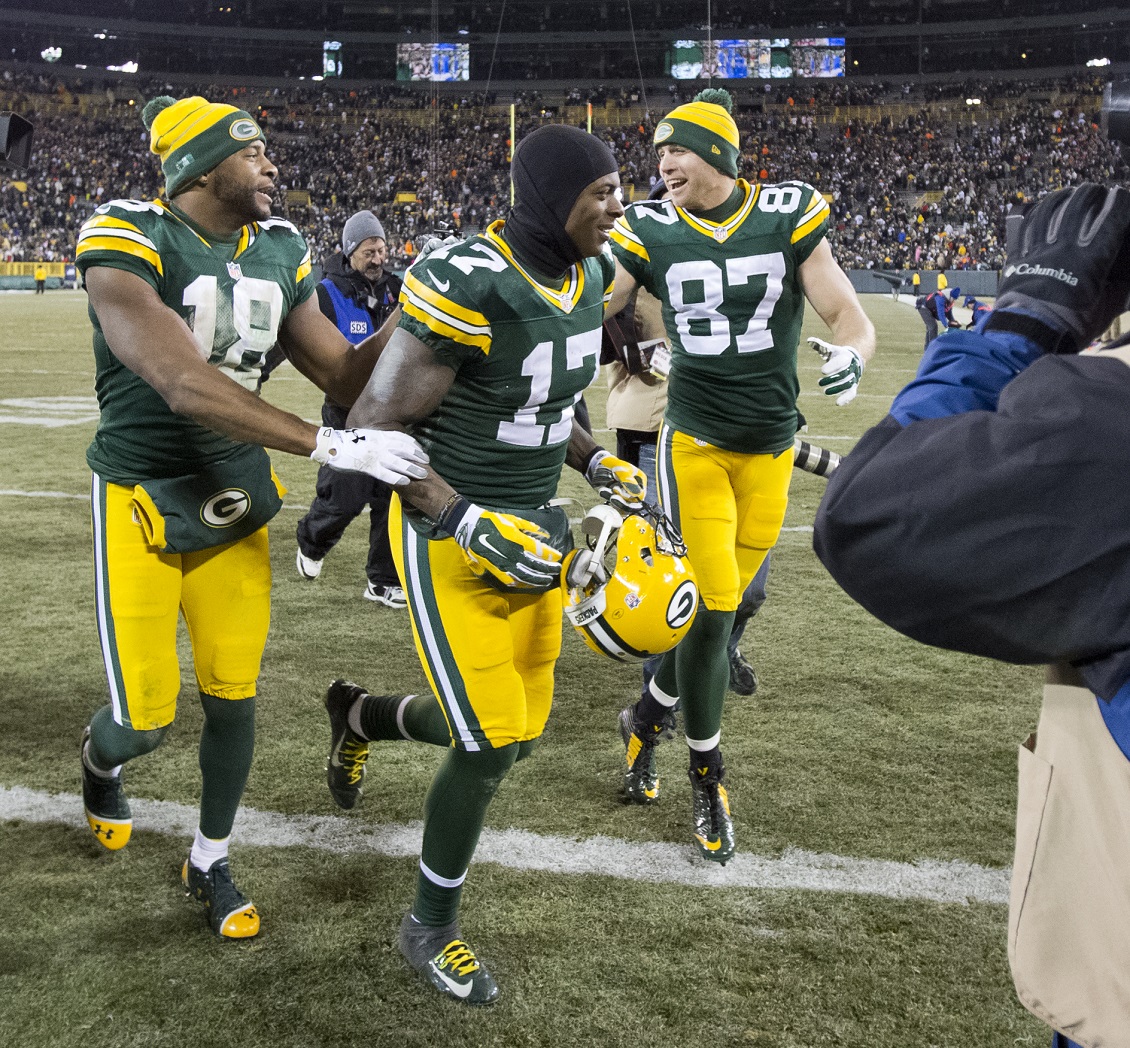 GREEN BAY, WI - NOVEMBER 30: Green Bay Packers receivers Randell Cobb, left; Davante Adams, center; and Jordy Nelson, right, run off the field after they defeated the New England Patriots 26-21 at Lambeau Field on November 30, 2014. (Photo by Matthew J. Lee/The Boston Globe via Getty Images)
Running back has traditionally been the position where handcuffing a starter has been a popular strategy. However, with the expansion of overall passing volume, there has been a subsequent rise in wide receiver value. So perhaps there should be more of an emphasis on wide receivers who would assume a much larger role if an injury to a top option occurs. Below, we will highlight some of those players, many of whom are being drafted late and a few have some value even if the status quo remains.
With the offseason trade of Brandin Cooks, 2016's No. 10 WR in PPR, the assumption is that Willie Snead assumes much of that production. However, Snead had 895 yards and 4 touchdowns himself as the No. 3 in 2016, meaning that the third receiver in this offense is a borderline startable asset.
In Ginn, the Saints acquired a former 1,000-yard receiver who is a similar deep threat to the big departing name. Cooks was 18th in the league with 24 deep targets last year (second in deep yards with 544 yards) while Ginn was 29th with 18 targets (16th in yards). If either Snead or Michael Thomas is injured, Ginn could do more than just assume the role of Drew Brees' deep threat.
This time last year, Cobb would not have made this list, as he occupied the second wide receiver role. All it took was Davante Adams finishing as the PPR No. 9 WR with 75 receptions and 12 touchdown receptions, the latter tied for second in the NFL. Add in the fact that Jordy Nelson finished first with 14 touchdowns, fifth with 97 receptions, and sixth with 1,257 receiving yards, and suddenly Cobb became the third wheel in Green Bay.
Cobb though, did not have a bad season when digging deeper. He finished 20th in WR rating (passer rating when targeted), just two spots below Adams, but an improvement from his 2015 placement of 29th. In the slot, Cobb finished 14th in receptions, good but a far cry from his fourth-place finish in 2015. Really, for Cobb, it comes down to opportunity. If Adams stumbles or Nelson his age, Cobb could quickly become fantasy relevant once again.
As a rookie, Shepard finished as a top-36 fantasy wide receiver in PPR leagues. That was fueled by running the eighth-most total routes including the most at the slot receiver position with 525. In that slot role, Shepard scored all eight of his touchdowns and had over 90 percent of his total targets.
While that sounds great for 2017, the opportunity numbers will decrease with the additions of Brandon Marshall and to a lesser extent, Evan Engram. A scary looking preseason injury to Odell Beckham Jr. almost thrust Shepard back into a prominent role once again, but it looks like Beckham could make it back for the season. If the injury persists, or Marshall suddenly acts his NFL age, Shepard could be a startable option in his sophomore season.
Doctson has barely played a snap, is injured once again this preseason, and is buried behind several talented options. It's easy to forget that Doctson was a first-round pick last year and was one of the best athletes at the position. Washington clearly had a vision when drafting Doctson of putting him in a prominent, even if injuries have delayed it.
The signing of Terrelle Pryor clearly set Doctson back, delaying his rise at least another season. Pryor tied for third with 32 deep targets, giving Cousins a DeSean Jackson replacement. Meanwhile, Jamison Crowder was 10th in WR rating and among the most productive slot receivers, finishing 31st in PPR among wide receivers. Don't forget about Jordan Reed either. If anyone gets injured (looking at you, Reed), Kirk Cousins is capable of making three options relevant, with Doctson being one of them.
Call him Kenny G or Babytron or the more simple KG, but Golladay is perhaps the most highlighted sleeper name in fantasy draft guides. The rookie intrigued some with his size (6-foot-4, 218 pounds), but really opened eyes when the team started giving him first-team reps, especially as an outside receiver. Add in two touchdown receptions in the preseason opener and the hype train got rolling.
All that said, he is likely a secondary option. Golden Tate finished ninth among all NFL wide receivers in routes run in 2016, and Marvin Jones wasn't far behind (16th). If either goes down with injury, there is a clear path to volume for Golladay, which would be great considering Matt Stafford has six straight 4,000 yard seasons. With Eric Ebron and Theo Riddick also around, targets are tight with the team as-is, making Golladay a deep stash or waiver watch with immense upside.
Another rookie, Henderson was a favorite of some dynasty analysts going into draft season, including this one. It's easy to see why; he led all college receivers with 48 broken tackles on receptions, no other player had more than 26. Henderson also caught 11 of 19 red-zone receptions, nine for touchdowns, and had nearly one-third of his receptions go for 20-plus yards. In short, Henderson has a lot of tools to work with.
Unfortunately, he is dealing with recovery from thumb ligament surgery and has missed practice for most of August. With Emmanuel Sanders and Demaryius Thomas firmly in place, this offense is not short on strong receiving options. That said, Cody Latimer has had enough chances to emerge and it hasn't happened. Henderson has the talent and only needs an opportunity to replace one of the starters for a chance to succeed.
This is a long shot, but Aiken could have value. Just two years ago, he managed 75 receptions and 975 yards after Steve Smith struggled to stay healthy. Going to the Colts, Aiken has an uphill climb to meaningful snaps but has factors working in his favor. The past success helps, especially considering the competition is disappointing Phillip Dorsett and injured Chester Rogers. Add in his size (6-foot-2, 215 pounds) and his ability to play outside (80 percent of routes in 2015) and Aiken looks more like a direct replacement if either T.Y. Hilton or Donte Moncrief goes down.
Another guy who went from 2015 highs to 2016 lows, Hurns struggled last year with injuries and his production struggled across the board as a result. The emergence of Marqise Lee also pushed Hurns to the slot, bumping his slot route percentage up from 37 percent to 70 percent in one season.
Right now, Lee is nursing an injury (again) to his right leg, putting the beginning of the season in doubt. Allen Robinson is locked in as a starter, but a Hurns early-season run could put him back into the second receiver spot in the pecking order. It's never a bad thing to bet on a former 1,000 yard receiver, even if his quarterback is Blake Bortles.
Even as a third receiver last year, Stills was productive, finishing inside the top 50 receivers ahead of teammate DeVante Parker. That was largely on the heels of his nine touchdowns. Stills scored eight of those nine on 20-plus-yard receptions, keeping in line with his ability to break big plays.
This offseason has brought changes. Ryan Tannehill is out due to injury and in comes the carefree Jay Cutler. This isn't a bad thing, as Cutler finished sixth in 2015 in deep target percentage (and second in 2016, if he had enough attempts to qualify). Rumors of Jarvis Landry being traded are likely just that, but it doesn't mean he couldn't get pushed aside in favor of the vertical game. It's either that or another injury to Parker, another real possibility, which could bump Stills' target number of 75 and put him squarely in line to be a fantasy starter more consistently.