One of the biggest tasks in any best-ball fantasy football leagues is deciding who to take, and one of the main ways to do that is by starting out deciding who not to take.
Monday, I looked at players who hit certain thresholds (25 points for QBs, 20 for RB/WR, 15 for TEs) the most often in 2018 and what that meant for their best-ball stock in 2019. Today it's the opposite. These are players who otherwise have a fine fantasy profile but just never offered up the ceilings you want out of a best-ball option, when a good game can save your week but a bad game means the player is just a nonentity.
Quarterback
(Scored 25-plus 0 times in 16 games, 0.0%)
Maybe you were still thinking of Manning as a super-late flyer. After all, assuming he's back in New York next year — that looks increasingly possible, if not likely — he will still have in Saquon Barkley, Odell Beckham Jr., and Evan Engram maybe the best top option at each position any single quarterback will have, and that should lead to a high ceiling. But let's stop that train before it even starts. Manning threw three touchdown passes twice in 2018. He topped 200 passing yards 13. He did both of those in the same game zero times. He only reached even 20 points twice all year.
(1 time in 16 games, 6.3%)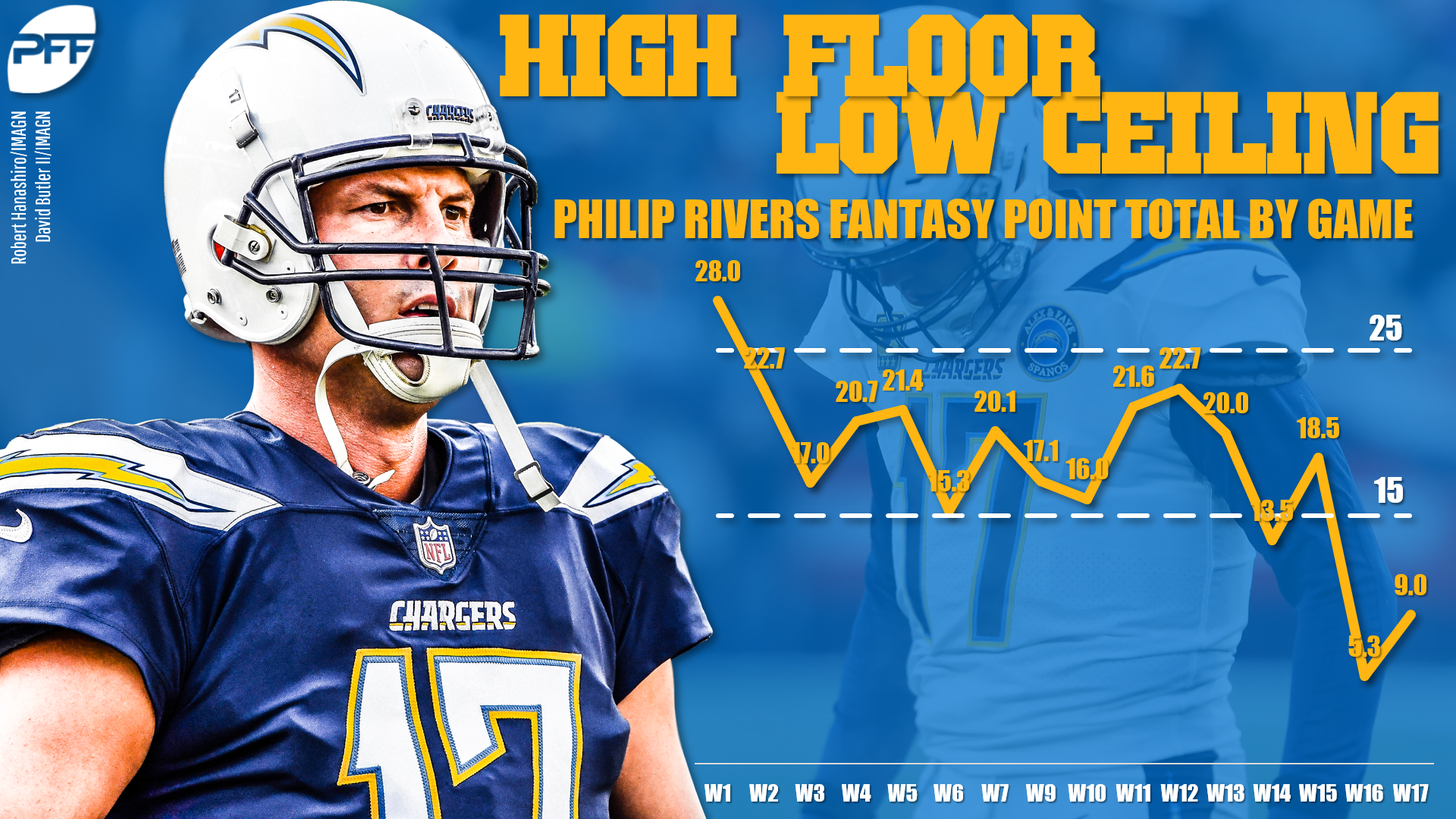 Rivers had such a weird 2018. He had multiple touchdown passes 13 times in 16 games, including each of his first 12, but never paired his biggest touchdown days with his biggest yardage days, and Rivers' total lack of participation in the rushing game (he finished the season with 7 yards and 0 scores on 18 rushes) kept his ceiling from being that high. Rivers is an excellent quarterback and a fine late-round season-long QB, but for best-ball you need to look elsewhere. (Really, this is a treatise about how rushing quarterbacks, a nice luxury in season-long, are just about obligatory in best-ball. You need the extra avenue to production.)
Running back
(Scored 20-plus 1 time in 16 games, 6.3%)
Making matters even worse for Howard is the fact that his lone 20-point game came in Week 17, too late to matter for most of his owners. Howard only topped 100 yards from scrimmage twice all year (Weeks 14 and 17), only topped two receptions twice (Weeks 1 and 3), and all-in-all was a big disappointment as his role shrank to behind that of teammate Tarik Cohen. If the Chicago backfield situation is the same heading into the 2019 season, Howard's best-ball stock is extremely low.
(1 time in 14 games, 7.1%)
McCoy's fantasy production was bad in 2018, but so too were his deeper numbers. He put up the lowest yards per carry (3.2) of his career by a wide margin — he had never been below 4.0 before — along with his lowest after-contact average (2.01) and lowest PFF grade (62.2) since 2014. He'll be 31 heading into next season, nearing 2,500 career rushes, and with a ceiling that is shrinking rapidly. Yikes.
(2 times in 16 games, 12.5%)
In Henry's defense, his role increased as the season went on, so maybe looking at his performance over a full 16 games isn't totally fair. But working against him is his minuscule participation in the receiving game. In three seasons now he has a total of 46 targets. In best-ball — the main providers are all half-point or full-point PPR — a player who isn't a factor as a receiver has a tough road. Henry always has the potential of games like the one he put up against Jacksonville in Week 14, but those aren't common enough for anybody to offset the receiving problem.
(6 times in 15 games, 40.0%)
Elliott looks weird in this space, especially with a relatively lofty 40% next to his name. But he's a clear exception to the rule at his position. The top four running backs in 2019, in some order, are going to be Elliott, Todd Gurley, Christian McCaffrey, and Saquon Barkley. Well, the three non-Elliott backs in that list finished 2018 first, second, and third in percentage of games with at least 20 points, all coming up above 68%. So Elliott's 40 is lower than you'd like for a top-of-the-draft option. He's still elite, but that's a warning sign.
Wide receiver
(Scored 20-plus 1 time in 16 games, 6.3%)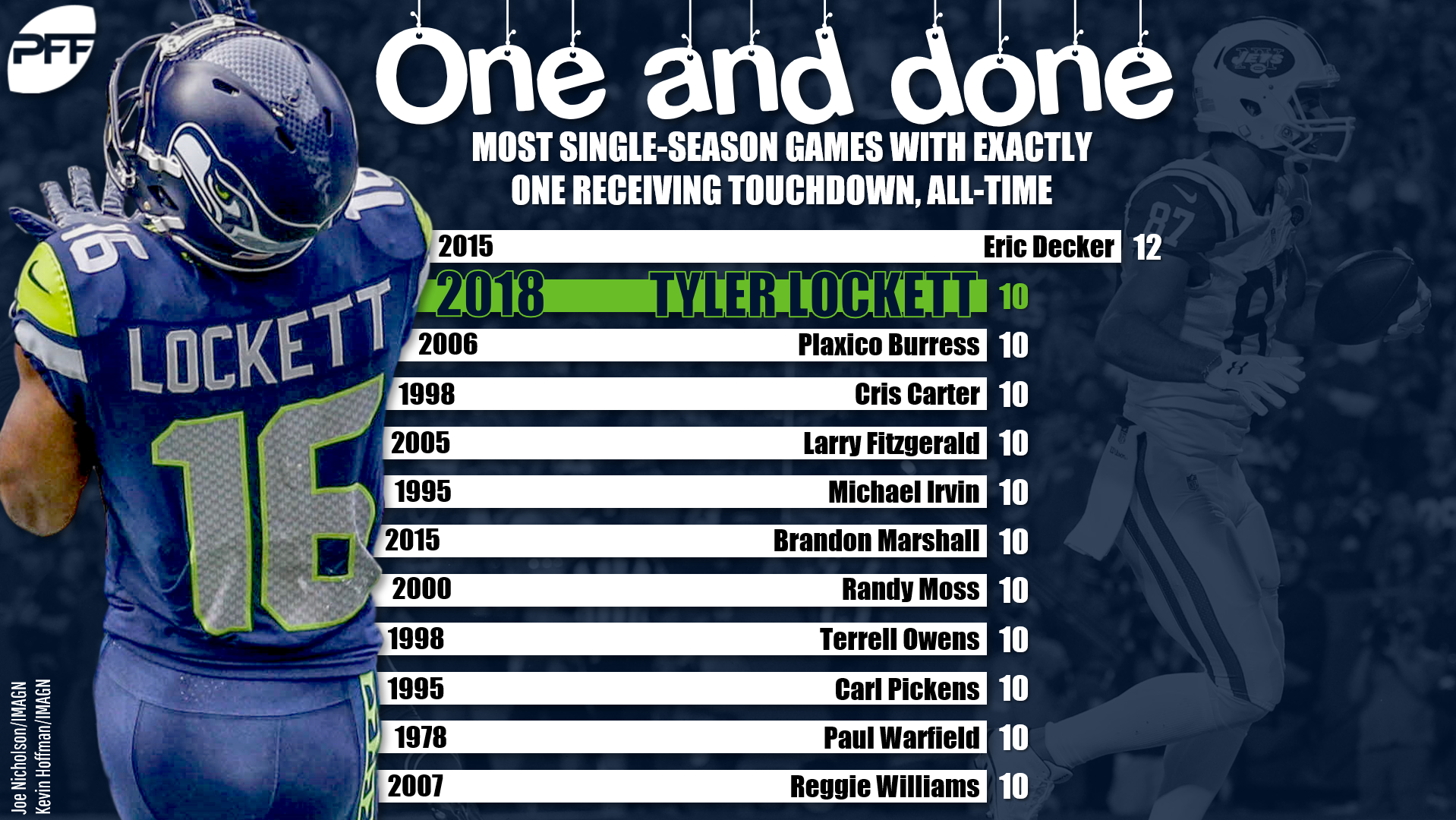 Lockett scored in 10 different games in 2018. He scored more than once in exactly zero. Per Adam Harstad, 2015 Eric Decker with the Jets is the only player to ever do that more often. That meant that Lockett had a very high floor in 2018, but a lower floor than you'd expect from a receiver whose overall season was as good as Lockett's was. In fact, Lockett has played 47 games the last three years without a single multi-score game, and only has two such games in 63 total games. That makes him dicey for best-ball.
(Fitzgerald 1 time in 16 games, 6.3%; Nelson and Thomas 1 time in 15 games, 6.7%)
Completely unscientific observation supported by the above: Ceilings are a young man's game. Fitzgerald, Nelson, and Thomas were all 31-plus last season and did it once each. That's the same number as over-30s Ted Ginn, Michael Crabtree, and Danny Amendola. DeSean Jackson did it twice, Julian Edelman three times, Emmanuel Sanders four. But as a general rule, skew young in your best-ball picks.
(1 time in 13 games, 7.7%)
In Robinson's huge 2015 in Jacksonville, he reached 20 PPR points six times in 16 games. So which is real? Well, Robinson's 2018 came on the heels of missing essentially all of the 2017 season with a torn ACL. Another year of recovery, another year of seasoning for Mitchell Trubisky, and while he might not get back to the six-in-16 rate, but better than 2018.
Tight end
(Scored 15-plus 1 time in 13 games, 7.7%)
Ceiling is supposed to be Reed's game, putting up big numbers as much as he can before getting injured. But this is the second straight year in which he's only had one game of 15-plus PPR points. With another injury to overcome and one of the league's most unsettled QB situations, Reed is a stay-away for me until we know more.
(2 times in 13 games, 15.4%)
Even before Gronk's down 2018, best-ball upside wasn't really his game. From 2013 to 2018, he had exactly four multi-touchdown games. He is among the best tight ends of all time at scoring, but single massive scoring games isn't a thing he does much. If Gronk bounces back to health and productivity in 2019, he'll be a top-tier tight end in season-long, but even that kind of Gronk has to be dinged a little in best-ball.