The San Francisco 49ers showed last year that they're one of the emerging offensive forces in the league, and where there's offense, there's fantasy points. Yet, unlike some of the other teams in the league, San Francisco produces with depth instead of with elite stars. Sure, George Kittle is a top name at his position, but we really can't say the same for anyone else on this roster. That can sometimes make things tricky for fantasy purposes, so let's see what our initial 2020 fantasy football projections have to say about this squad.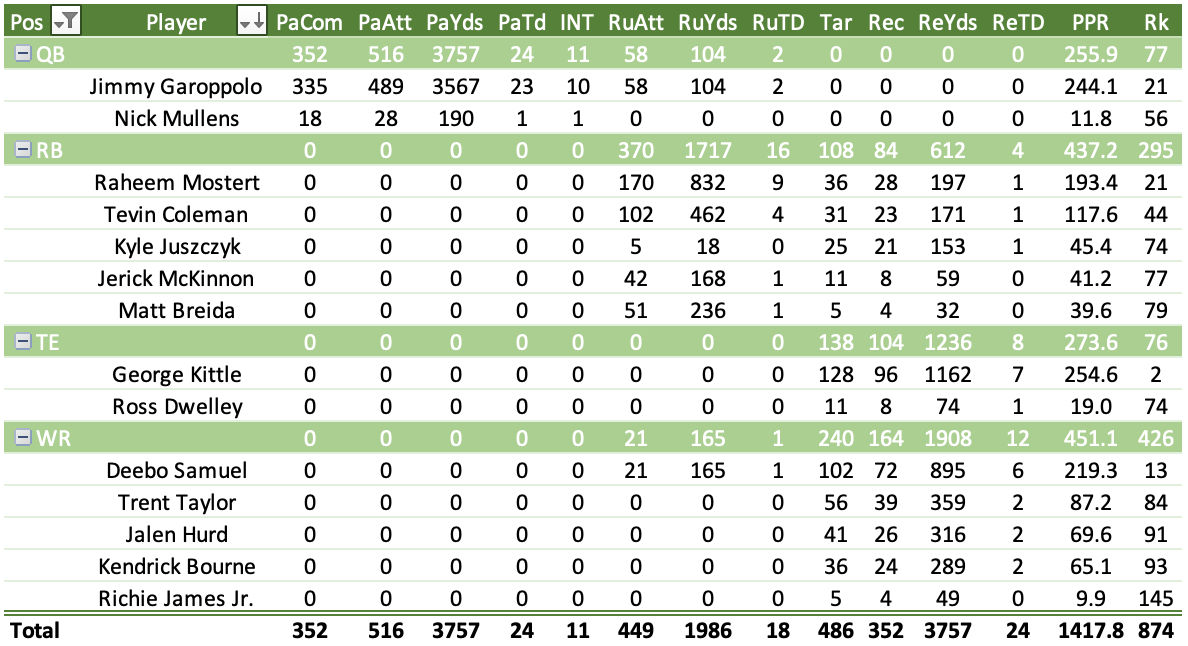 Entering last season, it looked like the San Francisco backfield was going to be a two-man committee featuring Tevin Coleman and Matt Breida. While that was certainly true for a better part of the beginning of the year, Raheem Mostert emerged down the stretch and blew those two away. Over the final six weeks of the regular season, Mostert ranked seventh among running backs in PPR scoring thanks in large part to a healthy seven rushing scores over that span.
While it's easy to fall in love with Mostert's late-season hot streak, this is a tricky backfield to navigate. Not only do the 49ers still have Coleman and Breida on the roster, but they also should finally have Jerick McKinnon on the field. Despite the crowded house, we're giving the clear edge to Mostert in our projections. However, it should be noted that the overall uncertainty in this backfield does push him down the board in our 2020 fantasy football rankings.
There's no surprise whatsoever with Kittle's numbers. The standout tight end is an elite fantasy option and the projections give us no reason to think otherwise. But the numbers for Deebo Samuel certainly might raise an eyebrow or two. Samuel comes in extremely high in our initial projections — actually 17 spots higher than his ranking. This is one of the major pitfalls of early projections. The targets have to go somewhere, and with Emmanuel Sanders out of the mix, Samuel's target share is beefed up. There's a good chance these numbers recede after the draft and Samuel's projection more accurately matches his ranking.
As for Jimmy Garoppolo, the 49ers' quarterback just hasn't been able to live up to the fantasy hype that surrounded him heading into his first year with the team. Garoppolo's numbers aren't horrible, but he simply doesn't have enough juice to warrant consideration as a draftable player in 1QB leagues. 
[Find the full collection of analysis and insights on PFF's 2020 fantasy football projections for all 32 NFL teams. Check back as more articles will be added each day.]