(As training camps draw near, Dan Schneier will spend the next few weeks highlighting some key players to monitor in each division. Whether it's a rookie, a sleeper, a veteran, or something else, the series will identify the most important names fantasy owners need to keep an eye on in training camp for 2018. Track the whole series here.)
The AFC South got started on the wrong foot right away in 2017 when we learned Andrew Luck was going to be shut down for the first half, soon turning into the entire year. T.Y. Hilton became a three-game wonder (scoring fewer than 8 points in all other games), Frank Gore lost his touchdown upside, and Donte Moncrief was no longer a sleeper. The Colts' fantasy upside was briefly replaced by dynamic rookie Deshaun Watson and his impact on players like Will Fuller and Lamar Miller, but a torn ACL limited the quarterback to seven games. Leonard Fournette took fantasy leagues by storm in the first half before bottoming out in the second half and finishing with 3.9 yards per carry. Finally, the Titans' "exotic smashmouth" lost its appeal as Marcus Mariota once again failed to be the breakout pick his owners expected.
In 2018, the biggest change we're guaranteed to see is the addition of former Rams offensive coordinator Matt LaFleur bringing over a similar offensive scheme to Mariota and the Titans. An even bigger change is possible — should Luck return healthy (he's throwing nerf balls!) and bring receivers like Ryan Grant into the fantasy fray. The Texans will hopefully return Watson for his first full season and the Jaguars have attempted to upgrade their offense with skill position additions. The jury is still out on the latter.
Over the next few weeks, we will preview every division and pinpoint four to five players to track during training camp and the preseason. From now until the start of the season, the only real information we'll need to gather is about a player's role and chemistry within his offense. You can find all the previous divisions here. The goal is to provide you with players to add to your targets list now for season-long leagues, but also with players to target or avoid in best-ball drafts that are currently underway on DRAFT and MFL
(Many of the stats and information here has been pulled from our Fantasy Playbook 2018 draft guide, available now for Edge subscribers.)
Miller is starting to creep up draft boards with a mid-summer ADP bump as owners gets excited about owning a discounted featured back in an offense with Deshaun Watson. Over the past decade, this line of thinking has been spotty at best. Betting on situation is usually only rewarded when some balance of talent is also involved — situations fade rapidly in the NFL and fantasy landscape. If Miller is used as a workhorse and Watson stays healthy, he'll be a value, even at his rising ADP — we can't guarantee the latter no matter what but first we need find out if we can count on the former.
The narrative: Miller is the workhorse/lead back
Miller enters the prime draft season as the assumed lead back. On the surface, we get it. After all, Miller finished with the fourth-most snaps of any running back in 2017 overall. However, his role faded down the stretch and it is not being discussed at length this offseason. Over the final three games, Miller was out-snapped by veteran retread Alfred Blue 98 to 64. Miller was also out-touched by Blue 50 to 30. Miller didn't have any reported injury — he was simply outplayed and the coaching staff adjusted.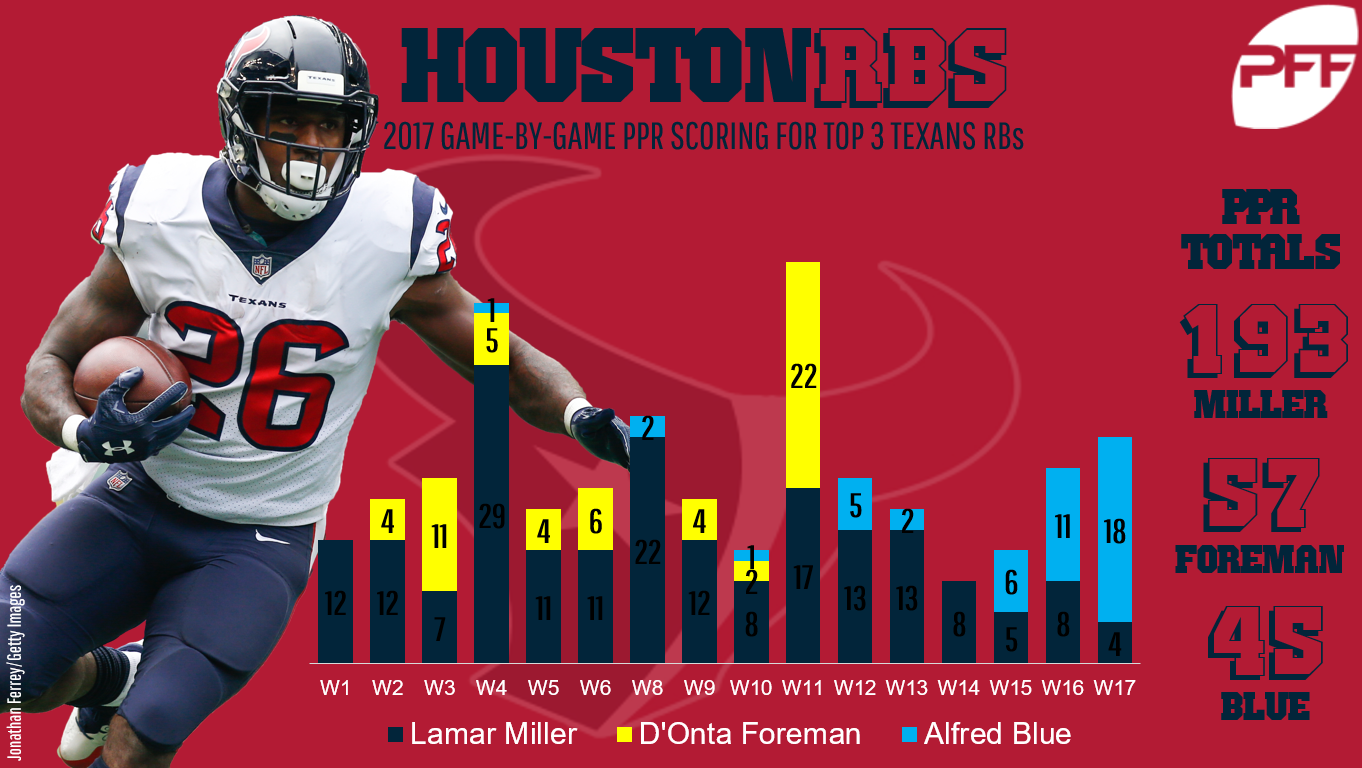 What to watch for: There is a lot to watch for with the Texans running back situation. For starters, working in Miller's favor is the fact that his drafted replacement D'Onta Foreman's training camp and Week 1 status is up in the air as he recovers for a torn Achilles. If he progresses fast and returns for training camp, keep an eye on whether he sees snaps with Watson's first-team group. Miller will also have to fend off Blue — watch for the distribution of snaps right away. If Blue and Miller start of camp in a rotation, it's crippling news for Miller's fantasy outlook given his inability to create yardage on his own (and on a per-touch basis) since he signed with Houston.
Subscribe to PFF Edge to continue reading
Already have a subscription? Sign In