A key decision to make in fantasy football each week is who to add on the waiver wire. Naturally, that means an equally key decision is who to drop. Roster space is a finite resource, so when you want to add that new key player, someone's gotta go.
Every other week in this space, I'm going to break down players worth dropping. Sometimes it's a player who should be dropped, while others are just players who can be dropped in a pinch. I'll run through the list in order of ownership percentage on Yahoo as of Monday morning.
(96% rostered)
The Rams are heading into their bye this week with Cooks nursing what appeared to be a concussion early in Sunday's game. His history of concussions has to give us pause (who knows when we'll even see him again given the lengthiness of said history), as does the fact that he hasn't scored since Week 2 or topped 60 yards since Week 4. Obviously, Cooks has enough upside that he's nowhere near a must-drop, but if you are in a bye-week bind in Week 9, he's not someone who has to be kept no matter what.
(94% rostered)
Mixon had his best fantasy day of the season Sunday … and averaged 3.9 yards per carry, didn't reach 80 scrimmage yards, and still hasn't scored a rushing touchdown. His current full-season pace would have him at 860 scrimmage yards and 6 touchdowns — not embarrassing numbers, but definitely not what you were expecting out of a first- or second-round draft pick. Like Cooks, Mixon isn't a must-drop, but like Cooks, he's heading into a bye and nobody would blame you if you moved on.
(78% rostered)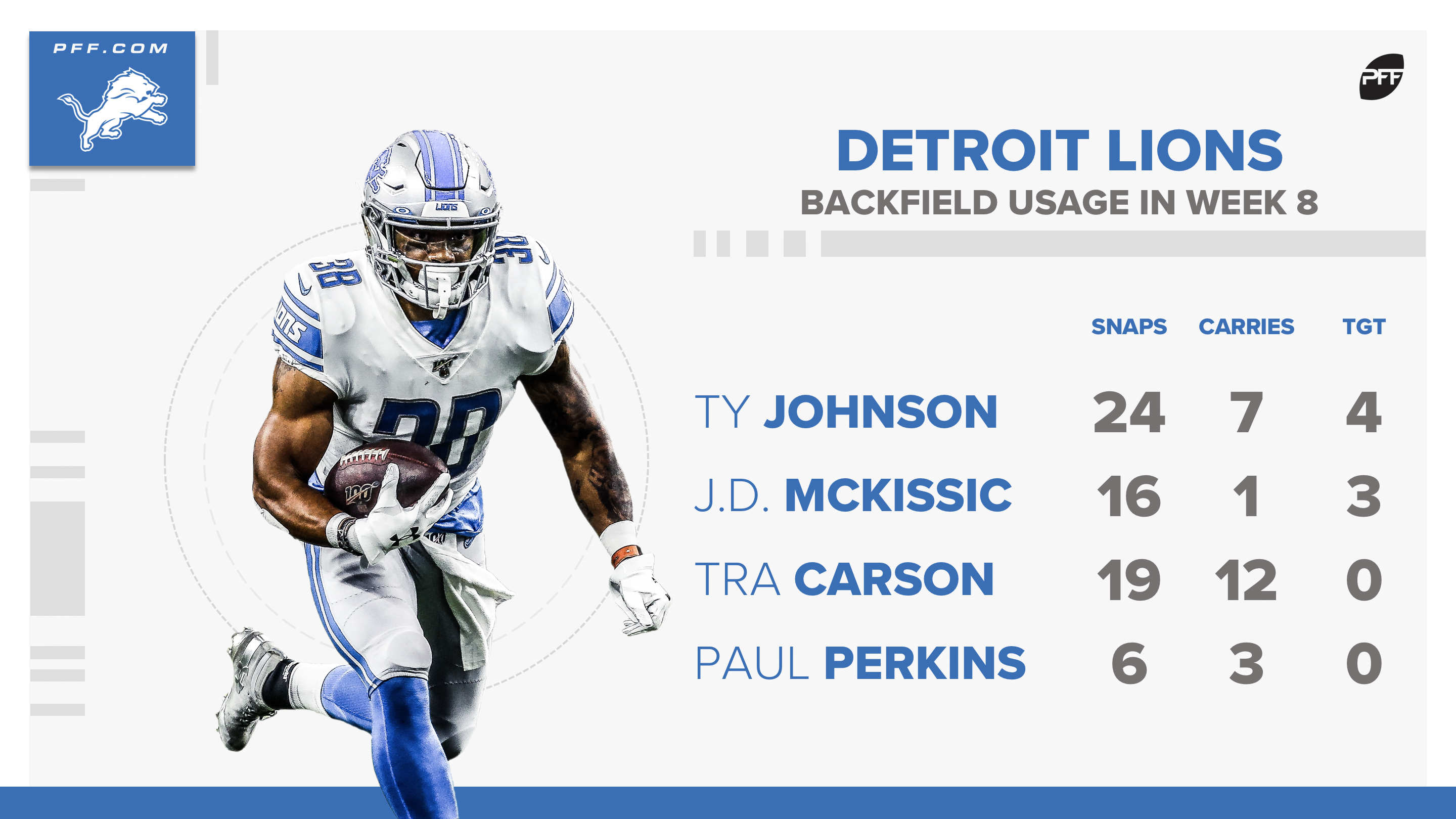 Johnson was one of the most-added players around fantasy last week. And it wasn't without reason, as Kerryon Johnson's injury opened the door for a new No. 1 back to take hold in Detroit. Of course, in Sunday's game, it was Tra Carson who had the most carries out of the Detroit backfield. Ty Johnson did lead in snaps, but with only 24. It's hard to imagine ever trusting one of these backs in fantasy. Feel free to move on.
(65% rostered)
People clinging to Hockenson are banking on his long-term value (which is good) and his Week 1 performance (which was great). But right now, he's just a guy. Since Week 1 (six games), Hockenson is averaging 2.2 receptions and 18.2 yards per game, numbers that would look more at home in a Charles Clay or Mike Gesicki type. Hockenson could be a star in this league, but it's looking increasingly like it won't happen this year.
(63% rostered)
We're entering the bye-pocalypse part of the schedule, with at least four team son bye each of the next four weeks (six in Week 10). You're likely to be scrambling for roster spots. Does it make sense to stash an injured Fuller, with an unknown return date, and an injury history that says you can't trust him even when he is back, through all the roster machinations you're likely to have to make? I don't think it does.
(57% rostered)
It's not that Gore has been bad in Buffalo. He hasn't. He's had one 100-yard game and scored two touchdowns — not bad at all for a 36-year-old. But his workload has fallen lately with Devin Singletary's growing, and just from a game-theory perspective, when are you going to feel good about starting Gore in fantasy? Better to opt for someone who might have a lower floor but will also have more of a ceiling. Again, not a must-drop, but someone who isn't a must-roster either.
Kerryon Johnson, RB, Detroit Lions
(54% rostered)
There is apparently a chance Johnson could return late in the year. That would likely be contingent on the Lions being in contention, which in itself seems like something of a long shot, and even then, the earliest he could play would be Week 16. Would you want to roll him out in the fantasy finals off of two months' absence? I wouldn't. In redraft leagues, he shouldn't be held.
(47% rostered)
Witten had touchdowns in Weeks 1 and 2, coloring over the fact that he's not really done much this year. His best fantasy day was 12.5 points in Week 2, and he's averaged 8.3 in five games since that Week 2. (It's more of a curiosity than anything, but Witten has exactly 4 targets in six of seven games this year.) Look elsewhere for fantasy upside.
(Jones 46% rostered; Barber 38% rostered)
The Buccaneers were run-heavier than we might have expected early in the year, but that's gone away in recent weeks, and even at that, Jones and Barber have been splitting the workload so much that it's hard to know who to trust in a given week. Better to punt on the decision and hunt someone with more upside.
O.J. Howard, TE, Tampa Bay Buccaneers
(44% rostered)
Howard has come in under 40 yards in five of six games played, hasn't scored yet, and just missed Week 8 to injury. If you haven't moved on yet, well, bonus points for loyalty, but the time has come.
(31% rostered)
If you're reading this when it's published, the NFL trade deadline is only a few hours away. So sure, hold on to Penny until then to see if he gets moved somewhere that would make him relevant. But absent that, this is a first-round pick a year ago who has essentially vanished from his team's pecking order, with little reason to expect that to change as long as he's in Seattle.
(26% rostered)
Robinson forced his way into the fantasy conversation in Weeks 2-4 after a monster Week 2 (172 yards, 2 touchdowns), a decent Week 3 (43 yards, 1 touchdown), and a Week 4 that was bad but had signs (9 targets). Since then, though, he has a total of 68 scoreless yards in four games and has dropped in the depth chart. There's no more need to stash him.
(25% rostered)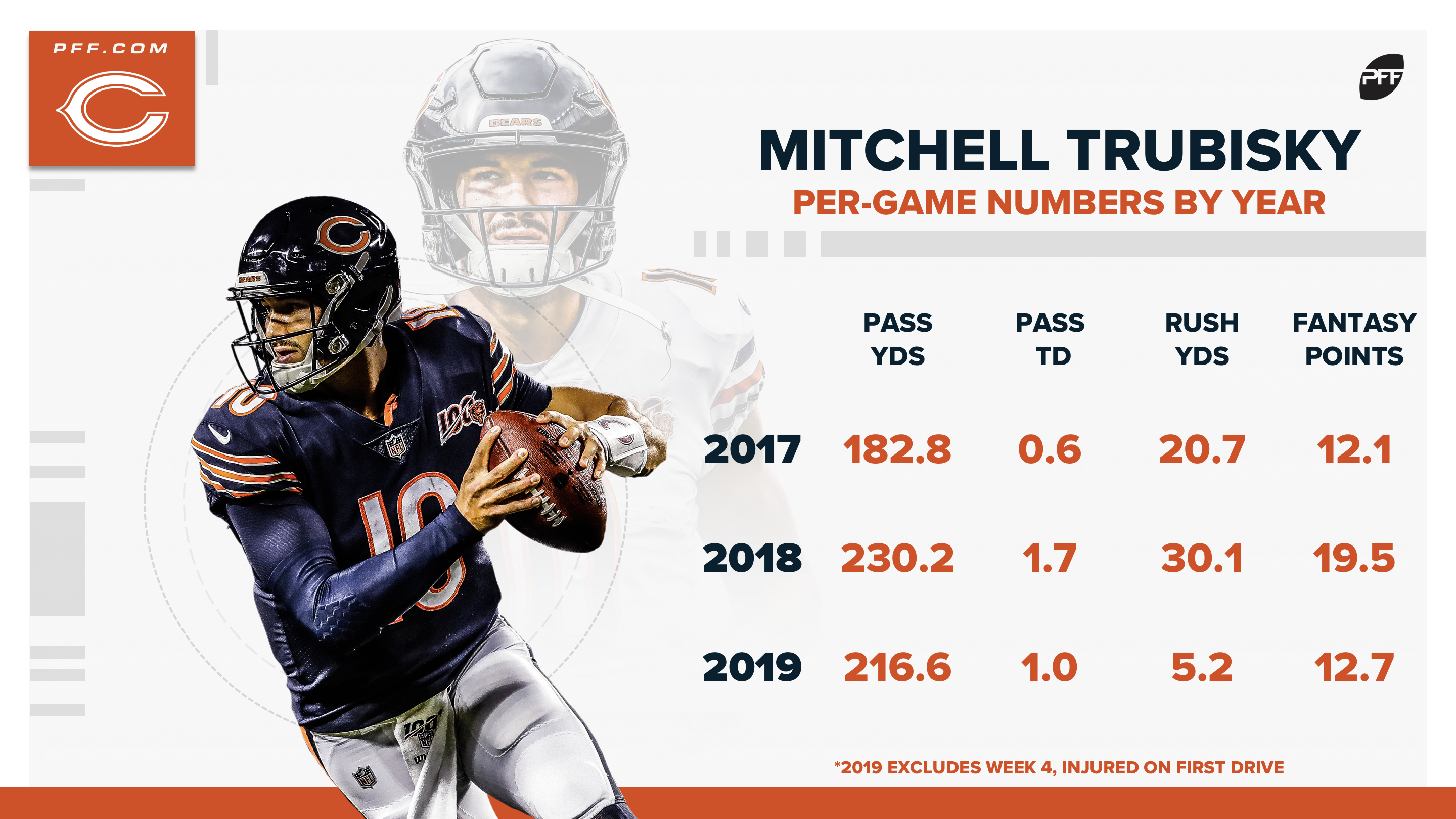 I imagine anyone who rostered Trubisky has long since moved on, but for the few holdouts … it's time. He has only 5 touchdown passes in six games (and has gone touchdownless four times). He hasn't had 260 passing yards in a game yet. And most damning for a guy who added significant value with his legs last year, Trubisky has only 31 rushing yards and no scores on the ground all year. Take that away, and he has very little to offer fantasy managers.
(20% rostered)
Coutee scored a touchdown in Week 7, buoying his perception. But he only has one game this year of more than 40 scrimmage yards (back in Week 5), and Sunday he was essentially benched in favor of DeAndre Carter — Coutee had no targets. Move on.