Choosing between David Johnson and Le'Veon Bell toward the top of a draft may seem daunting for fantasy success, but picking toward the end of the first or early in the second round can actually be where your championship will be decided. Choosing between, for example, Jay Ajayi and LeSean McCoy can be a difficult decision, and that's the subject of this week's player showdown. Both finished as RB1s in 2016 and are being drafted as such this year. McCoy is currently the ninth drafted running back and Ajayi the 10th, according to MFL's draft ADP tool. But neither is the sure thing their top-of-the-draft brethren appear to be. So which one should lead your running back corps this year?
The players
While both Ajayi and McCoy are capable of being a truly elite fantasy option in 2016, they both have serious red flags that make them more boom-or-bust options than they appear, though for different reasons.
We'll start with the new kid on the block, Ajayi. After a fairly uneventful rookie season (49 carries, 3.8 yards per carry), Ajayi exploded on to the scene in 2016. It took a little longer than expected as Ajayi originally won the job to take over for the departed Lamar Miller, then lost it to veteran Arian Foster, then won it back after Foster was hurt. The genesis of this great season can be squarely placed at Week 6, when Ajayi totaled 25 carries for 204 yards and two touchdowns, all career-highs. He then topped himself again the next week with 28 carries for 214 yards (but "only" one touchdown).
But Ajayi's raw totals slipped after that — it took him all of Weeks 9-14 to accumulate the same rushing yardage (421) as he did in Weeks 6 and 7 (418). He also only scored two touchdowns in Weeks 9-14. But was it all his fault? The only time he saw 20 carries during that span was Week 14. He did have one more breakout game — Week 16, 32 carries for 206 yards — but that was it. Almost literally half of his rushing yardage on the season (1,272) came in those three 200-yard games (624).
So should we trust Ajayi outside those three games? In short, yes. Ajayi still led all running backs in PFF's elusive rating if you take those three games out. He also only slipped to ninth in breakaway percentage (yards that come on runs of 15 yards or more) after placing sixth with those games included.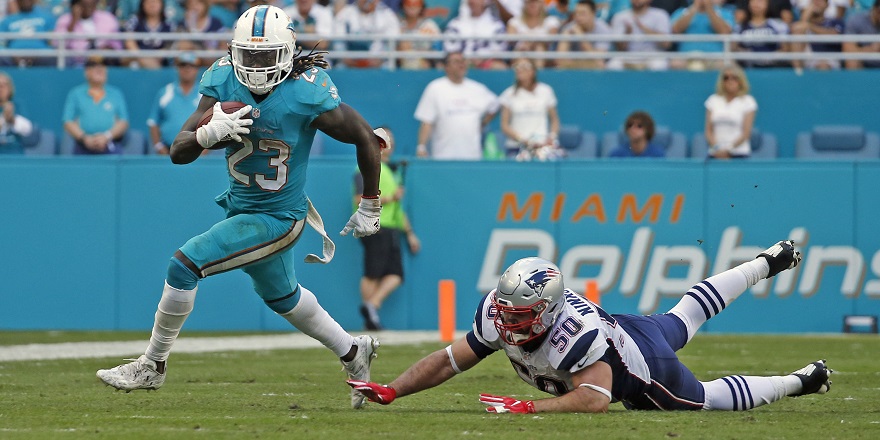 So with the myth that he only did well in those three games busted, what's the issue? It's actually the same issue — his knees, which caused him to drop to the fifth round of the 2015 draft after being seen as a possible first- or second-day pick. Ajayi's medicals were a hot item leading up to the draft, when it was believed that he'd need microfracture surgery at some point. That report hasn't been confirmed by anyone, but there was enough smoke that caused teams to drop Ajayi down their boards until he was eventually saved by the Dolphins in round five. And while it's easy to hand Ajayi the starting job, it's harder to commit big dollars. That would be a true sign of the Dolphins, or any team's, thoughts on his health. But for now, Ajayi's knees are holding up.
Unlike Ajayi, McCoy has been a reliable fantasy running back for several years, finishing as an RB1 for five of the last seven years. He's also durable, missing only 10 games in his eight-year career. And last year was no different, finishing as a RB1 again, seventh in elusive rating and second in breakaway percentage.
For McCoy, the issue is his age and a pending dropoff. Running backs' fantasy production drops significantly at age 29. Well, guess what age McCoy turns before the season? It happens to every running back with the odds increasing as each year passes and provides a curious decision between a known commodity and the inherent risks of the years that come with that commodity.
Advantage: McCoy. Even if you include the injury threat and draft capital of Ajayi, the fact that he only has a year under his belt of fantasy relevance is my biggest concern. At least with McCoy, you know he's done it before. A lot will be riding on Ajayi this year to show he's not a one-year wonder.
Subscribe to PFF Edge to continue reading
Already have a subscription? Sign In