When projecting a college skill position player's fantasy potential at the next-level, nothing is more predictive than draft capital. The more highly a player was selected in the NFL draft, the more an NFL team is invested in their success, and thus the more opportunities he'll have to be successful. That typically translates into fantasy points.
However, there are a number of players who have reached fantasy superstar status despite going undrafted — for instance, Tony Romo, Kurt Warner, Arian Foster, Priest Holmes, Wes Welker, Doug Baldwin, and Antonio Gates.
Today, we're highlighting the undrafted rookies who have the best chances (though maybe still slim overall) of one day becoming a fantasy contributor, and, in one case, possibly a superstar.
[Editor's Note: To view all of Pro Football Focus' advanced stats and grades for draft-eligible players, check out our 2019 NFL Draft Guide. All EDGE and ELITE subscribers already have access to the guide, and for those who don't, you can get your copy for as low as $9.99!]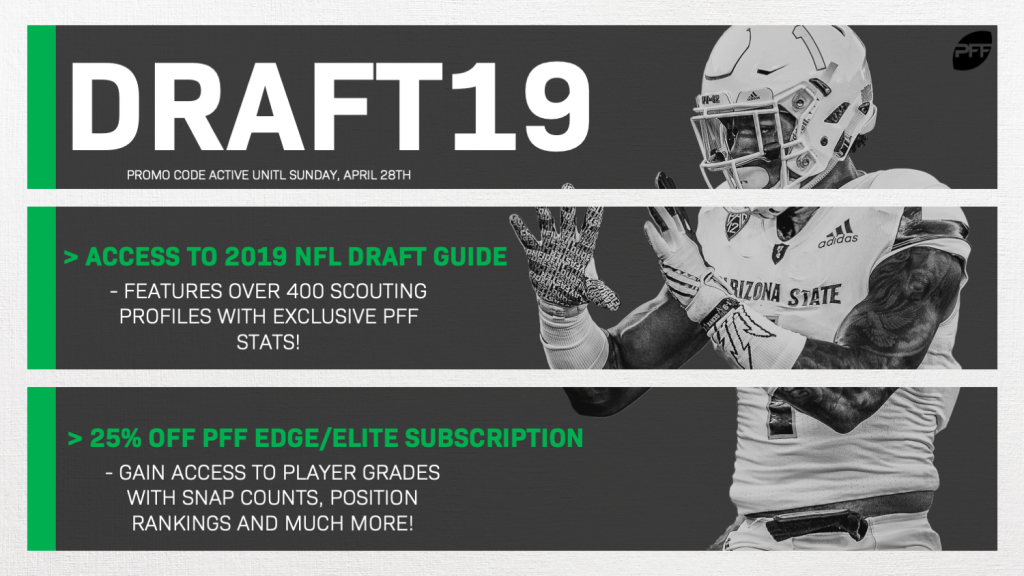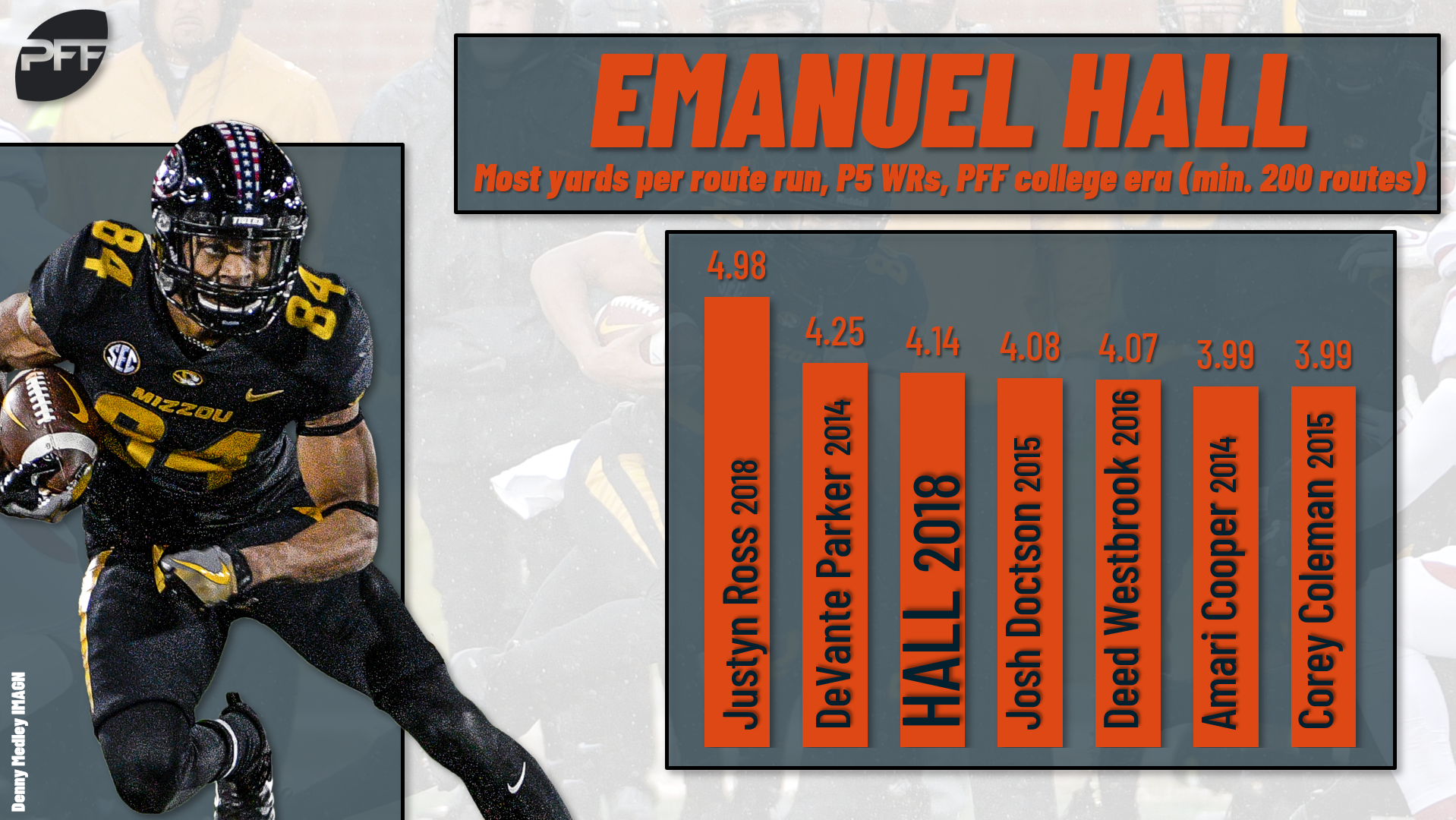 There were 28 wide receivers selected in this year's draft. Hall was not one of them, but he was the No. 14-ranked wide receiver in our draft guide. After averaging 4.14 yards per route run in 2018 (the third-best season by any qualifying Power-5 wide receiver of the PFF College era) and running a 4.39-second 40-yard dash at the combine (at less than 100%), Hall is surely the most surprising name to be found among the list of undrafted players. Hall struggled with injuries and drops and might be a bit one-dimensional as a receiver (65% of his career receiving yards have come on deep passes) but he still should have been drafted.
Here's another impressive stat: on 61 targets in 2018, Missouri quarterbacks averaged a 137.5 passer rating when targeting him. That number was slightly better in 2017, at 138.8 on (again) 61 targets. When contrasted with team efficiency (100.6 passer rating in 2018, 109.1 passer rating in 2017), he was our most efficient wide receiver by WR rating over the past two seasons. Hall's impact on the team was also similarly evident by QB Drew Lock's numbers in games Hall was absent.
Nothing is as good at predicting NFL success as draft capital, and though Hall certainly lacks it, I do think he can be a contributor at the next level.
Williams was one of my favorite sleepers in this draft class. He's a prolific pass-catcher, ranking as one of only nine players since 2000 to total at least 1,000 career rushing yards and 200 receptions. As I explained here, as both a runner and a receiver, Williams is actually one of the most elusive running backs we've ever charted at the college level.
The Chiefs also drafted Darwin Thompson (another highly elusive running back I like and had discussed in the linked article above) but he doesn't have a comparable skillset to Williams as a receiver. If Williams sees snaps at the next level it will likely be in a sort of James White role, and likely only if Damien Williams were to suffer an injury. However, if that were to happen, it would be a very valuable role on the league's best passing offense and with "running back whisperer" Andy Reid calling the plays.
There were 25 running backs selected in the draft and Ozigbo was not one of them, though he ranked ninth in our draft guide. Ozigbo ranked sixth-best (of 84 running backs) in PFF run grade last year and ranked seventh-best in yards per carry (7.0). Those feats look all the more impressive when pointing out that Nebraska ranked last among all 64 Power-5 teams in PFF run-blocking grade. Not coincidentally, he led all FBS backs in percentage of carries to gain two or more yards after contact (74.8%).
On one of the best offenses in football, and one of the best running back offenses in all of fantasy football this was a great landing spot for Ozigbo. He'll be Latavius Murray insurance for Sean Payton and the Saints.
Higdon was the No. 11 running back in our draft guide and ran a 4.49 40-yard dash at the combine, but otherwise didn't really pop in any of the stats I typically look at. Still, the landing spot was near-ideal and led our own Sam Monson to question whether Higdon wasn't already the best running back on the roster.
D'Onta Foreman may never fully recover from an Achilles injury he suffered in in 2017, and certainly didn't look fully recovered last year (averaging -0.1 yards per carry on seven carries). Lamar Miller has also disappointed, averaging only 4.1 yards per carry since joining Houston. If Monson is right, Higdon could be a valuable fantasy asset — Houston leads the NFL in running back carries since Bill O'Brien was named the head coach (back in 2014).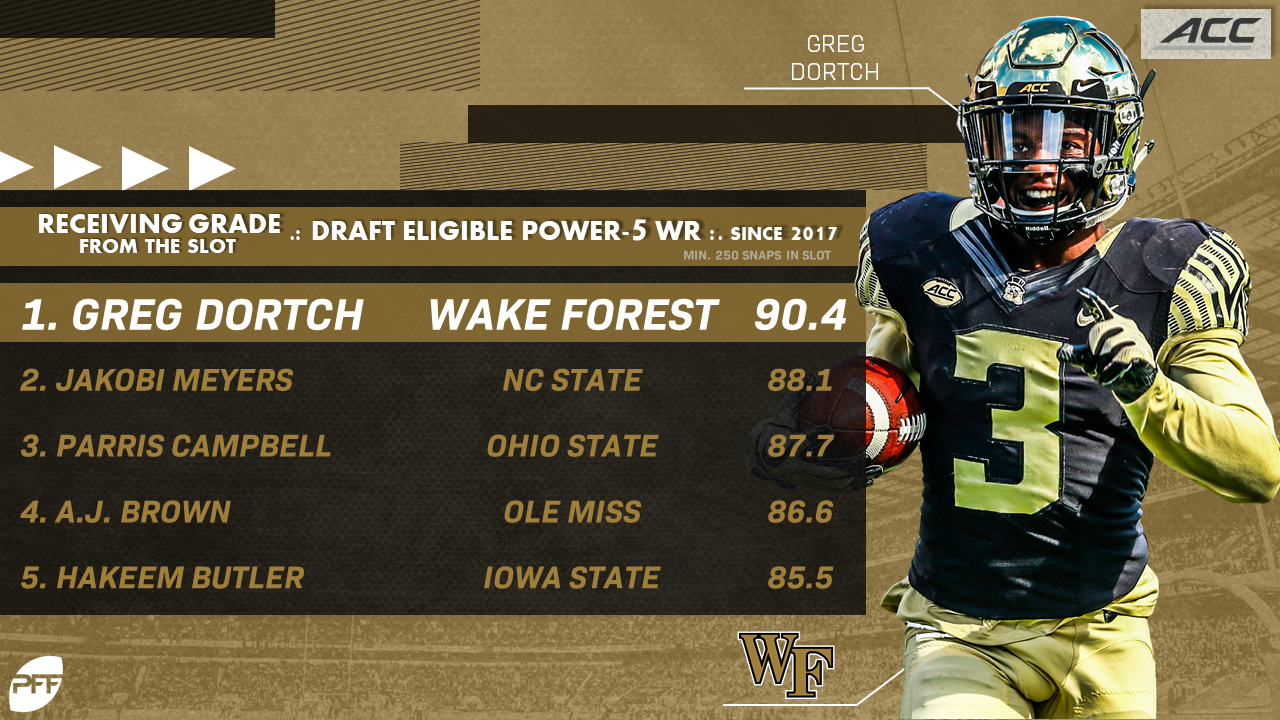 Dortch was the No. 147 overall player on our big board, so it seems the Jets were lucky to get him without spending any draft capital. Among all wide receivers in the class, Dortch ranked best in PFF grade from the slot over the past two seasons. Lucky for him, head coach Adam Gase's slot wide receivers have found a great deal of fantasy success in the NFL (Jarvis Landry, Wes Welker). He'll need to beat out Jamison Crowder for slot duties if he wants to find success at the next level.
Doss is a small-school wide receiver who stood out in our grading process (ranking 16th of 79 wide receivers) and at his pro day, running in the mid-4.4s. At UC Davis, he totaled 233 receptions, 2833 yards, and 16 touchdowns over the past two seasons. He joins a newly crowded Oakland Raiders wide receiver room and is a longshot to ever prove to be fantasy relevant.
Barnes was a combine standout who totaled 1,355 rushing yards and 12 touchdowns in his final year at Kansas State. He's another longshot to find success in the NFL but could be viewed as a potential insurance policy on Derrick Henry, considering they're of a similar archetype.
Jackson is a physically gifted (6-7, 249 pounds) small-school quarterback, who posted the fifth-best speed score of any quarterback at the combine since 2000. Although he's fast, he wasn't much of a runner in college, and though his college stats left a lot to be desired against lesser competition, he did look a little bit better in our more advanced stats. Highlighting how he elevated a poor supporting cast, Jackson totaled only 49 touchdowns but 64 big time throws, the highest positive differential in the class. Many compared Jackson physically and stylistically to Josh Allen, so this landing spot wasn't surprising, and given Allen's grades last year, this is probably the ideal landing spot for him.
Other notable UDFAs
Brett Rypien, QB, Denver Broncos
LJ Scott, RB, Baltimore Ravens
Elijah Holyfield, RB, Carolina Panthers
Anthony Johnson, WR, Tampa Bay Buccaneers
Antoine Wesley, WR, Baltimore Ravens
Lil'Jordan Humphrey, WR, New Orleans Saints
Keenen Brown, TE, Los Angeles Rams
Dax Raymond, TE, Chicago Bears