(Metrics that Matter is a regular offseason feature that examines some aspect of fantasy through a microscope to dive into the finer details.)
Immediately after the NFL season ends, I'll spend weeks updating and improving various spreadsheets I'll be referring to throughout the offseason. Then I'll look at the previous season from a macro perspective (article here). After that, I'll start digging into individual player analysis, but I'll always start first with the players I got wrong. I do this to learn from my mistakes, and to see if I only got beat by variance or if I should really be higher on a player in the following season.
One such player — a guy I definitely got wrong and am now much higher on — is Pittsburgh Steelers WR JuJu Smith-Schuster. I knew the WR2 role in Pittsburgh was a valuable one – since 2000, Pittsburgh's second-highest-scoring wide receiver averages 12.6 fantasy points per game, which would have ranked 23rd-best last season — but I was wrong in thinking Pittsburgh's WR2 was going to be Martavis Bryant off of a year-long suspension. Bryant averaged 15.3 fantasy points per game in his first two seasons in the league (including postseason), or the 12th-most by any wide receiver all-time. Instead, the WR2 role was shared between Bryant and second-round rookie Smith-Schuster, with both averaging 5.6 targets per game.
Despite the similar volume, Smith-Schuster finished 11th among all wide receivers in fantasy points per game (14.8), while Bryant finished 29th. Smith-Schuster also paced Bryant in all measures of efficiency. Smith-Schuster dwarfed Bryant in WR rating (134.0 to 86.0) and yards per route run (2.16 to 1.35). Not only was Smith-Schuster far better than Bryant by almost any measure you want to look at, but he also just put together one of the most efficient seasons by a rookie wide receiver in the PFF era (2007-2017), and he did it as the youngest player in the league at only 21 years of age.
Smith-Schuster's 134.0 WR rating (passer rating when targeted) led all wide receivers last season and was the best of any rookie wide receiver (min. 75 targets) during the PFF era.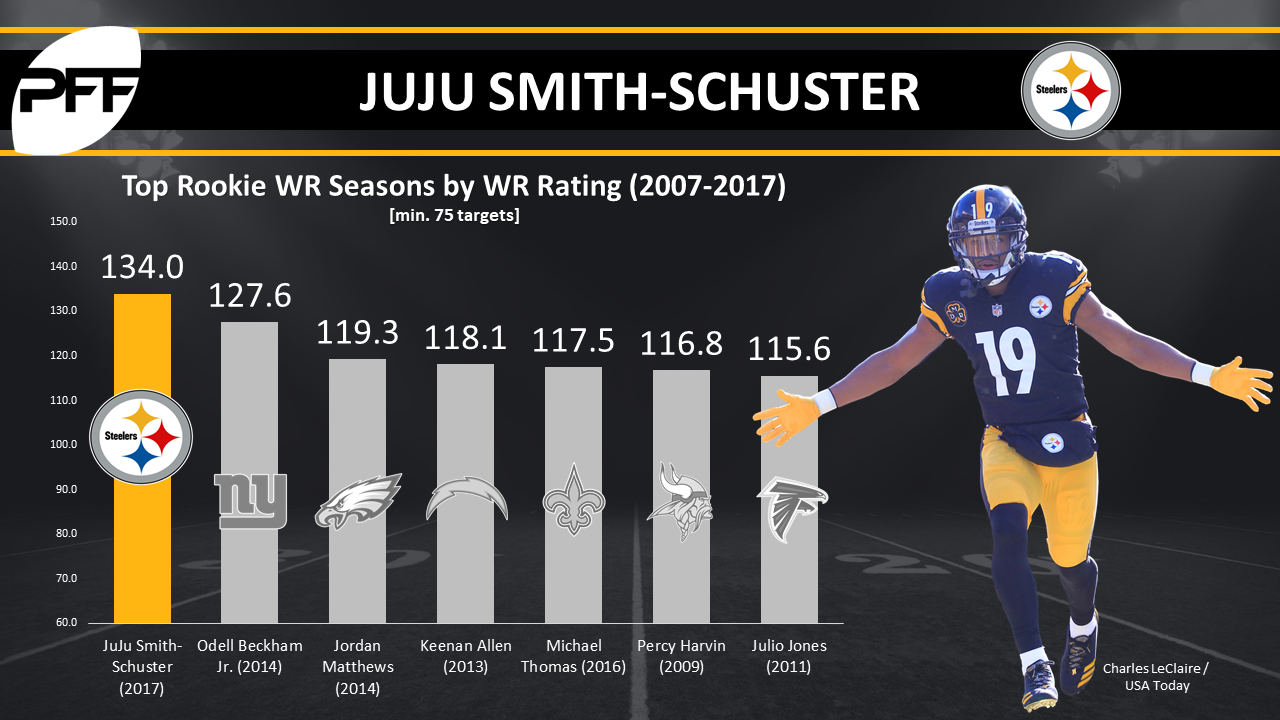 Smith-Schuster's 2.16 yards per route run average was the fifth-best of any rookie wide receiver (min. 75 targets) during the PFF era.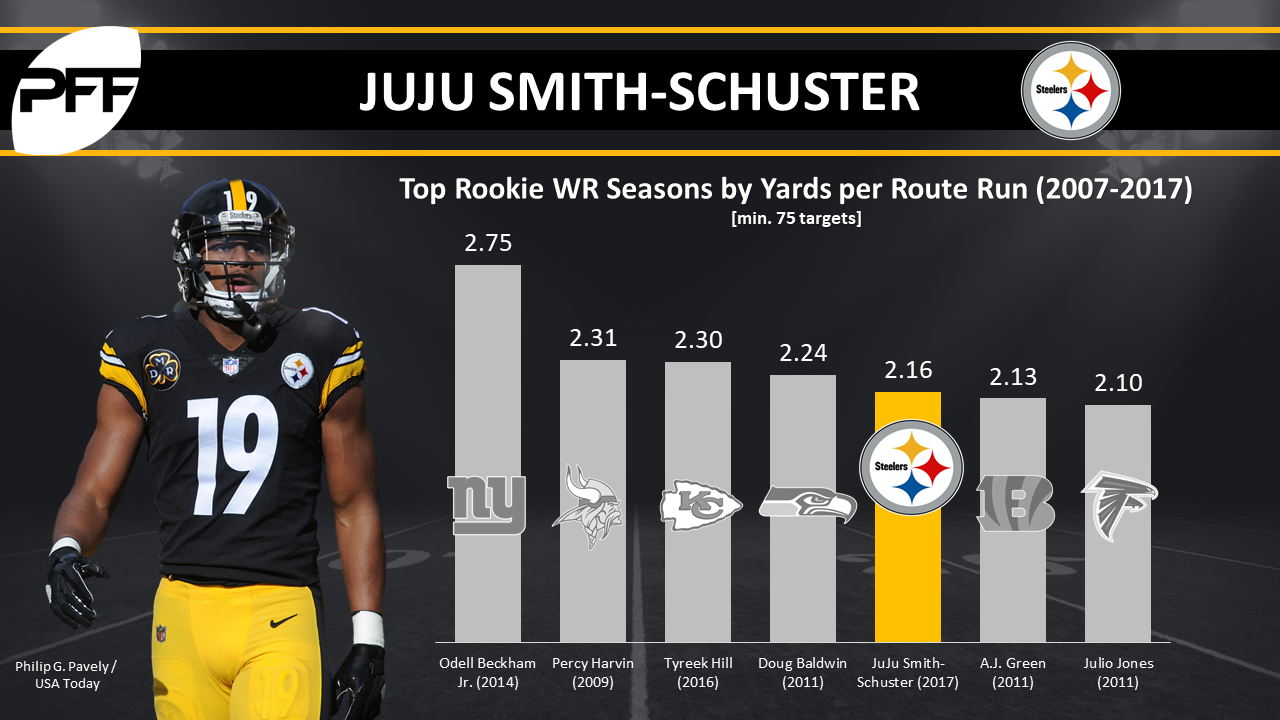 As you can see, in both charts, Smith-Schuster is grouped together with who are mostly the best wide receivers of the past decade. Obviously, this bodes well for his future in the NFL and for fantasy. His current ADP has him routinely going in the eighth round of early fantasy drafts and places him around 40th among wide receivers overall.
Wait.
Let me get this straight. The guy just finished 11th in fantasy points per game at only 21 years of age, and just posted one of the most efficient rookie seasons of the past decade, and he's being drafted as a WR4?
Of course, there are some concerns. Perhaps Bryant faltered in 2017 only due to being rusty after a year off, and he may steal a larger market share in 2019. Smith-Schuster's high efficiency numbers were undoubtedly bolstered by Antonio Brown routinely drawing tougher coverage. 59 percent of his total receiving yardage (including the postseason) came in just four of his 15 total games.
Still, he's a glaring value. In my current rankings, I have Smith-Schuster 30th among wide receivers, so if this ADP holds, Smith-Schuster is easily going to be one of my favorite draft targets when best-ball leagues open in the next few weeks.