Opponents matter in fantasy football. Exactly how much they matter is fair to debate, but you know you'd rather an offensive player facing Team X than Team Y. You'd rather a defense facing Miami than Kansas City. We know this.
Each week in this space, I'll be taking a look at some of the key matchups to exploit in a given week, good or bad, at each position. And we'll start things off with my mismatch of the week.
Mismatch of the week
Devin Singletary, RB, Buffalo Bills (vs. Cincinnati): Obviously, this one comes down in part to Singletary's health, but we have to talk about him just on the chance he is healthy. Singletary has 10 carries through his two games so far. A whopping seven of them have gone for 12 or more yards, including his 14-yard Week 2 score. He's forced three tackles on those 10 carries. Meanwhile, Cincinnati has allowed far and away the most PPR points to opposing backs and has been easily the worst tackling team in the league (their PFF tackling grade of 32.6 is miles worse than second-worst Indianapolis at 42.7). Assuming Singletary is good to go Sunday, he's in for a hugely efficient day. And if he isn't, Frank Gore will be interesting, though he lacks much upside at this point in his career.
Good situations
Matthew Stafford, QB, Detroit Lions (@ Philadelphia): A year after plummeting to fantasy's QB20, Stafford's come out hot in 2019, sitting as fantasy's QB5 through two weeks. He benefitted from a Week 1 matchup against Arizona, but he still managed 17.1 points against the Chargers in Week 2, and now he faces an Eagles defense in Week 3 that has allowed the second-most passing yards in the league (behind only a Raiders team that had the misfortune of running into Patrick Mahomes). Stafford's hot ways could continue.
Carlos Hyde, RB, Houston Texans (@ LA Chargers): Those who drafted Duke Johnson have to be very frustrated so far, with Hyde getting twice as many carries through two weeks (30-15), and the disparity even more dramatic in Week 2 (20-6), with Hyde having another week in the offense under his belt. Johnson still has a fine role in the Houston receiving game, so he's not a lost cause, but in Week 3 the Texans face a Chargers team that has allowed the third-most rushing yards to running backs (behind only Cincinnati and Miami), but only 57 receiving yards to the position (10th-fewest). We're in for another Hyde week.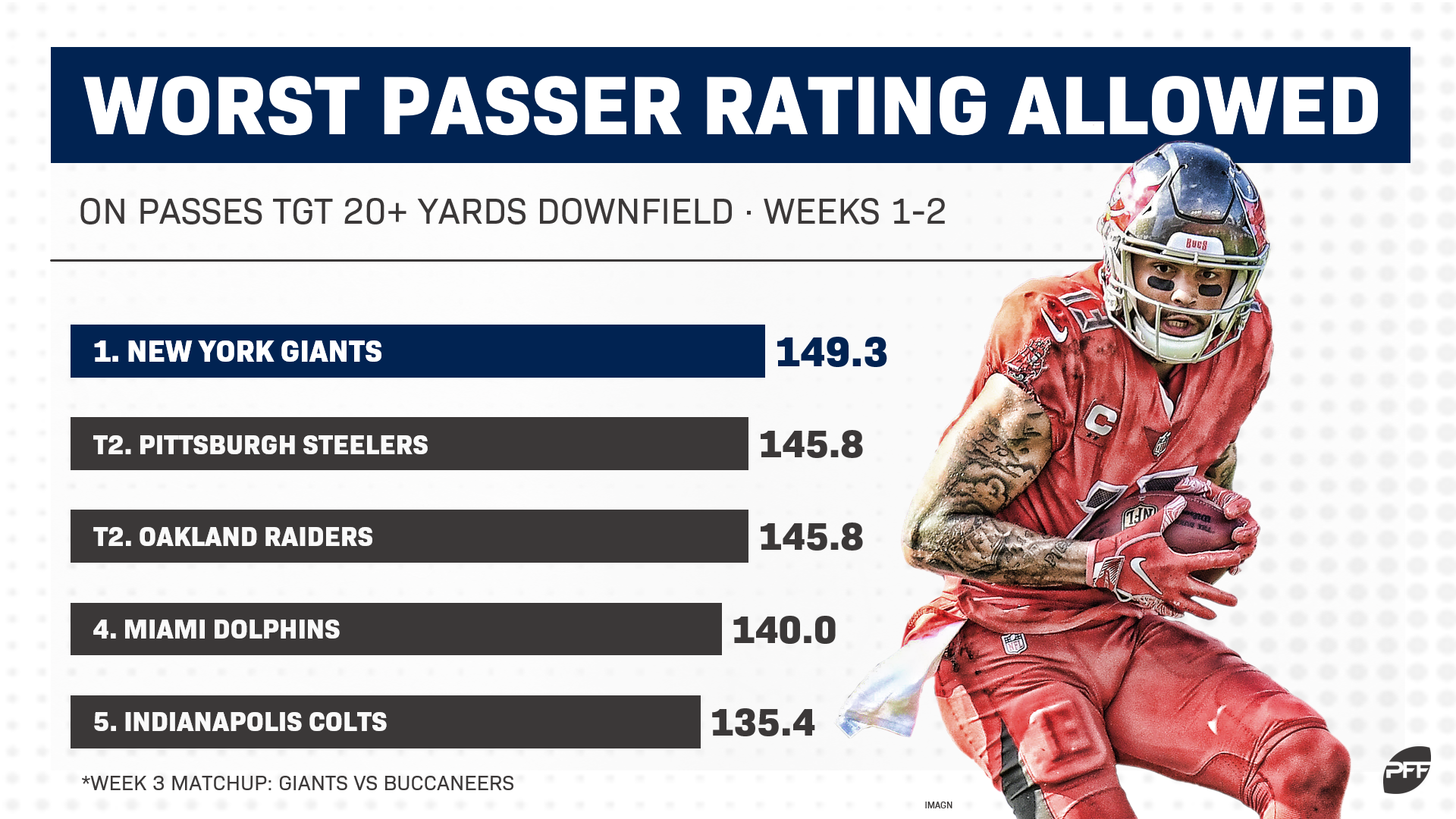 Mike Evans, WR, Tampa Bay Buccaneers (vs. NY Giants): If Evans is going to get on track for 2019, Week 3 is the time. He's been the Buccaneers' deep threat so far (his 17.8-yard average depth of target is far deeper than Chris Godwin's 11.9), and while he's only come down with one of his four targets of 20-plus yards, he gets to go against a Giants defense that has allowed a league-worst 149.3 passer rating on deep passes through two weeks, has the third-worst pass-coverage grade on deep balls (26.5), and has allowed the third-most PPR points to opposing receivers.
Greg Olsen, TE, Carolina Panthers (@ Arizona): Granted, the Cardinals have faced a breakout T.J. Hockenson and Mark Andrews through two weeks, but it's still notable that the team has allowed 273 yards to the tight end position (next-most: Miami, at 208) and 62.3 PPR points (next-most: Miami, 42.8). It's been easy for tight ends to pick apart that defense, and now Olsen — who has the fourth-most receiving yards at the position at 146 — gets a chance. If Cam Newton is healthy for Week 3, he'll have his safety blanket in Olsen, and if Newton can't go … well, Olsen's still a safety blanket.
Bad situations
Kyler Murray, QB, Arizona Cardinals (vs. Carolina): You would be wrong to call Murray a disappointment through two weeks. He's fourth in the league in passing yards and 17th in fantasy points — not dominating the league, but by no means a problem for a player's first two games. But the fact that Murray has only 17 rushing yards has to be a bit of a letdown. The biggest appeal of Murray is that he was polished as both a passer and a thrower, and if he doesn't start producing on the ground he's just not going to have the upside we expected of him. The Panthers have allowed the third-fewest passing yards to opposing quarterbacks so far and only 9 rushing yards to the position. Murray's long-term outlook is still enormous, but Week 3 could still be a bit of a letdown.
Saquon Barkley, RB, New York Giants (@ Tampa Bay): The Ravens have allowed the fewest PPR point to opposing running backs through two weeks, but then they've faced the Dolphins and a Cardinals team that lost David Johnson for a chunk of the game. Next worst is Tampa Bay, who have faced Christian McCaffrey and the 49ers, two backfields that put up north of 100 PRP points in their other games. It's too early to say the Buccaneers are suddenly a stout run defense, but if they hold Barkley in check in Week 3 … we might need to start talking about it.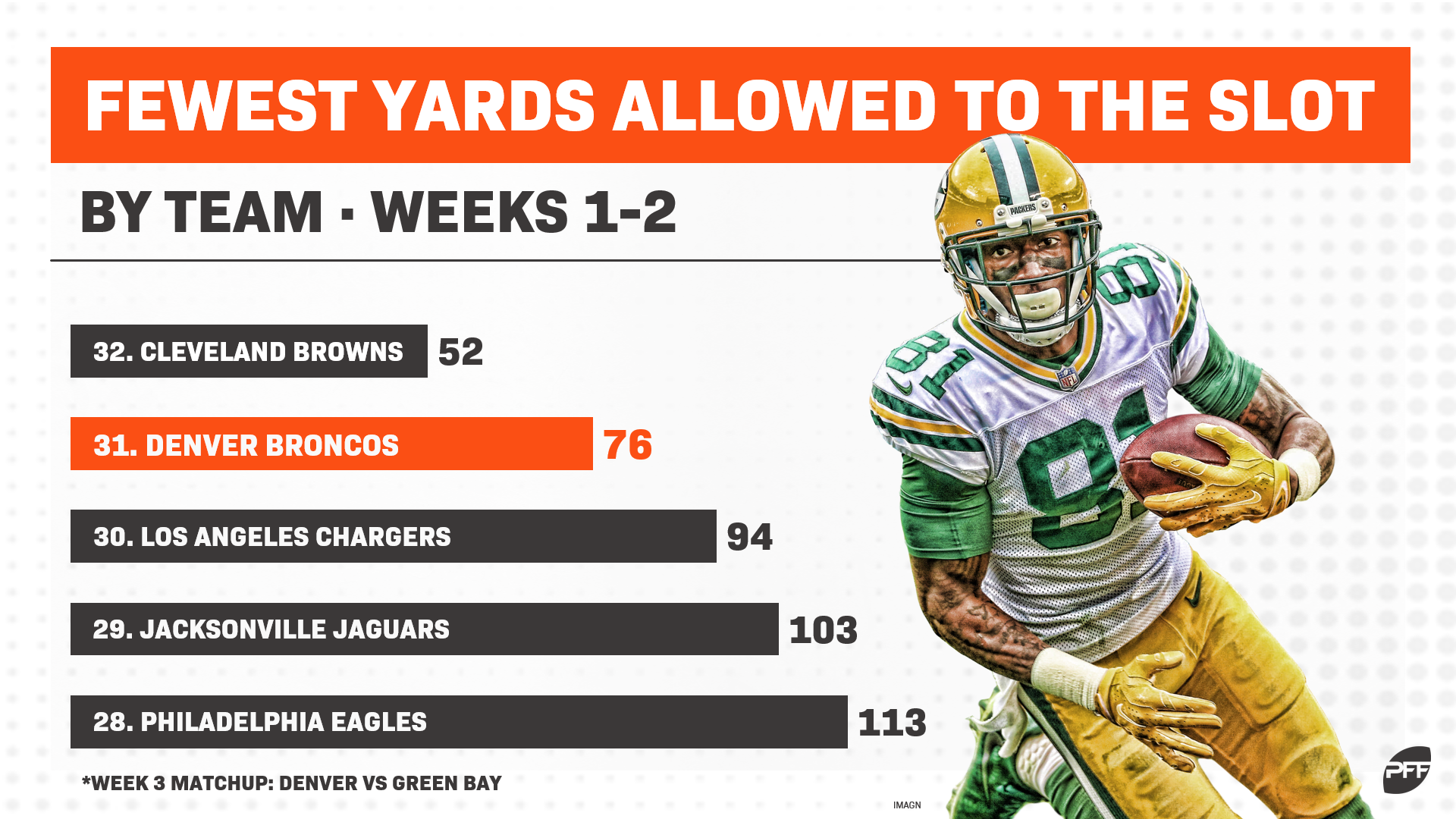 Geronimo Allison, WR, Green Bay Packers (vs. Denver): Allison got back on the good side in Week 2 with a touchdown and four targets, but he still played only half of the snaps of teammate Marquez Valdes-Scantling (62-31) and less than half of Davante Adams. Allison pretty clearly has the slot role in Green Bay, running more than three-quarters (77.5%) of his routes from there so far. Through two weeks, Ben Braunecker's 18 yards is the most anybody has gotten out of the slot against the Broncos.
Will Dissly, TE, Seattle Seahawks (vs. New Orleans): It's great that Dissly scored twice in Week 2, but he still only played about two-thirds as many snaps as Nick Vannett. The Saints have allowed the fifth-fewest PPR points to tight ends through two weeks, and while yes, it's a spotty position and they've faced only the Rams and Texans, they allowed the seventh-fewest in 2018 as well. Dissly needs to show he can have a regular workload before he's firmly on the fantasy radar.