The last four years, the Arizona Cardinals had two guys named Brown in their wide receiver corps. John Brown and Jaron Brown combined for one fantasy season higher than the No. 48 WR (when John finished at No. 21 in 2015), mostly ending their respective Cardinals tenures as what-might-have-been quasi-disappointments.
What the Browns ended up being in Arizona was deep threats, guys who would inevitably have a handful of scintillating deep-ball moments a season but struggled to put it together into a complete season, particularly for fantasy purposes.
In the end, though, Cardinals receivers had three of the five highest average depths of target in 2017. Yes, the quarterback and coaching staff will be different in 2018, but the player profiles are the player profiles.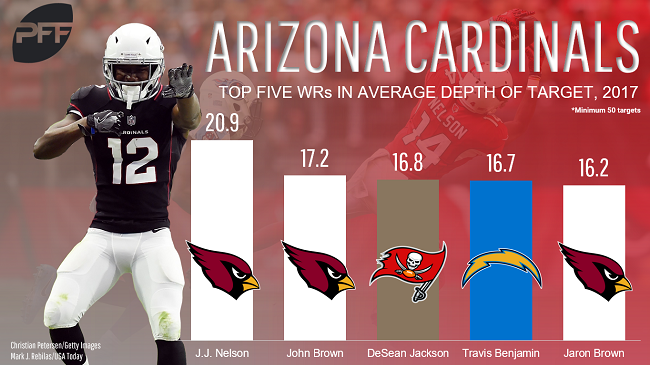 Now, John Brown is a Baltimore Raven, while Jaron Brown is in Seattle. And apologies to Cobi Hamilton and the other names, but the Cardinals enter the 2018 season with five wide receivers who have the potential to have fantasy relevance, but only two who are likely to soak up much of the deep work the pair of Browns offered.
J.J. Nelson is who he is at this point in his career. He's a deep threat (30.7 percent of his targets over three years have been 20-plus yards downfield) who the team just doesn't appear likely to give a full-time workload — and considering he's 5-10, 160 pounds, there's some defense for that.
The other receivers: Larry Fitzgerald, who has taken 45 percent of his targets out of the slot the last six years, and saw all of 12 deep targets last year; rookie Christian Kirk, who saw virtually all of his targets out of the slot in college; Chad Williams, who saw all of seven targets as a rookie; and Brice Butler.
The Cardinals signed the 28-year-old Butler last month. In five years in the league, Butler has only 126 total targets, for 1,177 yards and 8 touchdowns. He's coming off his best fantasy season, when he finished … 78th at the position in fantasy scoring. In short, Butler doesn't come in with the pro resume to be much of anything but roster filler.
Butler has been a favorite breakout candidate for years, both in the fantasy setting and real-world, without it coming to fruition. That led to the Cardinals getting him on a two-year deal this offseason, at terms that Butler felt weren't quite appropriate, based on his Twitter profile.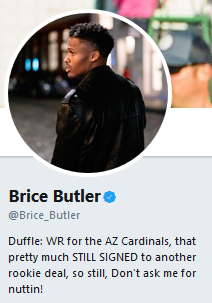 But he could scarcely have entered a better situation for his skillset. He's 6-3, 220, with 4.37 40 speed. In a five-year career, 35 of Butler's 126 targets have been deep (20-plus yards). The pair of Browns averaged 30 such targets a year over the last four years, reaching at least 30 three times. Nelson might get some of that workload. Williams and Fitzgerald might get a little. But it seems likely that the majority of that deep-ball spillover will be Butler's to soak up.
New Arizona quarterback Sam Bradford isn't known for his deep-ball prowess (his average depth of target was only 6.6 yards in his last full season in 2016), but he did lead the league in adjusted completion percentage on deep passes on 47 deep attempts in 2016. Rookie Josh Rosen, when and if he ever takes over for Bradford, had the No. 13 adjusted completion percentage on deep balls in the draft class — like Bradford, he isn't going to be lighting it up down field, but he did have nine deep scores in 2017.
Butler isn't likely to be a weekly fantasy option, if only because deep balls aren't consistently predictable. But as an emergency fill-in or best-ball candidate, Butler has super-high weekly upside. The last two years, Brown, Brown, and Nelson combined for 18 top-24 weeks (more if you stretch back to when John Brown had his big season). If Butler gets even a third of those in 2018, he's a good late-round best-ball investment, especially considering his current MFL ADP of the No. 153 receiver. For best-ball purposes, I'd be comfortable bumping him up a full 50 spots at the position.