There's an archetype to the modern running back. The best ones are excellent ball-carriers, and add a bit of receiving prowess to boot. The best of the best — the David Johnsons, Le'Veon Bells, Todd Gurleys — put up seasons where the could rank as a top-20 running back on carries alone, and as a top-30 receiver on receptions alone.
On one end of that bell curve are the receiving backs. Think Darren Sproles, Danny Woodhead, Christian McCaffrey. Their carries only exist to give them more reason to catch passes. They are receivers with a different pair of letters next to their name than "WR."
On the other end is LeGarrette Blount.
It's not quite that simple, of course, but in today's NFL, Blount just doesn't fit the stereotype.
This past season, Blount put up 107 PPR fantasy points. He did so on 8 targets. The next-fewest targets in a 100-point season last year was 13, by Jonathan Stewart, and only three players (Stewart, Derrick Henry, Latavius Murray) reached 100 PPR points on fewer than 24.
It goes further. In the PFF era, 509 players have put up a season with 100 or more PPR fantasy points. Of those, 11 player-seasons have featured fewer than 10 targets. Blount? Blount has five of those years. Other names around him include BenJarvus Green-Ellis, Laurence Maroney, Michael Turner, and Willie Parker — in other words, guys who are no longer active. Of the 15 seasons in our sample with the fewest targets, the only active names are Blount, Chris Ivory (8 targets, 102 points in 2012), and barely-still-active Stevan Ridley (11, 205 in 2012).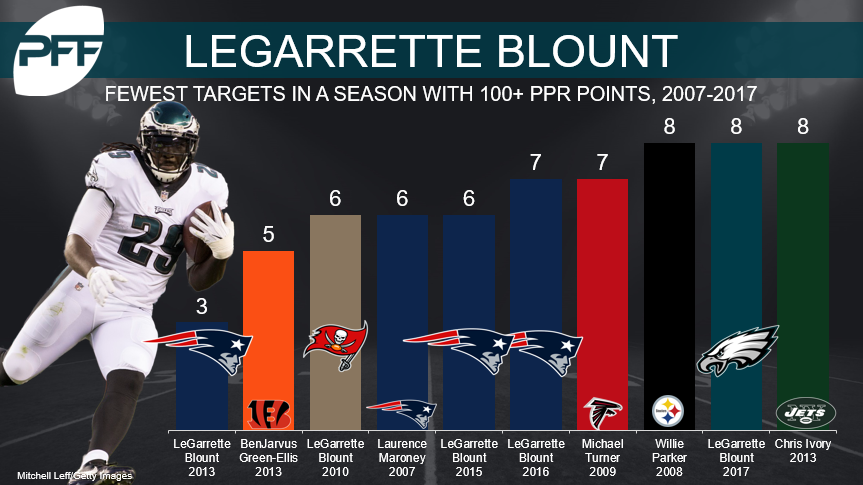 Our own Scott Barrett wrote a week ago about the rise of pass-catching among running backs in 2017. The trend has obviously been going on for longer than that, though — generally speaking, a running back isn't going to find success in today's NFL without some receiving prowess.
Blount is the throwback, the anachronism. He's been helped by the fact that his biggest seasons have come mostly with New England, a team that has diversified its running backs more than just about any other, but even at that, his numbers stick out.
What does it mean for 2018? At the moment, we don't know. Blount is a free agent, and while he has expressed interest in returning to the champion Eagles, it's a team with salary cap concerns already and Jay Ajayi and Corey Clement under contract for 2018. Blount could well find his way to another team, at which point we'll have to reassess his status.
But Blount has been an underrated option for a big chunk of his career, and that, at least, might be changing:
Feel like LeGarrette Blount is finally getting some much-deserved respect. Dude has been a super-effective back for years. Intrigued to see where he lands.

— Mike Clay (@MikeClayNFL) February 19, 2018
Blount has 50+ carries 7 times in his career. He ranked top-4 at RB in YAC four of those seasons. Top 16 all but one year.

— Mike Clay (@MikeClayNFL) February 19, 2018
He's the spiritual successor to Marshawn Lynch's Beast Mode, ranking top-16 in the league in elusive rating every year he's qualified but one, top-25 every year.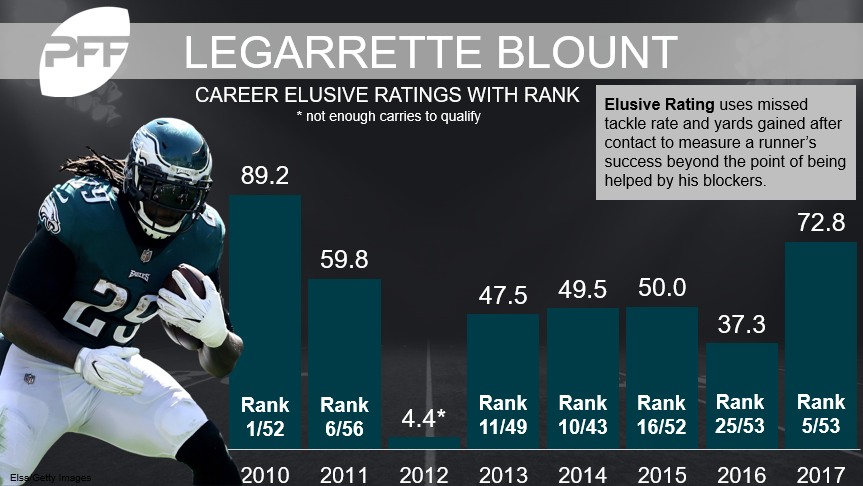 Despite that, Blount has only been drafted as a top-25 back once (2011, No. 11), and a top-30 twice (2015, No. 28), per Fantasy Football Calculator. Blount is never going to be a bell-cow back, particularly for PPR leagues. But depending on his 2018 landing spot, he's likely to come into the new season as an underrated fantasy option, even if he's as much a receiver as I am a teen heartthrob.
Blount's never again likely to be a top-10 fantasy finisher, like he was with New England in 2016. But on a team with strong receivers, a strong RB1, he's a sneaky RB2 in the right landing spot.