It's going to take some time getting used to saying Las Vegas Raiders. There's no way around it. But the team itself showed improvement last season, and that progress certainly translated to fantasy value from this unit. Let's take a peek at what our initial 2020 fantasy football projections have to say about the Raiders. Knock on wood if you're with me.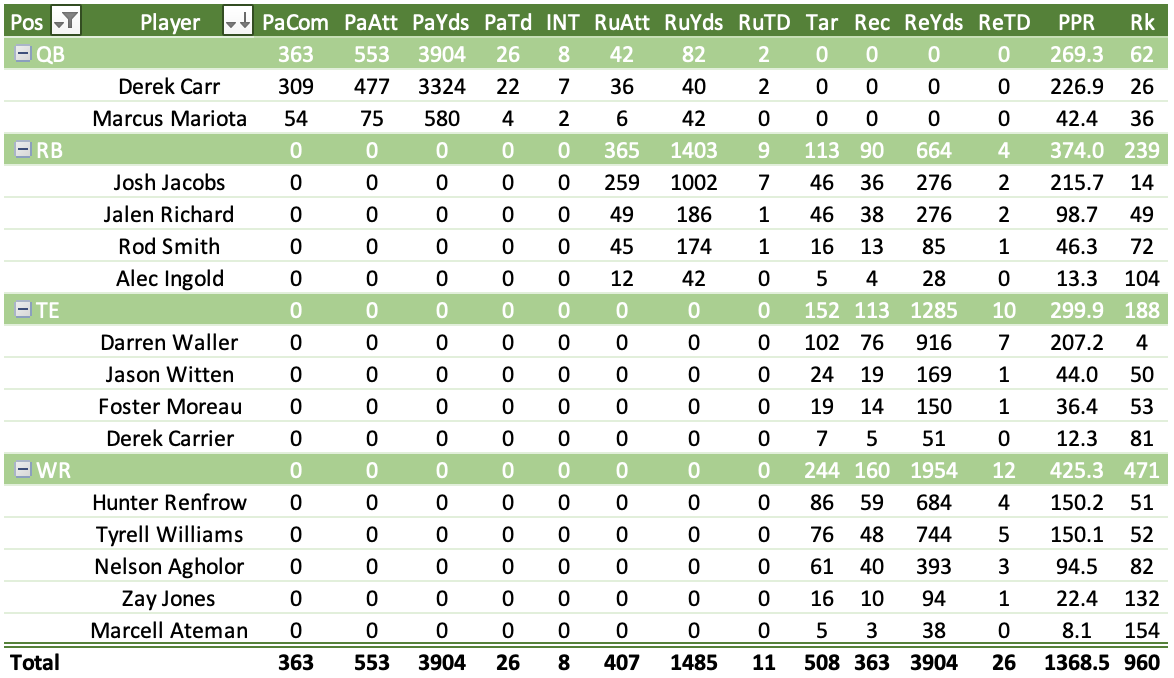 Josh Jacobs was the first running back off the board in last year's NFL Draft, and he proved in fact to be the cream of the 2019 crop. Jacobs ranked 14th among running backs in PPR points per game and flashed big-time elusiveness with a league-leading 69 forced missed tackles as a runner. So it's no coincidence that the young back comes in at No. 14 in our initial projections. While we are a tad higher on him in our 2020 fantasy football rankings, the numbers still bode well for Jacobs as a fringe RB1 option.
Beyond Jacobs, the only other player worth our time in fantasy is Darren Waller. The tight end went from preseason fantasy sleeper to bona fide weekly starter last season, and he's poised for another big year. Our numbers have him as one of just five tight ends to top 100 targets, and his efficiency positions him as the No. 4 player on the board at his position. That's one spot ahead of his current ADP, so we're very much in line with the current trends.
The Raiders are expected to address wide receiver in the draft, and that player will likely emerge as the top receiving option. As of now, neither Hunter Renfrow nor Tyrell Williams offer much more than deep flier appeal. Likewise, Derek Carr's numbers don't inspire much confidence. To be fair, Carr did finish as the No. 16 fantasy quarterback last season, but it's tough to get excited by his overall lack of fantasy upside.
[Find the full collection of analysis and insights on PFF's 2020 fantasy football projections for all 32 NFL teams. Check back as more articles will be added each day.]