The San Francisco 49ers quickly moved on from Carlos Hyde and signed Jerick McKinnon to a four-year deal worth a reported $30 million. That's big-time money for McKinnon, making him the fourth-highest-paid running back in terms of annual salary. This hefty sum also indicates the 49ers view him as a lead back.
A perennial favorite of metrics mavens from around the interwebs, McKinnon has shown flashes of fantasy potential, but never quite put it all together. His best fantasy finish came this past season when he ranked 24th among running backs in PPR scoring. With Dalvin Cook on injured reserve, McKinnon split the backfield duties with Latavius Murray. Minnesota used Murray primarily as the early-down runner with McKinnon getting passing-down duties.
That role as a receiver out of the backfield resulted in 142 catches over the last four seasons, but it also meant minimal usage as a runner in the most favorable part of the field for fantasy purposes. Of McKinnon's 474 carries, just 53 came in the red zone and only 10 were inside the 5-yard line. By comparison, Murray had 13 carries inside the 5 and 43 red-zone totes on 216 attempts this past season.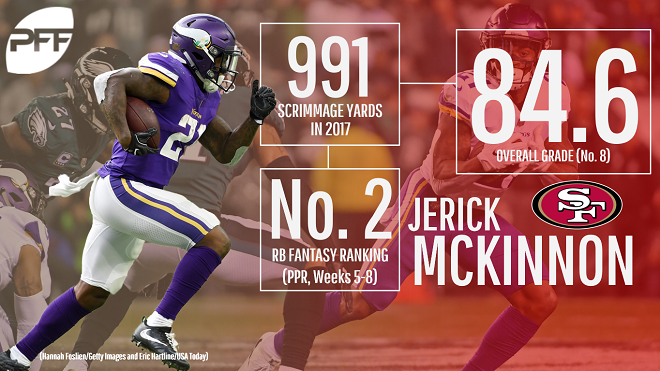 So the question is how Kyle Shanahan and the 49ers will view McKinnon this upcoming season. Already in-house, San Francisco has undersized scat back Matt Breida along with 2017 preseason hype candidate Joe Williams and Tampa Bay castoff Jeremy McNichols. It's completely fair to say McKinnon is the best of that bunch, but questions linger as to whether he can handle a full workload week in and week out in the NFL. He's just barely topped 200 touches in each of the last two seasons and has a career-high of 159 carries.
As the lead back in San Francisco, it's reasonable to expect and uptick from the roughly 12.5 touches per game he's averaged over the last two seasons, but we're unlikely to see him approach the 20-touch range. An expectation of 15 touches per game is much more reasonable. Of course, the 49ers could still address the position in next month's draft, but McKinnon's contract suggests he's clearly in the driver's seat for lead-back duties.
While it's easy to quickly fall in love with McKinnon's fantasy potential in San Francisco, it may be wise to pump the brakes just a bit. McKinnon doesn't figure to see enough work nor has he been efficient enough over his career – he averages just 3.6 yards per carry over the last two seasons – to be in the RB1 conversation. He certainly has upside as a receiver, but McKinnon is best viewed as a mid-range RB2.