It's time for the Big Kahuna. The Kansas City Chiefs square off against the San Francisco 49ers in what should be one of the most interesting Super Bowl matchups in recent history. The Big Game may mark the end of our 2019 fantasy football journey, but there's still a lot of fantasy left to be played with DFS and one-and-done leagues. Regardless of which format you're in, we have you covered here at PFF. Like we do every week on the Focus, let's break down the game from all fantasy angles.
Don't forget that you can also check out our Super Bowl fantasy football rankings, Super Bowl fantasy football projections, and Super Bowl fantasy football matchup charts.
Greenline: KC -0.7, O/U 54.4
Matchup upgrade: The past two games have been a roller coaster ride for the San Francisco backfield. In the Divisional Round, Tevin Coleman posted a surprise performance with 22 carries for 105 yards and two scores. In the NFC Conference Championship game, the 49ers started out rotating series between Coleman and Raheem Mostert, but Coleman left the game early with a shoulder injury. Mostert then went on to rush for the second-most yards in an NFL playoff game in league history while also scoring a massive four times.
Coleman has yet to practice, but the team has not ruled him out as of this writing. His presence on the field would certainly complicate things in what is a very favorable matchup. Kansas City allowed 4.87 yards per carry to opposing backs with the fifth-most fantasy points per game allowed to the position this season. If Coleman doesn't suit up, Mostert might just be the single best fantasy play on the board. However, Coleman playing would likely mean another rotation in the backfield. Stay tuned.
George Kittle really didn't have to do anything in the passing game in San Francisco's Conference Championship win, but don't let his stat line fool you. Kittle leads all non-quarterback skill position players in this contest with a massive 0.54 fantasy points per route run. That efficiency bodes extremely well in this favorable matchup. Kansas City struggled to keep tight ends in check in the regular season, allowing the third-most receptions and fifth-most fantasy points to tight ends in the regular season. Expect a busy day for Kittle.
On paper, the 49ers do not look like a good matchup for Travis Kelce. San Francisco surrendered the sixth-fewest fantasy points per game to the position in the regular season. However, when an unstoppable force meets and immovable object, something has to give. In this case, we could see a very similar outcome to the Chiefs' Divisional Round win over the Texans where Kelce saw a massive workload. The 49ers were among the league leaders in Cover-3 usage at 34.5% of their defensive passing plays. We saw countless times this season that short and intermediate receivers can rack up heavy volume against Cover-3, so look for Patrick Mahomes to feed Kelce.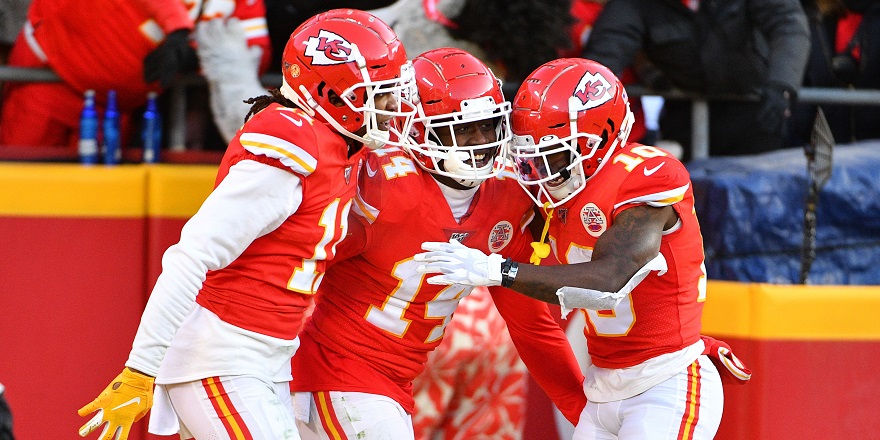 Matchup downgrade: The same can't be said for the Chiefs' wideouts. San Francisco's secondary was among the league's best this season and the 49ers graded out as the No. 1 defense in coverage. That certainly isn't the best news for Tyreek Hill and Sammy Watkins, both of whom put up big fantasy stat lines in the AFC Conference Championship game.
To make matters worse, San Francisco did an especially good job against the slot, allowing the fifth-fewest fantasy points per game to slot receivers. On the season, Hill ran 54% out of the slot and Watkins is at 56%. In other words, both players are going to see plenty of time in the slot Sunday. For fantasy purposes, catching lighting in a bottle two games in a row isn't likely for Watkins. He's a hard pass. However, it isn't wise to outright fade Hill. He averages a 25% target rate and has by far the higher fantasy points per route run among wideouts in this game at 0.53. Hill's massive ceiling keeps him in play this weekend.
Moving to the other side of this contest, we're also downgrading the San Francisco wideouts. Sure, the WR/CB Matchup Chart has them at an advantage, but there's no such thing as a catch-all fantasy tool. The chart is showing advantage based largely on grades, but we also need to consider the fact that Kansas City was the No. 31 matchup for wide receivers in the regular season. Fantasy production simply isn't captured in PFF grades.
In order to get a more complete picture of this matchup, we need to consult the PFF WR Points Against Chart. Here, we break down the fantasy points allowed to receivers lined up on the left, right, and slot using our play-by-play data. As the chart displays, Kansas City is among the league's toughest matchups for outside receivers, ranking 30th against left wideouts and 32nd against the right.
San Francisco's receivers are going to move around, but Deebo Samuel is more likely to be on the left and Emmanuel Sanders on the right. But the truth is that neither has a "better" matchup. If you have to pick one, Samuel offers a higher ceiling. However, the sneaky play might be to take a look at Kendrick Bourne. Kansas City may have shut down the outside, but they rank as the No. 15 matchup for slot receivers. Bourne isn't a threat for a high-volume day, but he has found the end zone six times in his last 11 games.
The other major downgrade in this contest goes to Damien Williams. San Francisco was rock-solid against the run in 2019, grading out 10th and allowing the second-fewest fantasy points per game to running backs. A disappointment for much of the regular season, Williams has been on a hot streak over his last four games, averaging a healthy 17.8 touches per game and scoring a combined seven touchdowns over that span.
While it's going to be tough for him to find room to run against San Francisco, Williams does figure to be busy in the passing game. He's seen at least six targets in each of his last three games. Despite the poor matchup, Williams still figures to be a good fantasy option given his role in the passing game.
Key injuries: Coleman spoke to the media on Super Bowl LIV Opening Night, and said no decision has been made on his status. We'll get a sense of Coleman's availability later in the week with the 49ers' practice reports. If he goes DNP all three days, it'll be highly unlikely that he suits up. However, limited work would likely mean we see him suit up.
Best one-and-done plays: Unlike previous weeks, we're going to start 'em if we got 'em this week. There are two notable exceptions at both quarterback and tight end. If you have both Patrick Mahomes and Jimmy Garoppolo available, Mahomes is the obvious choice. Sure, there could be an argument for Garoppolo as an uber-contrarian play, but it's tough to not eat the chalk with Mahomes. Tight end isn't as easy if you have both Kelce and Kittle still available. As is noted above, both are in favorable spots to produce. While Kittle's matchup is the better of the two, Kelce makes more sense to stack with Mahomes. Of course, if you only have Garoppolo left, stacking with Kittle is your best play.