("Today's Crazy Fantasy Stat" is an occasional offseason offering from PFF that highlights something that catches our eye and aids in our preparation for the 2017 fantasy season.)
It's reasonable to expect a rookie quarterback to go through struggles. Dak Prescott, Andrew Luck, and Russell Wilson aside, rookie quarterbacks aren't supposed to come in and be stars right away.
That said, there are struggles, and there is the rookie season Jared Goff had in 2016.
Goff, the first overall pick in the 2016 NFL Draft, took over for the Rams midseason. In games he played, the team went 0-7, losing by an average score of 32-12. He completed 112 of 205 pass attempts for 1,089 yards, five touchdowns and seven interceptions, adding one rushing score. All told, Goff put up 58 fantasy points, 8.29 per game. In short, I was wrong. Boy, was I wrong.
Caveat from here going forward: Fantasy points are by no means an end-all-be-all in quarterback evaluation. That is a given. But as a shorthand, you could do worse.
(Subscribe to all our fantasy content, or get everything PFF offers with an All-Access subscription.)
In the last decade, there have been 57 quarterbacks who played at least a quarter of their team's snaps in a season and averaged under 10.0 fantasy points per game. And the number is dropping — 42 of those seasons came 2007-2011, with only 15 coming in the last half of that 10-year sample. Many of these seasons came at the end of careers (of whatever length), naturally — players who struggle that much don't often get a second chance. Of the 53 pre-2016 seasons in the sample, 13 players never threw another NFL pass, including guys like Peyton Manning, Brett Favre and Steve McNair (also journeymen like John Skelton, Joey Harrington and Brain Griese), while most of the others, like Kellen Clemens, Matt Moore, and Derek Anderson, were brief starters in what were really career backup roles.
All told, only 14 of the 53 quarterbacks followed up their struggling seasons by playing even six games the next year. Only one quarterback played 16 games the next year, and only seven played in three-quarters of their teams' games.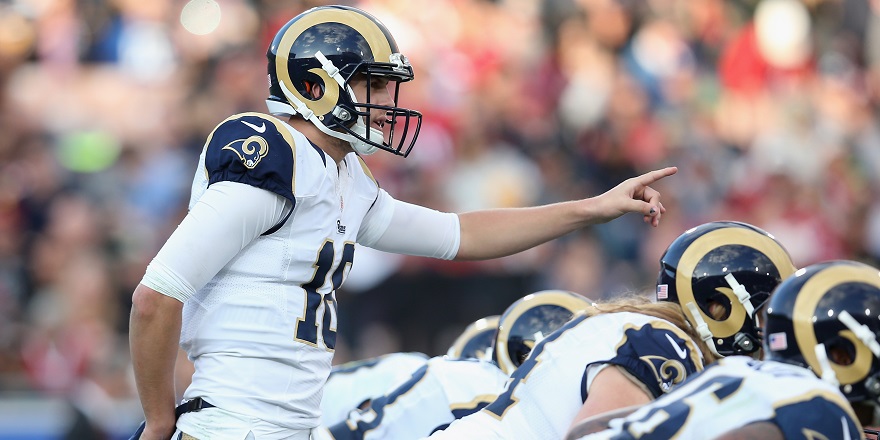 In fact — and this is the part that perhaps should worry Goff truthers — only two quarterbacks in the sample ever went on to have a top-10 fantasy season at any point in their careers, and both were the better part of the decade ago. In 2009, Josh Freeman and Mark Sanchez both failed to reach 10.0 fantasy points in a game. In 2010, Freeman had his career year and finished as fantasy's QB7. In 2011, Sanchez squeaked in as the QB10. Even looking for guys who ever bounced back to a top-20 QB season is difficult — in addition to Freeman and Sanchez, only Ryan Fitzpatrick, Alex Smith and (barely) Matt Hasselbeck ever got there.
Long story short, quarterbacks don't often struggle as much as Goff did in 2016 and turn into sstars. If you're optimistic, you can blame Goff's issues on a weak supporting cast, a big disappointment from Rams RB Todd Gurley, and a brutal schedule. Give him some time, better coaching, better weapons, and there's a chance. Either way, it's far too early in Goff's career to write him off. That much is true.
But considering the history of quarterbacks who have struggled like Goff (and Fitzpatrick, Cody Kessler, and Matt Barkley, the other members of the sample from 2016) did this past year, any talk of him as a sleeper in 2017 might be too optimistic. Goff is not a fantasy option yet — and he may never be.