Each week, PFF's fantasy football analysts post our rankings in PPR, non- PPR and 0.5 PPR formats for the league's offensive skill positions. Jon Macri and I then add our IDP rankings, making the PFF rankings pages the go-to resource for all your fantasy football decisions.
According to FantasyPros, my rankings were the third-most accurate among 129 experts in 2019, and they were also the most accurate for running backs. After seven weeks of 2020, they were ninth-best among 166 fantasy experts.
Of course, our rankings are in a constant state of flux, with changes being made due to injury reports and personnel/usage updates, among other factors. But regardless of any changes that may occur between now and Sunday, here are 10 borderline fantasy starters whose rankings I feel confident about heading into the eighth week of the fantasy football season. These rankings are based on PPR scoring settings within their positions as of Wednesday morning.
BIG-GAME POTENTIAL
Bridgewater is QB18 on the season but has generally been a borderline QB1. A single QB4 week balanced out a few bad games along the way. This week against the Atlanta Falcons defense, he should at least be on the QB1 fringe, with the upside to do even more.
The Falcons have given up more fantasy points per game to quarterbacks than any other team — they've allowed the most passing yards in the league and the most passing touchdowns at 19. They've had their share of injuries in the secondary, but they are mostly at full strength now. According to PFF's wide receiver cornerback matchup chart, the Panthers outside wide receivers still have an advantage over the Falcons outside cornerbacks. With Christian McCaffrey potentially back, the Carolina offense will be at full strength for what should be a high-scoring game.
Bell and Clyde Edwards-Helaire basically rotated by drive during his first game with the Chiefs. Edwards-Helaire started the game, with both backs seeing their own a series unless the drive was particularly short. They were both on the field for one play, and the Chiefs only ran 41 plays with the starters before running up the score and putting in the backups. 
The Chiefs will certainly involve both backs again this week, so we'll see if the near-50/50 split was just to ease bell into the offense. Of course, with the New York Jets on tap, Kansas City might give Bell more opportunities for a revenge game. The Chiefs are expected to beat the New York Jets by multiple touchdowns and should be running the ball a lot. There should be enough carries and scoring for both backs to potentially have solid performances. The Jets have allowed the eighth-most fantasy points per game to running backs.
Fulgham has been a must-start since his breakout game in Week 5. He's had at least nine targets and 70 yards in each of the last three games. Even if one of the Philadelphia wide receivers is ready to come back from injury, the Eagles will likely ease either one back into action, so Fulgham's targets should be safe.
With the Dallas Cowboys defense up next, Fulgham has a great opportunity to put up fantasy points. The Cowboys' combined PFF coverage grade on defense is a league-low 35.6. Dallas has allowed a wide receiver to total at least 86 receiving yards in all seven games this year. Fulgham is the most likely player to see that sort of volume this week. The Cowboys have also allowed 12 touchdowns to wide receivers, so he could easily find the end zone, too. 
Aiyuk is coming off of his best game with the 49ers. The rookie failed to earn a PFF grade above 70.0 over his first five games despite gaining at least two first downs each game. He had an 89.0 grade this past week thanks to six catches on seven targets for 115 yards — that's the most receiving yards the New England Patriots have given up this year. 
Aiyuk should have a much easier time this week against the Seattle Seahawks defense, which has allowed the most receiving yards to wide receivers this year. They've allowed eight different 100-yard receivers over six games. Deebo Samuel is unlikely to play, which should lead to a higher target share for Aiyuk. With multiple injured running backs and a high-powered Seahawks offense, the 49ers should be passing a lot. It all adds up to a potential career game for Aiyuk.
Fant has made some strides in his sophomore season. His yards per route run have increased from 1.52 to 1.77, and he's making more players miss after the catch. He saw four or fewer targets in each of the Broncos final six games of 2019 but has had five or more in every game he's played in 2020. The target share offers a high floor for a tight end, and he's had at least 35 receiving yards each game. He scored touchdowns in the first two games of the season but hasn't scored since.
This week, he faces a Los Angeles Chargers team that hasn't given up many points to tight ends because they haven't been tested very much. Only three tight ends have been targeted five or more times against them. All three gained at least 45 yards, and two of the three scored touchdowns. Two other tight ends who have been targeted fewer than five times have also scored touchdowns against L.A. Fant has a high floor this week and a good chance to score his third touchdown of the season.
BUST POTENTIAL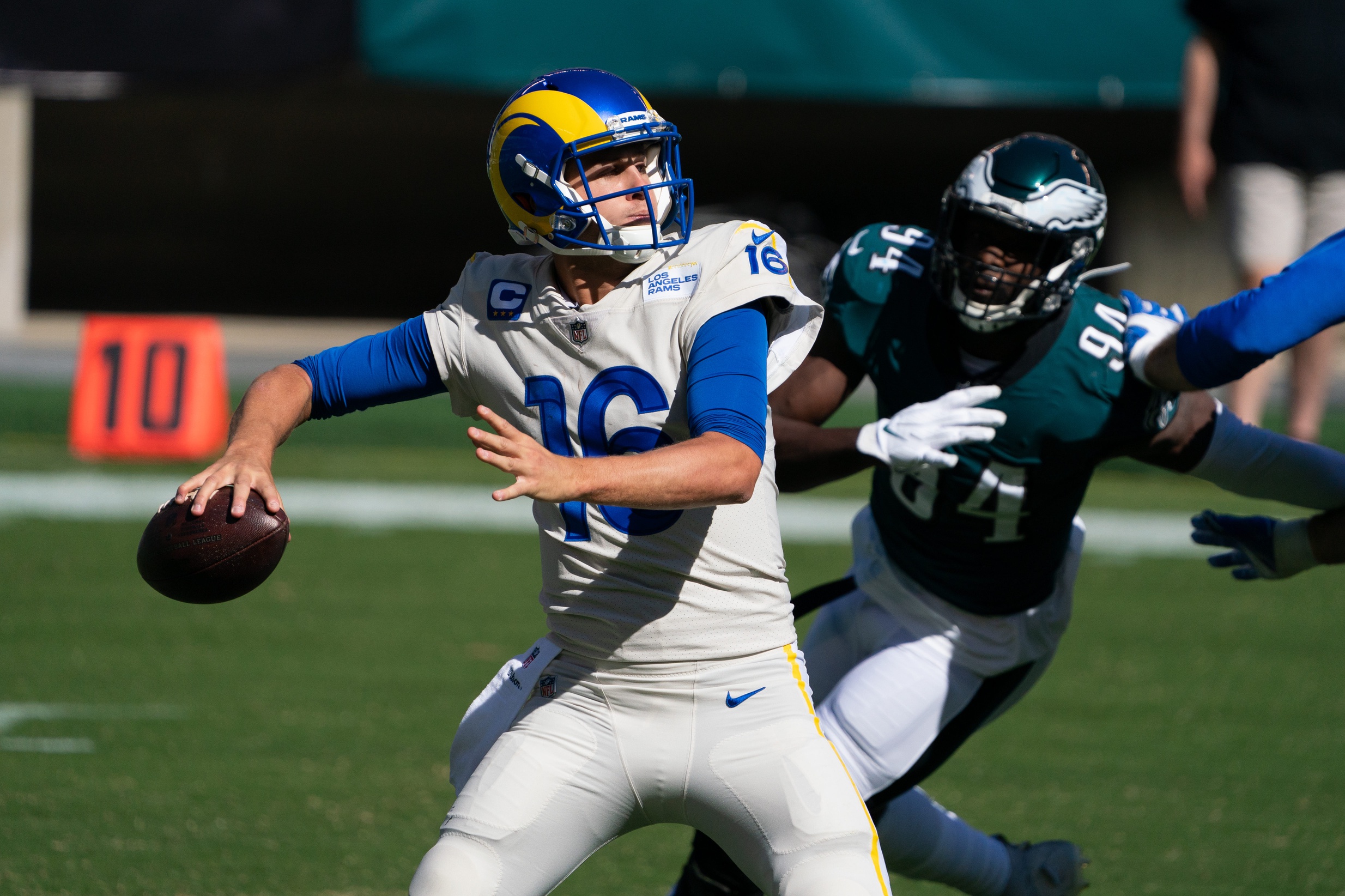 Goff has been QB14 on the season and three of the quarterbacks ahead of him aren't playing this week. Goff has been an average quarterback this season in terms of PFF grade, passing yards and touchdowns but outside of the top 10. He started the season strong with three games over 250 receiving yards and put up 8.9 yards per attempt or better in those games. Since then, it's been 250 yards or fewer and 6.6 yards per attempt or lower in three of the last four games.
It would be risky to start him this week against the Miami Dolphins, as they have held three of six opponents to less than 200 passing yards — including their last two. Coming off of a bye week to get healthy also should help Miami prepare for the Rams. The Dolphins' biggest weakness is their run defense, so this could be a game where Los Angeles ends up running a lot more than passing. Goff has a decent floor, but other quarterbacks have higher upside this week.
White being on this list has more to do with how the Patriots used him last week and less to do with his opponent. Typically, New England has a clear three-man rotation at running back. For years, White has been the team's third down back, but he's always had plenty of first and second down snaps as well.
Last week, White played in four of a possible 46 snaps after playing 18 out of 41 the week before. He only saw one target. The Buffalo Bills rank top 10 in preventing receiving yards to running backs and haven't allowed a receiving touchdown to a RB this season. White still hasn't scored a touchdown, so even with a normal amount of playing time this wouldn't be the best matchup.
Parker has picked up where he left off last season in terms of his quality of play, but his targets per game have been less consistent. In Week 4, he racked up 10 catches for 110 yards against the Seattle Seahawks, who have given up the most fantasy points to wide receivers. Parker has had five or fewer catches in every other game. 
The best team the Dolphins have faced at stopping wide receivers so far is the San Francisco 49ers. Parker managed only two catches on three targets that game. This week will be an even tougher test — the Rams defense has allowed the second-fewest fantasy points per game to wide receivers. The Rams outside cornerbacks are primarily the problem, and Parker spends most of his time on the outside. Tua Tagovailoa starting his first NFL game adds another layer of uncertainty. We don't know if the rookie will pepper Parker with targets or spread the ball around to other players. There is too much risk to be comfortable with Parker in starting lineups.
Slayton has been one bright spot for the Giants offense. His yards per route run has improved from 1.57 as a rookie to 1.72 this year. But he's had some big games and some OK games and not much in between. He's been limited to two or three catches in five of seven games and went over 100 receiving yards in the other two. 
Luckily, he's done well in good matchups. Four of the five teams that held Slayton to two or three catches are ranked in the top eight in preventing fantasy points to wide receivers. His two 100-yard performances were against teams in the top nine in allowing fantasy points to wide receivers. Unfortunately for Slayton, this week he faces the Tampa Bay Buccaneers, who are among the better teams in preventing fantasy points to the position.
Robert Tonyan took the fantasy world by storm with his three-touchdown performance against the Falcons in Week 4. The Packers had their bye week after that, and he hasn't been as involved in the offense since them. Tonyan has only seen six targets over the last two games for a total of 57 yards and no touchdowns. The Packers use a rotation of tight ends, so Tonyan has only been in on 48 of the Packers' 78 pass plays over the last two weeks. He's typically in on third downs, but both Marcedes Lewis and Jace Sternberger have also seen significant playing time on first and second down.
The Packers have a rematch with the Minnesota Vikings this week. Tonyan didn't see a target in the first game, even though he saw his most playing time of the season. Minnesota has only allowed two touchdowns to tight ends this season. The five tight ends with 20 or more routes run against the Vikings have averaged 32 yards per game. In general, starting Tonyan is a risky play where you're relying on a touchdown, but this week against Minnesota it's even more risky.