Each week, PFF's fantasy football analysts post our rankings in PPR, non- PPR and 0.5 PPR formats for the league's offensive skill positions. Jon Macri and I then add our IDP rankings, making the PFF rankings pages the go-to resource for all your fantasy football decisions.
According to FantasyPros, my rankings were the third-most accurate among 129 experts in 2019, and they were also the most accurate for running backs. After 12 weeks of 2020, they were fifth-best among 158 fantasy experts.
Of course, our rankings are in a constant state of flux, with changes being made due to injury reports and personnel/usage updates, among other factors. But regardless of any changes that may occur between now and Sunday, here are 10 borderline fantasy starters whose rankings I feel confident about heading into the 14th week of the fantasy football season. These rankings are based on PPR scoring settings within their positions as of Wednesday morning.
Subscribe to
BIG-GAME POTENTIAL
Jackson's fantasy value has been back on the rise. To help his fantasy floor, he's been open to running more. He handled double-digit carries in only one of his first six games this season but has reached that mark in each of his last five games. His receivers have been more productive recently. Mark Andrews had his two best games in terms of yardage totals the last two games he played, and he'll hopefully be back this week. Marquise Brown has also stepped up with touchdowns in each of the last two games. The combo of Jackson's passing and rushing should make him a solid fantasy starter regardless of opponent.
He has even more potential against Cleveland this week — his highest graded game of the season came against the Browns in Week 1. The Browns have given up at least 235 yards and two touchdowns in each of their last three games, including against quarterbacks who don't pass as well as Jackson. Cleveland is playing well enough that this game shouldn't be a Ravens blowout, meaning they will need Jackson to pass. This should give him plenty of passing and rushing yards.
Taylor has turned his rookie season around in recent weeks. He's earned an 82.2 rushing grade over the last three weeks while the other two backs in Indianapolis have both graded below 60. This led to Taylor receiving more carries than the two put together last week. The gap between him and his backups should only grow after Taylor gained 91 yards compared to 22 by the other backs.
He's been a must-start given the state of NFL running backs, but this could be the game of his career. The Raiders defense has allowed 19 touchdowns to running backs this season. They just allowed both Ty Johnson and Josh Adams to have the best games of their careers. Both Ito Smith and Brian Hill gained over 50 yards against them the week before. Taylor is more talented than all of those backs. With the way the Raiders have played recently, the Colts should be winning — meaning even more running late in the game. This all adds up to big numbers for Taylor.
Conner has missed the last two games, but he's been activated off the Covid-19 list and should return directly into the starting lineup. He typically sees 68% of the Pittsburgh running back snaps, but that could be even higher this week. Steelers running backs gained just 21 rushing yards on 13 carries a week ago.
With how many passes the Steelers have dropped in recent weeks, they also could be running more than usual. Pittsburgh receivers dropped 11 passes in the last two weeks while no other team has dropped more than six. The Bills defense is a favorable matchup for Conner. They have allowed a below-average 24 fantasy points per game to running backs. Conner can be trusted in starting lineups despite his recent absence.
Fantasy managers are concerned about Claypool after his two-catch performance against the Football Team. James Washington ended up with more playing time than Claypool, and the two have split playing time all season. Washington was playing more early in the year, and Claypool more recently. Washington had the best game of the Steelers wide receivers last week, which likely led to his increase in playing time. Claypool has still graded the best out of the wide receiver group in recent weeks with a 75.7 PFF grade since Week 10. I would expect Claypool to be back to seeing more snaps than Washington this week.
Claypool has the highest average depth of target among the Steelers receivers and leads the team in both deep catches and deep receiving yards. The Bills have allowed a league-high 62.5% of deep passes against them to be caught. Their team coverage grade on deep passes is among the bottom five of the league. Claypool should not only have his usual floor of around 50 receiving yards, but also the chance to make a big play or two.
Chark has been difficult to predict all season. He's had a string of underwhelming games recently, but the most important thing is that he's still seeing plenty of targets. He's averaging 8.8 per game over his last six performances. Mike Glennon will remain the starting quarterback for Jacksonville, and he's been throwing much more accurate passes than Jake Luton, which helps raise Clark's floor.
The matchup with the Titans is the biggest reason to get excited. Tennessee is unlikely to track Chark with its top cornerback like other teams this season have. Multiple wide receivers put up their top games of the season against the Titans in recent weeks, including Rashard Higgins, Donovan Peoples-Jones, Michael Pittman Jr. and T.Y. Hilton. Chark looked great against the Titans the first time around with 84 receiving yards on four targets. 
BUST POTENTIAL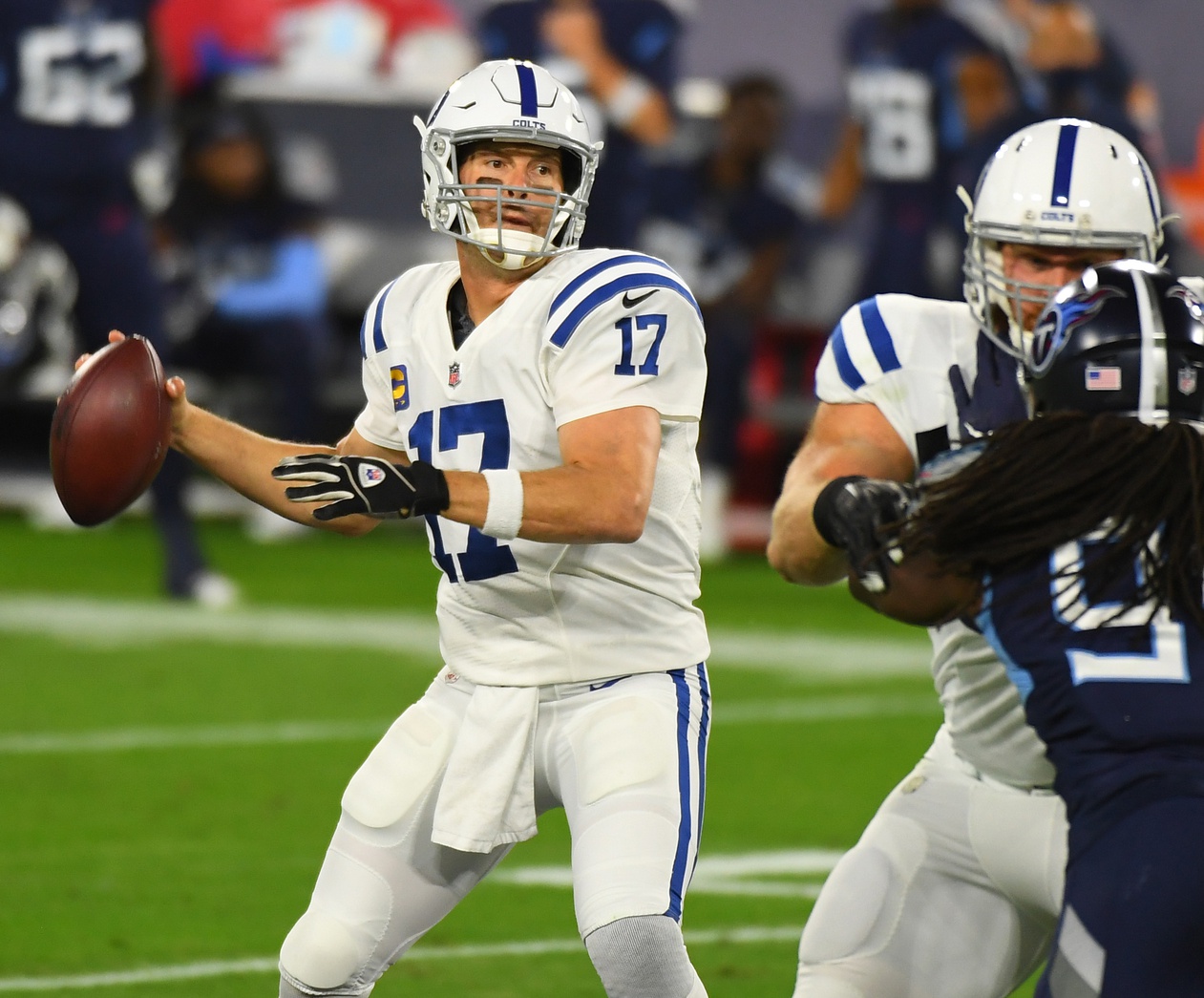 Rivers has played some of his best football in recent weeks, putting the Colts in a good position to make the playoffs. His strong play recently has correlated to fantasy success, with 76.7 fantasy points over the last four weeks — seventh among quarterbacks in that time. This coincides with T.Y. Hilton stepping up to be the Colts leading wide receiver again. Hilton has had his two best games of the season the last two weeks.
Rivers is facing his old division rival in the Raiders this week; the main concern is that the Colts might not need to pass much. A lot of Rivers' fantasy value in recent weeks has been due to volume while throwing a lot against some formidable opponents. Las Vegas barely beat the Jets last week and was embarrassed by the Falcons the week before. Indianapolis should be running early and often, which will prevent Rivers from seeing the number of pass attempts he's had in recent weeks. Las Vegas hasn't been good against the pass, but they've been even worse against the run. Rivers does have a good floor in this matchup, but the ceiling isn't as high as it's been.
Johnson is typically a low-end RB2 any week he starts, and that's largely because the Texans gave him a lot of playing time. He played 340 snaps over the first seven weeks of the season, second-most among running backs. Opportunity is king, so Johnson just needed to be OK on his opportunities to be startable in fantasy.
He missed a bit of time in the middle of the season, and now he's back and splitting time with Duke Johnson Jr. David played 60% of the early down snaps and 20% of the third-down snaps last week. This dramatic decrease reduces his ceiling a lot. This week he plays the Bears, who are top 10 in preventing fantasy points to running backs. Both Johnsons should be avoided this week if possible.
Harris is another running back who recently saw a decrease in playing time. He played over 60% of the snaps in Week 12, but that dipped back down to 45% this past week. Sony Michel recently emerged from injured reserve and joined the running back rotation. He took some of the running snaps away from both Harris and James White, while also taking a few pass blocks.
He faces a Rams defense this week that won't do him any favors. Four running backs have reached 50 or more yards against Los Angeles, but they all occurred over the first six weeks of the season. The Rams will likely be playing with the lead, forcing the Patriots into situations that favor White being on the field instead of Harris. This all adds up to a much lower ceiling for Harris than usual.
Coutee has been a very popular waiver wire target after the Texans lost several wide receivers for multiple different reasons. He put up eight catches on nine targets for 141 yards in his first start of the season this past week. It took the Texans 38 pass attempts in order for Coutee to see that many targets.
This week the Texans face Chicago — an even stronger opponent in coverage. The Bears have played particularly well against slot corners. Only one has gained more than 50 receiving yards against them in the slot, and only two slot wide receivers have scored touchdowns. Chicago has given up more 50-yard performances and touchdowns to outside wide receivers. Coutee lined up in the slot on 74% of his snaps last week. If any Texans wide receivers do well this week, it will likely be the outside receivers, not Coutee.
Agholor has become the top receiver for the Raiders this season, but as the Raiders' production on offense has fallen off, so has Agholor's fantasy value. He has caught nine passes for 92 yards with no touchdowns over the last two weeks. He had a touchdown in five of his previous seven games. Agholor has been dealing with an ankle injury, something that will likely still bother him this upcoming week against the Colts. The injury led to a slight decrease in snap rate this past week, which could carry on to this week.
Indianapolis has allowed the sixth-fewest touchdowns to wide receivers this season at 10. Agholor's value has been largely touchdown-dependent. It's unlikely he scores a touchdown, so he shouldn't be in starting lineups.