While preparing my fantasy football rankings each week, I come across statistics and trends worth monitoring. The following are 32 interesting stats — one for each NFL team — that helped inform my Week 15 rankings. Several can be found in premium stats as well as the PFF fantasy stats. (These numbers do not account for the Thursday night Chargers-Raiders game.)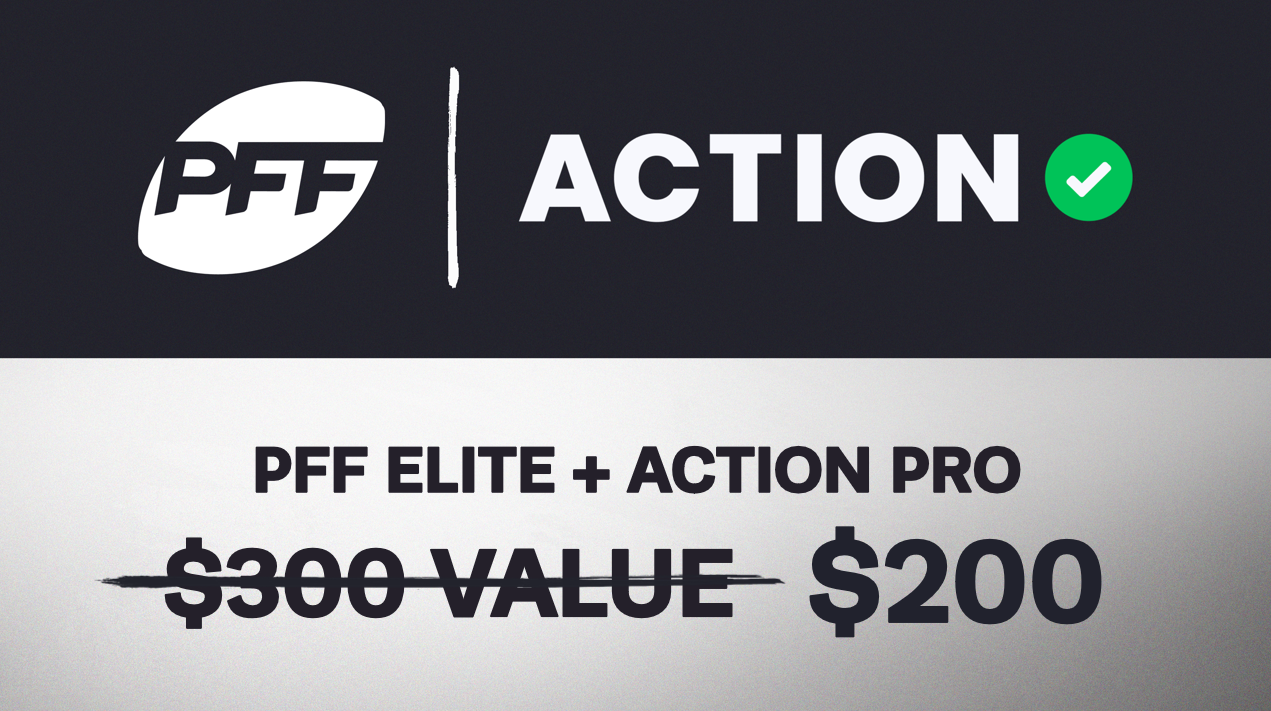 Arizona Cardinals – Chase Edmonds gains a first down or touchdown 46.2% of the time when faced with six or fewer defenders in the box. No other running back is above 35%.
Atlanta Falcons – Matt Ryan has seen 66.8% of his passing yards come through the air compared to after the catch, the highest rate among quarterbacks.
Baltimore Ravens – Mark Andrews is tied for second among tight ends in yards per route run over the last eight weeks (2.14). He was also second among tight ends over all of 2019 (2.89).
Buffalo Bills – Buffalo has generated the third-most pressures this season with 255.
Carolina Panthers – Curtis Samuel has converted 17 third-down catches into first downs. That is five more than any other Panthers pass-catcher and the fifth-most among all wide receivers in the NFL.
Chicago Bears – The Bears defense has missed the third-fewest tackles in coverage at 28.
Cincinnati Bengals – Cincinnati's 140 pressures are the fewest in the NFL. The league average is 208.
Cleveland Browns – Baker Mayfield leads the league in passing yards off of rollout passes (698). He has the second-most attempts off of rollouts at 70, while also maintaining the second-highest average depth of target at 9.7.
Dallas Cowboys – The Cowboys defense has forced the fewest incompletions in coverage at 23. The average team has forced 38 incompletions at this point.
Denver Broncos – Noah Fant's 6.7 average depth of target ranks first among tight ends with at least 30 targets.
Detroit Lions – D'Andre Swift averages 5.4 yards per carry when faced with an eight-man box, the third-best rate for all running backs. 
Green Bay Packers – Davante Adams has gained the most yards after the catch among wide receivers at 493.
Houston Texans – David Johnson leads the league with a 38.1% first down/touchdown rate when facing eight or more men in the box. Duke Johnson Jr. has the fourth-worst rate at 12.5%.
Indianapolis Colts – Among running back with zero drops, Jonathan Taylor ranks first with 31 receptions. Nyheim Hines has the most catches of all running backs with only one drop (51).
Jacksonville Jaguars – Devine Ozigbo has run 10 routes this season. He's been the targeted receiver on seven of those routes and has caught all of them. He's avoided four tackles on those catches — that's tied for the fourth-most avoided tackles for a Jaguar in the pass game despite 15 different players running more routes than Ozigbo.
Kansas City Chiefs – When Chiefs passes are contested, they are completed only 36.4% of the time. That is the second-lowest rate in the league, only ahead of the Jets.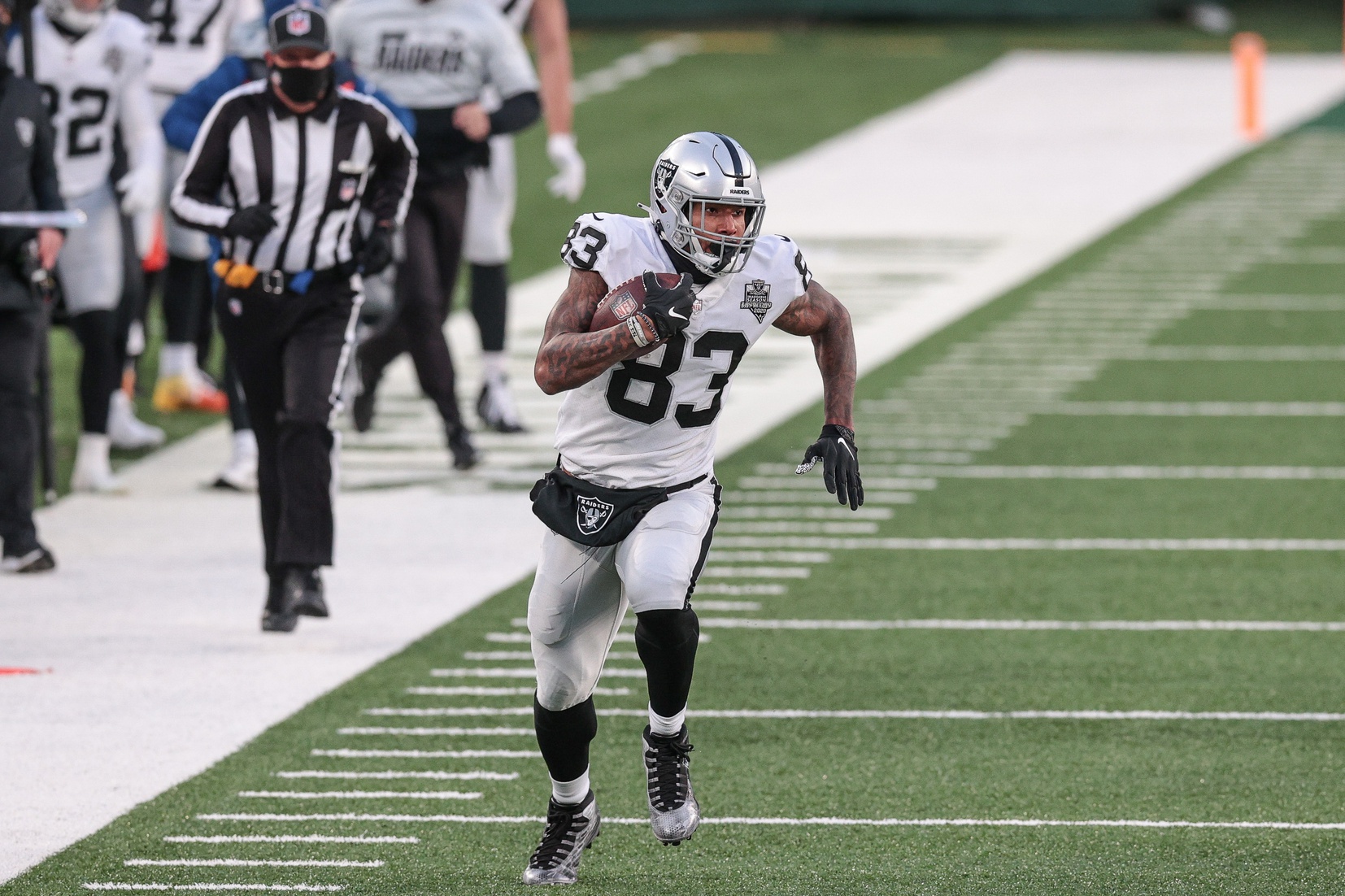 Las Vegas Raiders – Darren Waller has converted more third downs into first downs than any other tight end at 19.
Los Angeles Chargers – Justin Herbert has gained the most passing yards from passes that are contested (652 yards).
Los Angeles Rams – Two wide receivers have hit the 1,000-yard mark in yards after the catch over the last two seasons combined: Robert Woods at 1,050 yards and Cooper Kupp at 1,036.
Miami Dolphins – DeVante Parker leads all wide receivers with 12 contested catches over the last eight weeks.
Minnesota Vikings – Dalvin Cook is better known for his rushing, but he's gained the second-most receiving yards after contact in the last two seasons (421 yards).
New England Patriots – The Patriots' defense has only 38 tackles for loss or no gain, the second-fewest in the league. 
New Orleans Saints – Drew Brees leads the league in completion percentage on passes off of seven-step drops at 78.1%. Taysom Hill ranks second at 77.6%. No other quarterback is above 67%.
New York Giants – Devonta Freeman leads all running backs in contested catches over the last two seasons combined with seven. Wayne Gallman is tied for second with five.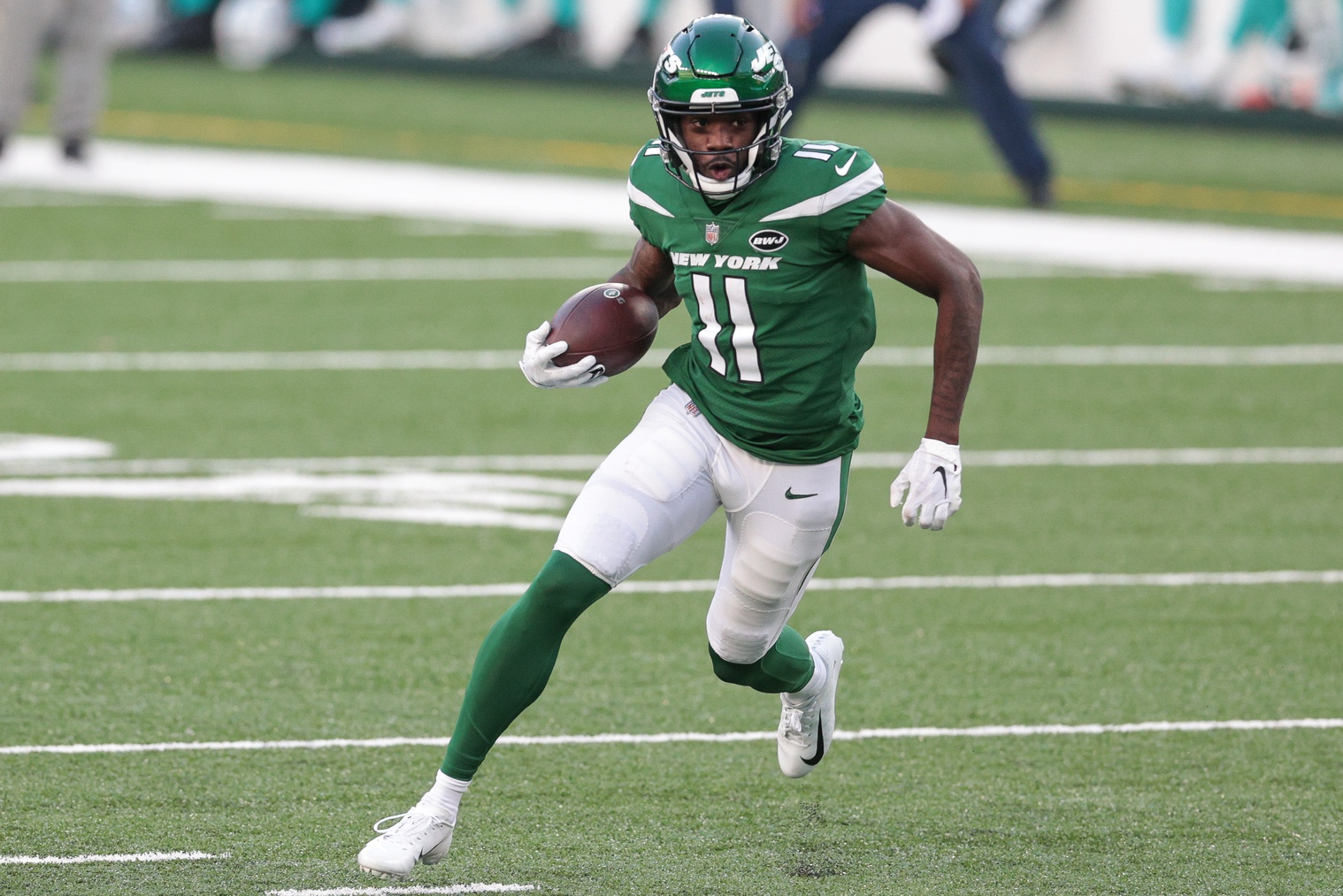 New York Jets – Denzel Mims' 16.7 average depth of target is the highest among wide receivers over the last eight weeks among those with 30 or more targets. Breshad Perriman's 16.6 is the second-highest.
Philadelphia Eagles – Miles Sanders leads all running backs in yards per carry when faced with six or fewer men in the box (8.2).
Pittsburgh Steelers – The Steelers defense has allowed only 61.8% of targeted throws to be caught. The next-lowest team is at 66.2%.
San Francisco 49ers – Nick Mullens averaged 9.9 yards per attempt on play-action passes. He ranks third-highest among quarterbacks.
Seattle Seahawks – Seattle gains a first down or touchdown on 31.3% of Chris Carson's carries. That is the highest rate among starting running backs.
Tampa Bay Buccaneers – Tom Brady is throwing past the first down marker on 47.7% of his passes, the highest rate among starting quarterbacks. Brady was near the bottom of the league in throwing past the sticks last season.
Tennessee Titans – Ryan Tannehill leads the league with a 68.4% adjusted completion percentage on passes thrown 10 yards in the air or further (among QBs with at least 100 passes thrown that far).
Washington Football Team – Washington's run defenders have missed the second-fewest tackles this season against the run (34).