We're three weeks into the NFL season, and we are starting to get a better idea of the teams and players that might continue to do well compared to those who just happened to have a good or bad game early in the season.
While preparing my fantasy football rankings each week, I come across statistics and trends worth monitoring. The following are 32 interesting stats — one for each NFL team — that helped inform my Week 4 rankings. Several can be found in premium stats as well as the PFF fantasy stats. (These numbers do not account for the Thursday night Broncos-Jets game.)
Arizona Cardinals – Andy Isabella's 3.26 yards per route run is fourth-best among wide receivers. He's been a popular waiver wire addition in deeper leagues and has the potential to put up big numbers if he ever sees more playing time.
Atlanta Falcons – Calvin Ridley is the only wide receiver with 100 yards in all three games of the season. He only had two such games in all of 2019.
Baltimore Ravens – Lamar Jackson is tied for the second-most red zone rushing attempts with six, though he's yet to have a rushing touchdown this season. Part of why he's failed to see the end zone is that he's yet to see a run inside the 5-yard line. Last season, he led quarterbacks in both red-zone carries as well as carries inside the 5-yard line.
Buffalo Bills – The Bills have run 60 plays in the red zone — that's 14 more than any other team. Last season, they ran the seventh-fewest plays in the red zone at 144.
Carolina Panthers – Mike Davis has played only 67 snaps this season but has managed to catch 16 passes — second-most among running backs. His 87.9 receiving grade is second-highest among RBs. Even when Christian McCaffrey is back and healthy, it wouldn't be surprising if Davis keeps seeing a few touches each game.
Chicago Bears – Jimmy Graham has the most red-zone targets (9) among tight ends. His five catches and three touchdowns in the red zone also lead all tight ends. He's finished in the top 10 in all but two seasons of his career but hasn't led the position since his time with the Saints.
Cincinnati Bengals – A.J. Green has six end zone targets but has yet to catch a touchdown this season. Calvin Ridley is the only other wide receiver with more than three end-zone targets. Green is already halfway to his 2018 total of 12.
Cleveland Browns – Nick Chubb has racked up a league-leading 217 yards after contact. Even if his yards before contact were removed from his yardage total, he would still be top 10 in rushing yards.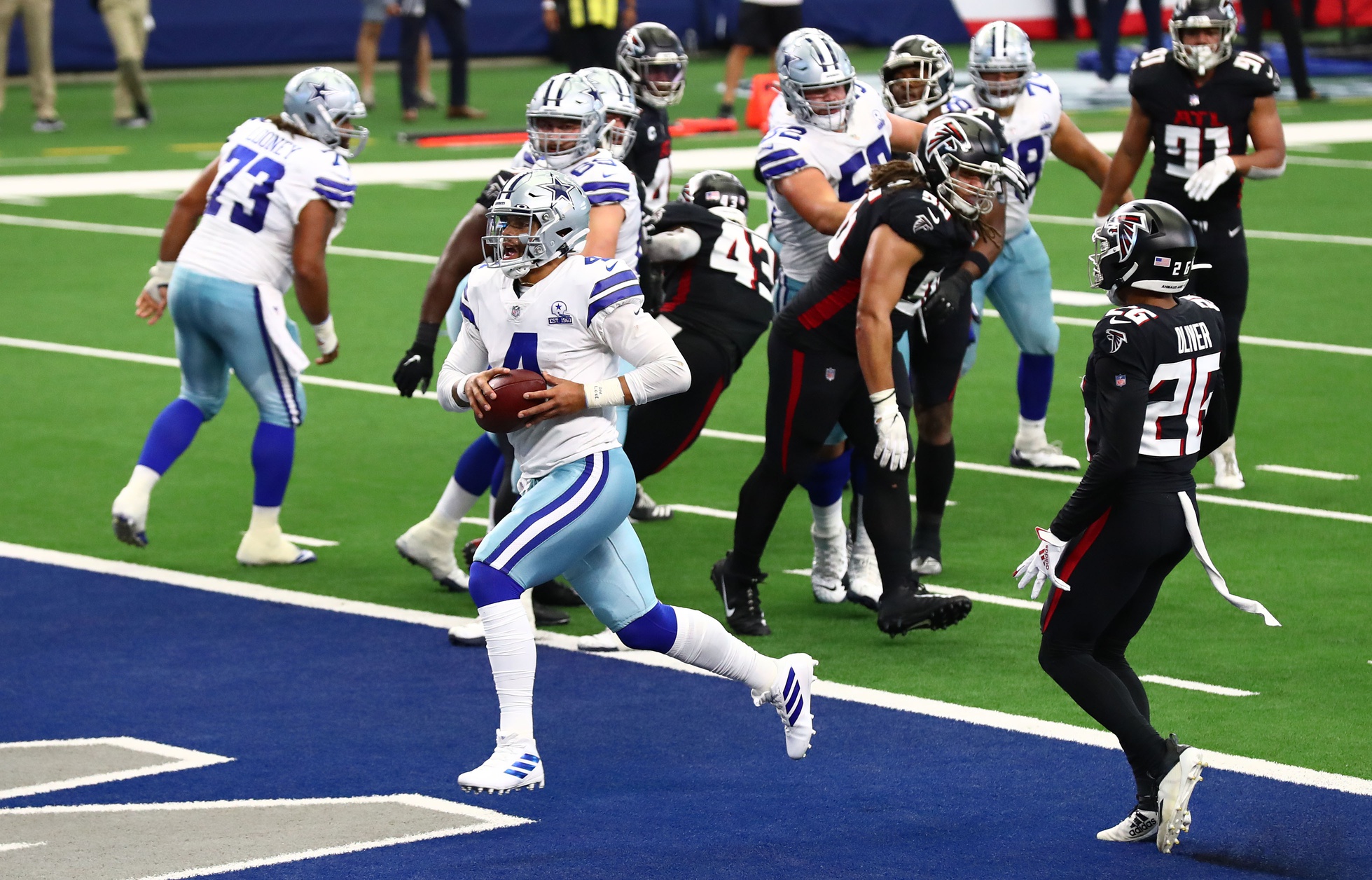 Dallas Cowboys – Dak Prescott only has five passing touchdowns, while 12 other quarterbacks have more. Three of Dak's have come on plays of 40 or more yards — that's the most among quarterbacks. 
Denver Broncos – Broncos rushers have faced eight defenders in the box just 16 times. That's tied for the fewest among all teams. Last season, they faced eight men in the box an above average 194 times.
Detroit Lions – While D'Andre Swift has had some unfortunate drops this season, he's still been more efficient than his fellow running backs on a per-play basis. His 2.29 yards per route run ranks sixth among running backs. Teammates Adrian Peterson and Kerryon Johnson are at 1.11 and 0.54, respectively.
Green Bay Packers – There have only been 18 running back red-zone targets this year — Aaron Jones has seen four of them. That would have tied the league lead for running backs for all of 2019.
Houston Texans – The Texans are one of two teams with three different wide receivers with 10 or more targets each and offensive grades of 70.0 or better. Those receivers are Will Fuller, Brandin Cooks and Randall Cobb.
Indianapolis Colts – Jonathan Taylor and Nyheim Hines have very different average depths of target. Taylor has the lowest in the league at -3.7, while Hines is around league average for running backs at 0.5.
Jacksonville Jaguars – James Robinson has gotten credit mostly for his rushing, but he's graded better as a receiver than a rusher. His seven avoided tackles on receptions is second-most among running backs. 
Kansas City Chiefs – Travis Kelce finished first in deep receiving yards for a tight end in each of the last three seasons. This season, he's seen just one deep target — on a pass that fell incomplete. It won't be surprising if Kelce sees more of these targets going forward.
Las Vegas Raiders – Derek Carr's six passing touchdowns have all come on passes with a time to throw less than 2.5 seconds. He has the most touchdowns on quick passes and is one of only three quarterbacks to start all three games who has yet to have a touchdown on a pass of 2.5 seconds or longer.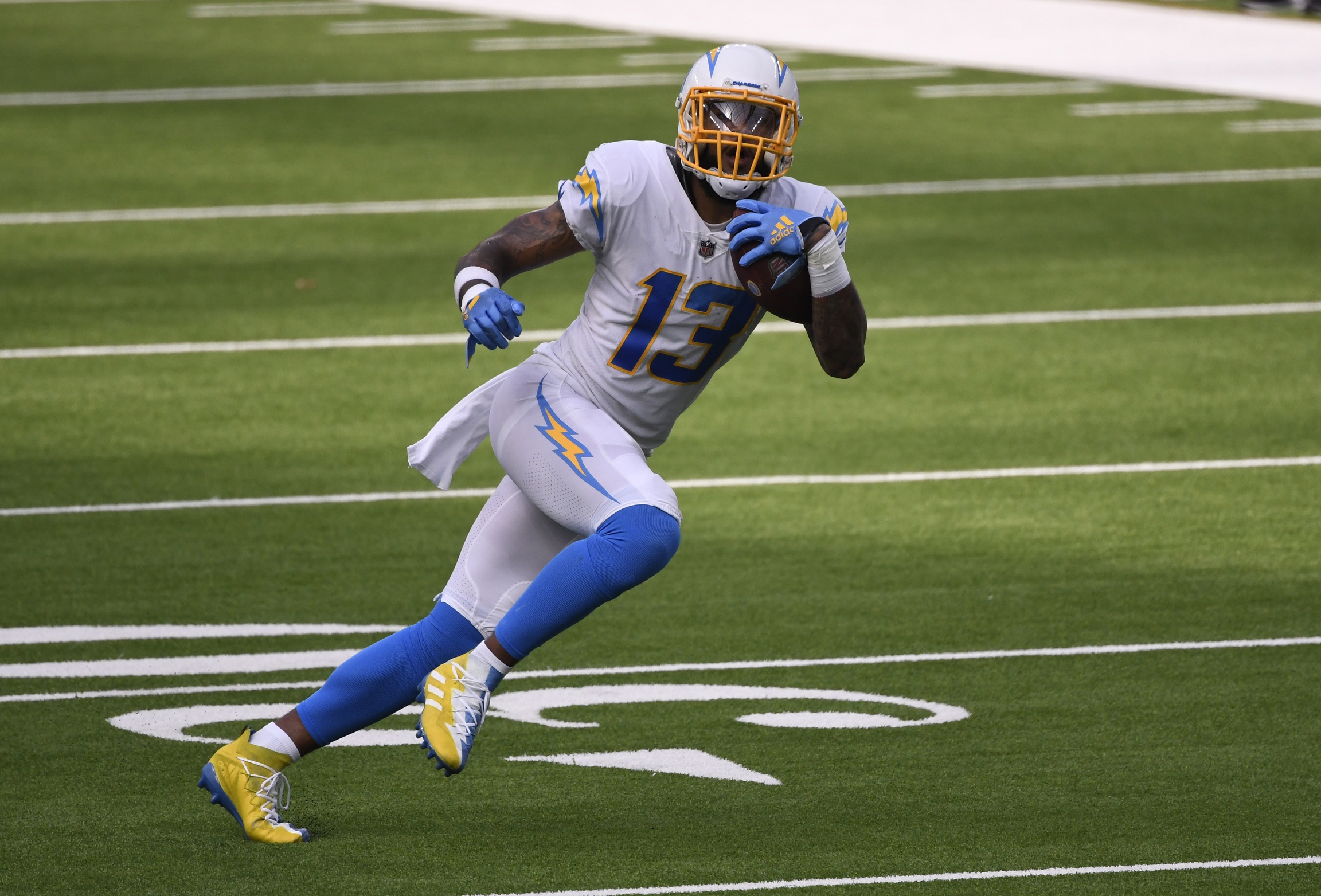 Los Angeles Chargers – Keenan Allen has remained a popular red-zone target despite the multiple quarterback changes. Last season, his 36 red-zone targets tied for third-most. He's on pace for even more this year, with nine so far — second-most among wide receivers.
Los Angeles Rams – Tyler Higbee has picked up exactly where he left off last season. His 2.63 yards per route run (third-best) is slightly higher than the 2.60 mark from 2019 (also third-best). 
Miami Dolphins – Ryan Fitzpatrick has completed 20 of 22 play-action passes, giving him the best completion percentage on those plays. He's only completed 49 of 75 non-play-action passes. That's a 25.6 percentage point difference in his play-action to non-play-action completion percentages. Half of starting quarterbacks have a better completion percentage without play-action.
Minnesota Vikings – Kirk Cousins' 11.6 average depth of target leads the league. He was in the bottom half of the league last year at just 8.3.
New England Patriots – Julian Edelman has the most receiving yards from the slot (235) this year. He's lining up in the slot more frequently than past years, which has helped him take advantage of more slot cornerbacks. He's finished in the top five in slot yards two other times and top 10 once.
New Orleans Saints – Drew Brees has a league-leading 12.9 yards per attempt on play-action passes. When he doesn't use play action, his yards per attempt drops to a below-average 6.2. He has the biggest difference between his play-action and non-play-action passes in this metric.
New York Giants – The Giants have only totaled 37 rushing yards before contact on their carries. Twenty-six of the 31 other teams have double that, and 17 have triple that mark.
New York Jets – Kalen Ballage has taken over as the Jets' third-down back, at least during Le'Veon Bell's absence. He's only run 14 routes so far but has been targeted on half of them. He's caught every pass thrown his way, leading to 4.0 yards per route run — that's second-best in the league.
Philadelphia Eagles – Even though Miles Sanders is back, Boston Scott has remained the more elusive of the two RBs. Scott has the third-highest elusive rating in the league at 139.3. Sanders is 15th-lowest among 54 qualifying backs at 34.0.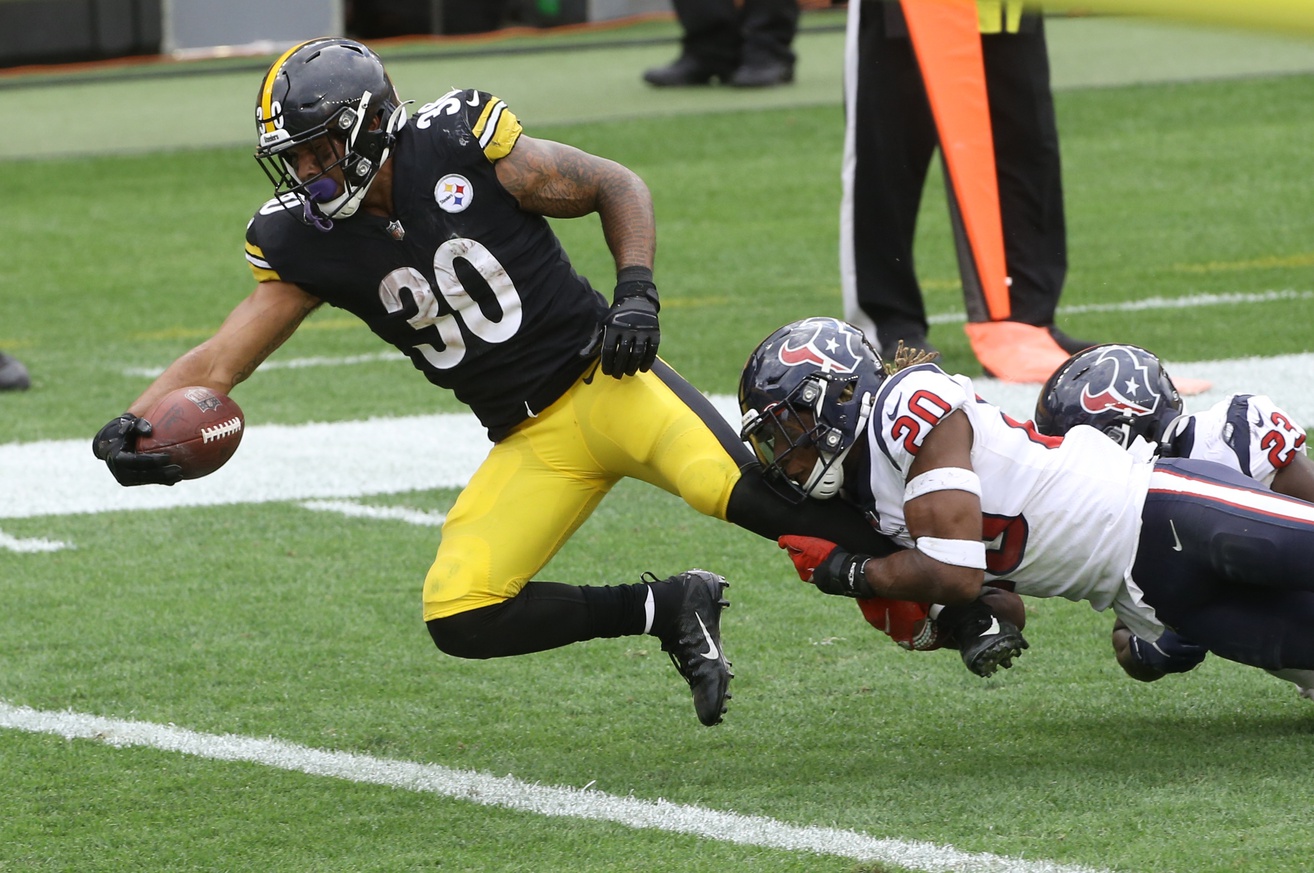 Pittsburgh Steelers – No running back has a 100-yard rushing game in each of the last three weeks. James Conner is one of the three backs to rack up 100 yards in two of three.
San Francisco 49ers –  Jimmy Garoppolo's 0.60 fantasy points per dropback ranks ninth in the league. That's an improvement over last season when he was at 0.51. Nick Mullens has the sixth-lowest mark at 0.38. Having Garoppolo back should lead to better production for the 49ers receivers. 
Seattle Seahawks – Russell Wilson's 90.5 adjusted completion percentage is by far the highest in the league. Typically, a higher the adjusted completion percentage corresponds with a lower average depth of target, but Wilson has been around average at 8.2.
Tampa Bay Buccaneers – There was concern going into the season that the Buccaneers' offensive line would be a weak point and cause problems for Tom Brady. After three weeks, Tampa Bay has allowed a league-low 27 pressures. 
Tennessee Titans – Jonnu Smith led the league in yards after the catch per reception (8.1) among tight ends in 2019, which led many to believe he could have a breakout season. He's seeing more targets per game this year and again leads the league at 7.5.
Washington Football Team – Five wide receivers are averaging more than 10 yards after the catch. Steven Sims' 11.5 is fourth in the league, while Terry McLaurin isn't far behind at 11.2.