While preparing my fantasy football rankings each week, I come across statistics and trends worth monitoring. The following are 32 interesting stats — one for each NFL team — that helped inform my Week 9 rankings.
Several can be found in premium stats as well as the PFF fantasy stats. (These numbers do not account for the Thursday night Packers-49ers game.)
Arizona Cardinals – Chase Edmonds' 1.52 fantasy points per touch is the highest rate among all running backs with at least 25 touches.
Atlanta Falcons – Calvin Ridley has seen 51 targets on passes thrown beyond the first down marker, leading to 32 receptions for 570 yards. All three of those numbers lead all wide receivers.
Baltimore Ravens – Lamar Jackson is tied for the league lead in quarterback runs in the red zone at 17, though none have resulted in touchdowns. Last season, he had five touchdowns from red zone carries.
Buffalo Bills – On passes thrown in 4.1 seconds or longer, Stefon Diggs leads all WRs with 11 targets, seven catches and 133 yards. His receiving yard figure would have been the fifth-most among wide receivers in 2019.
Carolina Panthers – The Panthers have two of the top five players in receiving yards after contact regardless of position. Robby Anderson is the top wide receiver and second overall at 159 yards after contact, and Mike Davis is fifth overall and second among running backs with 123 yards.
Chicago Bears – The Bears have posted the second-fewest rushing yards before contact on their rushing attempts.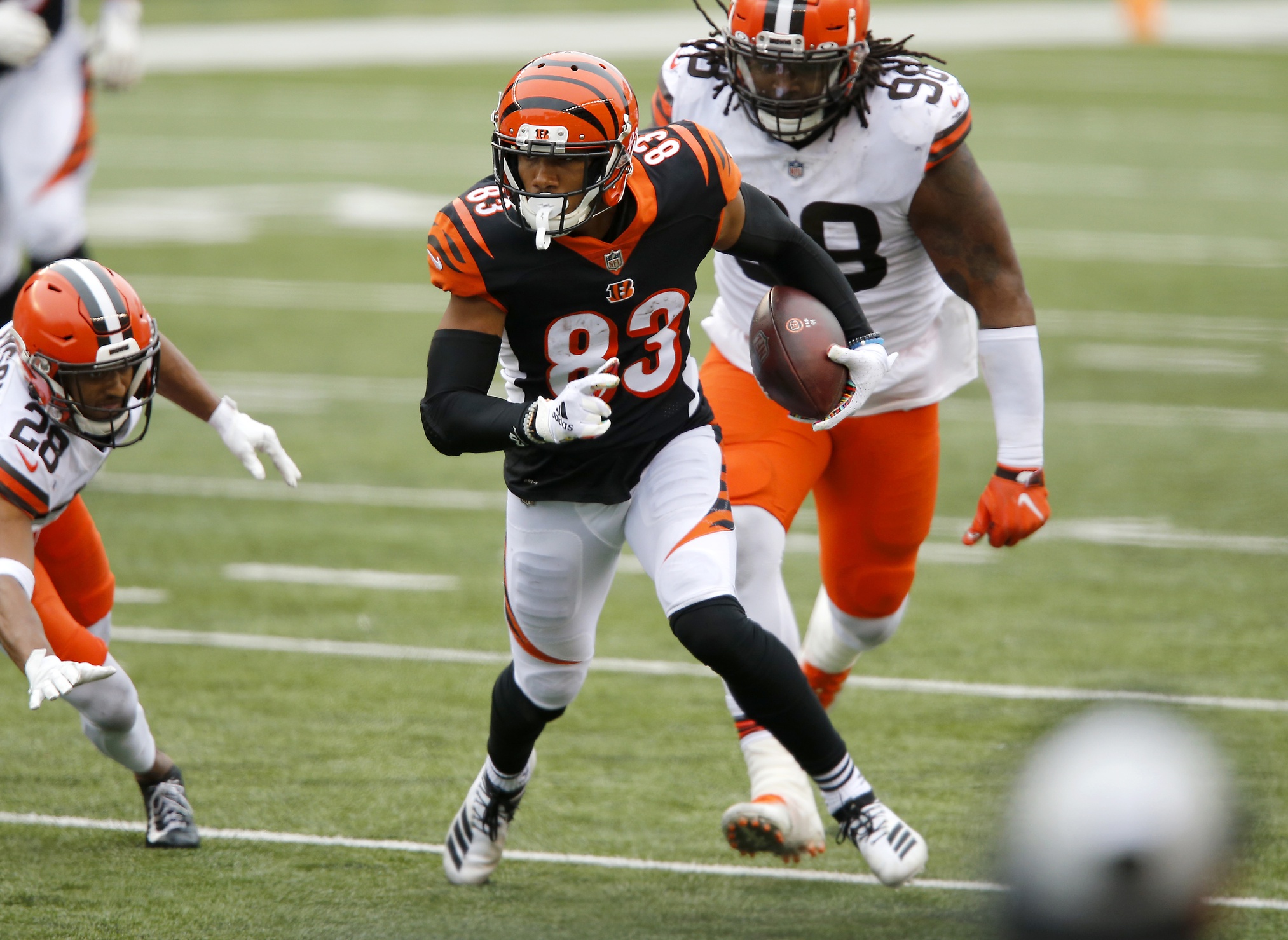 Cincinnati Bengals – Tyler Boyd leads the league with 21 targets in the red zone. They have led to 13 receptions and three touchdowns. A.J. Green is also in the top 10 with 15 red zone targets, but he hasn't caught any of them.
Cleveland Browns – Kareem Hunt has forced 25 missed tackles over the last calendar year — six more than any other player regardless of position.
Dallas Cowboys – Dak Prescott's uncatchable inaccurate passes rate of 16.5% is the seventh-lowest in the league. Ben DiNucci is close to double that at 30.8%, the worst rate in the league.
Denver Broncos – The Broncos have run the second-fewest plays in the red zone at 54.
Detroit Lions – D'Andre Swift's 0.5 fantasy points per snap ranks fifth among all skill players.
Green Bay Packers – Aaron Rodgers leads the league in passing yards on deep passes with 626. Rodgers has finished second in deep passing yards in four different seasons but has never finished at the top.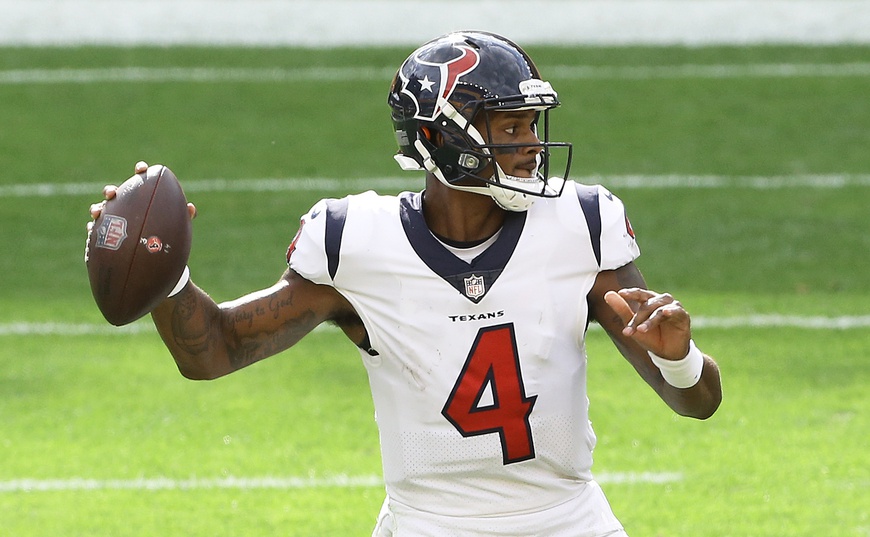 Houston Texans – Deshaun Watson has averaged 10.9 yards per attempt on play-action passes. That leads the league and is a bit higher than his 8.3 yards per attempt without play-action.
Indianapolis Colts – Jordan Wilkins has averaged 0.31 tackles avoided per carry over the last calendar year — the most among running backs with 75 or more carries. Jonathan Taylor has avoided 0.07 tackles per carry. That is tied for the fewest.
Jacksonville Jaguars – The Jaguars pass on 66% of first-half plays. That is the third-highest rate in the league. In the second half of games, the rate jumps to 70.5%, the second-highest rate among teams.
Kansas City Chiefs – Travis Kelce has caught a league-leading 68 first downs over the last calendar year. Every other player in the top 10 is a wide receiver.
Las Vegas Raiders – Josh Jacobs is seeing a sophomore slump, but that hasn't stopped him from being one of the best backs at avoiding tackles. He led the league least year with 69 on his carries and is one away from tying the league lead this year with 28.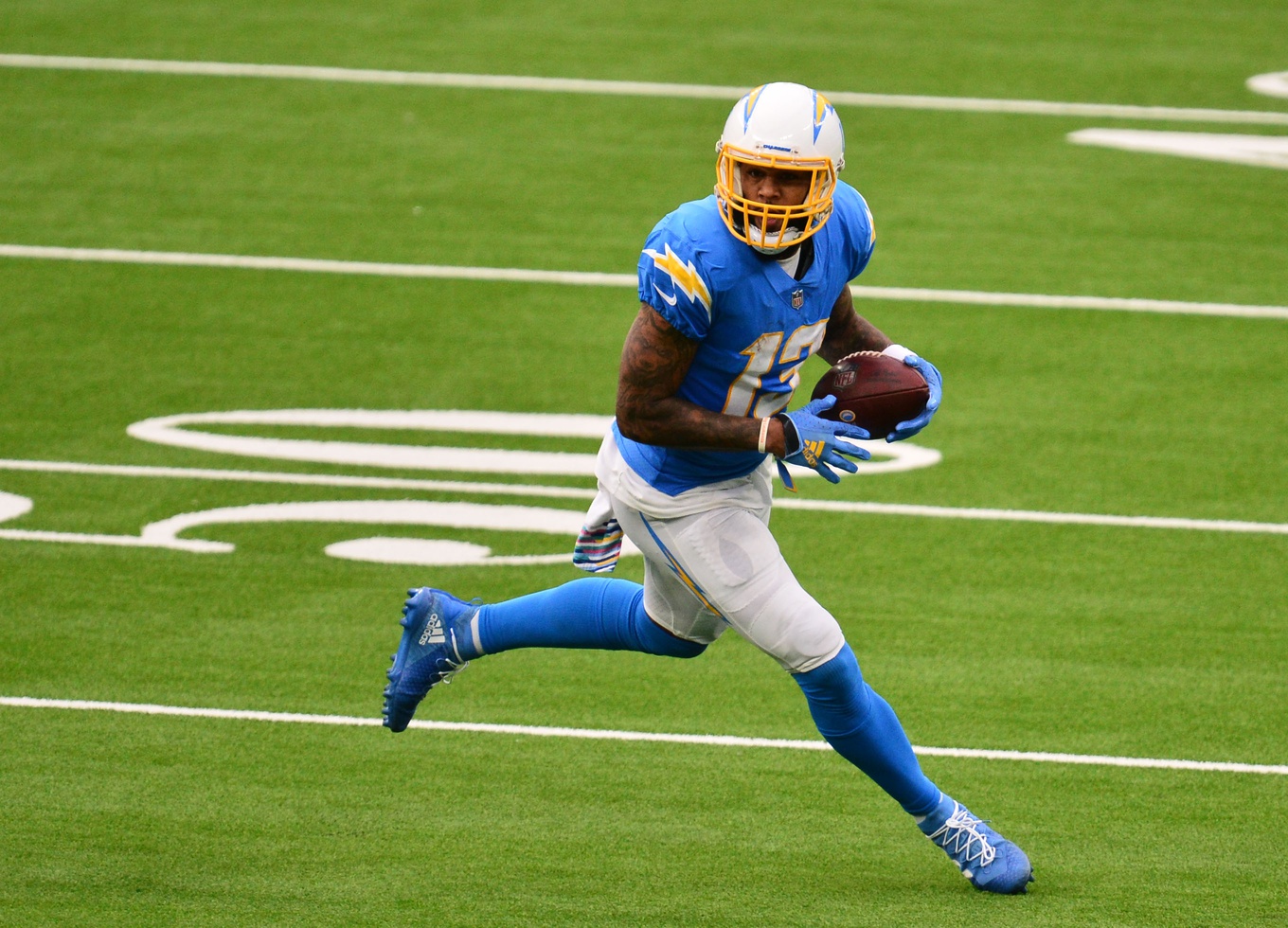 Los Angeles Chargers – Keenan Allen has amassed a league-leading 106 receptions over the last calendar year. What makes that more impressive is that he doesn't have a drop. Every other player with at least 67 catches in that time has at least two drops.
Los Angeles Rams – Darrell Henderson's 29 red zone carries are the fourth-most in the league, but he has only converted three into touchdowns.
Miami Dolphins – Mike Gesicki has 252 receiving yards from passes thrown beyond the first-down marker — second-most among all tight ends. On passes in front of the first down marker, he ranks 47th with 37 yards.
Minnesota Vikings – Kirk Cousins has thrown deep on 19.0% of his passes — the highest rate among starters. Last season, he was outside of the top 10 at 13.7%.
New England Patriots – Patriot tight ends have a combined 10 receptions this season. That is the fewest for a team at tight end through eight weeks since 2016.
New Orleans Saints – Michael Thomas's 152 passes over the last two seasons is the third-most for all players despite missing nearly all of 2020 so far.
New York Giants – It has only taken Daniel Jones 34 carries to reach 316 rushing yards this season, but that's good for the third-most among QBs. Every other quarterback with over 300 yards has more than 60 rushing attempts.
New York Jets – None of Frank Gore's 96 carries have gone for more than 15 yards — the most rushing attempts for a back this season without a carry of 15 yards or more.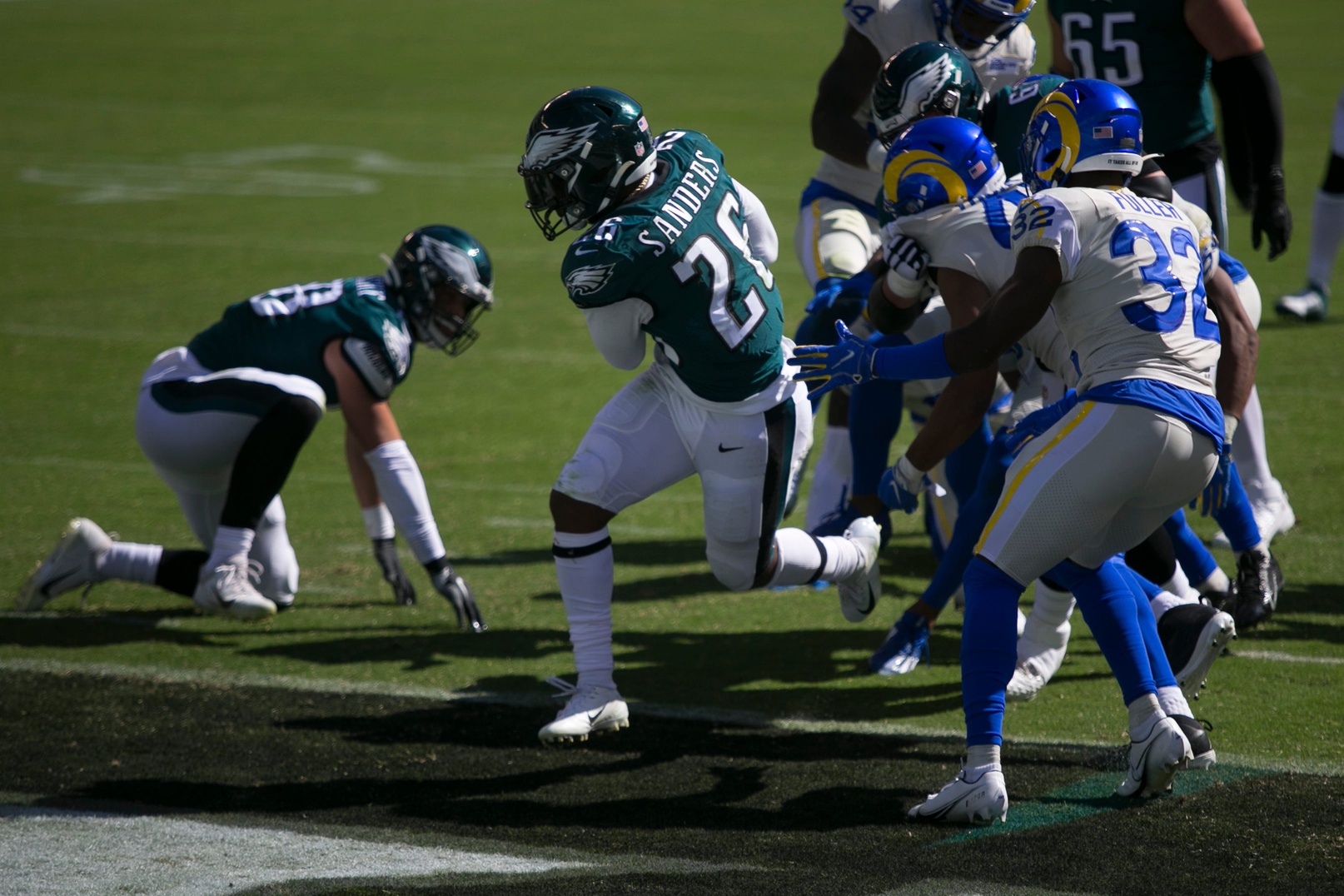 Philadelphia Eagles – Miles Sanders has racked up 208 total yards on his five carries that have gone for 15 yards or more. That's the most rushing yards thanks to these longer runs among running backs.
Pittsburgh Steelers – Ben Roethlisberger has 54 passing attempts on passes with a time to throw of 1.5 seconds or less — 12 more than any other quarterback. His total would have tied for seventh-most for all of 2019.
San Francisco 49ers – George Kittle's 589 yards after the catch over the last calendar year is the most for any tight end or wide receiver. Deebo Samuel has the third-most during that time (552 yards).
Seattle Seahawks – Russell Wilson is tied for the league lead in adjusted completion percentage at 82.8%. This is especially impressive because his average depth of target of 9.0 is above the league average.
Tampa Bay Buccaneers – Tom Brady has been pressured on only 21.2% of dropbacks, the lowest rate among quarterbacks. When he has thrown while under pressure, he's completed a below-average 42.9% of passes.
Tennessee Titans – Ryan Tannehill's 34 passing touchdowns in the last calendar year puts him fourth and among a top five that includes Russell Wilson, Lamar Jackson, Drew Brees and Patrick Mahomes.
Washington Football Team – Terry McLaurin has 375 receiving yards on passes that are thrown in front of the first down marker — 78 more receiving yards than any other wide receiver on these passes.