Last year, the Chicago Bears had fantasy's No. 11 and, somewhat surprisingly No. 20 PPR running backs in fantasy football. Tarik Cohen's breakout year is well-known, while Jordan Howard's 20th-place finish came largely because he played all 16 games (among all backs with at least 200 carries, only Peyton Barber, Lamar Miller, and Sony Michel had fewer points than Howard's 182.0).
This year, with Howard off to Philadelphia and third-rounder David Montgomery joining the backfield in his stead, the question is whether the Bears can maintain two fantasy-relevant backs again (if you want to debate exactly how fantasy-relevant Howard was in 2018, I won't argue, but Montgomery warrants investigation).
The team around them
Helpfully, swapping out Howard for Montgomery was the only major roster change among offensive skill players the Bears made this offseason. Benny Cunningham left in free agency, with the team signing Mike Davis to the backfield, and rookies Riley Ridley and Emanuel Hall join the receiving corps, but nothing there should be a massive workload drain.
The Bears as a team ran the ball 468 times a year ago, tied for the sixth-most in the league. They did so with the league's best defense, as the team allowed the fewest points in the league (283) and had the fourth-best point differential (+138, worse only than the Chiefs, Saints, and Rams). Howard had 250 of those carries, with Cunningham soaking up another 11. Any regression from the defense would lead the Bears like to run the ball less, so ultimately, it's about 250 carries (plus whatever Taquan Mizzell loses) to divvy up between Montgomery, Davis, and some increase from Cohen's 99 in 2018.
On the receiving end, Montgomery is more of a pass-catching option than Howard, but then so are you, probably. Montgomery caught only 22 passes (on 25 targets) in 2018 at Iowa State, and had zero receiving scores across 70 college receptions. He'll catch the ball some, but that's not why he's in the NFL. Cohen, meanwhile, had 87 targets in 2018, sixth among running backs. In other words, there isn't much room for Cohen to grow, and Montgomery could soak up what Howard left him. The wild card is Davis, who had 42 targets in occasionally full-time work in Seattle in 2018. Cohen's still the man in the backfield, so Davis' work will likely be siphoned from Montgomery's share. The end result? Whatever you're getting from Montgomery in 2019, it will probably be on the ground.
Ground work
Cohen was not bad as a ball-carrier in 2018, but that's about as much as you can say. He had a 60.0 PFF rushing grade, 61st out of 72 backs with at least 50 carries (barely ahead of fellow reception monsters James White and Jalen Richard). His 2.17 yards after contact per attempt ranks 69th among those backs (ahead of LeGarrette Blount, LeSean McCoy, and White). What Cohen did do, though, was put up big runs. Of his 435 rushing yards, almost 50% (197, 45.3%) came on runs of 15-plus yards, the eighth-highest percentage. That's a year after he led the league with a 50.3% mark. Cohen isn't ever going to be a down-to-down grinder, but he's shown he can be good for the occasional big run.
Montgomery is very much not that. Among 200 college backs with at least 50 carries in 2018, his 91.3 PFF rushing grade was sixth-best, and it led the draft class. He forced 185 tackles over the last two years, first in the draft class, six ahead of Devin Singletary and a whopping 66 ahead of third-place Bryce Love. On the flip side, he was more middle of the road on breakaway runs, with 379 of his 1,216 rushing yards (31.2%, 76th) coming on long runs.
The upshot? Montgomery profiles as the grinder who will get a lot of carries and do a lot with them. Cohen is the change-of-pace guy, more likely to catch a pass than run the ball, but capable enough that he will carry it on occasion.
Receiving work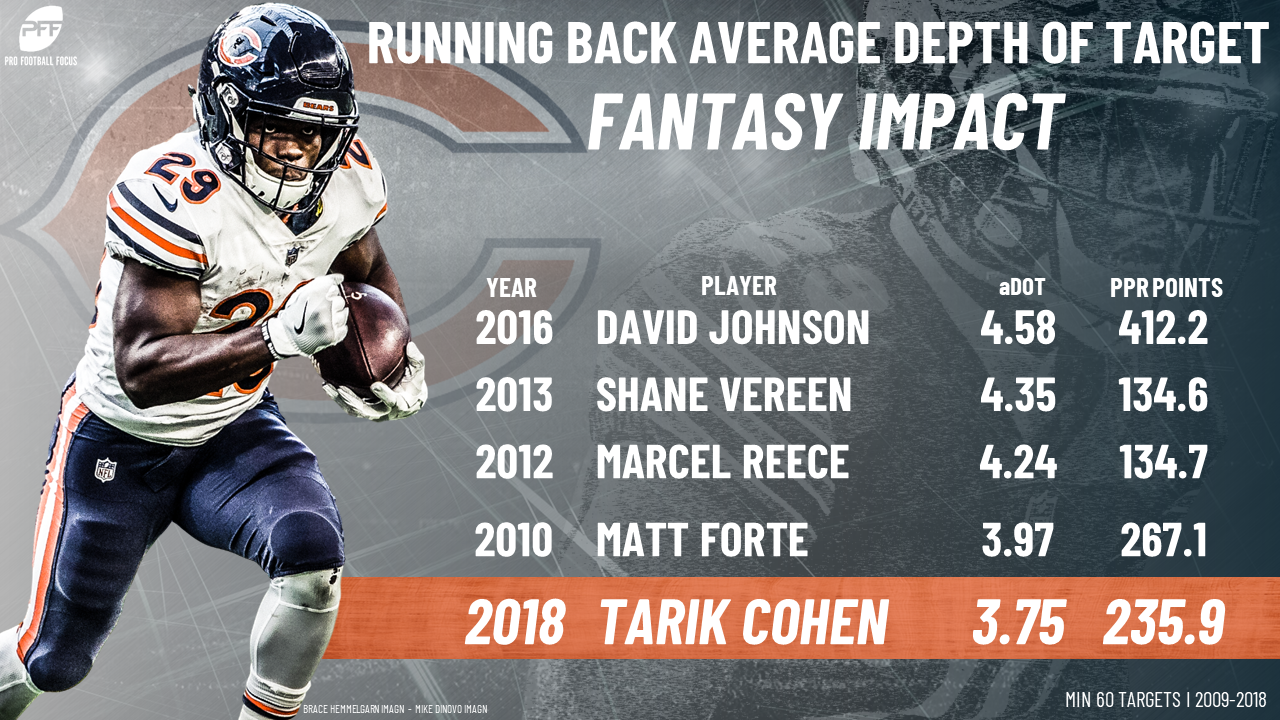 In the last decade, only five running backs have managed at least 60 targets in a season with an average depth of target of at least 3.00 yards — those two thresholds indicate a running back who is a receiver, not just a back who catches the ball. David Johnson and Matt Forte finishes their seasons (2016 and 2010, respectively) as top-10 PPR backs, while 2013 Shane Vereen and 2012 Marcel Reece finished in the 30s. The fifth was 2018 Cohen, who had a 3.75-yard aDOT on his 87 targets and graded out at 86.1, behind only Christian McCaffrey, Alvin Kamara, and Saquon Barkley. In other words, unlike a back like McCaffrey, whose 0.87-yard aDOT indicated he was used in a more versatile fashion and was the dumpoff option in his offense, Cohen's receptions were because he was a receiver. That's a solid, predictable role, barring the unlikely occurrence that one of the rookie receivers takes it.
Rankings
The two backs currently sit close to one another in our PFF staff fantasy rankings for PPR leagues. Montgomery is the No. 30 PPR back, with Cohen the No. 32. That said, there are wildly different opinions about their standing. Jeff Ratcliffe has them closest, with Cohen 28th and Montgomery 30th, while Scott Barrett is far apart (Montgomery 22nd, Cohen 43rd). Me? I'm in the middle, with Cohen 26th, Montgomery 32nd.
One thing worth noting is that, while rankings of 30 and 32 might not sound that exciting, only one team has its second back go off the board earlier than the Bears (the Patriots, with Michel 20th and White 28th). In other words, it's hard to do fantasy rankings and have two backs expected to both be super productive, and the Bears' duo is about as high as could reasonably be expected.
All told, yes, there is room for both Cohen and Montgomery to be fantasy viable in 2019. If you need an RB2 and a flex or the range, that's doable. But asking for two backs to both be RB2s or better from a quality standpoint (and not an attrition-based, Howard-in-2018-esque 20th because of playing all 16 games) is a bridge too far. The Bears backfield should be exciting in 2019, but not that exciting.