We're in the thick of the NFL offseason and it's officially time to start fantasy football prep. I'll be answering the biggest questions heading into the 2021 season. Click here to read the series of questions answered so far.
It's tough to be as good at video game football as Joe Burrow was in real life during his final season at LSU: 15 games, 15 wins, 5,671 passing yards and 65 total touchdowns against a mere six interceptions. Madness.
The 2019 season earned Burrow a National Championship, Heisman Trophy and status as the 2020 NFL Draft's No. 1 overall pick. Unfortunately, a torn ACL halted Burrow's rookie campaign in Week 11, but the future remains bright for one of the game's more hyped quarterbacks in recent memory.
What follows is a breakdown on just how good Burrow was in 2020 as well as what we should expect from him as a fantasy football asset ahead of next season.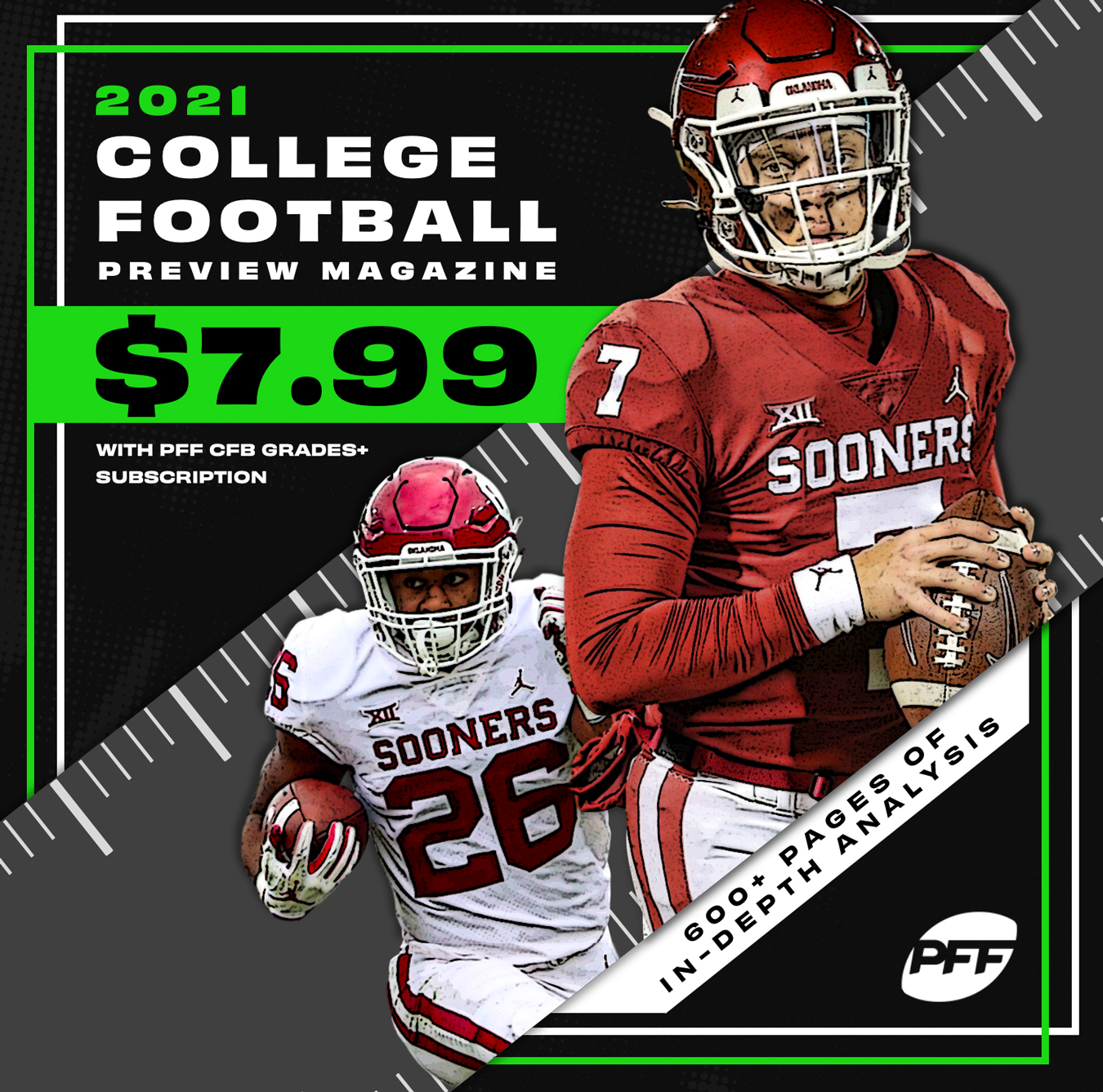 Burrow largely impressed during his relatively brief rookie campaign
There were some lows from Burrow and this Cincinnati Bengals offense in 2020, notably struggling against some of the league's tougher defenses in the Baltimore Ravens (3 points), Pittsburgh Steelers (10) and Washington Football Team (9). Credit to Burrow for leading the offense to at least 30 points in four contests; he still ultimately settled in as an average to below-average signal-caller on the season by most regular passing metrics:
PFF passing grade: 76.4 (No. 19 among 44 qualified quarterbacks)

Big-time throw rate: 3.5% (tied for No. 32)

Turnover-worthy play rate: 2.9% (tied for No. 15)

Yards per attempt: 6.7 (No. 30)

Adjusted completion rate: 73.5% (No. 33)

QB rating: 89.8 (No. 28)
Of course, football is a team sport, and the rest of the Cincinnati Bengals didn't exactly hold up their end of the bargain. The offensive line ranked 27th in team PFF pass-blocking grade, the rush offense ranked 29th and the receivers 22nd.
PFF's Seth Galina pointed out in his excellent feature on Burrow that the rookie actually ranked highly in the more stable metrics from year to year. Specifically, Burrow finished as a top-seven quarterback in PFF passing grade from a clean pocket (No. 5), straight dropbacks (No. 4), on first and second down (No. 5), with no play-action (No. 7) and on percentage of negatively graded throws (No. 2). Each of Burrow's marks in these aforementioned metrics ranked among the top five rookie quarterbacks since 2006.
Yes, Burrow and the Bengals ranked as one of the worst deep-ball teams in recent memory. Also yes, this was seemingly more of a factor of relying on A.J. Green than a true indictment of Burrow. Seth had the following takeaway on Burrow's deep ball:
"The first step is Burrow not missing down the field as much. The second is taking the field with receivers who can actually bail out their quarterback. When Burrow did throw an accurate deep ball last year, the Bengals receivers ranked 26th in cumulative receiving grade. They were worse when the throw was even slightly off, finishing 31st in the league. And in all, the receiving corps caught only 17.6% of the contested targets downfield, the worst mark in the league."
It's rare to see such a young quarterback win with high-level footwork and timing, but that's exactly what Burrow brought to the table for much of 2020. Burrow won't be confused with one of the league's strongest-armed quarterbacks any time soon; that doesn't mean he didn't manage to put together a solid highlight reel in his first 9.5 professional games.
Joe Burrow doing some cool stuff pic.twitter.com/j57tIXEiyB

— Ian Hartitz (@Ihartitz) July 2, 2021
The good news for Burrow fans: The 2021 edition of this offense looks ready to help take this passing game to the next level.